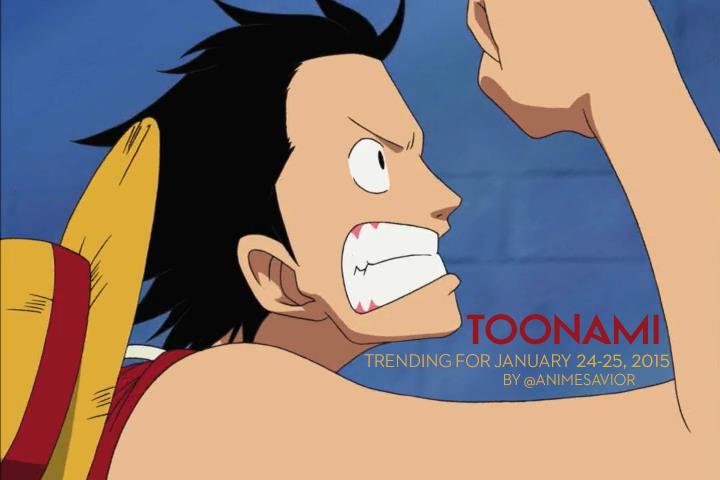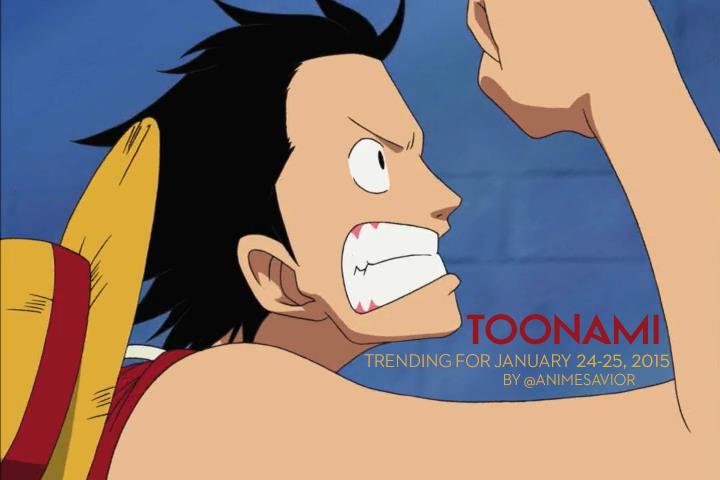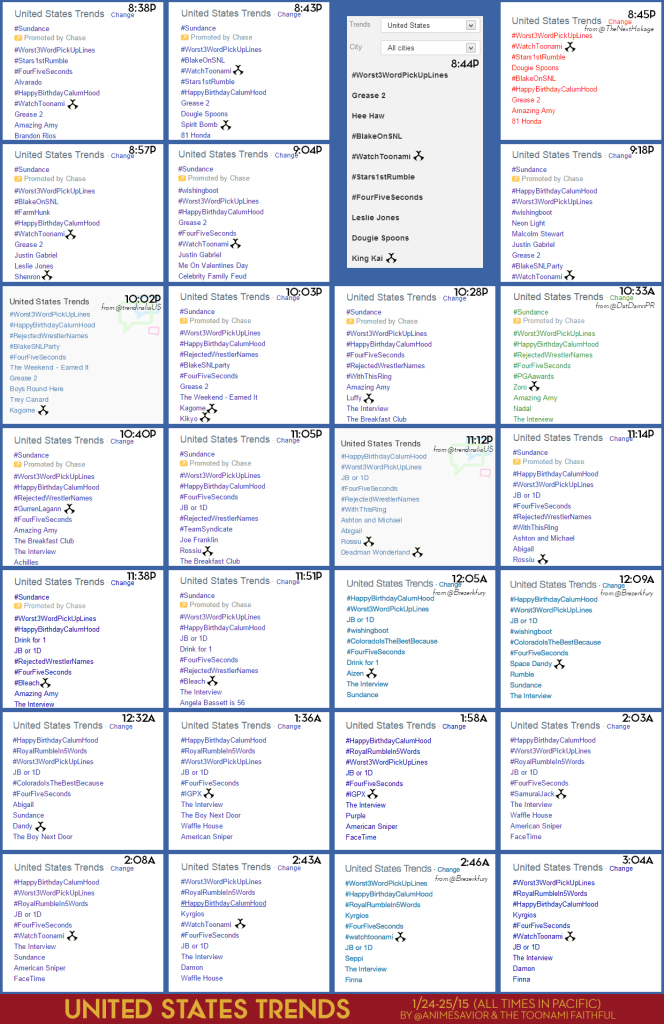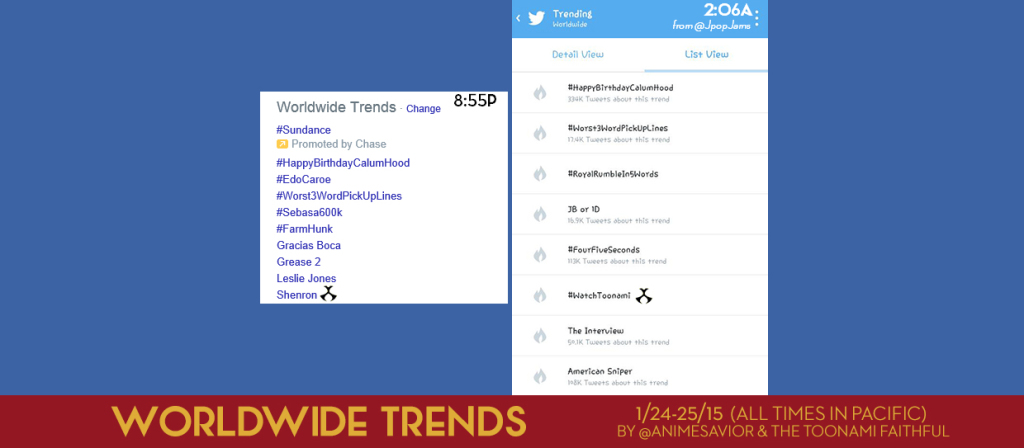 "Now, I agree that Robin is a dangerous woman. As long as people like [Spandam] are around, even if she has the best intentions, her knowledge could still be used to wreak havoc on the whole world. But now she's got friends that are willing to risk their lives to make sure that never happens, and I think they're up to the job. So I'm making a bet. […] If you end up making a weapon after all, we won't be able to fight back anymore, and that's possible if you're able to take Nico Robin into the Gates of Justice. Everything's resting on the Strawhats, and if they're able to get her out of here, then you'll be left with nothing at all."
–          Franky, One Piece (Ep. 285)
The Toonami Trending Rundown for January 24-25, 2015. The past few months have not been so bright in terms of Nielsen ratings for various reasons, and unfortunately the higher ups at CN have decided to take away the 5am Eastern hour in favor of King of the Hill reruns to make up for it. With the sudden schedule change being a bad sign for Toonami, fans made themselves heard during the block, trending the hashtag #WatchToonami, which trended during various parts during the night.
In terms of shows, every show from Gurren Lagann to Space Dandy as well as IGPX and Samurai Jack trended in the US. However, every show from DBZ Kai to Space Dandy, excluding Naruto and Deadman each saw a character or in-show related trended, with DBZ Kai (King Kai and the Spirit Bomb, as King Kai wraps up his training of Goku as well as Shenron, as he revives Goku from the dead), InuYasha (Kikyo, as Naraku traps and poisons her as well as Kagome as she tries to save her, but her doubts of jealousy prevent her from doing so), One Piece (Luffy and Zoro, as the Strawhats split up to try and find Robin and confront CP9 to find the keys to free her from her cuffs), Gurren Lagann (Rossiu, as he forces a Coup d'état and sentences Simon with capital punishment), Bleach (Aizen, as he performs a substitution justsu on Momo to deflect Toshiro's attacks), and Space Dandy (Dandy as he and his crew search for a Chameleonian, only to find out that it's not as easy as it seems).
With the sudden change in timeslots, this means that IGPX and Samurai Jack will be off of the block for now, while Attack on Titan will move down to 2:30am Eastern, and every show between DBZ and Deadman will move up a timeslot. Kill la Kill's premiere will still be on February 7th, though the airing time maybe later than 11:30pm, as Toonami is most likely to have DBZ lead off the block.
While the loss of 5am is definitely a cause for concern, the more important first half of the block is still doing well, and with shows like Kill la Kill on the horizon, among other great moments from the current shows coming up, hopefully things will get back on track soon. For now, all we can do is to keep supporting Toonami and the anime industry overall and continue to watch, record, and tweet about this fine block of programming. Their fate is in your hands.
Until next week, stay gold.
Legend: The number next to the listed trend represents the highest it trended on the list (not counting the promoted trend), judging only by the images placed in the rundown. For the mobile app trends, the listed number of tweets are also sorely based on the highest number shown based on the images on the rundown.
United States Trends:
#WatchToonami (During DBZ Kai, Naruto Shippuden, and Samurai Jack) [#2]
King Kai (From DBZ Kai) [#10]
Shenron (From DBZ Kai) [#9]
Spirit Bomb (From DBZ Kai) [#8]
Kagome (From InuYasha) [#8]
Kikyo (From InuYasha) [#9]
Luffy (From One Piece) [#7]
Zoro (From One Piece) [#6]
#GurrenLagann [#4]
Rossiu (From Gurren Lagann) [#8]
Deadman Wonderland [#10]
#Bleach [#7]
Aizen (From Bleach) [#7]
Space Dandy [#7]
Dandy (From Space Dandy) [#9]
#IGPX [#6]
#SamuraiJack [#6]
Worldwide Trends:
#WatchToonami (During Samurai Jack) [#6]
Shenron (From DBZ Kai) [#9]
Notes and Other Statistics:
Special thanks to @Brezerkfury, @DatDamnPR, @JpopJams, @TheNextHokage, @trendinaliaUS, and others I forgot to mention for spotting some of the trends on this list.
Better get a pencil, cause the ass-kicking starts now. Only Toonami on [adult swim] on Cartoon Network.