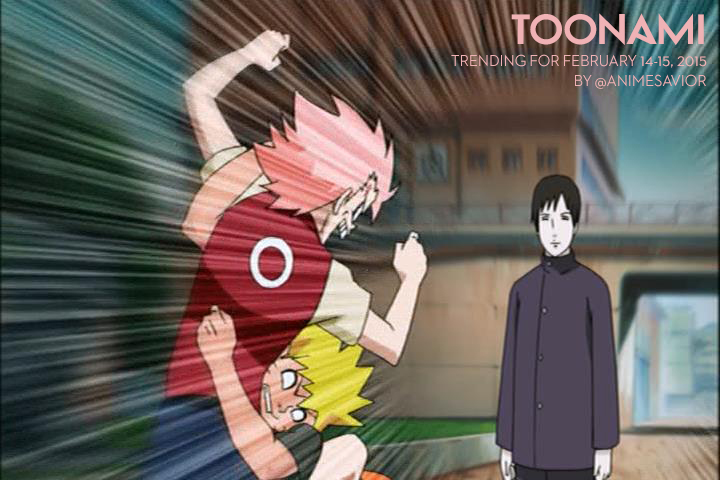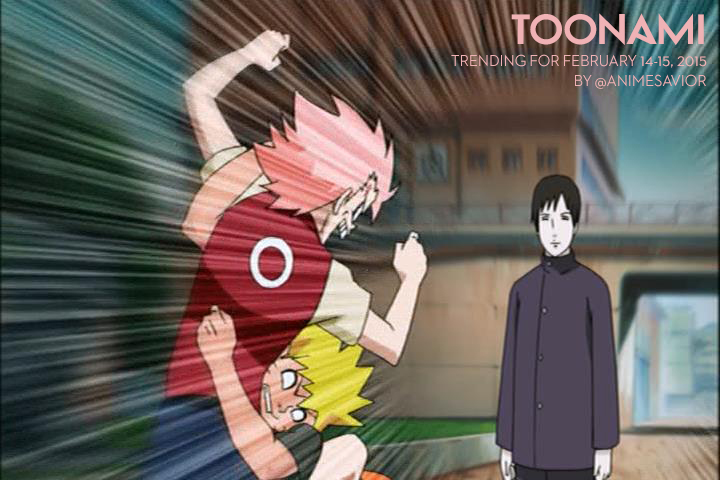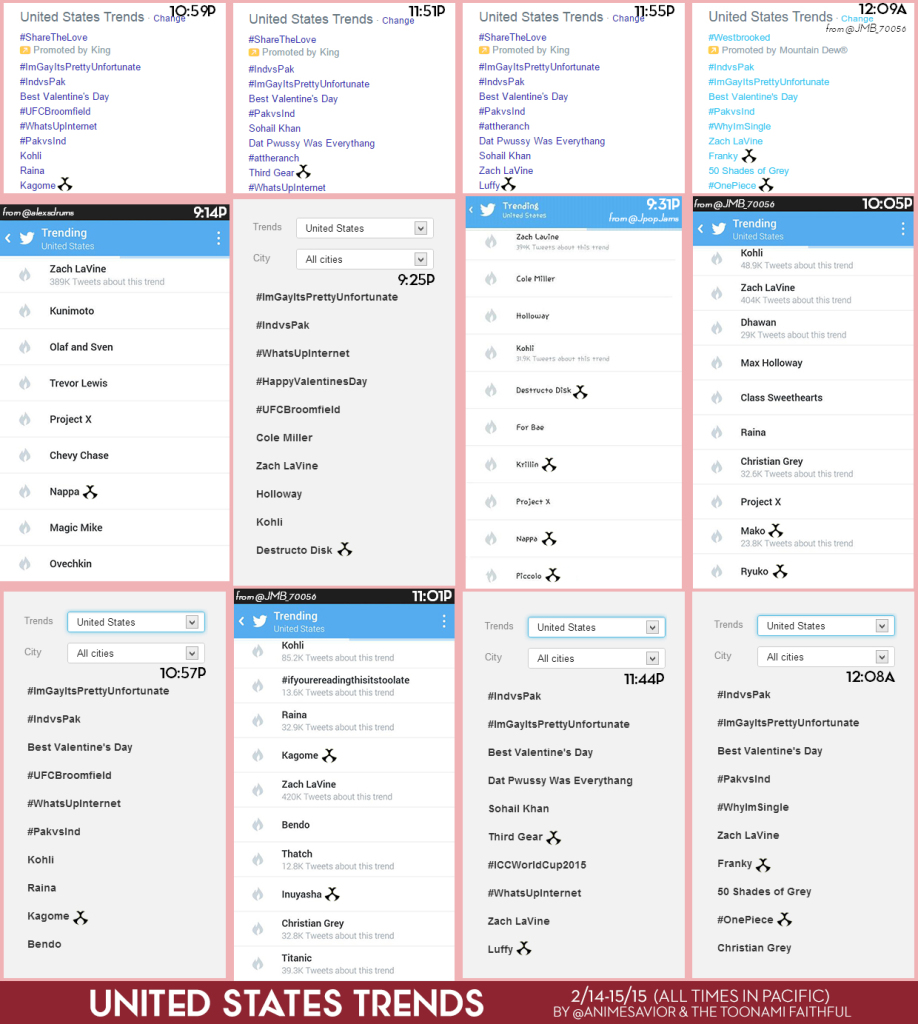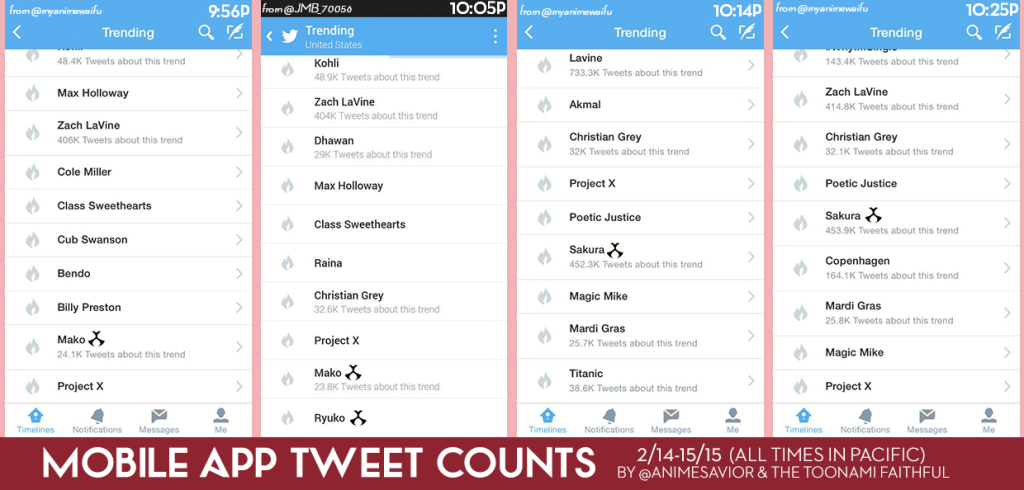 "When it comes to women, stating their personality traits too bluntly might anger them. So perhaps I can avoid that if I just say the opposite of what I think."
–      Sai, Naruto Shippuden (Ep. 54)
The Toonami Trending Rundown for February 14-15, 2015. Love is in the air this Valentines Day, and in terms of shows, only one show, #OnePiece, managed to trend in the US. On the other hand, every show with the exception of Gurren Lagann and Deadman Wonderland each produced at least one character or in-show related content trend.
DBZ Kai brought us Kriillin, Nappa, and Destructo Disk, as he unleashes said attack on Nappa, but only managed to give him a scratch, as well as Piccolo, as he shields Gohan from one of Nappa's attacks. Kill la Kill brought us Ryuko and Mako, as Ryuko saves Mako from the tennis club. Naruto Shippuden brought us Sakura, as Sai tires to form a relationship with his teammates, though attempts to do have been to Sakura's dismay. InuYasha had InuYasha and Kagome trend as they defeat a demon who feasted on their mourning of Kikyo. And One Piece brought us Luffy and Third Gear, as he finds and battery rams a secret door to the Gates of Justice, as well as Franky, as he refuels himself with some fresh Cola.
For those that haven't heard the news, we now know what the replacement for Gurren Lagann will be coming on March 28: the English Dub premiere of Sword Art Online II, covering the Phantom Bullet, Calibur, and Mother's Rosario story arcs. That's right, in the words of TOM 3.5, SAO's back, bitches. In addition, Michelle Ruff, known for voicing Rukia and Yoko, will be playing the role of Sinon.
Of course, the mixed acclaim of SAO, especially in regards to Fairy Dance, has been pretty well known around the anime community, but detractors saying that the airing of SAO would lead to Toonami's demise were greatly exaggerated. Regardless, Kirito and Asuna's return is definitely a sight for sore eyes as Toonami begins to regain momentum, and as one who has personally seen the sub, i think you're in for quite a treat this April…or not.
Until next week, have a Happy President's Day, and stay gold.
[divider]
Legend: The shows listed are ordered based on their appearance on the schedule. Show trends are listed in bold. The number next to the listed trend represents the highest it trended on the list (not counting the promoted trend), judging only by the images placed in the rundown. For the mobile app trends, the listed number of tweets are also sorely based on the highest number shown based on the images on the rundown.
United States Trends:
Destructo Disk (From DBZ Kai) [#5]
Krillin (From DBZ Kai) [#7]
Nappa (From DBZ Kai) [#7]
Piccolo(From DBZ Kai) [#9]
Mako (From Kill La Kill) [#9]
Ryuko (From Kill La Kill) [#10]
InuYasha (From InuYasha) [#8]
Kagome (From InuYasha) [#4]
#OnePiece [#9]
Franky (From One Piece) [#7]
Luffy (From One Piece) [#9]
Third Gear (From One Piece) [#6]
Mobile App Tweet Counts:
Mako (From Kill La Kill) [24.1k Tweets]
Sakura (From Naruto) [453.9k Tweets]
Special thanks to @alexsdrums, @JMB_70056, @JpopJams, @myanimewaifu, and others I forgot to mention for spotting some of the trends on this list.
Love is in the Air, and Pain is on the Menu. Only Toonami on [adult swim] on Cartoon Network.