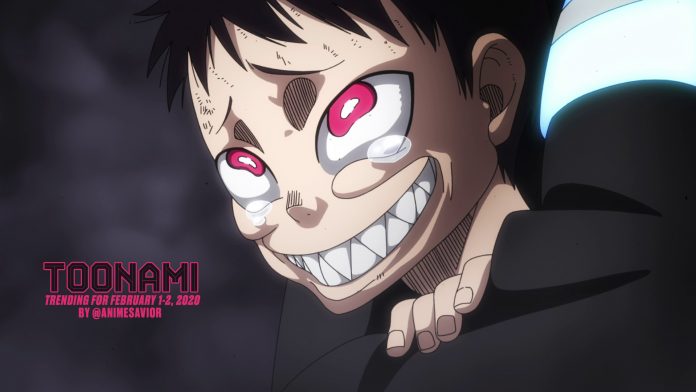 Obi: "If we assume the story Captain Burns told you is actually legit, then the white-clad were at the very least involved in the tragedy that took your family from you."
Shinra: "I live for the chance to get revenge on that demon. After 12 years, it hurts to think that it might have been my mother. But I was wrong about my brother's death so I can't rule this out either."
Obi: "Tell me this, if your mother has become an infernal and it turns out she's still around…"
Shinra: "Then I'll save her. I'll find a way to turn her back into a human being."
–          Fire Force (Ep. 24)
*Article updated on 2/8/20*
The Toonami Trending Rundown for Feb. 1-2, 2020. This week marked the end of the first season of Fire Force.
Among the many moments of the night, we would see Captain Burns finally spill the beans to Shinra on what happened on that fateful day as Shou's Adolla Bust was activated when the house was set on fire. It was then when their mother was transformed into an infernal before the Evangelists abducted the two. Captain Burns also mentions the possibility that Shinra's mother might even still be alive, leaving Shinra to ponder if she can be saved. Meanwhile, My Hero Academia saw Mirio catching up to Overhaul as he tried to escape with Eri. Not wanting to let Eri down again, Mirio does everything possible to stop Overhaul in his tracks and free Eri. However, he is shot by Overhaul's quirk-disabling bullets while defending her. And in Black Clover, Asta discovers that a sword that he swiped away from Licht was stashed away in his grimoire. Upon wielding it, he finds that the anti-magic nullified the poison in Father Orsi as well as the other villagers, and reversed the possession by the elves.
On Twitter, #Toonami would trend in the United States alongside every show between Dr. Stone and Demon Slayer on the schedule in addition to Naruto Shippuden. Meanwhile, on Tumblr, #Toonami trended alongside My Hero Academia. The full list, including statistics and tweet counts from the Twitter app and Amr Rahmy's Fan Screening analytics app, can be seen below.
---

This week's feature was a new music video titled "Sedative" by Hollis Wong-Wear and animated by Jamie Wolfe. You can check it out below.
The second My Hero Academia film, titled Hero's Rising, is scheduled to premiere in select theaters in the U.S. and Canada beginning on Feb. 26. For those who wish to check out the film, Funimation has already started listing locations and offering pre-orders on their website by clicking here.
IT'S HAPPENING! You can now get advance tickets for My Hero Academia: Heroes Rising in theaters! Go see it February 26, subbed or dubbed. #HeroesRisingMovie

👉 https://t.co/AmRHf52KU0 pic.twitter.com/d9EMkJ2bJt

— Funimation (@FUNimation) January 31, 2020
Adult Swim action fans might remember Satoshi Kon's Paranoia Agent, which previously aired on the block in 2005-2006. Although the franchise has been in licensing limbo for the last decade due to the dissolution of Geneon in 2009, Funimation announced Tuesday that they re-licensed the show for distribution in North America. All 26 episodes of Paranoia Agent is presently available for streaming on FunimationNow. A Blu-ray re-release was also announced to be arriving later this year.
Adult Swim and Warner Bros. this week have released a Blu-ray set of FLCL Progressive and Alternative. Containing all 12 episodes of the sequel series in addition to behind-the-scenes content, this combo pack can be picked up at major anime-selling retailers for $44.98 MSRP.
Have you gotten your copy yet? Comment down below your favorite thing about this combo pack! pic.twitter.com/uasGlfSoWK

— FLCL USA Official (@FLCL_USA) February 5, 2020
Aniplex released a new trailer for the next few episodes of Demon Slayer, as they introduced some new characters and their respective voice actors, the Spider Family of Mt. Natagumo. You can see that list below. On a related note, Zach Aguilar (Tanjiro) and Abby Trott, (Nezuko) have announced that they have wrapped up their part of the production for the season. Stay tuned to see the final product in the next 12 weeks.
Rui – Billy Kametz
Mother Spider Demon – Allegra Clark
Elder Brother Spider Demon – Derek Stephen Prince
Father Spider Demon – Kellen Goff
Daughter Spider Demon – Erica Lindbeck
Introducing the Spider Family of Mt. Natagumo

Rui: @BillyKametz
Spider Demon (Mother): @SimplyAllegra
Spider Demon (Elder Brother): @voiceoverprince
Spider Demon (Father): @kellengoff
Spider Demon (Daughter): @ericalindbeck#DemonSlayer airs Saturday nights 12:30AM on Toonami! pic.twitter.com/LuwuzKnYQg

— Demon Slayer: Kimetsu no Yaiba USA (@DemonSlayerUSA) February 6, 2020
---
Twenty-four weeks of Shinra and Company 08 taking out demons and finding out the truth of the day he lost his mother and brother, and the first season of Fire Force is in the books. During the show's run, the hashtag #FireForce trended during 22 out of 24 weeks. The full statistics on how the show trended can be seen in the image below.
Fire Force won't be gone for long, as during the airing of the season finale in Japan, it was announced that the second season is already in the works by David Production. It is scheduled to premiere during the Summer 2020 season. It's still a bit early to say if Funimation will also SimulDub the new season, and if Toonami will (or already did) secure the airing rights to the sequels. Still, with how quickly the industry works nowadays to produce English dubs, I can assume Fire Force will be back before we know it.
---

Unfortunately, Fire Force going into its off-season will not come with a replacement series this time around, as Toonami will be undergoing a block shortening during the next few weeks. This Saturday, Toonami will lose the 4:30 a.m. spot as Demon Slayer will move up to 12:30 a.m. Eastern and every show after it will move up the schedule by 30 minutes. Two weeks later, on Feb. 22, Toonami will lose the 11:00 p.m. timeslot as My Hero Academia will take the night off, and Dr. Stone will lead off the block at 11:30 p.m. for its season finale. And then on Feb. 29, My Hero Academia will return at its new time at 11:30 p.m. The encore runs of The Promised Neverland and Attack on Titan will be removed.
This schedule change is being done as Jason DeMarco, the rest of the Toonami crew, and the schedule producers have opted for a shortened block going forward. Jason stated on Twitter: "Essentially, at 5-1/2 to 6 hours, Toonami was getting too expensive and unwieldy to handle. Too many shows rotating in and out, which are costing more and more these days. And frankly, as I've said before, our preferred length for the block is three hours." The block does plan on expanding again in the future as opportunities for new acquisitions and original productions come into the fray.
We've seen the block expand and contract many times since the revival, and all I can suggest is to keep supporting Toonami and the shows that are on the block. And continue to send Jason DeMarco your show requests, as I'm sure that we will be seeing re-expansion again.
Not much else to say other than congratulations to the Kansas City Chiefs for winning their first Super Bowl in 50 years, and until next week, stay gold as always.
---
Legend: The shows listed are ordered based on their appearance on the schedule. Show trends are listed in bold. The number next to the listed trend represents the highest it trended on the list (not counting the promoted trend), judging only by the images placed in the rundown. For the Twitter tweet counts, the listed number of tweets are also sorely based on the highest number shown based on the images on the rundown.
United States Trends:
#Toonami [#4]
#DrStone [#24]
#SwordArtOnline [#25]
#FireForce [#20]
#FoodWars [#19]
#DemonSlayer [#3]
#Shippuden [Trended with #Toonami]
Tweet Counts:
#Toonami [8,701 tweets]
#DrStone [3,061 tweets]
#SwordArtOnline [2,356 tweets]
#FireForce [3,886 tweets]
#FoodWars [2,323 tweets]
#DemonSlayer [4,872 tweets]
#BlackClover [1,853 tweets]
#JoJosBizarreAdventure [6,064 tweets]
Fan Screening Counts:
#MyHeroAcademia [#3 with 3,200 tweets]
#DrStone [#5 with 1,918 tweets]
#SwordArtOnline [#20 with 1,349 tweets]
#FireForce [#4 with 2,504 tweets]
#FoodWars [#14 with 1,489 tweets]
#DemonSlayer [#3 with 3,613 tweets]
#KimetsuNoYaiba [#7 with 4,922 tweets]
#BlackClover [#17 with 2,148 tweets]
#JoJosBizarreAdventure [#12 with 3,931 tweets]
Tumblr Trends:
#Toonami
#My Hero Academia
Notes and Other Statistics:
Special thanks to @Journeyman15, @myanimewaifu, @sdurso5, and others I forgot to mention for spotting some of the trends on this list.
Only Toonami on [adult swim] on Cartoon Network.
Toonami Tweets of the Night for February 1-2, 2020