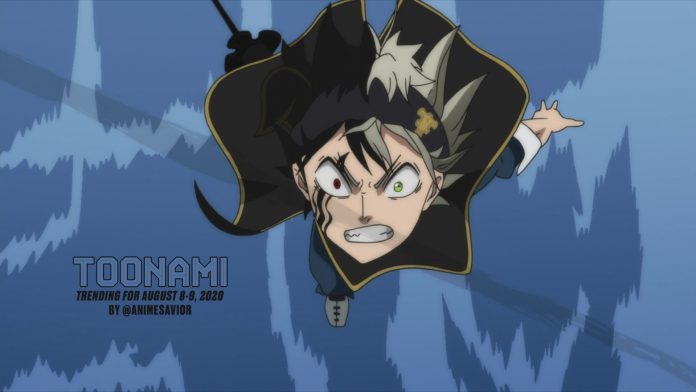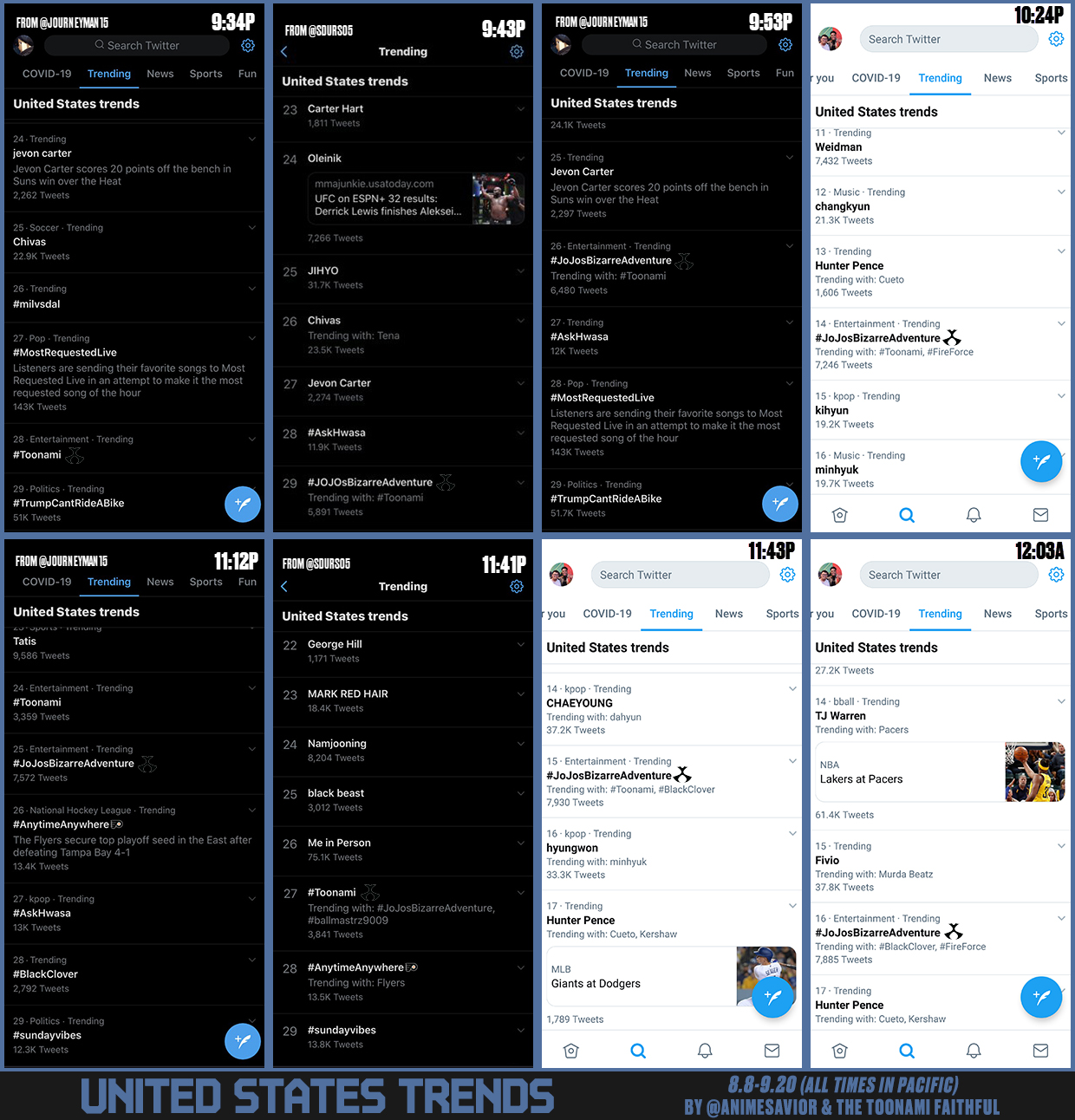 "Your system's trash. You can't measure ability just by looking at talent."
– Secre "Nero" Swallowtail, Black Clover (Ep. 128)
The Toonami Trending Rundown for August 8-9, 2020.
Among the notable highlights of the night, JoJo's Bizarre Adventure saw Giorno and the rest of the gang make their journey towards Rome for their next lead, but not before Cioccolata and Secco stop them. With the power of their stands, and complete disregard for collateral damage, Giorno and others will have to react quickly to stop these two stand users. Meanwhile, Black Clover has Asta and company sail off to the Heart Kingdom on their investigation of uncovering the looming demon threat. However, Asta is plucked away by a spirit that protects this kingdom named Undine, while Noelle, Mimosa, and Finral are forced to fight Gaja, one of the kingdom's guardians. With Gaja and the Undine's powerful magic, Asta and his friends will have to rely on their teamwork to get out of this jam. And Fire Force returns to the block with an encore run of episode 15, as due to delays involving the COVID-19 pandemic, fans will have to wait until October for the second season.
On Twitter, #Toonami would trend in the United States alongside both JoJo's Bizarre Adventure, Fire Force, and Black Clover. #Toonami would also trend on Tumblr. The full list, including statistics and tweet counts from the Twitter app and Amr Rahmy's Fan Screening analytics app, can be seen below.
---

The regular schedule will be a lot different for a fortnight as Toonami aired a few promos for Bruce Wayne's two-week return to the block. Next week, Batman: Year One will kick off the block at midnight EDT followed by the first part of Batman: The Dark Knight Returns at 1:30 a.m. A week later, Batman: Gotham Knight will air at midnight, followed by the second part of Batman: The Dark Knight Returns at 1:45 a.m.
Aniplex and Cloverworks released a new key visual of The Promised Neverland, which you can see below. The second season is scheduled to premiere in January 2021 (in Japan and simulcasts), delayed from its previous October start date this year due to COVID-19. For those who wish to re-watch the series, Aniplex has the season available subbed and dubbed on Crunchyroll and FunimationNow, with a release also on Netflix next month.
/
アニメ #約ネバ
第2期ティザービジュアル公開💡
\

▼さらに2つの新情報✨

■第2期
2021年1月より
フジテレビ"#ノイタミナ"ほかにて
毎週木曜25:25から放送開始!

■第1期
2020年10月1日より
フジテレビ"#ノイタミナ"ほかにて
毎週木曜24:55から再放送開始!https://t.co/FbCI27dUDL pic.twitter.com/CyVGUh7kiF

— 『約束のネバーランド』公式 (@yakuneba_staff) August 11, 2020
Aniplex also announced that the first 26 episodes are available both subbed and dubbed on Crunchyroll and FunimationNow, for those who want to re-watch Sword Art Online in anticipation for the final part of Project Alicization.
Not much else to say other than until next week, stay safe, visit blacklivesmatters.carrd.co to see what you can do to help the fight against social inequality, and make sure you do your part to stop the spread of COVID-19 and to protect others by following your local health advisories. Stay at home unless you need to, practice social distancing by staying six feet/two meters away from one another, if all possible, and wash your hands thoroughly for at least 20 seconds.
---
Legend: The shows listed are ordered based on their appearance on the schedule. Show trends are listed in bold. The number next to the listed trend represents the highest it trended on the list (not counting the promoted trend), judging only by the images placed in the rundown. For the Twitter tweet counts, the listed number of tweets are also sorely based on the highest number shown based on the images on the rundown.
United States Trends:
#Toonami [#27]
#JoJosBizarreAdventure [#14]
#FireForce [Trended with #JoJosBizarreAdventure]
#BlackClover [#28]
#ballmastrz9009 [Trended with #Toonami]
Tweet Counts:
#JoJosBizarreAdventure [7,885 tweets]
Notes and Other Statistics:
Special thanks to @Journeyman15, @sdurso5 and others I forgot to mention for spotting some of the trends on this list.
It's Good To Be Back. Only Toonami on [adult swim] on Cartoon Network.
Did you enjoy this week's Toonami? Let us know by commenting below or directly on our social media. And be sure to follow us on @ToonamiNews and subscribe to our podcast on Soundcloud for future content and breaking news updates.