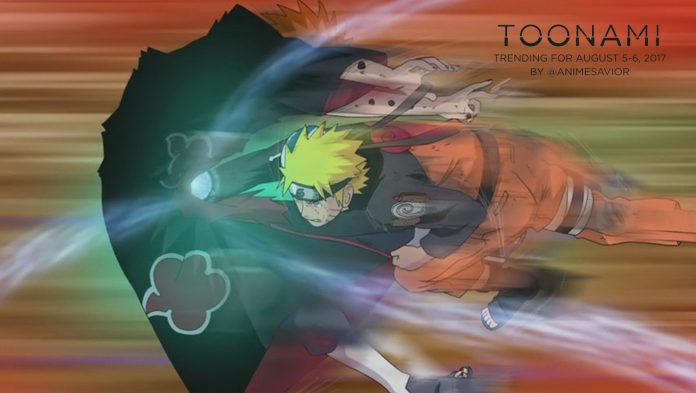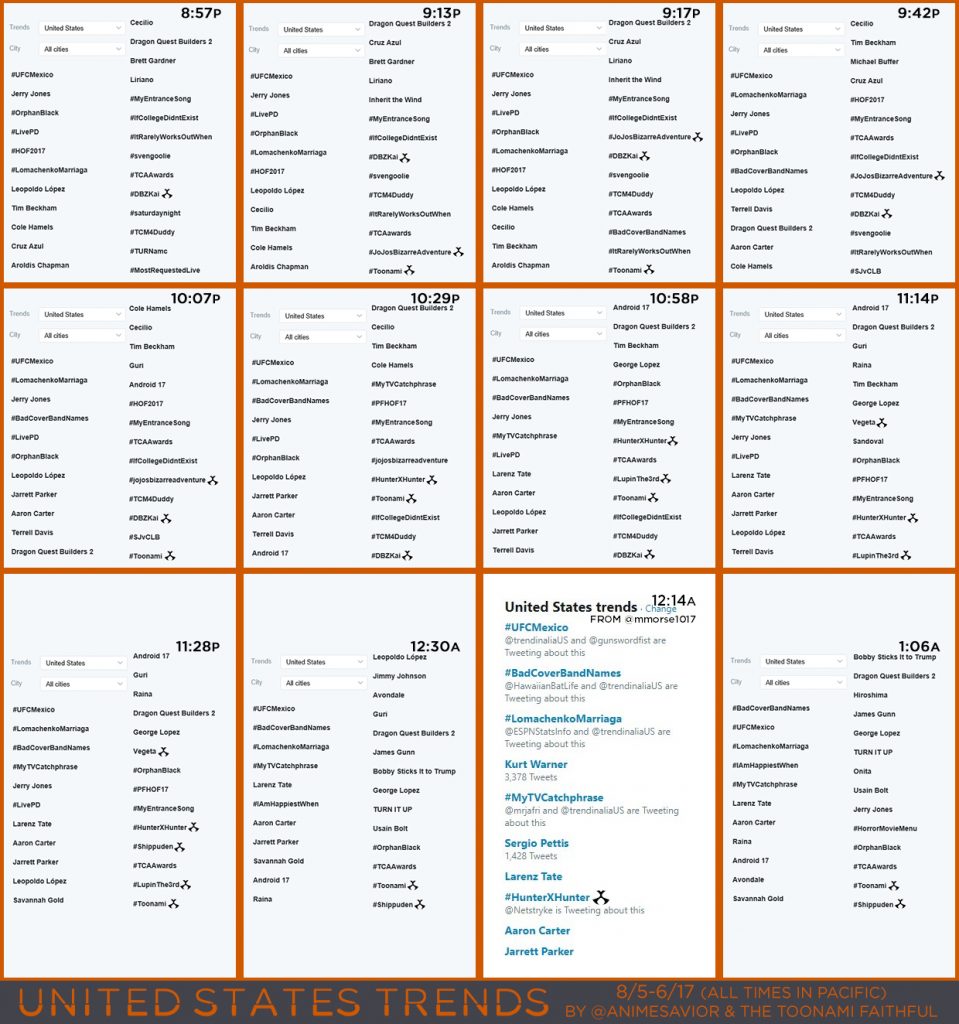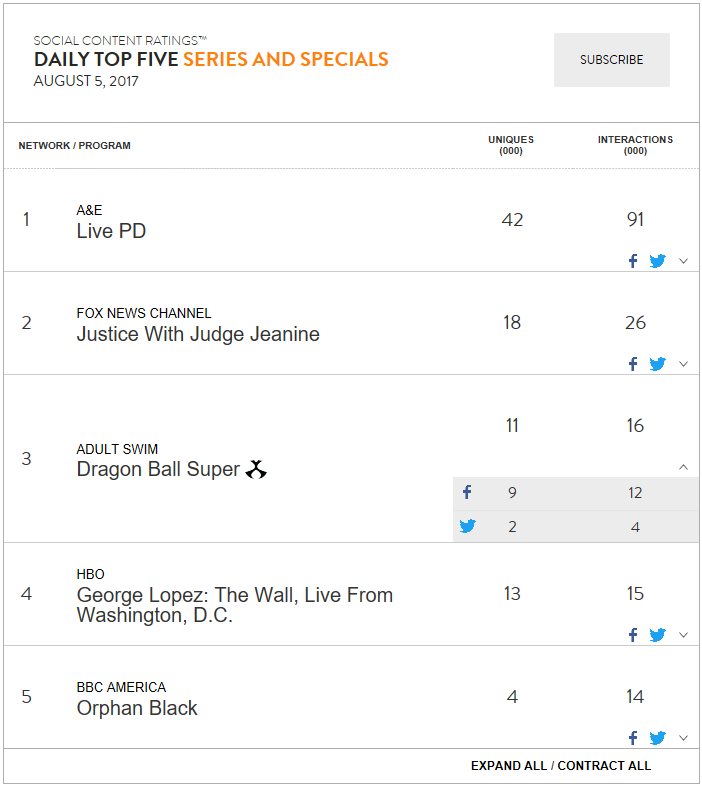 "As long as this Shinobi culture exists, there may never be true peace and order. Pain queried you about peace but finding that solution is difficult. In order to try to protect something that is precious, wars are waged. As long as there is love in this world, there will also be hate. And some will take advantage of that hatred. As long as we have this system, this monster known as hate will live. It will give birth to more Pains. Pain may have actually killed Jiraiya-sensei, but if you look deeper than one can say this disordered Shinobi world created Pain and killed Jiraiya. To be a ninja means that you must confront hatred, and every one of us must battle against that hatred. Jiraiya-sensei bequeathed you the quest to the solution to end this hatred. […] I'm certain that you'll be able to find the answer, Naruto. Because I believe in you completely."
–          Minato Namikaze, Naruto Shippuden (Ep. 168)
The Toonami Trending Rundown for August 5-6, 2017. Another enjoyable night with Dragon Ball Super beginning the Univese 6 arc, while Gon and Killua log themselves into Greed Island, and Minato helps Naruto out in sealing back the Nine Tails, among other great moments.
On Twitter, every show from #DBZKai to #Shippuden with the exception of Tokyo Ghoul successfully trended during their respective East Coast airings. Meanwhile on tumblr, Toonami would make trend as with Dragon Ball Super, JoJo's Bizarre Adventure, and Hunter x Hunter as well.
DBZ also produced a character trend with Vegeta as with Buu's regenerative abilities too powerful for him to stop, he resorts to self-destruction in his attempt to finish Buu off.
Finally, Dragon Ball Super once again would make it to Nielsen Social's top 5 most talked about shows on the day on Twitter and Facebook, making it to the #3 spot. This is the 29th time a Toonami show has reached this list since we started recording this feat and the 16th time for Super in its run so far.
---
This week, Toonami showcased a teaser for the upcoming return of Outlaw Star to the better cartoon show, set to premiere on August 19. You can check it out below.
Not much else to say other than we'll see you again next time for another round of the better cartoon show, enjoy Otakon for those going, and we do want to wish a happy 50th anniversary to the Lupin the Third franchise and a happy 16th anniversary to Samurai Jack. It's been a milestone year for both shows as Lupin made its return to Adult Swim after 16 year hiatus and after a 12 year wait, Samurai Jack finally saw its long awaited conclusion. On behalf of the Toonami Faithful, thanks for the memories and here's to many more to come.
---
Legend: The shows listed are ordered based on their appearance on the schedule. Show trends are listed in bold. The number next to the listed trend represents the highest it trended on the list (not counting the promoted trend), judging only by the images placed in the rundown. For the Twitter tweet counts, the listed number of tweets are also sorely based on the highest number shown based on the images on the rundown.
United States Trends:
Toonami/#Toonami [#22]
#DBZKai [#19]
Vegeta (From DBZ Kai) [#17]
#JoJosBizarreAdventure [#18]
#HunterXHunter [#8]
#LupinThe3rd [#21]
#Shippuden [#22]
Tweet Counts:
Toonami [7,054 tweets]
#Toonami [4,005 tweets]
#DBZKai [1,732 tweets]
#JoJosBizarreAdventure [2,484 tweets]
#HunterXHunter [2,020 tweets]
Tumblr Trends:
#toonami
#dragon ball super
#jojos bizarre adventure
#hunter x hunter
Notes and Other Statistics:
Special thanks to @mmorse1017, @myanimewaifu, and others I forgot to mention for spotting some of the trends on this list.
Space… Only Toonami on [adult swim] on Cartoon Network.