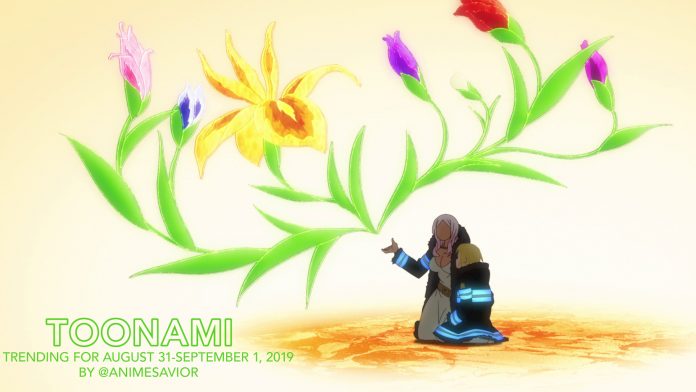 "If you want a hero, there's one right here. Just look to the skies and cry out my name, I'll come and save you any time. […] But I don't have to be obliged. If you say you need me, I'll come running. Because that's what Heroes do."
–          Shinra Kusakabe, Fire Force (Ep. 06)
The Toonami Trending Rundown for Aug. 31-Sept. 1, 2019. It was Labor Day weekend, but for the first time in a while, the block opted not to do a holiday marathon this year. Among other great moments, Shinra and Company Eight goes after Hibana and Company Five to get Sister Iris back on Fire Force; Senju and Taiju meet a third person who broke out of petrification in Tsukasa in Dr. Stone; and Cammie has to deal with PTSD from her first sortie in a Holon during gen:LOCK.
On Twitter, every show trended in the US except for Black Clover and the encore run of My Hero Academia. No trends were spotted on Tumblr this week. The full list including statistics and tweet counts from the Twitter app and Amr Rahmy's Fan Screening analytics app, can be seen below.
---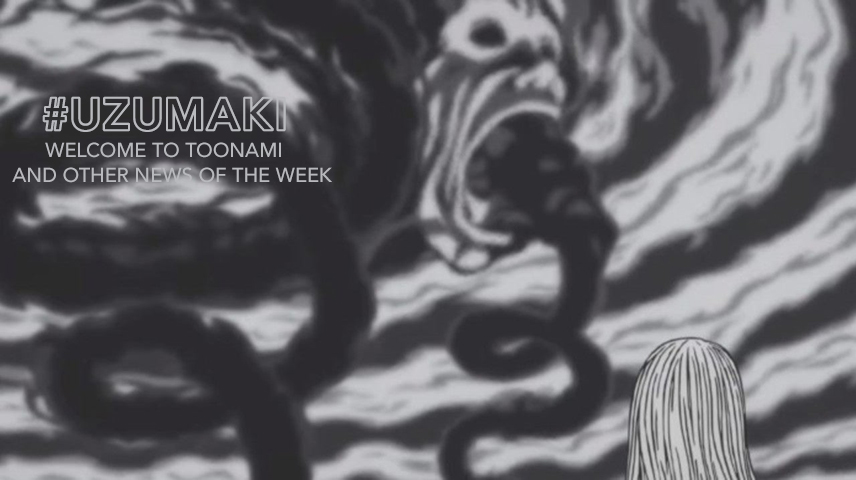 For those that missed it, i just finished my report from SDCC 2019 last week. You can check it out by clicking here.
This week's feature was a game review of 198X. It received a 7.5 out of 10 score.
Big news from Crunchyroll Expo this week as Toonami unveiled their third original production in the modern era. Acclaimed horror manga artist Junji Ito will be partnering up with Production IG and Toonami to create a four-episode anime adaptation of his hit work, Uzumaki. The mini-series will see its world premiere on Toonami in 2020. Uzumaki would trend in the US as a result of the announcement.
In My Hero Academia news, a new trailer for the upcoming Fourth Season was released this week, which you can see below. It was also announced that for the new season BLUE ENCOUNT will perform the OP song "Polaris," and Sayuri will perform the ED song "Koukai no Uta."
Also in MHA news, Funimation this week has released a Blu-ray and DVD combo for Part Two of Season Three, which is available for purchase at Funimation's site and other major anime-selling retailers for $64.98 MSRP ($45.69 on Funimation.com).
🚨 Give your collection a PLUS ULTRA addition! 🚨

Season 3 Part 2 comes with all-new, exclusive art cards and fits perfectly into the Season 3 Part 1 Limited Edition box.

Get your copy today: https://t.co/64ivxwqjfepic.twitter.com/34b59On28e

— My Hero Academia (@MHAOfficial) September 3, 2019
Funimation also announced that there will be a second cour of Fire Force, meaning that this season will be at least 24-26 episodes long. We can't confirm yet if the second will immediately follow the conclusion of the first cour, or if we will see an off-season in between.
📢🔥🔥🔥🔥🔥

Have you heard the news? Fire Force will have a second cour! #fireforce pic.twitter.com/0gReGEEze0

— Fire Force (@FireForceAnime) September 4, 2019
This upcoming Sept. 21 will mark 20 years since the Naruto franchise began publication in Shonen Jump. To commemorate the occasion, Viz Media has announced the "Year of Naruto" event, a group of special projects involving the franchise throughout the next year that will kick off at New York Comic Con 2019 next month.
BELIEVE IT! We're excited to announce The Year of Naruto – a celebration of 20 years of the world's most-loved ninja! 🍥 pic.twitter.com/TqYDbqHOn2

— VIZ (@VIZMedia) September 5, 2019
Finally, our thoughts and prayers go to the friends, family, and fans of Michael Lindsay, who passed away at the age of 56 last Friday. Michael is best known among Toonami fans as the original voice of Kisuke Urahara in Bleach and Kankuro in Naruto. Digimon fans should also know him for voicing Joe Kido and Greymon. On behalf of the Toonami Faithful, Rest in Peace, Michael, and thank you for all the memories.
Not much else to say other than we'll see you again next week as always.
---
Legend: The shows listed are ordered based on their appearance on the schedule. Show trends are listed in bold. The number next to the listed trend represents the highest it trended on the list (not counting the promoted trend), judging only by the images placed in the rundown. For the Twitter tweet counts, the listed number of tweets are also sorely based on the highest number shown based on the images on the rundown.
United States Trends:
#Toonami [#17]
#DragonBallSuper [#26]
#genLOCK [Trended with #DrStone]
#DrStone [#26]
#FireForce [#26]
#FoodWars [#23]
#Boruto [#20]
#Shippuden [Trended with #Toonami]
#GundamTheOrigin [#27]
#LupinThe3rd [Trended with #Toonami]
Tweet Counts:
#DragonBallSuper [3814 tweets]
#FireForce [2702 tweets]
#Boruto [2550 tweets]
Fan Screening Counts:
#DragonBallSuper [#5 with 3630 tweets]
#FireForce [#12 with 1802 tweets]
#DrStone [#9 with 2168 tweets]
#FoodWars [#16 with 1803 tweets]
#BlackClover [#20 with 755 tweets]
#Boruto [#12 with 2809 tweets]
#MyHeroAcademia [#27 with 1342 tweets]
Notes and Other Statistics:
Insert Coin. Only Toonami on [adult swim] on Cartoon Network.
Toonami Tweets of the Night for August 31-September 1, 2019