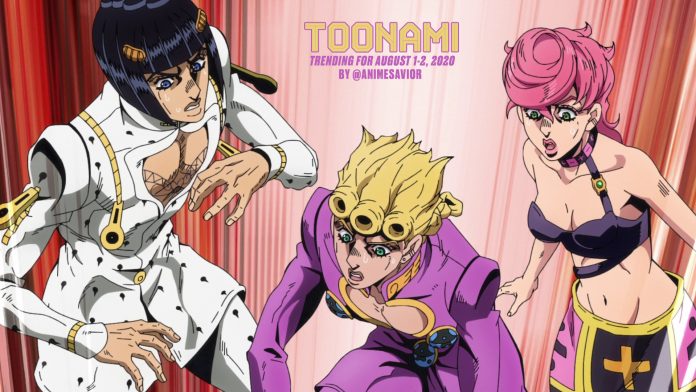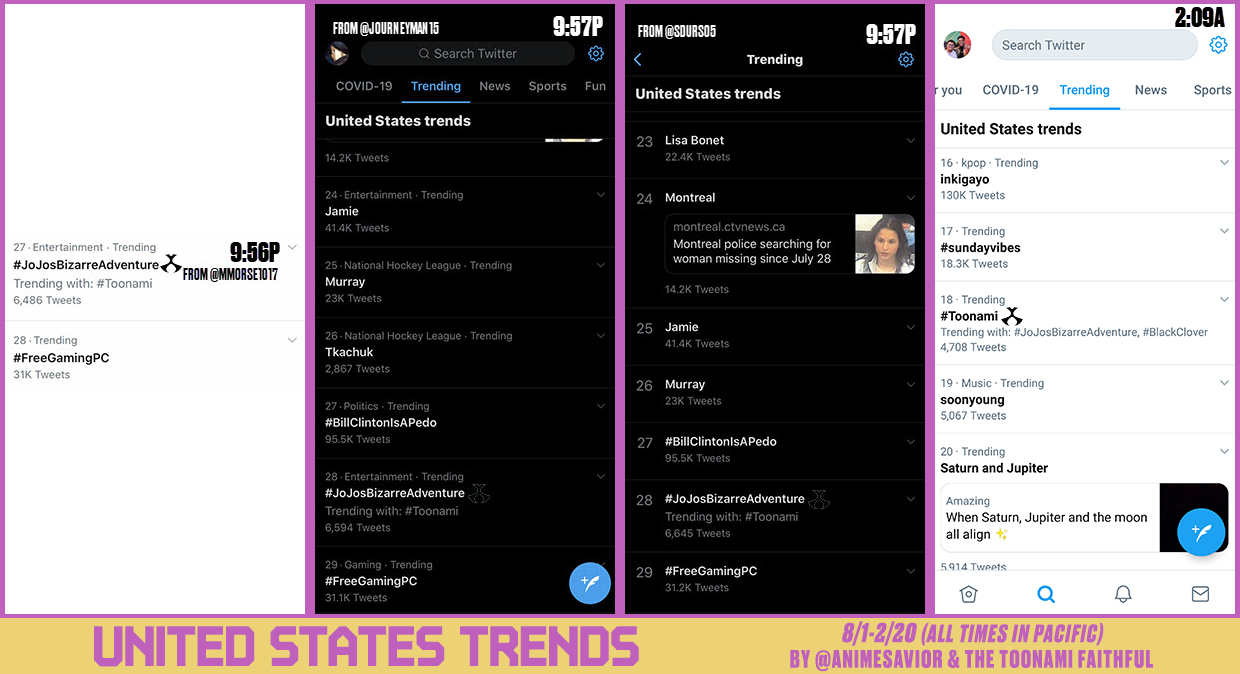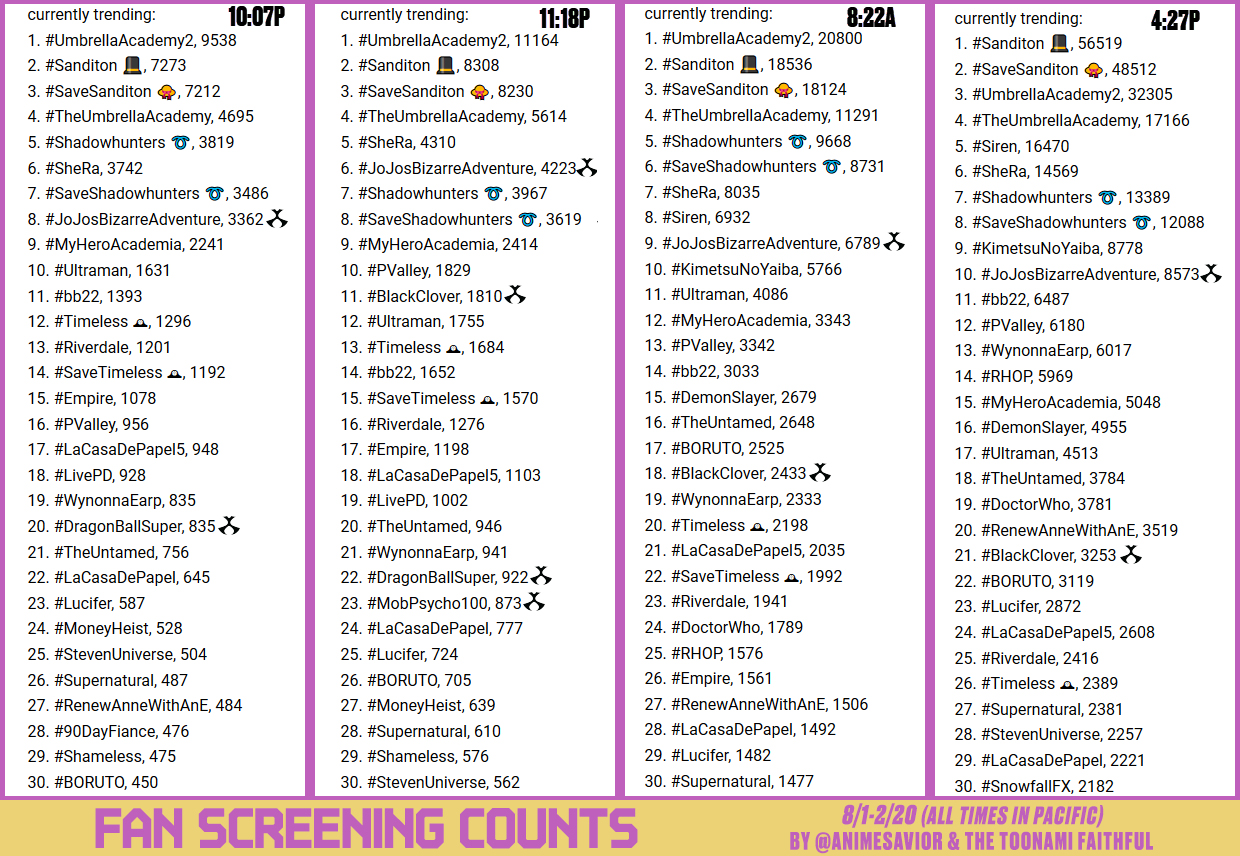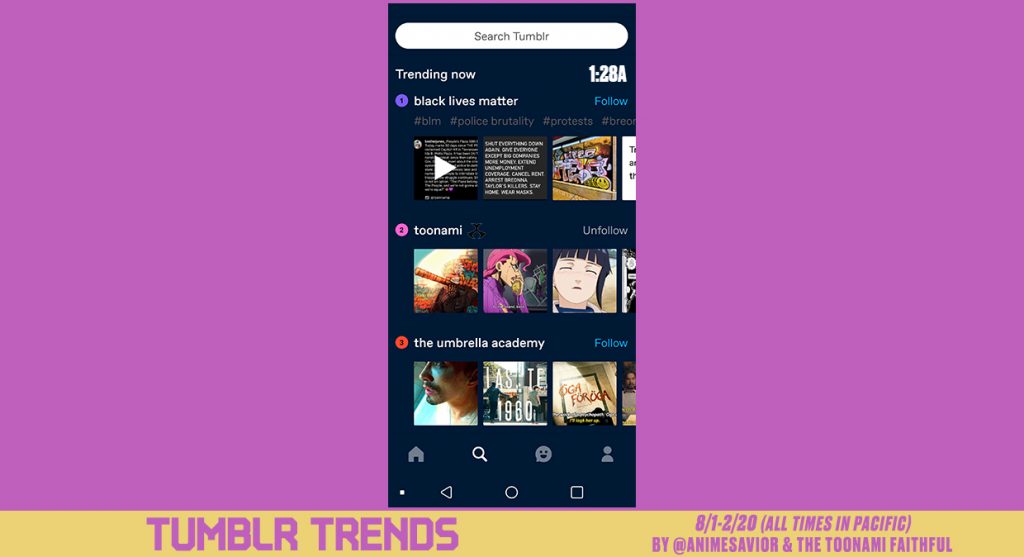 "I'll gladly share the story, but only once you've come to retrieve it, and not a second before. Not even he knows the true way to use the arrow. Its powers extend beyond simply awakening one's stand ability. It bears a hidden wisdom which I shall teach you.  You must come to Rome. The arrow holds the key to his defeat. It's the only way you can hope to prevail."
–          Anonymous, JoJo's Bizarre Adventure: Golden Wind (Ep. 29)
The Toonami Trending Rundown for August 1-2, 2020. After a two-month hiatus due to COVID-19 related delays, JoJo's Bizarre Adventure returned to the lineup to air the first of Golden Wind's final 11 episodes.
Among the notable moments of the night, in JoJo's Bizarre Adventure, Bucciarati's team discover further information regarding the boss (including what he looks like) with clues left behind by Abbacchio before his passing. A mysterious hacker then reaches out to Bucciarati's squad, giving them more information on what they are looking for, including the stand arrows, and that the boss's real name is Diavolo. He instructs Bucciarati's squad to go to Rome for the next step. However, they will have to get past two new stand users, Cioccolata and Secco, before they can do so. Black Clover had Asta and company meet with Gordon to see if he knew anything regarding curses and forbidden magic as part of their investigation of the devils. While his family did have a history dealing with curses and forbidden magic, Gordon ran away long ago, not wanting to be a part of it. To help Asta, Gordon takes everyone to meet his family. To Gordon's surprise, his father decides to help by showing them a map of cursed individuals that could give them further clues. One particular case within the Heart Kingdom caught their eye. Meanwhile as Noelle's relationship with her family improves, Nozelle revealed that their mother's passing was not necessarily due to her birth, but because of a devil's curse. He instructs Noelle to go to Dorothy for more information, who takes Noelle to her Glamour World (due to a curse that prevents them from discussing the details in the real world) before revealing that a devil named Megicula was responsible. And in Naruto, Hinata reminisces about a time when she underwent a grueling training session with Neji, which severely strained her eyesight. Neji, admitting that he went a bit too far, searched for a Eye Medicine Plant in the Valley of Judgement with Naruto and Sakura, in his hopes that she could recover in time to see a fireworks show with the crew. Although their efforts were futile, Hinata nevertheless was thankful to Neji for his efforts.
On Twitter, #Toonami would trend in the United States alongside both JoJo's Bizarre Adventure and Black Clover. #Toonami would also trend on Tumblr. The full list, including statistics and tweet counts from the Twitter app and Amr Rahmy's Fan Screening analytics app, can be seen below.
---

This week's feature was a new music video by EarthGang, called "Top Down." You can check it out below.
Aniplex this week released a new trailer for Demon Slayer The Movie: Mugen Train. In addition to showcasing teaser highlights for the film, the trailer also reveals the theme song for the upcoming movie, "Homura" by LiSA. Mugen Train will premiere in Japanese theaters on Oct. 16, 2020. Aniplex of America and Funimation both plan on premiering the film in the U.S. and Canada sometime next year.
New information regarding the InuYasha sequel: Yashahime: Princess Half-Demon, was released this week. During the virtual panel at Otakon, rough cuts featuring the show's newest protagonists were showcased, including Inuyasha's daughter Moroha, and Seashoumaru's daughters Towa & Setsuna. Character designs for Sesshomaru's daughters Towa and Setsuna were also released. 
Here's a sneak peek of the #InuYasha sequel Yasha-Hime: Princess Half-Demon from Otakon's virtual panel with composer Kaoru Wada on Aug. 1, 2020🔥 This clip contains rough cuts/stills featuring InuYasha's daughter Moroha, and Seashoumaru's daughters Towa & Setsuna! pic.twitter.com/YSZrLbVL2E

— Toonami News (@ToonamiNews) August 4, 2020
Colored character sheets for Sesshoumaru's daughters were also revealed over the weekend during a Japanese #InuYasha livestream special, including Towa's sword Kikujyuumonji, and Setsuna's naginata, Kanemitsu no Tomae. pic.twitter.com/1MHe5KZexN

— Toonami News (@ToonamiNews) August 4, 2020
Viz Media also released a new trailer and key visual for Yashahime, revealing that the series will begin airing in Japan this October.
Yashahime: Princess Half-Demon arrives October 2020! Fate is in the hands of the next generation! 🌸 pic.twitter.com/H8ABtWtbZB

— VIZ (@VIZMedia) August 7, 2020
The Half-Demon Princesses are here! 🌸
Presenting the new key visual for #Yashahime: Princess Half-Demon. Season premieres this October! pic.twitter.com/zybbXheeKT

— VIZ (@VIZMedia) August 7, 2020
And finally, the "Dark Knight" will be making his return to Adult Swim for the first time since 2014. For Aug. 15 and Aug. 22, Toonami will partner up with DC FanDome to showcase a few Batman animated movies. On Aug. 15, Batman: Year One will kick off the block at midnight EDT followed by the first part of Batman: The Dark Knight Returns at 1:30 a.m. A week later, Batman: Gotham Knight will air at midnight, followed by the second part of Batman: The Dark Knight Returns at 1:45 a.m.
Unfortunately, those looking forward to Toonami's regular programming will have to wait another two weeks, after this upcoming regularly scheduled broadcast. Most notably, JoJo's Bizarre Adventure will take another break after recently returning. However, this will give fans something different to enjoy during these uncertain times, especially given the numerous delays the block has faced. Some fans could consider Batman's return a surprising moment for Toonami, especially since the 2014 Month of Movies, Jason DeMarco has been adamant that Toonami can't air movies nowadays due to financial reasons (although he has made exceptions). But even DeMarco has regularly said: "never say never." As long as fans keep up the support, this could be a good omen of things to come.
Until next week, stay safe, visit blacklivesmatters.carrd.co to see what you can do to help the fight against social inequality, and make sure you do your part to stop the spread of COVID-19 and to protect others by following your local health advisories. Stay at home unless you need to, practice social distancing by staying six feet/two meters away from one another if all possible, and wash your hands thoroughly for at least 20 seconds.
---
Legend: The shows listed are ordered based on their appearance on the schedule. Show trends are listed in bold. The number next to the listed trend represents the highest it trended on the list (not counting the promoted trend), judging only by the images placed in the rundown. For the Twitter tweet counts, the listed number of tweets are also sorely based on the highest number shown based on the images on the rundown.
United States Trends:
#Toonami [#18]
#JoJosBizarreAdventure [#27]
#BlackClover [Trended with #JoJosBizarreAdventure]
Tweet Counts:
#Toonami [4,708 tweets]
#JoJosBizarreAdventure [6,645 tweets]
Fan Screening Counts:
#DragonBallSuper [#20 with 922 tweets]
#JoJosBizarreAdventure [#6 with 8,573 tweets]
#MobPsycho100 [#23 with 873 tweets]
#BlackClover [#18 with 3,253 tweets]
Tumblr Trends:
Notes and Other Statistics:
Special thanks to @Journeyman15, @mmorse1017, @sdurso5 and others I forgot to mention for spotting some of the trends on this list.
Only Toonami on [adult swim] on Cartoon Network.
Did you enjoy this week's Toonami? Let us know by commenting below or directly on our social media. And be sure to follow us on @ToonamiNews and subscribe to our podcast on Soundcloud for future content and breaking news updates.