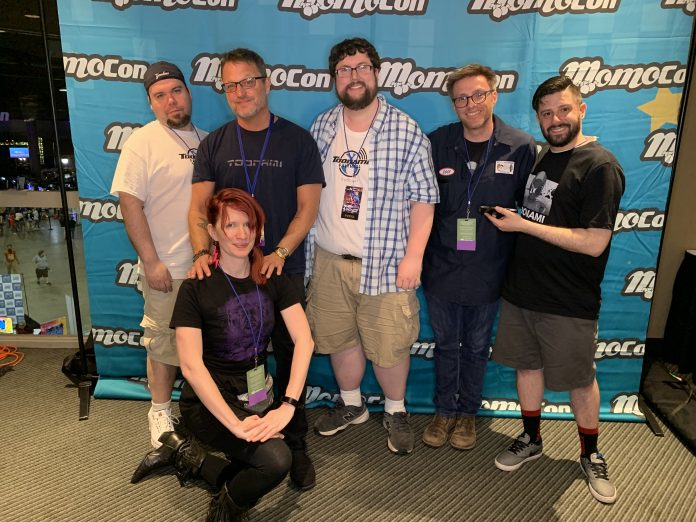 My excitement about going to MomoCon grew more significant and extensive as the date grew close. I couldn't wait to travel to a new area and see what the convention would be like. I had heard great stories about it from colleagues, but you can't really understand it until you've been there. Now I get the hype. I understand why people love this convention, and why Toonami will continue to have panels there (as well as being close to the convention). MomoCon delivered what I was expecting, and I'm wondering if this was my favorite convention since I started working at Toonami Faithful.
What sparked it for me was the fact that Toonami was there and had a panel dedicated to it. Most of the time, we go to conventions to stay on top of the latest anime news. It's important because the English dubs that are announced may find their way to the block in the future. Instead of endless speculations on our end, we got to hear directly from the source, giving me the feeling that Toonami Faithful was staying faithful in reporting on itself. It's one of the first times I felt legitimate in what I was attending, and I couldn't have asked for anything better. It was great that Jason DeMarco, Gill Austin, Steve Blum, Dana Swanson, and a plethora of Adult Swim employees made the trip to the convention. As far as news, Toonami announced that Gundam the Origin will air on the block on July 6 and that Lupin the Third Part V will air on June 15. They wanted to announce the series at MomoCon, but that information was leaked at a previous convention. However, Toonami did give us a promo for Lupin the Third Part V which looked terrific. And while that does seem low (on the announcement end), Toonami had another two shows they wanted to announce but were told not to at the last minute. After talking with Gill Austin after the panel, fans should expect those show announcements to occur this year, so be on the lookout for them.
Toonami has 4 show announcements planned but can only give 2 tonight!

— CJ Maffris misses Momocon 2019 (@SeaJayMaffris) May 24, 2019
Toonami also debuted the first episode of their latest and possibly most expansive immersion event, The Forge. We got to see and hear it all, and it had the crowd going nuts. Interestingly enough, besides Blum and Swanson, Beau Billingslea's voice was heard in the project. It was an exciting first episode where we see a life form that looks a lot like TOM, so I'm curious to know where this will go. My favorite part had to be the banter between TOM and SARA and I hope that other fans have a chance to check out the video to see what Toonami has in store.
Toonami Faithful was also lucky to tour Adult Swim and see where all the magic happens. It certainly felt weird walking to the establishment's roof to get in, but it was rewarding when we got the chance to walk around inside the building. There were all kinds of artifacts, like a Big O statue, Cappy from Hamtaro sitting on a Zapper Zaku, a Toonami foosball table, and a ton of fan art that was sent in. We also were able to meet the editors for Toonami— Johnny Rej, Sara Hardy, and a new member to the team named George (unfortunately, I cannot remember his last name). They were all gracious and allowed me to go on and on about how much I love their work and I couldn't contain the excitement I had meeting them. To me, their work was what made Toonami the best with all of the music videos and trailers they've created. It will be something I'll never forget. Oddly enough we even got to say a quick hello to Kim Manning, who I wasn't expecting to see at all, but it was refreshing to see a face after hearing the name as often as we have. It was a special moment for those at Toonami Faithful who could go to the convention and one I think Adult Swim even enjoyed.
— Toonami News (@ToonamiNews) May 24, 2019
As far as anime panels, there weren't as many as I would have liked. I thought they could have added more, but it did make deciding what I wanted to do a little easier. There were only two industry panels with FUNimation and Aniplex USA, which did not offer anything new since Anime Boston (or at least news that we didn't already know). It makes me wonder if industry panels have the same value as they once did when talking about the larger corporations in anime because, besides Sentai Filmworks, not many exciting things happen at those. In any case, I did find time to check out other anime themed panels, including My Hero Academia and Maki Terashima-Furuta, both which were huge highlights for me.
Even if anime isn't what you're most passionate about MomoCon has you covered. They went all out for Steven Universe at this convention with panels involving the cast sharing their insights about the series. Plus the amount of gaming they had at the convention was astonishing. They had all kinds of fighting game tournaments, ranging from Smash Ultimate to Dead or Alive 6, Dragon Ball Fighter Z, Street Fighter, etc. There were also FPS games like Overwatch, Fortnite, Paladins, CS:GO, and Realm Royale. MOBA game League of Legends was going on, and of course all kinds of table top games took place. I was surprised to see the considerable Bakugan booth where fans could get cards and roll dice to play. It was huge and I was impressed at the whole setup. And MomoCon had a nerdcore rap concert that I heard was fantastic. They added a ton of non-anime panels that created an environment that attracts more than just anime fans. I enjoyed it and thought that could be a huge selling point for people who are unsure if they want to attend.
Toonami Faithful participated in three press panels with Justin Briner, Luci Christian, and Monica Rial. Due to how short each panel was, we stuck with asking about the more prominent shows these actors/actresses were a part of (Dragon Ball Super, My Hero Academia, Black Clover, One Piece), and all answered other exciting topics that I'm sure you'll enjoy. I will preface by saying I'll have to do a lot of "TLC" for Christian's interview, as I made a colossal error and misjudgment when trying to get sound. Hopefully, it'll work; otherwise, we might have to change that press panel into a written one. Besides those three, we did an exclusive one-on-one interview with Maki Terashima-Furuta and the Toonami crew. We talked with Blum, Swanson, and Austin to ask about the latest show acquisitions, The Forge, and the future of the block. Be on the lookout for those, and if you are a Toonami Faithful Pass holder, you'll get to see them before anyone else!
Interview with @blumspew, @danaswanswan & @stupidgill is a wrap. Here's a little message from @Sketch1984 about that. pic.twitter.com/oS1mbBiClR

— Toonami News (@ToonamiNews) May 25, 2019
My interview on @ToonamiNews coming soon. 取材受けました。 pic.twitter.com/Lwt4UgLzZc

— Maki Terashima-Furuta🍡🍭🍬 (@MakiTerashima) May 25, 2019
Logistically I've never had an easier time moving from a hotel room to a convention hall than I did at MomoCon. Toonami Faithful stayed at the Hilton in the Peachtree Center (which is one of the hotels that host DragonCon), and we never had to take a step outside to get to the convention hall. The sky bridges were a lifesaver and shortened what could have been a much longer walk. Plus, all the food options at the Peachtree Center made staying there even better. And getting onto the public transportation in Atlanta was easy since it was right next to the Peachtree Center. There was a considerable delay on the Marta on Friday, but other than that, travel was not an issue.
Unfortunately it wasn't all perfect, as someone felt the need to verbally attack Monica Rial, due to the controversy involving a fellow voice actor, after she spoke up. Rial brushed off the question and moved along, but it left a terrible taste in my mouth that someone found it appropriate to be so aggressive during a My Hero Academia panel. That topic has no place in that venue and it's now a legal matter, and it'd be ridiculous for Rial to mention anything that hasn't already been said in a public forum. I'm worried this might become a trend, as Jamie Marchi had a similar experience at Anime North. If conventions continue to have Rial and Marchi, I think there needs to be more strict supervision at their panels. I hate suggesting that because both of them go to these conventions to escape the noise, and even providing more supervision might not take that edge off. But it's uncomfortable for the attendees, and I do think it's crucial that conventions enforce more strict rules for those who believe this is okay behavior because it's not. It's just selfish.
Kudos to Monica on how she handles BS from Vic stans. Some clown point blanked ask her to admit she lied about the situation at a My Hero Academia panel to create some sort of scene. Absolute class from her. She's great, these stans….nope. Not even a little bit.

— CJ Maffris misses Momocon 2019 (@SeaJayMaffris) May 24, 2019
At Jamie Marchi's panel at Anime North when some guy asked "why she sold out Vic" and accused her of being a liar, meanwhile filming her panel when she expressly asked not to do so.

He was dragged out by security screaming "JUSTICE WILL PREVAIL!"

orz

— Alex Rochon (@AlexRochonVA) May 25, 2019
MomoCon blew me away with all that it offered. It wasn't just about anime, it had something for a variety of nerds. MomoCon had their best turnout yet! The people couldn't have been nicer, and I cannot stress enough how helpful and friendly the press staff was (I had many wonderful conversations with them during the weekend). The food was excellent and having the CNN Center right next door, meant that I had time to go and eat while at the convention. With how much fun I had and how easy it was navigating, I might have to make MomoCon a recurring assignment. It was that amazing. And due to all of the people I got to talk to and meet, it will be a memory I cherish for the rest of my life. So if you live in Atlanta, you are a lucky person, because MomoCon would be a great convention to attend every year.
Thanks also to @MakiTerashima, @brendenfletcher @shinjiaramaki @kenjikamiyama and the @ToonamiNews folks for coming out to support!

— LORD DEATH DEMARCO (@Clarknova1) May 25, 2019
Thank you @adultswim and @MomoCon for a wonderful weekend. Love you, Atlanta!

— Steve Blum (@blumspew) May 26, 2019
C.J Maffris is the senior staff writer at Toonamifaithful.com. Feel free to follow C.J on Twitter @SeaJayMaffris