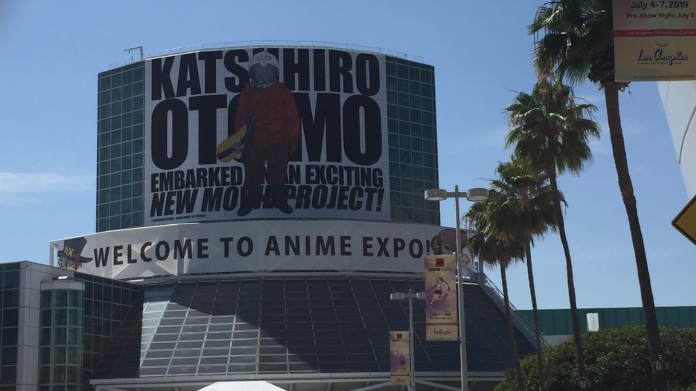 Anime Expo 2019 has ended, and I think it's safe to say that it was a crazy week to cover. There were a ton of panels, huge premieres, and even a couple of earthquakes to create a wild event with a lot of fanfare. I call it the "Super Bowl" of anime conventions and a ton of companies made their presence felt, giving fans all kinds of news on what will happen in the future. Toonami Faithful was at the convention in full force as we brought a team of myself, Daniel Limjoco, Happy Kuro Kitty, and Varun Gupta to make sure we were able to inform fans of any significant news that came Toonami's way (which did happen). Still, this year's convention lines felt a lot more chaotic compared to previous years, and I'm curious if Anime Expo can do more to improve the experience, not just for exhibitors, press, and industry people but for all.
And yes the first episode was already dubbed in English! What an amazing time to be an anime fan!

— CJ Maffris (@SeaJayMaffris) July 6, 2019
What a panel. This was among the greatest days of my life. Thank you so much @FUNimation and @AnimeExpo for having me, and to everyone who was up on that stage with me to share that moment. I'll never forget this. Thank you from the bottom of my heart. #AnimeExpo2019 #MHAAX2019 pic.twitter.com/Q0PMXGJAtR

— Kellen Goff (@kellengoff) July 6, 2019
It's tough to figure out what was the biggest event at Anime Expo due to the sheer volume of great panels. However, I would say that the convention brought a large number of premieres that grabbed many fan's attention. The most anticipated had to be the season four English dub premiere of My Hero Academia. That was a ticketed event, and if you were unable to get one, you weren't able to get in. Despite the series now airing at 3:30 a.m. on Toonami, the popularity of the franchise hasn't waned, given how packed the hall was to watch the fantastic debut. Before we got to watch the episode, FUNimation hosted a Q & A with some English voice actors of the series (Jason Liebrecht, Ricco Fajardo, Kellen Goff, Justin Cook, David Matranga, and Patrick Seitz) as well as the Japanese voice of Toru, Kaori Nazuka. None of the guests could contain their excitement for the new season and had a blast telling jokes (as well as silly unintended puns) to make the premiere feel special. I was impressed, especially given the first few minutes of the episode (as this arc has a darker tone than what people are used to). It does stink that everyone will have to wait till the fall to get more episodes, but since this first one was already dubbed in English, maybe FUNimation will be able to have same-day English dub releases for the whole season unlike before.
🔥 Anime Expo! 🔥
What did you think of the premiere of PROMARE?
🔺NO SPOILERS🔺#StudioTRIGGER #AX2019 #AnimeExpo #PROMARE #AnimeExpo2019 pic.twitter.com/DBo0lSy1Uu

— GKIDS (@GKIDSfilms) July 6, 2019
The official announcement has been made. We will be dubbing the English version of #ProMARE! Can't wait to work on this with both @GKIDSfilms and #StudioTRIGGER #anime #AnimeExpo pic.twitter.com/sbhXU3iWa3

— NYAV Post (@nyav_post) July 6, 2019
I'd also throw in how Trigger Studio once again stole the show at Anime Expo. The line for Promare (Trigger's newest film project) was massive and was quickly capped. We learned that the film will get an English dub by NYAV Post and the two companies will be working together very closely, which is rare to see. So close that Trigger will even be picking the cast members of the film. From what I gathered, this film might be one of the best projects the company has worked on and has many fans excited. However, Trigger gave more than just a Promare event. They once again had a live-drawing panel that hundreds of people flocked to see. The studio seems to take over Anime Expo and they generally bring in the largest crowds to their panels.
It wasn't just My Hero Academia and Trigger that gave fans a huge premiere. Crunchyroll went all out for their latest acquisition with the new Dr. Stone anime (it made a huge splash on social media when the first episode was released). A lot of fans are hyped about this new series, and it certainly felt that way with how crowded the hall was. I was impressed with how much was adapted in the first episode, giving the series a crisper feel. They added some brisk speed-up sequences during the trial and error stage, which was smart, and the music was beautifully done. I was impressed and hope it will find a home on Toonami in the future. There was also the Is It Wrong to Pick Up Chicks In a Dungeon (DanMachi) season two premiere, which was I especially excited to see. I've been a massive fan of the property since it surprised me in 2015 with how engaging it was. With the lackluster side story series bringing me down, I was glad to return to Bell and Hestia and seeing what they would be up too. What was cool was that at the premiere panel, the author of the DanMachi was there along with other executives to answer questions from the host. I'm intrigued by how things will play out, because after the first episode (of season two) we see our lovable leads get into a declaration of war against a new antagonist god, Apollo. It was fun to watch and I cannot wait to finish out the rest of season two.
Hear what these fans had to say about @DrStone_EN world premiere at @AnimeExpo! Newest episode available now on @Crunchyroll! https://t.co/Ah0iqp0j50 pic.twitter.com/G61heXb8HC

— TMS Entertainment (@tmsanime) July 12, 2019
RIGHT NOW!!!!!!!!!#AX2019 pic.twitter.com/fV8CcycLpB

— Sentai 🌞 Filmworks (@SentaiFilmworks) July 5, 2019
And those are just the premieres I was able to attend. There were so many more going on throughout the convention. The new big series, Fire Force, had an English dub premiere that a lot of fans enjoyed. There was also a new Pokémon movie (Pokémon: Mewtwo Strikes Back Evolution) that was ticketed and must have attracted a considerable crowd. And Varun was able to catch the latest Lupin the Third film which he felt was impressive. One other film from a popular franchises also received an English dub premiere at Anime Expo; being Conan (Cased Closed). The popular property Sound! Euphonium also received a movie premiere (subtitled) with an English dub announced to be in the works. Plus, the latest DanMachi film was also screened at Anime Expo (which you'll see an article about soon), and there were even two live-action film premieres; Kingdom and Tokyo Ghoul S. From what I gathered, it seemed that every premiere blew fans away. So if you enjoy getting to see things before the general public does, Anime Expo had you covered.
Presently obsessed with all things Sound! Euphonium, and can't wait for Monday's dub screening of the movie! Here's a peek at Kumiko (@tsunderica), Hazuki (me!), and Sapphire (@KayliMills) talking about some of the freshmen. #euphodub https://t.co/Ed9IyKwgZv

— Jennifer Losi (@JenLosi) July 12, 2019
Tokyo Ghoul S was a great adaption of the Gourmet arc, and the choice to re-frame it more as a horror storyline was great! Definetly worth checking out! #AX2019

— VLord The Pro Manga Addict (@VLordGTZ) July 7, 2019
The industry panels also had a ton of new information for fans to get excited about.The biggest Toonami news came from the Aniplex Panel. Demon Slayer was announced to be joining Toonami's lineup in the fall of this year. I was able to talk with Aniplex for a bit and found out how that news just came in about two hours before their panel started. It's pretty exciting, and a great get for the block due, to how popular it became during its simulcast run. The company also announced release dates for a couple of new products that will be coming out, like a Kill la Kill Blu-ray boxset that includes every episode, and the second film of Fate/Stay Night Heavens Feel. Sentai Filmworks's industry panel did leave a little bit to be desired. There wasn't much when it came to announcements for Toonami. But they did show an English dub clip of Haikyuu!! and Food Wars season three (showing that Alejandro Saab will be joining the cast as Tenrunori Kuga). It looks like fans won't have much to worry about, since I have a feeling a lot of season three has been recorded. A few properties of theirs will get an English dub, such as How Clumsy you are, Miss Ueno, Why the Hell are You Here, Teacher!?, Delinquent Hamsters, and Kase-san and Morning Glories. And fans were given an update about the latest Made in Abyss film to finish up the Sentai Filmworks panel. FUNimation, notorious for not having anything new to say at industry panels, did change as they showcased some new apparel that looked sweet (like the Akira jacket) as well as a new series they will get in 2020 called Plunderer. However, FUNimation also announced that they now have a partnership with Rightstuf. They will be currently working with Rightstuf and help stream Nozomi series that haven't found a home online. So be on the lookout for some older classics streaming on FUNimationNow. VIZ Media's industry panel also came with big manga announcements that had many readers ecstatic (which included titles such as Downfall, Blue Flag, and Love Me, Love Me Not). Plus VIZ Media announced their plan to release the second season of Castlevania. And Crunchyroll's panel didn't come with any news, but singer/rapper Mike Shinoda (Linkin Park) made a surprise appearance, showing a little cut from his new animated music video.
We're bringing @mikeshinoda to the #CRPanel for a special sneak peek at his animated music video #WorldsOnFire! pic.twitter.com/EQrjPGRZrC

— Crunchyroll @ WATCH Dr. STONE NOW! (@Crunchyroll) July 6, 2019
To cap off the convention, Toonami Faithful was invited to Yoshihiro Ike's Sunday concert by Production I.G. USA's president Maki Terashima-Furuta. It was a lovely time and something I wish more people visited. Not only is Ike a funny person (as we got to see at the Production I.G. industry panel which was a riot), but he played with the crowd when they applauded throughout the event. The concert also had a couple of musicians (who flew all way from Japan) to provide more sound during the Dororo part of the show. But the music throughout the entire concert was amazing and a great way to cap off Anime Expo.
If you enjoy interviews, then Toonami Faithful has you covered. We conducted a total of 12 interviews, with one unique project down the line for all of you to enjoy. We were able to speak with Jason Marnocha, Antonio Canobbio (CCO of Titmouse), Deneen Melody, Marissa Lenti, Jennifer Losi, Michelle Marie, Erika Harlacher, Brandon Winckler, Jackie Lastra, Ryan Bartley, Cedric L. Williams, and a group interview with Alex von David, Bryce Papenbrook, Kayli Mills, and Jeff Burns. Yes, I was exhausted after we finished, because it did feel nonstop, and carrying a camera and tripod for five days for over 12 hours can wear on you. However, they were all fun to conduct, and couldn't be more thankful for everyone sparing a little bit of their time to talk with us at the convention. Also, be on the lookout for a particular project we worked on that involves Jennifer Losi, which I'm sure fans will find funny. Those who are Toonami Faithful Pass subscribers will get the chance to see these before anyone else, so now might be a great time to consider subscribing to see what everyone had to say about Toonami!
@RyanBartley and @cedwilliamsjr has some kind words to the Toonami Faithful! And keep showing your support for The Promised Neverland! pic.twitter.com/u5Ze2fLZbk

— Toonami News (@ToonamiNews) July 8, 2019
Right now, we're having an #SwordArtOnline interview with @BrycePapenbrook @KayliMills @alexvondavid and @JEFFBM. Look forward to it coming up real soon. pic.twitter.com/eC7Uha0mYS

— Toonami News (@ToonamiNews) July 7, 2019
Look out for this one, guys! 🤟 And thank you @ToonamiNews for having me!! https://t.co/7ZiXVs9EfM

— Marissa Lenti (@MarissaLenti) July 5, 2019
Shout out to (& another thank you!) to @SeaJayMaffris & @AnimeSavior of @ToonamiNews! It was such an honor to meet you both & be interviewed for #ToonamiNews. You both rock my socks! #Anime #VoiceActor #Toonami #SwordArtOnline #AnimeExpo #AnimeExpo2019 pic.twitter.com/kAfDV7WbSa

— 💛Deneen Melody💛 (@DeneenMelody) July 8, 2019
Sadly, the convention didn't run as smoothly as it could, and general attendees, along with artists, felt the implications from that. The lines were long. Absurdly long. Thursday there were horror stories on how some attendees took five-plus hours to enter the building. That's unacceptable, especially with the sun pounding on people all day. There were even stories of some who had to be taken to a nearby hospital due to heat exhaustion. When waits become that long, things must be changed to avoid such disasters. Even the priority lines were backed up on Thursday, to where Premier fans were able to enter the convention hall before exhibitors could. Due to the wait to get in, exhibitors weren't able to operate their booths before the crowds started rushing in. Plus, wheeled luggage wasn't allowed in the convention center, making it difficult to transfer goods in large batches. I'm not sure if that changed later on, but that is something I found ridiculous.
A message for our attendees: pic.twitter.com/MOfYeQGc49

— Anime Expo (@AnimeExpo) July 5, 2019
Anime Expo spoke about the long wait times and after Thursday implemented new ways to try to reduce the wait to get in. It worked, and I'm not sure what they did (heard rumors that they let people in ridiculously early, like 6 a.m.), but the wait times to enter the convention hall did improve. However, the lines getting into events could have been handled better. The lines for general attendees to get into panels sounded nightmarish, according to friends of mine. They were unorganized and would quickly turn into a free-for-all about who would get in. Nothing too crazy happened from what I heard, but it caused lines to get capped promptly. For general attendees, getting into the big panels wasn't always guaranteed, which made the event a lot more stressful than it should have been. I hope next year Anime Expo looks into more ways to make lining up for panels less stressful, and whether that means more staff or more training I'm down, because it's certainly something that couldn't hurt to alleviate those issues.
Depending on what kind of badge you got at Anime Expo, your experience might have been drastically different. I didn't have a massive problem with lines (besides a long wait on Thursday to get in), so my feelings would be different from those who did. I do wish clearing rooms were easier (and less crowded), but I understand that with the number of people who go these types of problems will happen (Anime Expo reported 350-thousand people attended through a press release). I hope they improve, as Anime Expo has become an excellent tradition for me. I always get excited to attend each year and find the atmosphere fun. Plus, add in all the premieres and industry panels, and it gives people like myself a ton of content. I wish I could've attended a few more fun panels (besides the Chillin' with Voice Actors and Little Witch Academia panel). It made me feel like I didn't get to relax and just enjoy where I was due to all the work Toonami Faithful did. I overall enjoyed my time at the convention, but I hope that some changes happen to make it even better for everyone who attends. Because while I enjoyed my time, I want everyone to feel that the trip was an amazing experience.
#AX2019 has come to a close. We'd like to thank @AnimeSavior @HappyKuroKitty @SeaJayMaffris & @VLordGTZ for their coverage as well as an everyone who came to talk with us and/or help us out during @AnimeExpo. Thanks for the memories and we look forward to be back for #AX2020. pic.twitter.com/8qjUJV8ury

— Toonami News (@ToonamiNews) July 8, 2019
⚡️ "Cosplay of #AX2019"https://t.co/spHxl3rzxp

— Toonami News (@ToonamiNews) July 12, 2019
✨ Thank you to everyone who joined us for #AX2019! ✨We hope you made some of your favorite summer memories with us and we wish safe travels to everyone traveling home. See you at #AX2020! o(^▽^)o pic.twitter.com/go7tnOi8ll

— Anime Expo (@AnimeExpo) July 8, 2019
C.J Maffris is the senior staff writer at Toonamifaithful.com. Feel free to follow C.J on Twitter @SeaJayMaffris