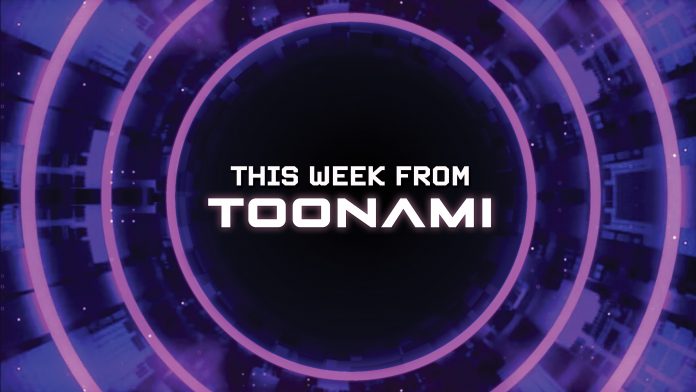 Some big announcements are on the agenda for the latest installment of This Week From Toonami. Over in Japan, the popular Shueisha's Jump Festa '22 event took place, with many Toonami series getting major announcements to have fans excited. Add on a new schedule update, and there's so much news that could potentially overwhelm fans. But fear not Faithfuls, Toonami Faithful is here to break everything down for you and make sure you are up to date on everything involving the best action-cartoon block on the planet!

Toonami announced what their schedule would look like during Christmas and New Year's Day this week, and it has been getting mixed reviews by fans. On Christmas, Adult Swim will have a Blade Runner: Black Lotus marathon, including all seven episodes that have aired so far. Dragon Ball Super will finish the night out at its usual time of 3:30 a.m. On New Year's Day, Toonami will air a brand new episode of Blade Runner: Black Lotus and have the finale of Yashahime: Princess Half-Demon, which was accidentally skipped on Dec. 11. But once those two series air, Toonami will continue the tradition once again by having a Cowboy Bebop marathon to end the night. And this may become a permanent fixture on the block, according to Jason DeMarco on Twitter. Of course, these things could change at any moment, but it should be fun to everyone's favorite space bounty hunters reside on Toonami once again.
Adult Swim published a behind-the-scenes video allowing fans to get to know the English cast of Blade Runner: Black Lotus. It features Jessica Henwick (Elle), Samira Wiley (Officer Davis), Wes Bently (Niander Wallace Jr.), Will Yun Lee (Joseph), and the voice director Wes Gleason. In the video, we get to hear the cast's thoughts and how excited they were to work on a Blade Runner project due to how much they loved the original film. Bently even mentioned how he responded as soon as he saw Blade Runner, saying he wanted to be in this. It was fun getting to hear how actresses Henwick and Wiley enjoyed getting to play the characters they were cast and seeing the journey play out in a way that felt right to them. It's a great 8-minute video that fans of the series should check out if they want to know more about some of the cast members of the project.
Shueisha's Jump Festa '22 event was in full force this weekend, as many popular properties had massive announcements to have fans excited about the future. And what made this even especially fun was all of the Toonami series that had panels and news items that has the anime world buzzing! Series like Bleach, My Hero Academia, Black Clover, Dragon Ball Super, and countless others had some major news that Toonami fans need to know about for 2022 and beyond! Hopefully, many of these series will be able to find a home on Adult Swim due to how much a lot of these series shaped the block to what it is today. Make sure you read our article about everything you need to know down below.
Kotaku mentioned their best anime of 2021, and Fena: Pirate Princess found itself to make the illustrious list! The author loved the comedic moments throughout the series and how bloody and spectacular the action was in the series. They commented about the feel of Fena: Pirate Princess and how they recall a similar sensation after watching anime on Toonami back during its Cartoon Network days. It's incredible to see a Toonami original get some love after it aired, and hopefully, you've had the chance to see this fantastic series already! Congrats to the Fena: Pirate Princess team on a job well done.
FUNimation announced this week that all eight OAD's of Attack on Titan would have a home on their streaming service FUNimationNow on Dec. 19. These OAD's have never been available legally in the U.S., so for fans who cannot wait for the second part of the final season, these episodes will hopefully quench that titan thirst. In the article linked here, the writer provides a synopsis of all the OAD's and what to expect before you watch them. Of course, many eyes will be on the No Regrets parts, which features Captain Levi while he was a criminal, and the Lost Girls Trilogy, which focuses on Annie, the female titan. These will be must-viewed episodes for any Attack on Titan fans!
HiDive announced this week that it would be the streaming home for Lupin The Third Part One (with its all-new English dub). The streaming website will debut four episodes in Japanese with English subtitles with the English dub to follow every Thursday starting on Dec. 23. It will be exhilarating to see how this new dub will sound, and we cannot wait to find out how everything looks and sounds when it debuts!
Square Enix announced this week that it would release its Fullmetal Alchemist mobile game for iOS and Android devices for this upcoming summer. Below you'll find a trailer to showcase what fans can expect from this game, which will be free-to-play with the option of in-game purchases. The game will most likely follow the story of the hit series and will offer voice acting for the project (Japanese). Preregistration is now open over in Japan, but time will tell if a release in the U.S. is in the future!
More characters are about to become available for the Demon Slayer video game, The Hinokami Chronicles. Sega Asia's English YouTube channel posted trailers featuring the characters of Yushiro and Tamayo, and Enmu to showcase what players should expect. Yushiro and Tamayo look to be one combined playable character, with Yushiro looking to be more playable than Tamayo. Tamayo shows up during his ultimate attack, but we are unsure how playable she is. Enmu looks impressive in his trailer and should become a big favorite once he is in the popular fighting game!

While Blade Runner: Black Lotus has grabbed mixed reviews from anime fans, staff writer Umeko Long felt that episode six was the strongest to date and could not stop raving about it. Long comments how she's interested in the civil rights that replicants may or may not have in the series and how much the question "what is human" is harped on throughout the episode. Plus, she couldn't get enough of the beautiful action sequence between Elle and Marlowe, giving fans an explosive climax. If you're curious about what happened in this episode or how Elle is doing on her revenge tour, check out her latest review on our website!
The C.O.O. of Toonami Faithful, Andrew "Sketch" Hingson, took a couple of trips to the theater to check out the newest Sword Art Online film, Sword Art Online The Movie -Progressive- Aria of a Starless Night. He was moderately impressed overall but did find a few issues that make him wonder how die-hard fans will take this film. While the sound quality, musical score, and voice acting were as excellent as it has always been, Sketch wasn't too keen on Mito being another "Kirito-type" to Asuna and questions why the Progressive novels weren't faithfully adapted in this project. He brought up some excellent points, and we hope you can read up on what he thought about this latest installment in the Sword Art Online world!
Weekly Shougakukan Edition published a translated interview by our staff writer Sakaki (who is best known for doing fan translations on all kinds of Japanese projects). In his latest article, Sakaki translated an interview conducted by the editors of the iconic series Detective Conan. The group discusses their impressions of the series (as well as editing it), what it means to be an editor for a manga, and even some words to readers who might want to look into becoming an editor. Sakaki was proud of how this piece came out, and we humbly ask all Detective Conan fans to check it out when you can!
*Editor note*: Sakaki does not translate professionally, so there might be some inconsistencies with his translation compared to someone who does it for a living.

Did you enjoy this week's Toonami? Let us know by commenting below or directly on our social media. You can follow us on Twitter, Instagram, and Facebook. You can listen to the Toonami Faithful Podcast on Soundcloud, iTunes, Spotify, etc. for interviews, discussions, and breaking news updates. Listen at the link below or on your podcast platform of choice:
C.J Maffris is the Editor-in-Chief at Toonamifaithful.com. He also produced and directed the Toonami documentary, What Toonami Means To Me. Feel free to follow CJ on Twitter @SeaJayMaffris