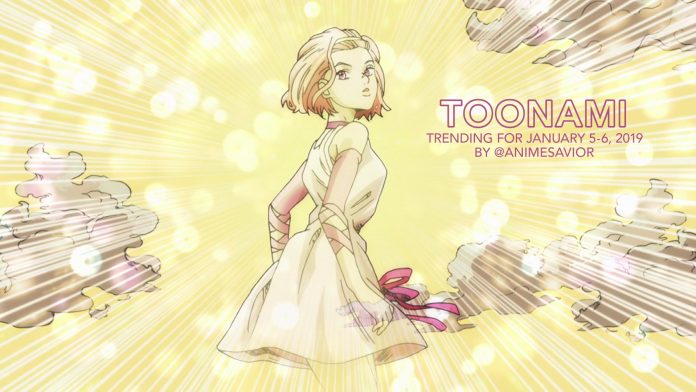 "I'm afraid this is as far as we go…we'll at least until he's caught. When that finally happens, Arnold and I will look back, and we'll be reunited with Mon and Dad. Peace and Dignity must return to Morioh. Only then can we find eternal rest. I'll be right here if you ever want to talk about anything. You two don't be strangers, okay? I'm here if you need me, Little Rohan, Mr. Koichi. From the bottom of my heart, I want to thank you for listening to my story"
–          Reimi Sugimoto, JoJo's Bizarre Adventure: Diamond is Unbreakable (Ep. 17)
The Toonami Trending Rundown for January 5-6, 2019. It's the first Toonami of the New Year as Rohan takes Koichi to his old neighborhood and runs into Reimi, while Palm is reborn as a Chimera Ant, and Black Clover begins the Witches Forest arc, among other great moments.
On Twitter, Toonami would trend in the US alongside Megalo Box, Black Clover and Hunter x Hunter. On Tumblr, Toonami would trend alongside #BHNA and #MP100. The full list including statistics and tweet counts from the twitter app (including character trends for Rohan, Koichi, Palm, and Ten Ten) and Amr Rahmy's analytics app can be seen below.
---

This week's feature was a game review of Super Smash Bros. Ultimate for the Nintendo Switch. It received a 9 out of 10 score.
In addition, Toonami also premiered the newest trailer for the highly anticipated Dragon Ball Super: Broly film, set to premiere in select theaters on January 16. To get you information on what to forward to in the upcoming film, I have been releasing interviews with the cast when I was at the premiere incrementally with Ian Sinclair and Monica Rial, already been released. The remaining interviews with Sonny Strait and Sean Schemmel, Chris Sabat, and Vic Mignogna should be released within the next week.
Toonami just played this Dragon Ball Super Broly clip

Here's the HD clip pic.twitter.com/xAlDRv2nbj

— Plathanos 🐝🇩🇴 (@SavinTheBees) January 6, 2019
Those who have seen Mob Psycho season 1 before may know that the second season is now underway in Japan and on Crunchyroll and Funimation Now. In a first for Crunchyroll since splitting up with Funimation, they have also announced that they will be simuldubbing the new season, with a release date to be announced. While it has been announced that the dub will be on both Crunchyroll and Funimation Now as well, it is still unknown at this point if Toonami will be renewing the series as well despite that we're only 4 episodes away from reaching that point. We'll keep you posted on what happens ahead.
I'm counting the seconds… pic.twitter.com/ymmPVnlR25

— Crunchyroll @ #genLOCK (@Crunchyroll) January 2, 2019
Tune in next week as Black Clover begins season 2 among other great moments. Until next week, congratulations to Clemson on winning the National Championship, and stay gold.
---
Legend: The shows listed are ordered based on their appearance on the schedule. Show trends are listed in bold. The number next to the listed trend represents the highest it trended on the list (not counting the promoted trend), judging only by the images placed in the rundown. For the Twitter tweet counts, the listed number of tweets are also sorely based on the highest number shown based on the images on the rundown.
United States Trends:
#Toonami [#12]
#MobPsycho100 [Trended with #Toonami]
#MegaloBox [#9]
#JoJosBizarreAdventure [Trended with #Toonami, #MegaloBox, and #HunterXHunter]
#BlackClover [#14]
#HunterXHunter [#10]
#Shippuden [Trended with #HunterXHunter]
Tweet Counts:
#Toonami [6,477 tweets]
#DragonBallSuper [4,652 tweets]
#Boruto [4,389 tweets]
#MyHeroAcademia [4,362 tweets]
#MobPsycho100 [2,639 tweets]
#MegaloBox [1,417 tweets]
#JoJosBizarreAdventure [3,777 tweets]
Rohan (From JoJo's Bizarre Adventure) [3,368 tweets]
Koichi (From JoJo's Bizarre Adventure) [3,480 tweets]
#BlackClover [1,011 tweets]
#HunterXHunter [1,607 tweets]
Palm (From Hunter x Hunter) [24.2k tweets]
TenTen (From Naruto Shippuden) [5,555 tweets]
Amr Rahmy Counts:
#DragonBallSuper [#5 with 3,049 tweets]
#Boruto [#13 with 2,408 tweets]
#MyHeroAcademia [#6 with 3,122 tweets]
#MobPsycho100 [#13 with 1,577 tweets]
#MegaloBox [#16 with 978 tweets]
#JoJosBizarreAdventure [#16 with 1,843 tweets]
#BlackClover [#19 with 734 tweets]
Tumblr Trends:
Notes and Other Statistics:
Special thanks to @myanimewaifu, @sdurso5 and others I forgot to mention for spotting some of the trends on this list.
Knuckle Up. Only Toonami on [adult swim] on Cartoon Network.
Toonami Tweets of the Night for January 5-6, 2019