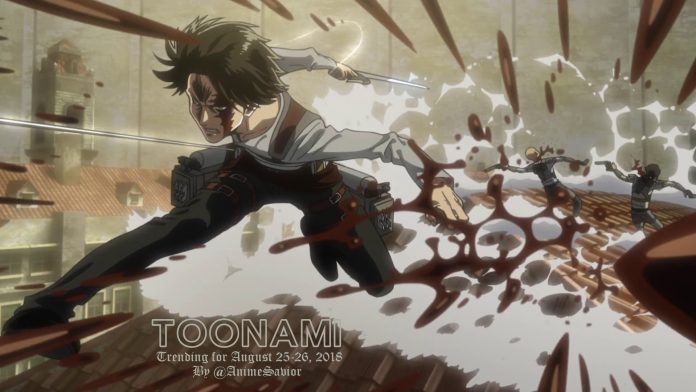 "The Captain [Levi] gave me a message. As of now, it's not just Titans. We're fighting humans, too."
–          Mikasa Ackerman, Attack on Titan (Ep. 39)
The Toonami Trending Rundown for August 24-25, 2018. The summer begins to wind down as Kenny goes after Levi's blood, while the UA Sports Festival begins its first stage, and Dragon Ball Super begins the Tournament of Power arc, among other great moments.
On Twitter, only #Toonami managed to trend in the US. On Tumblr, #Toonami would trend alongside #AttackOnTitan and #BNHA.
---


For those that missed it during the festivities during Comic-Con, Toonami showcased the full length trailer for FLCL Progressive, which is only 2 weeks away from premiering on September 8 at 11:30pm ET. You can check it out below.
For those headed to Atlanta for DragonCon during the Labor Day weekend, Toonami will have a FLCL panel on August 31 at 5:30 pm EDT with Jason DeMarco, Gill Austin, Maki Terashima-Furuta, Stephanie Sheh and Michael Sinterniklaas. In addition, for those headed to Crunchyroll Expo, Production IG will have another FLCL panel on September 1 at 7:30 pm PDT with Maki Terashima-Furuta, Stephanie Sheh and Michael Sinterniklaas.
Toonami and FUNimation also showcased the newest trailer for the My Hero Academia film: The Two Heroes following this week's scheduled airing of My Hero Academia, which you can see below. This week, FUNimation has just started releasing the list of theater screenings for The Two Heroes in select theaters around the US. The English dub will be showcased on September 25, 27 and 29 and subtitled on September 26 and October 2. If you're interested, click here for more information and to preorder tickets.
🗣️ IT. IS. TIME! Tickets for #MyHeroAcademia: Two Heroes are NOW on sale! 🎟️🙌

Buy here: https://t.co/QD6IoYMY5N #PLUSULTRA pic.twitter.com/p2mSdF4Hnc

— Funimation (@FUNimation) August 24, 2018
---


Speaking of My Hero Academia, next week is Labor Day weekend, so Toonami will give an encore run for all 13 episodes of season 1 of My Hero Academia. For those who are considering hopping on the MHA bandwagon or want to re-watch the season, now's your chance. And for those lagging behind on any Toonami show, now's also a good time to get caught up via on-demand services. And for those who are good to go, enjoy the holidays and we'll see you again in 2 weeks as we get ready for the premiere of FLCL 3 Alternative.
---
Legend: The shows listed are ordered based on their appearance on the schedule. Show trends are listed in bold. The number next to the listed trend represents the highest it trended on the list (not counting the promoted trend), judging only by the images placed in the rundown. For the Twitter tweet counts, the listed number of tweets are also sorely based on the highest number shown based on the images on the rundown.
United States Trends:
Tweet Counts:
#Toonami [6,253 tweets]
#DragonBallSuper [6,460 tweets]
#PopTeamEpic [1,448 tweets]
#JoJosBizarreAdventure [3,069 tweets]
#HunterXHunter [1,844 tweets]
Tumblr Trends:
#Toonami
#BNHA
#Attack on Titan
Notes and Other Statistics:
Special thanks to @myanimewaifu and others I forgot to mention for spotting some of the trends on this list.
Only Toonami on [adult swim] on Cartoon Network.
Toonami Tweets of the Night for August 25-26, 2018