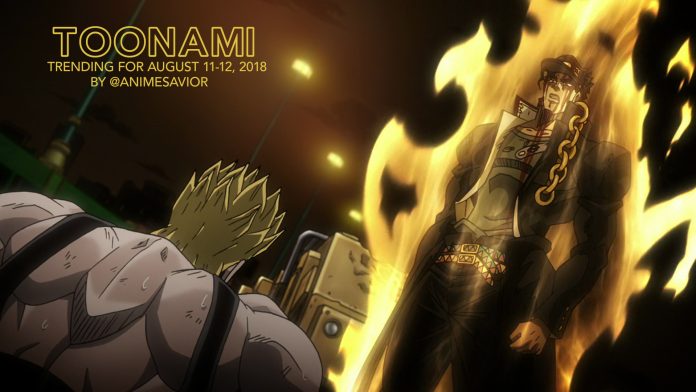 "If this were the Wild West, the hero would say…It's High Noon. Now get off the ground and draw your peace, Dio. You're getting one shot."
–          Jotaro Kujo, JoJo's Bizarre Adventure: Stardust Crusaders (Ep. 48)
The Toonami Trending Rundown for August 11-12, 2018. The third chapter of the JoJo's franchise has come to a close as Stardust Crusaders has completed its Toonami run. My Hero Academia also began its second season as the class prepares for the UA Sports Festival, while Yami comes to back up Asta and Gauche against Licht, and to get fans prepared for season 2, One Punch Man returns for an encore run.
On Twitter #JoJosBizarreAdventure would trend in the US alongside Stardust Crusaders and would also produce a character trend on Twitter in Jotaro as he has his final battle against Dio. On tumblr, #Toonami would trend along with #MyHeroAcademia, #JoJo, and #OnePunchMan.
---

This week, Toonami released a full trailer for the new season of Attack on Titan. You can check it out below:
Speaking of One Punch Man, Viz Media on Sunday morning has released a new trailer for the upcoming new season. Contrary to rumors that we would have to wait until 2020 for season 2 to come out, Viz has officially announced that the new season will be released in Japan and on streaming in April 2019. No word yet if and when the new season will be dubbed and air on Toonami at this time, but having the encore run is definitely a good sign.
Announcement: The most powerful hero returns! One-Punch Man Season 2 comes April 2019. pic.twitter.com/ZwrCljO7vU

— VIZ (@VIZMedia) August 12, 2018
Funimation today released a new trailer for the My Hero Academia film: The Two Heroes, which will be available in select theaters in late September, with the English dub on September 25, 27 and 29 and in Japanese (with English subtitles) on September 26 and October 2. Funimation also announced the voice actors for the new characters for this film, including Erica Mendez playing Melissa Shield, Ray Chase playing her father David Shield, and Keith Silverstein playing the main villain Wolfram.
Otakon also took place this week, and some of the Toonami-related news that were announced there include:
Finally, I should mention that we attempted to publish our SDCC interview with Steve Blum on Monday, however we had to take it down due to some wording matters that Steve had issues with and needed to be changed. Things like this happen quite a bit in journalism, more often than you would think, but normally the edits are done in post-production when we're asked, and communication issues made it difficult to do so. This is also among my first interviews i have ever done, so this is all new territory for me and there will be lessons learned for the future. We're presently working with Steve to have it all corrected and republished as soon as possible, and I apologize for any issues this may have caused.
---

Next week, Toonami will be expanding back to 6 hours for the first time since January 2015 as My Hero Academia will move up to kick off the block as its new time at 10pm Eastern. Make sure to get home early. And of course, JoJo's is not going anywhere, as next week we will begin Part 4 of the JoJo's Bizarre Adventure franchise in Diamond is Unbreakable at 12:30am, to go along with the return of Attack on Titan at 11pm for season 3.
Until next week, stay gold as always.
---
Legend: The shows listed are ordered based on their appearance on the schedule. Show trends are listed in bold. The number next to the listed trend represents the highest it trended on the list (not counting the promoted trend), judging only by the images placed in the rundown. For the Twitter tweet counts, the listed number of tweets are also sorely based on the highest number shown based on the images on the rundown.
United States Trends:
#JoJosBizarreAdventure [#8]
Stardust Crusaders [#13]
Jotaro (From JoJo's Bizarre Adventure) [#14]
Tweet Counts:
#Toonami [5,199 tweets]
Toonami [7,859 tweets]
#MyHeroAcademia [7,029 tweets]
#PopTeamEpic [1,800 tweets]
#JoJosBizarreAdventure [4,827 tweets]
Jotaro (From JoJo's Bizarre Adventure) [2,265 tweets]
#HunterXHunter [1,502 tweets]
#OnePunchMan [3,629 tweets]
Tumblr Trends:
#Toonami
#My Hero Academia
#JoJo
#One Punch Man
Notes and Other Statistics:
Special thanks to @myanimewaifu, @sdurso5, @TheNextHokage, and others I forgot to mention for spotting some of the trends on this list.
Tweets of the Night are coming soon.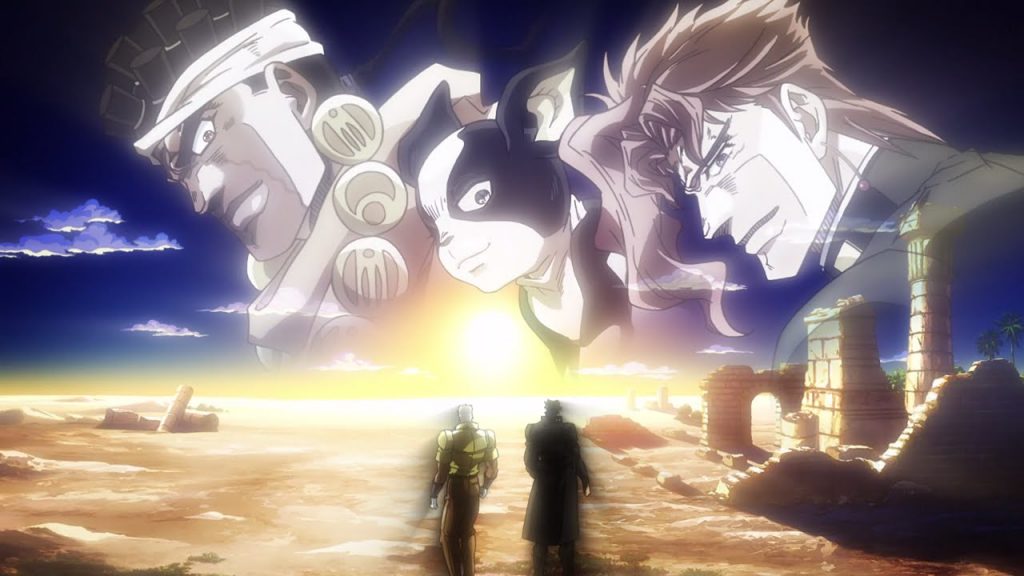 KENNY! Only Toonami on [adult swim] on Cartoon Network.
Toonami Tweets of the Night for August 11-12, 2018