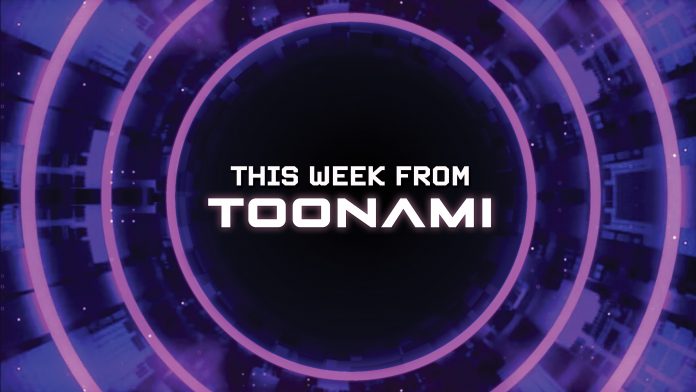 We had a late-night schedule announcement during Toonami this week (something we prefer). And while not much news happened, Jason DeMarco took some time to answer questions from fans that shed some light on topics some Toonami fans will want to know! So let us begin by giving you all the details in the latest installment of This Week From Toonami!

How do you feel about last-minute schedule announcements? Well, it would appear fans are in store for a few with Toonami announcing Assassination Classroom's second season will be joining the block on Jan. 8 at 12:30 a.m. during the first commercial break. Jason DeMarco on Twitter stated how they would be cutting things close to announcing new series coming to the block. So fans will want to smash that follow button and turn on notifications for Toonami Faithful as we will keep you up to date on all news regarding Toonami. And the good news is that there are other slots to fill, so more should be coming to Adult Swim soon!
Last night, Toonami gave a tribute to Keiko Nobumoto, who tragically lost her life last month. Best known for her work in projects such as Cowboy Bebop, Samurai Champloo, Space Dandy, and creating the Adult Swim Action classic Wolf's Rain, many are still saddened by a brilliant mind gone far too soon. It was very touching to see Adult Swim honor her legacy, considering how much of her work made it on the block.
During New Year's Eve, Jason DeMarco opened up his Twitter for another "ask me anything" thread and gave some interesting answers that Toonami fans might want to keep an eye on for 2022 and beyond. The most critical tidbit was DeMarco mentioning how Toonami might not get to air the second season of Demon Slayer. There have been rumblings from both staff at Toonami Faithful and fans about this outcome, but obviously, never say never. It's just something we found interesting and to keep an eye on as time moves forward. This thread also warned fans about how late schedule announcements might be for a bit before some normalcy can return. Other things to take note were details on how much of Uzumaki will be adapted in the anime, newer series that would be hard to justify to air on the block (viewer wise), favorite anime of the year, and how DeMarco hopes Toonami can air the second season of Yashahime: Princess Half-Demon!
The publication "The Young Folks" recently published their top twenty-five anime of 2021, and three series that aired on Toonami made the list! The second season of Dr. Stone, the fifth season of My Hero Academia, and Fena: Pirate Princess all made the cut. While it should be no surprise for both Dr. Stone and My Hero Academia, having a Toonami original like Fena: Pirate Princess continue to be praised as time passes is a testament to how popular the series became on the block. Plus, Toonami needs to continue to bring excellent original series to air on Adult Swim due to how the landscape of television has drastically changed. The more these projects are beloved, that could lead to more cool originals down the road. Here's hoping that Blade Runner: Black Lotus can continue this positive trend for original acclaim down the road! Other series on the list include Odd Taxi, Jujutsu Kaisen's second cour, and Stone Ocean Part One, so if you want to find out every anime on the list, check it out at the link here!
In Japan, the first-ever Bleach exhibit is open for anyone to check out till Jan. 16 to help celebrate its twentieth anniversary. It contains a reproduction of the new 76-page chapter of the manga and Tite Kubo's comments on his artwork from the original manga. As reported by Anime News Network, the main part of the exhibit takes the visitor through the major arcs of the manga. The first wall shows several panels representing some of Bleach's most lyrical lines of dialogue. There are also a ton of quotes from Kubo about creating and drawing Bleach that will be a big eye-catcher, creating a pleasant atmosphere for all Bleach fans. Below is a video that showed a preview of what the exhibit would look like before fans had the chance to check it out!
To celebrate the thirty-fifth anniversary of JoJo's Bizarre Adventures, a new 71- page manga one-shot featuring everyone's favorite manga artist Rohan Kishibe will be featured in the JoJo Magazine on March 19. Other special extras to commemorate the occasion include; a new text story, a feature on the anime including the latest title JoJo's Bizarre Adventure: Stone Ocean, an interview with live-action Thus Spoke Kishibe Rohan star Issei Takahashi, and two JoJo special stickers! Creator Hirohiko Araki put the cherry on top by drawing an exclusive cover for the magazine featuring the best father-daughter duo in Joylene and Jotaro. JoJo fans will want to snag themselves a copy if they can to help celebrate the amazing accomplishment!

A friendly publication CJ met through his time attending Anime Boston called the Boston Bastard Brigade published an overview of the Lupin The 3rd panel at Anime NYC. In the article, we learn how shocked the cast was that they could still voice the characters considering how much the property has moved from licensor to licensor, especially with Sentai Filmworks picking up the more recent Lupin The 3rd Part Six. We also learn about the humble beginnings of the voiceover cast and how honored Doug Erhotlz is to join the cast as Zenigata more recently. The Boston Bastard Brigade did a fantastic job giving all the panel's highlights, and if you're wondering what was going on during it, definitely give it a read when you have the chance!

This week, Toonami Faithful celebrated the one-year anniversary of our documentary project, What Toonami Means To Me. We are still humbled by the positive responses of the project and couldn't be more proud of the work of current and former staff members CJ Maffris, Junior, Alien Renegade, and Celia Rose. It's a considerable achievement, and we are so proud of everyone's contributions; and hopefully, CJ can make a sequel down the road! CJ also felt the need to give a statement as he looks back at the project:
"I hope I can look back and say I did something positive for the Toonami fandom. I've been seeing a ton of negative feedback due to how things have played out recently, which saddens me. Toonami has been such a beacon of hope and happiness, so much so that it inspired people to pursue voice acting (among other stuff too). So a lot of the angst feels weird, but I'm sure that will die down as the year continues. Personally, I'm just speechless that people who weren't involved even cared to check it out, and I'll always be grateful to the friends who helped me make it possible cause I still find it unbelievable."
If you still haven't had the chance to watch it, head to our Facebook or YouTube page. And if you are a subscriber to the Toonami Faithful Pass, you'll be able to hear every interview from our guests, including what didn't make it in the final cut.
Last week, we missed out on promoting a new episode of the Saturday Night Shoggy podcast. Thankfully, we remembered, and it was a fantastic episode as well. Varun "VLordGTZ" Gupta and staff writer Sakaki were joined by Deb Aoki Mangasplaining to discuss A Journal of My Father by Jiro Taniguchi. The group also discusses Aoki's manga beginnings, how much she loves comics of all kinds (both Eastern and Western), and different manga publications and the vibe each one gives to fans and readers. This interview was recorded in August, but if you are a massive fan of manga, you'll want to hear everything our experts and Aoki had to say!
To end the year, Weekly Shougakukan Edition released their yearly retrospective of Weekly Shōnen Sunday for 2021! The article covers many topics and metrics like who graced the cover of Weekly Shōnen Sunday, how few new series were published in the magazine, Takenori Ichihara stepping down as the chief editor, and the abundance of new anime from Sunday titles that populated the streaming scene (most notably Komi Can't Communicate). Curious about all the commentary of the piece and how Sakaki feels about the year 2021 for the publication, you should check out everything he had to say in the link here!

Did you enjoy this week's Toonami? Let us know by commenting below or directly on our social media. You can follow us on Twitter, Instagram, and Facebook. You can listen to the Toonami Faithful Podcast on Soundcloud, iTunes, Spotify, etc. for interviews, discussions, and breaking news updates. Listen at the link below or on your podcast platform of choice:
C.J Maffris is the Editor-in-Chief at Toonamifaithful.com. He also produced and directed the Toonami documentary, What Toonami Means To Me. Feel free to follow CJ on Twitter @SeaJayMaffris