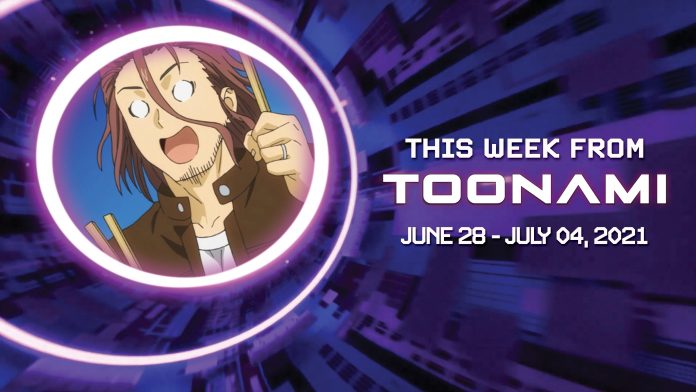 It was an interesting week for Toonami, starting with the fact that Adult Swim decided to opt-out of airing a marathon this Fourth of July weekend. Jason DeMarco gave a minor update on the Shenmue anime that the block is co-producing. It was also the weekend of Anime Expo Lite and Aniplex Online Fest 2021, which meant that potentially some cool Toonami-related announcements were on the agenda. But without further ado, here's all you need to know for This Week From Toonami.

Much like with every original Adult Swim announced, fans are looking for any updates. One anime in particular that many have felt has been radio silent is the Shenmue project. While nothing major was reported, Jason DeMarco did give a minor update that the anime is coming along great and that more info will be shared soon (and that he is also happy with how things have progressed so far). Much like with Uzumaki, Blade Runner: Black Lotus, and Fena: Pirate Princess, fans will have to continue being patient when Adult Swim can broadcast these projects.
For those who might not be aware, the second season of Yashahime: Princess Half-Demon was in the works after the first season finished its broadcast run in Japan. And now fans will know where to look to check out the simulcast this fall. The series will be streaming on Crunchyroll, FUNimationNow, and Hulu! And one will have to wonder if the second season will make its way to the Toonami block much sooner than the first season. Only time will tell, but it will be interesting to see how fans react to this season compared to the last one.
Both Anime Expo Lite and Aniplex Online Fest 2021 occurred this weekend! Due to the global COVID-19 pandemic, both events felt it would be better to have an online convention once again to keep fans safe. And while there wasn't any major Toonami news (like in previous years), some Toonami-related series did get the spotlight!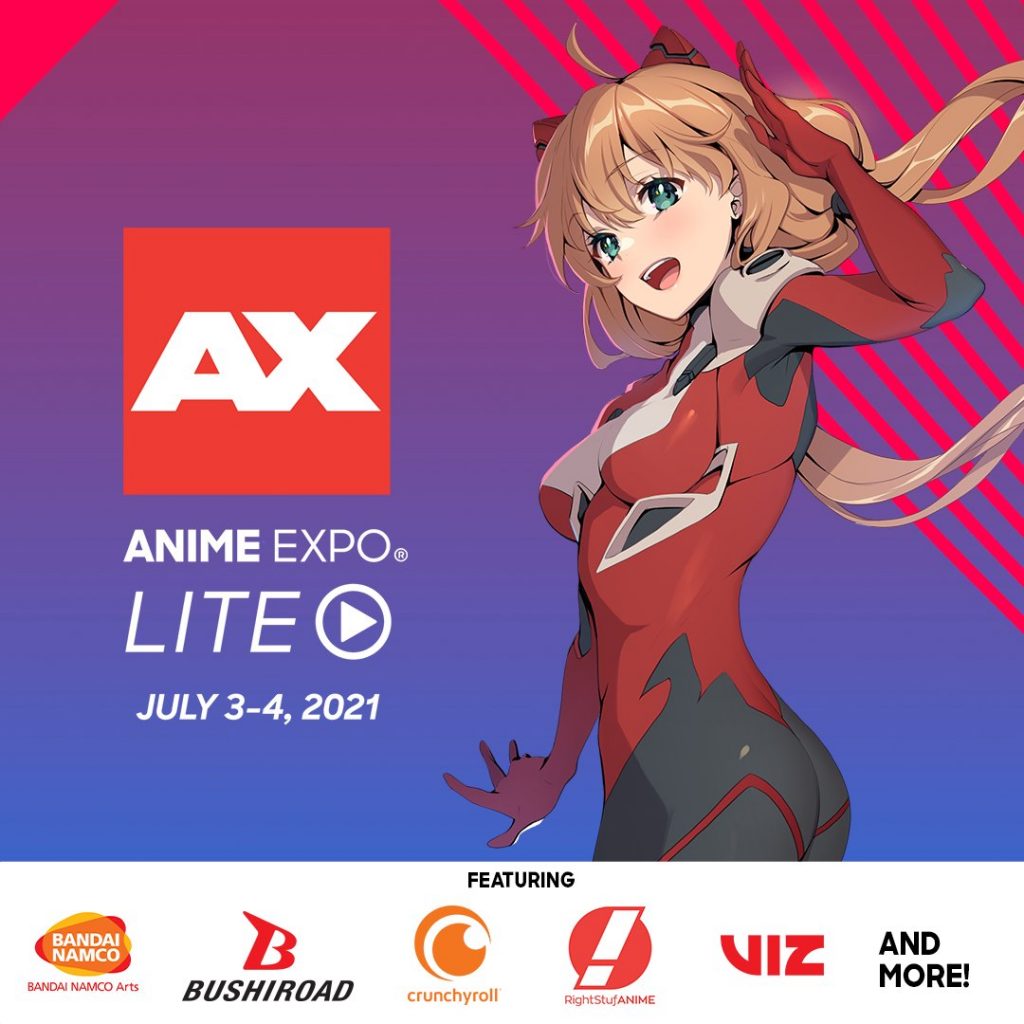 The largest panel of the convention would be the special Jojo's Bizarre Adventure one. Many were furiously waiting for an announcement involving the latest story arc Stone Ocean. Sadly, Jojo fans have to show a little more patience as the only information on Stone Ocean was a streaming event that will take place this Aug. 8. The rest of the panel showcased the Japanese staff at David Productions, which included a fun behind-the-scenes video and a 30-minute interview with staff members from the studio. While many (including us at Toonami Faithful) wanted more Stone Ocean information, it was nice to hear some of the staff members' memorable moments in making Jojo's Bizarre Adventure.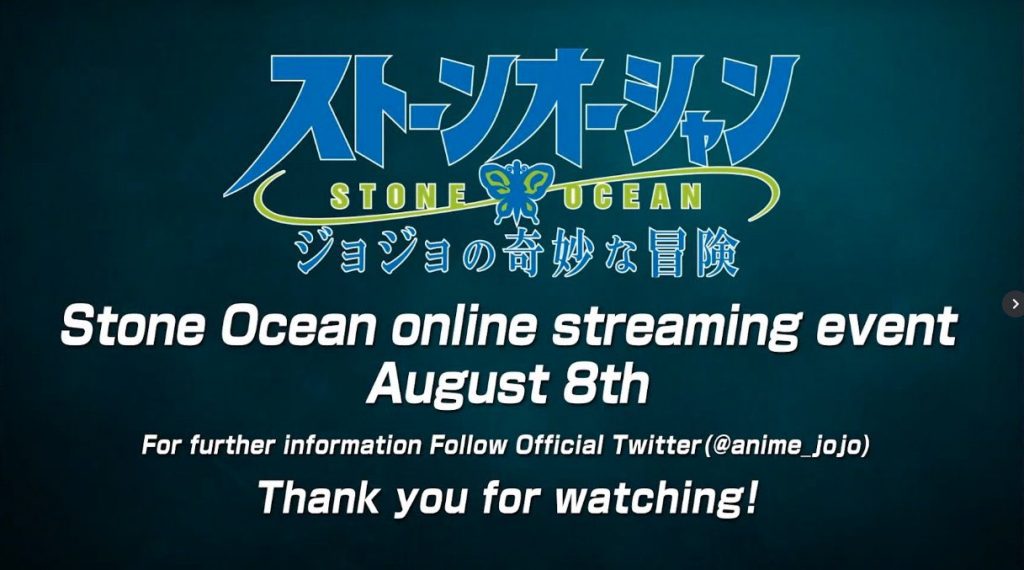 During Aniplex Online Fest, more details about the Sword Art Online film -Progressive- Aria of a Starless Night became available. Fresh with a brand new key visual and character profiles, there is now a release date for the movie in Japan (Oct. 30, 2021). The panel didn't give more information about a U.S. release, but fans of the franchise should expect an update on that soon!
At FUNimation's industry panel during Anime Expo Lite, the company revealed their plans on when Robotech will be streaming on their service FUNimationNow, as well as when fans should expect a collector's edition of the iconic series on their shop. It will be some time this year, but no definitive date has been given.
On Weekly Shonen Jump, the magazine revealed that "Kimetsu Gakuen!" spinoff anime shorts based on the Demon Slayer manga will get their own manga series. The new manga, titled Kimetsu Gakuen!, will debut later this September on Aug. 4.
What should be a surprise to no one, the Demon Slayer film Mugen Train is dominating the streaming world (much like it did at the box office). IndieWire reported that it was the most played title on both Google Play and Vudu while ranking in the top five for FandangoNow and top ten for AppleTV/iTunes). Once again sparking the conversation that this film might be the best (due to the financial success). 
Amazon Prime Video announced that the latest Evangelion film will debut on their streaming service on Aug. 13, 2021. The film EVANGELION:3.0+1.01 THRICE UPON A TIME will be available in over 240 countries and territories (besides Japan). Toonami Faithful is unsure if there will be an English dub and, if so, which cast will be used (or a new one entirely). We will keep you updated as more information becomes available. 
Do you need more Hamtaro in your life? Of course, you do! Over at Play-Asia, a Godzilla x Hamtaro crossover plush is available! If you find yourself a fan of either Godzilla or Hamtaro, these adorable plushies are yours for the taking!
Talk about a collaboration many didn't see happening! Tite Kubo (the creator of Bleach) decided to draw his iconic character Aizen to mimic the Loki poster on Wednesday to promote the series on Disney+. On what's been deemed as "Loki" day (since new episodes of Loki are released that day), Kubo expressed his happiness getting to draw Aizen and help promote a popular series on the streaming platform.
This week Toonami Faithful learned the sad news of Philece Sampler's passing. She is most known for her roles in Digimon, such as Mimi and Cody and Taokaka in the Blaze Blue franchise. Her legendary voice has graced the block through countless characters over the years which includes Beauty (BoBoBo-Bo Bo-Bobo), Misao (Rurouni Kenshin), Suzie Q (Jojo's Bizarre Adventure), Rokuta Kamado (Demon Slayer), Lannion (The Promised Neverland), Sister Azalia (Sword Art Online), Ayame (Bleach), and the list goes one. What might not have been known is that Sampler was also a well-known actress for popular soap operas such as Days Of Our Lives and Another World. She passed away at 67-years old from a heart attack. Toonami Faithful offers our heartfelt condolences to her family, friends, and fans all over the world.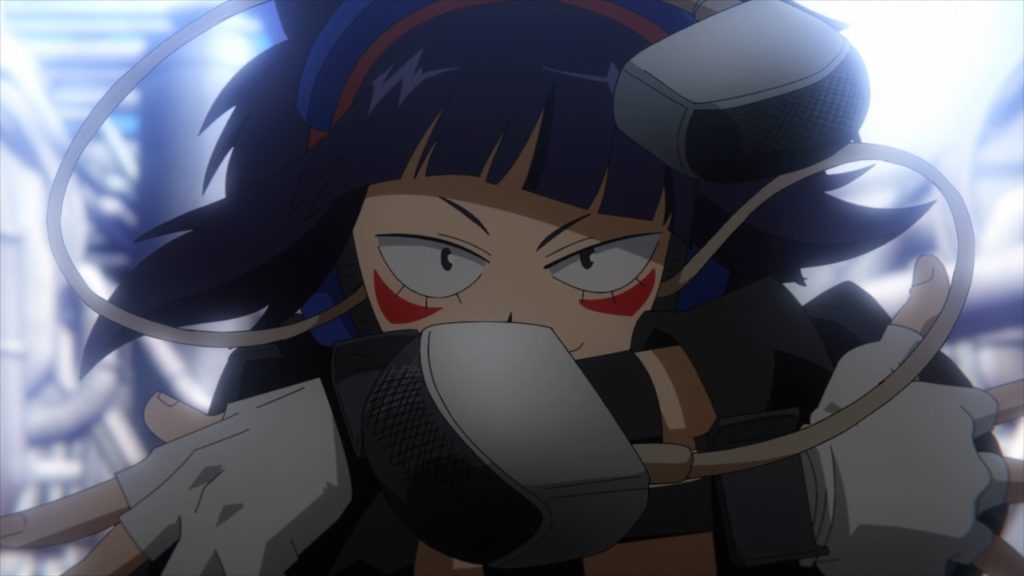 Bakugo and his team begin their match against Class 1-B in My Hero Academia. At first, Team Class 1-B thinks Bakugo is the same arrogant competitor during the sports festival, even basing their battle strategy on his prior behavior. However, Bakugo surprises everyone, even his teammates, with his thoughtful strategy and desire to work together (despite his motivation being somewhat self-serving). This development throws Team 1-B off-guard, and they are quickly defeated by Bakugo, Jiro, Sero, and Sato. Seeing how quickly Bakugo defeated the last team, Monoma from Class 1-B proposes to his team that they avoid the pitfalls of their peers, especially since they will be facing Deku in the upcoming round. Meanwhile, Deku and All Might congratulate Bakugo on his victory. The explosive-tempered student states that he wants to keep moving forward and doesn't even stop to gloat or insult Deku. The Kingdom of Science launches the Steam Gorilla in Dr. Stone, kicking off the final battle against the Tsukasa Empire. Senku and his friends have only twenty minutes to take Tsukasa's soldiers out and seize the Cave of Miracles. At first, the Steam Gorilla survives the booby traps until it topples over with Gen inside. They also implement a new weapon that uses a copper dome to emit a sonic blast that knocks the Tsukasa Empire soldiers unconscious. In the end, Senku and his friends succeed in taking the cave with no casualties. However, victory isn't won so easily when Hyoga and Tsukasa arrive at the location and incapacitate Ukyo. Both leaders refuse to give up, and they prepare to fight one last time.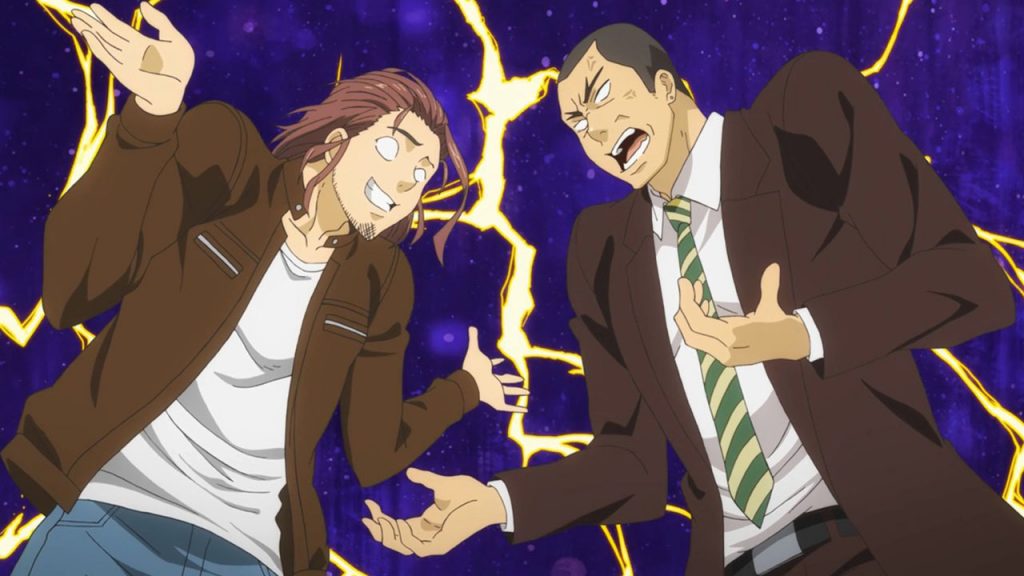 Yashahime: Princess Half-Demon fast forwards to the modern-day, where Towa has been living for ten years with Sota Higurashi's family as their adopted daughter after being separated from her sister Setsuna and thrust into the future. It's her first day at a new school, and already Towa is facing challenges from delinquents who have tracked her down from her previous school. She beats them in a fight, but the delinquents seek revenge by taking her family hostage at the Higurashi Shrine. In the Feudal Era, demon slayers Hisui and Setsuna confront Moroha and accuse her of attacking local villages. As Moroha prepares to fight, a giant centipede demon bursts from the ground and attacks them for the rainbow pearls that both princesses possess. The centipede demon extracts the gold pearl from Setsuna's eye and swallows it. Suddenly, a portal opens, and Moroha, Setsuna, and the monster are sucked inside. The portal transports them to the modern-day, and Towa is reunited with Setsuna for the first time in a decade. Food Wars! The Third Plate heats up when Erina begs her father to spare her friends who failed their exams against Central and expelled from Totsuki Culinary Academy. Director Azami almost ignores her request until his former classmate and Soma's father Joichiro suddenly arrives with the former Totsuki Academy director, Senzaemon Nakiri. Joichiro suggests that Azami and Central face Soma and his friends in a team food war to settle once and for all which cooking approach shall remain at the Academy. Additionally, if Joichiro's team loses, he will become Azami's servant. Immediately, Soma and his friends begin training for the team battle.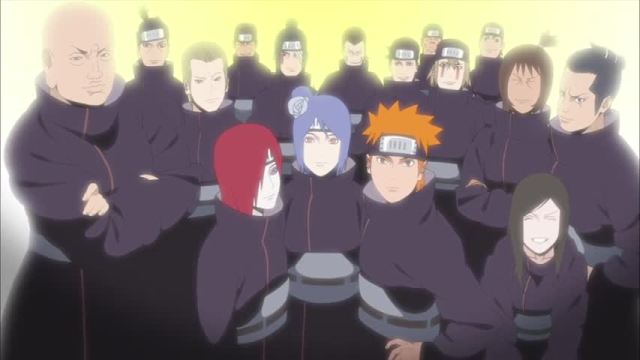 Asta continues his training with Gaja in Black Clover. As he prepares to face the spirit guardian again, he reflects on how he came to possess his Grimoire, as well as learning to use anti-magic instead of mana. When they fight, Gaja disarms Asta, but the young Magic Knight summons the Demon-Slayer sword to his hand. Noelle's training with Queen Lolopechika and Undine proves effective as she soundly defeats several armored knights made of water. Lolopechika praises Noelle's progress and then shows her how her friends' training is progressing. Meanwhile, Magnus has returned to the Black Bulls' hideout, and the remaining Magic Knights continue preparing for the war on the horizon. The Akatsuki learn that The Hidden Leaf Village and the Land of Hidden Rain attempted to assassinate Yahiko and Nagato while they met with the nations' leaders in Naruto: Shippuden, but Obito and Zetsu stopped the attack and annihilated the enemy shinobi. They attempt to persuade Nagato to join them, but he refuses. Later, Hanzo and the Hidden Leaf's organization Root take Konan hostage and threaten to kill her unless Nagato kills Yahiko. Nagato despairs when Yahiko decides to take his own life by thrusting himself onto his friend's kunai. He activates his Rinnegan eye once again and slaughters the Hidden Leaf and Hidden Rain shinobi with the Demonic Statue of the Outer Path. Yahiko becomes the Deva Path of the Six Paths of Pain, and Nagato forever reveres him as the true leader of the Akatsuki.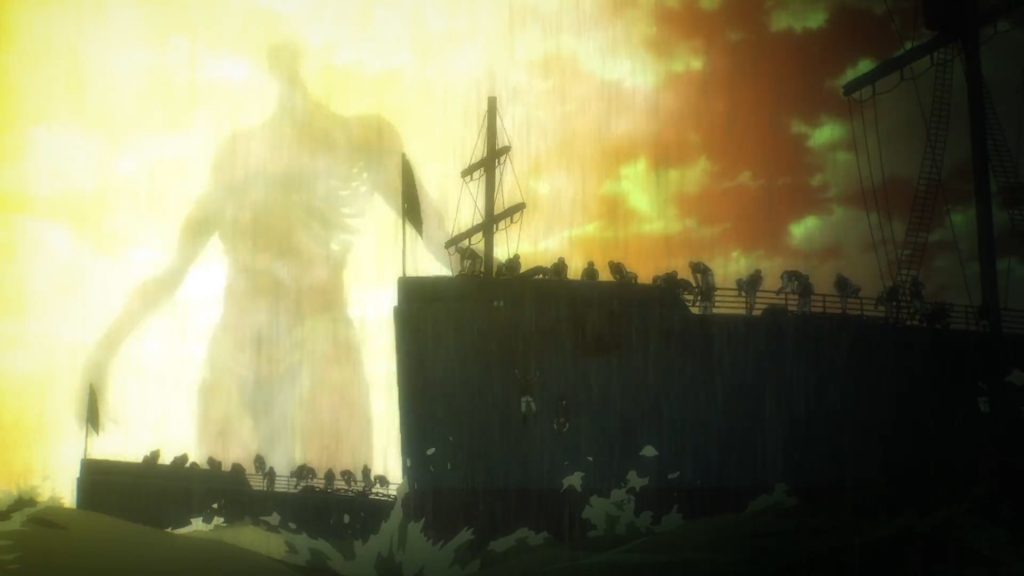 Attack On Titan reflected on the Marleyans' arrival to Paradis when the nation sent scouts to investigate what occurred after Reiner returned without his teammates. Yelena, Onyakopon, and several other Anti-Marleyans lead a mutiny and thus become allies with the Eldians on Paradis. They educate them on the changes in the world while helping the Eldians catch up with modern technology. Nicolo introduces the Eldians to seafood cuisine, which Sasha exclaims is the best food she has ever eaten. However, the peace is short-lived as Zeke reveals he has a plan to stop Marley for good, but he refuses to share any details until all of his demands are met. Our staff writer Umeko reviewed the episode in full here, so give it a read for more information and insight! Only two teams remain in the Dragon Ball Super's Tournament of Power, as Universe 7 and Universe 11 prepare to trade blows. Goku goes Super Saiyan Blue and begins fighting Jiren, which Whis remarks will be the key to victory in the Tournament. Not to be outdone, Vegeta jumps in and starts fighting Jiren, too. He manages to land a blow on the giant warrior by breaking through his ki, which Vegeta admits he observed while watching Jiren fight Goku. Whis notices Vegeta's movements and suspects that the Saiyan prince is trying to activate Ultra Instinct. However, Jiren gains the upper hand and knocks Vegeta to the edge of the arena. Vegeta decides to fight Jiren without Ultra Instinct, raising his ki higher and higher as he attacks. Remarkably, even with close-range high-intensity attacks, Vegeta's attacks have no effect on Jiren.

On the most recent episode of the Toonami Faithful Podcast, Anime News Network (ANN) freelance writer James Beckett joins host CJ Maffris, Varun "VLordGTZ" Gupta, and Celia Rose to talk all things Yashahime: Princess Half-Demon (Yashahime). James was the one who reviewed the series for ANN and had a lot to say about the series issues. Joined in that sentiment by both Celia and VLordGTZ, CJ tried to find some positives for fans to look forward to seeing. And while this episode was more on the negative side, the group did find some enjoyable things about Yashahime. Make sure to give it a listen when you can!
Attack on Titan has come and gone, well, at least new episodes for the time being. With the first part of the final season finished, staff writer Umeko Long breaks down all the highs and lows of the series in a retrospective article. She talks about the social media presences, the series getting an encore run, the topics on two Toonami Faithful Podcast episodes that were Attack on Titan-centric, and highlighting all of the reviews she did for Toonami Faithful! If you missed any of the big moments from its Toonami run, make sure to take a peek at the piece.
Another episode of the Demon Slayer Podcast was published this week! Host VLord is joined by Meowth900 to continue the discussion about the financial success of Mugen Train. Considering how popular the film continues to be, there's no shortage of talking points on what this could mean for both Demon Slayer and anime films down the line. The two also chat about the new video game that will be coming out on Oct. 15 of this year!

Did you enjoy this week's Toonami? Let us know by commenting below or directly on our social media. You can follow us on Twitter, Instagram, and Facebook. You can listen to the Toonami Faithful Podcast on Soundcloud, iTunes, Spotify, etc. for interviews, discussions, and breaking news updates. Listen at the link below or on your podcast platform of choice:
C.J Maffris is the Editor-in-Chief at Toonamifaithful.com. He also produced and directed the Toonami documentary, What Toonami Means To Me. Feel free to follow CJ on Twitter @SeaJayMaffris
Celia Rose is the Director of Social Media for ToonamiFaithful.com. Feel free to follow Celia Rose on Twitter @planetstwinkle.