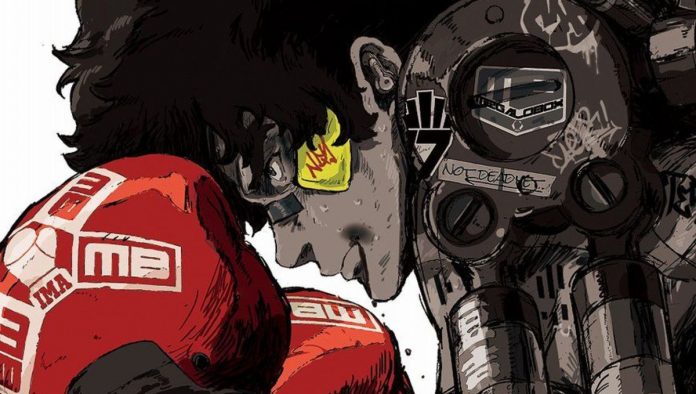 Sports anime aren't always the most popular series to come out of Japan. It can take a long time for a series to either develop a massive following in the U.S. (like Haikyuu!!) or fall into a hole of irrelevancy. Surprisingly, when Megalo Box first began its simulcast run, many fans flocked to it, due to its gritty tone and beautiful animation. I never thought the sport of boxing would get as much hype from an anime. But its futuristic style and adding gear into the sport gave it a lot of what people want to see. A significant push for Megalo Box began with its getting a shot to air on the block. And now that it's finished, how does the home media release from VIZ Media hold up compared to other titles? And does it deserve the cult status its earned?
Every fight is a gamble. Always bet on the underdog. pic.twitter.com/5Ax9lsCYjC

— VIZ (@VIZMedia) July 10, 2019
For those who are unfamiliar with Megalo Box, it pays homage to the boxing series Tomorrow's Joe. We follow a non-citizen boxer who goes by the name of "JNK.DOG (pronounced Junk Dog)." He and his trainer Nanbu fix fights in underground boxing matches so Nanbu can pay off his debt. While this is going on, the Shirato company plans to hold a new boxing tournament named Megalonia, where all the top boxers from across the world compete to become champion. The Shirato company has a fighter in their corner named Yuri, who is the favorite to win the tournament. By a twist of fate, JNK.DOG nearly crashes his motorcycle into the company's president and trashes her and Yuri. Yuri doesn't take too kindly to this and enters JNK.DOG's ring, and beats him up. JNK.DOG wants another chance with Yuri, telling him to enter Megalonia. With some pressure added by Fujimaki, the Nanbu and JNK.DOG form an unlikely team as they take on the world to win Megalonia and have a shot at defeating Yuri. JNK.DOG takes on the alias of Joe and decides to fight every match without the assistance of gear.
Being a fan of boxing, I loved how realistically this series portrayed the sport. And it's not hard to see why people enjoyed it (and wanted it on Toonami). I believed this series would work in grabbing the audiences' attention, in that this is a contact sport. Instead of a basketball match being the action of the series, fans get actual fights. The matches that Joe competes in is all the series needs to garner attention. It's as if the series itself was the promoter for not only Joe but for the sport of Megalo Boxing as a whole. It gave the same feeling fans of UFC or boxing get. Every week became a pay-per-view moment that you wouldn't want to miss to see if Joe was going to climb from the bottom.
Plus, Megalo Box added an element that currently plagues the sport of boxing — fixing fights. While I'm accustomed to seeing judges giving ridiculous scorecards, we deal with Nanbu and Fujimaki (a mob boss) fixing fights. They go as far as to try and fix the semi-final match in Megalonia! Despite Joe wanting to test his abilities to the fullest, he regularly is told about plans from Fujimaki that he is supposed to take a dive. Cheating or fixing fights has a long history within boxing, so I give Megalo Box a ton of credit for keeping this aspect in (even if it's cliched).
It created a huge struggle, and was the main thing holding Joe down throughout the series. Instead of dealing with a typical villain that wants Joe to lose, he has to fight against the hand that feeds him. And that causes a lot of trouble for Nanbu (fearing retaliation from Fujimaki). That dark cloud follows our lead characters. It gives Megalo Box a more ominous tone that I think many older anime fans will enjoy. Megalo Box isn't an anime for kids. It's for those who understand how depressing and dark the world can be. But Joe represents a youthful optimism and light that you need to help knock out the darkness that plagues you.
FEATURE: Fight the Future: A Look Back at MEGALOBOX

✨ More: https://t.co/aRGQwT8DKB pic.twitter.com/MpSEOwxfq0

— Crunchyroll 🔜 Crunchyroll Expo! (@Crunchyroll) June 1, 2019
The music for Megalo Box is top-tier, and you'd be hard pressed to find a series that does it any better. Not only did it have a great OST to excite fans before the fights, but the rapping in the series gave it a great feel. It added to the theme of those who struggle in life and try to make something of themselves. Music can help inspire us to do the things we want to do. I felt the OST helped convey that feeling and created a seamless mix of both fun and seriousness to the series.
It's been a YEAR since MEGALOBOX!? 😱 pic.twitter.com/z9dnnG61QH

— Crunchyroll 🔜 Crunchyroll Expo! (@Crunchyroll) April 6, 2019
The boxing matches themselves were fun and reminded me of a lot of the fights I saw throughout the years. While I had a good idea about how each one would end, I still enjoyed the performance each fighter provided. Each contest brought something different and each fighter had their own unique style. It made Megalo Box feel more real, which I appreciated.
And what puts Megalo Box ahead of other sports series or movies is that the lead character wins the title. I get so frustrated when we follow a team or athlete in a series, and they don't win everything. I feel cheated that I invested so much only to see the team or athlete fail. Instead, Joe gets his rematch with Yuri and wins. I needed that. I felt it was the only logical choice and made Megalo Box so much more satisfying. Maybe it would have been better if Joe or Yuri died at the end (which was what was hinted; that the outcome was going to be deadly). But I needed to see Joe become a champion so he could fully realize his dream. Joe went from being in fixed fights to a legitimate world champion. It's a journey that would only be worthwhile if he won it all.
Thanks and love to @VIZMedia @Warmupguy @KaijiTang @tsunderica @BangZoom and the whole cast and crew of rockin folks who made #MegaloBox such a great experience. 🥊 #TeamNowhere pic.twitter.com/GlIFD2Tnyb

— Jason Marnocha (@JMarnocha) June 25, 2019
Thank you. All of you.#Megalobox #Toonami #NotDeadYet pic.twitter.com/GIrhDbrIXw

— Kaiji Tang (@KaijiTang) March 24, 2019
The English cast for Megalo Box started a bit slow. While it wasn't bad at the beginning, I didn't feel the cast truly got into the groove of things until about a quarter of the way through the series. Kaiji Tang was electric as Joe and indeed did a great job at portraying Joe's angst and anger from start to finish. Jason Marnocha also should be commended for his performance as Nanbu. Marnocha was able to show all facets of his personality. Nanbu is a complex character who had no choice but to fix fights. He wanted nothing more but to coach a fighter to be a world champion. Marnocha was able to accurately convey the feelings a coach would have to try to build someone up. I also give Erica Mendez (Sachio) a ton of credit for her rapping skills, as I'm sure it felt super uncomfortable to perform (I know I'd have trouble doing it). It came off as authentic and she should be praised for being able to do that. Other notable performances came from Erika Harlacher (Yukiko Shirato), Lex Lang (Yuri), Greg Chun (Aragaki), and Robbie Daymond (Mikio Shirato), but the entire cast sounded great.
VIZ Media gives Megalo Box a limited edition release in a box that looks like a FUNimation release. I enjoy the orange color that has both Yuri and Joe on each side, looking intimidating. The release also includes a booklet with key animation pictures that I loved reading. There were also all kinds of extras added, like interviews with English cast members, Japanese production members, a 15 minute OVA (subtitled) showing the beginning of the series, as well as behind the scenes stuff during the recording, giving Megalo Box fans a ton of extra goodies.
"It's easily one of the best anime of 2018, and I wouldn't at all be surprised if it goes down as a modern-day classic." – @Anime (https://t.co/jytbZ0nF9P)

Get your Limited Edition #MEGALOBOX Blu-ray: https://t.co/kYM9B5n7yy pic.twitter.com/CiCxm13Zpk

— TMS Entertainment (@tmsanime) July 26, 2019
I'm pleased with how much fans enjoyed Megalo Box. I'm not used to seeing sports anime making waves and the love for this series seems to have spread far and wide for a good reason. The series felt like the eventual successor to boxing. The tone, setting, and music all painted a picture of the kind of world fans want to see. The two fighters created a buzz in the anime world that I'm sure boxing fans would equate to a big fight. It was fun, and quickly became a favorite of mine. I hope to have more boxing anime make its way to the U.S. in the future, because unlike baseball, basketball, or volleyball, boxing has the kind of action I love in anime.
. @overwatchleague might actually be an anime. Which anime though? I'm feeling a cross between Dragonball Z and Megalobox right now. #OWL2019 pic.twitter.com/DI8geXvtBD

— erik lonnquist (@ggDoA) July 14, 2019
Rating: 8.5/10
Pros: Adding in an element of fight fixing that is seen in real boxing; the boxing matches were fantastic; Kaiji Tang's performance as well as a great English cast; the tone that both the style and music was able to portray.
Cons: Took a little bit for the cast to resonate with me; wish there were more fights animated; wish the series was longer.
C.J Maffris is the senior staff writer at Toonamifaithful.com. Feel free to follow C.J on Twitter @SeaJayMaffris