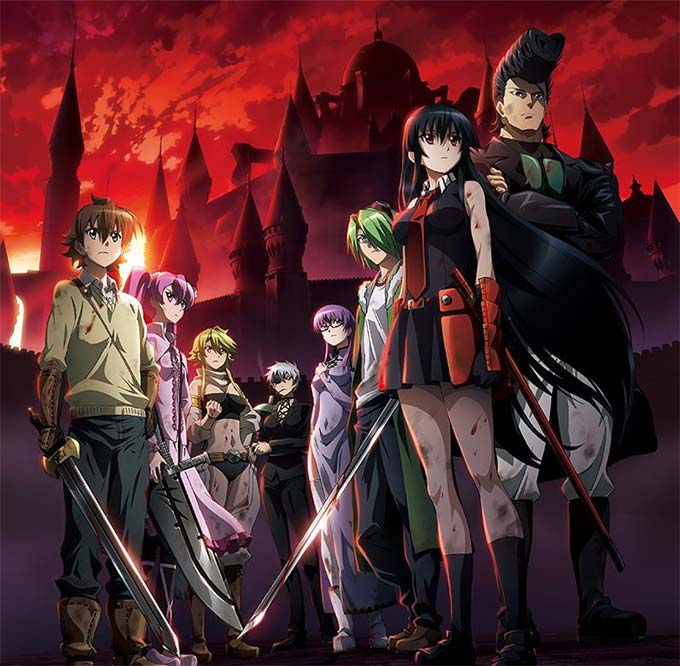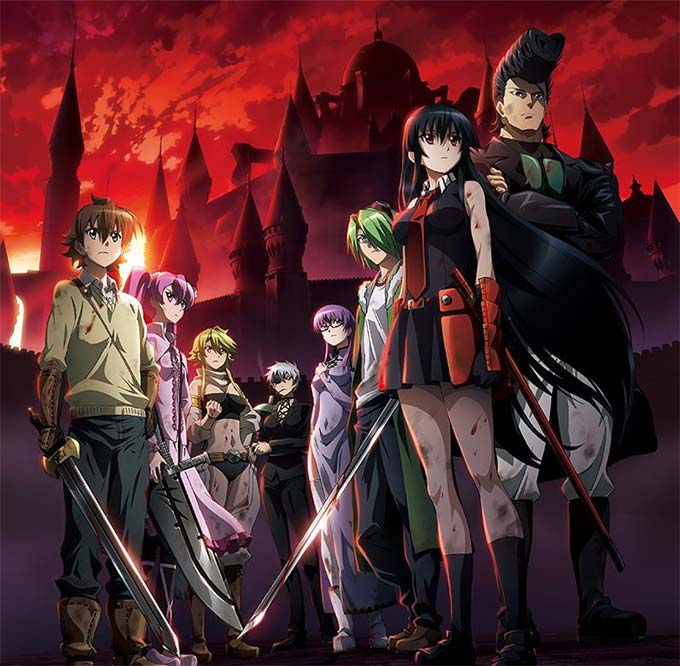 Akame ga Kill took fans on a wild 24-episode ride these last few months. While many might have seen this series in 2014 on Crunchyroll, it was a surprise that Toonami and Sentai Filmworks worked together for the first time to get Akame ga Kill on the action block. For Sentai, this was a huge deal, in that they gave the block one of their better titles that would draw in a broad audience. If Akame ga Kill had flopped, Toonami might have become hesitant to add more Sentai shows (although luckily for Sentai, they were also able to give the action block Parasyte to compliment the lineup while Akame ga Kill was airing). Now that blood has been spilled, and fan-favorite characters lost, where would fans rank this show among other Toonami veterans since its revival, and how do people feel about the show overall? It was a series that sparked a lot of opinions and made social media waves when it was aired, making me wonder what made Akame ga Kill that important.
One thing that made Sentai Filmworks breathe easier was the premiere on Saturday (Aug. 8) of Akame ga Kill. Thanks to some planning and luck (Dragon Ball Z: Resurrection F debut), Akame ga Kill experienced the largest debut audience of any Toonami show since its revival on Adult Swim. While they were not able to sustain those numbers (1.8 million total viewers), Akame ga Kill has consistently garnered over a million total viewers, a solid showing (even though it was relatively easy as it was broadcast right after Dragon Ball Z Kai). And Sentai kept the dub cast a secret, hours before the first episode premiered, which added some intrigue. Following Dragon Ball Z Kai is a huge honor and one that Akame ga Kill has lived up to. It was a fan-favorite show back when it was first broadcast in Japan and on U.S. streaming websites, so it was a perfect fit for Toonami.
This series had a "Toonami" feel to it when it was simulcast on Crunchyroll. The artwork, the setting, and the fighting was ideal for the action block, and given the popularity of the overall franchise it was just a matter of time before Sentai would dub the show. The source material has been on the New York Times best-selling manga list multiple times (an example here), particularly when a new volume became available stateside. Akame ga Kill should continue to appear on that list, since the manga is still ongoing,raising its popularity. There is a prequel series, Akame ga Kill Zero, that also has been written, which also adds to the lore of the series. It's popular and has gained a lot of steam since its inception. However, it certainly wasn't the perfect show for the Toonami Faithful out there.
Just when you thought polarizing series on the block were gone after Sword Art Online (SAO) I and II finished, Akame ga Kill quickly joined the ranks as one of the more polarizing titles in Toonami's lineup. So much so, that I even compared the two series' polarization a while back. While nothing divides the anime community like the SAO lovers and haters, Akame ga Kill did its part to draw a line in the sand between fans as to whether it was a good show or not. Some enjoyed the series because of the fight scenes, musical score, and some of the shocks that the series provided, while others didn't enjoy the character development (or lack thereof), the overall story, or some of the death scenes. It was very rare to hear an opinion of Akame ga Kill as a middling series, or just an ordinary action show. Either fans loved what they were watching or they didn't. That's not necessarily a bad thing, since it helped the series make a huge impact on social media, but I found it interesting just how divided fans were. Again, nothing will separate the anime community like SAO, but Akame ga Kill did not lag far behind.
So if the show had the largest debut audience, and maintained over a million total viewers, why did opinions of this show seem split amongst fans? One thing that might have pissed off viewers was how the series ended up diverging from the manga, due to how quickly the series caught up (since Akame ga Kill is a monthly manga instead of a weekly one). The last few episodes felt rushed and didn't have the most satisfying ending (I wanted to see Prime Minister Honest suffer a little more). There were some entertaining fights during the ending, but it seemed like it could have been better. It's very rare for a series' ending to be beloved by fans when it's different from what the manga is doing. But there were other reasons why fans might have had an issue with Akame ga Kill.
Some fans didn't become emotionally attached to the characters. If you weren't able to do that, then this show didn't do much for you. I believe that Akame ga Kill wanted fans to become attached to the characters, (trying all they could to make them empathetic), so that when they eventually died, their deaths would emotionally resonate with fans. We were aware that there would be many deaths, due to the kind of work Night Raid was in, but it was still surprising to see Sheele die before fans realized that Akame ga Kill was planning on killing everyone (main characters and all). Once she passed away it became clear that not everyone would survive, and many favorites would falter (even the male lead Tatsumi died, which was shocking). Some of these deaths weren't executed well, which also kept fans at arm's length from caring about them (or they died too quickly). So it was up to the series to make characters either likable or attractive so fans cared more about them and continued to watch to see if they would survive. If fans didn't care, the show was perceived as simply going through the motions.
In addition, Tatsumi might have been one of the more frustrating main characters that has aired on Toonami. Fans understand the whole oblivious bit, where a female character is in love with the lead and he doesn't hear or notice her advances. However, Tatsumi was one of the most oblivious and stress-inducing characters I can remember watching. So many female characters fawned over him, and he did nothing. He could have had any of the main female characters of the show, some were even inviting him in, but nothing evolved (except for Mine, who Tatsumi dated and was able to get one kiss). Even Toonami Faithful Podcast host Sketch liked Kirito from SAO over Tatsumi. Tatsumi was confusing, since it seemed that the series wasn't sure how good or how green he'd be. In some episodes he did nothing more than watch or yell to no avail, but apparently Bulat made Night Raid believe that he could become stronger than him due to his potential. I couldn't buy that as the series progressed. When Tatsumi was doing something impressive, I felt it was simply because he was the male lead. This isn't to say I didn't like him overall, especially during some of his humorous moments. But his fighting ability was all over the place, so I wasn't sure how I was supposed to perceive him.
Also, some of the direction the voice actors received in Akame ga Kill gave a few fans some serious issues. I'm not one to blast on the acting (it's not easy), but some voices certainly needed more work. Syura's voice in particular just didn't fit at all to me, and when I first heard him I busted out laughing, wondering if it was a joke. He sounded a little better when he was given more screen time, but overall there could have been more work done to make him sound better. To be fair, I did enjoy some of the voices in this series, like Christine Auten (Esdeath), Allison Keith (Leone), and Molly Searcy (Akame) to name a few. In fact, like Rebecca Silverman from Anime News Network, I enjoyed the voice work of Rob Mungle as Zanku, who stole the show while he was still alive. Plus there were a few classic voices in the cast that made the show more enjoyable (David Wald, Emily Neves, and John Swasey). I believe that there could have been more done to improve the voice cast, considering some of the other amazing work throughout the series. Instead of being blown away from the voice work, I leave Akame ga Kill feeling mixed.
Nevertheless, Akame ga Kill wasn't the garbage anime that some want you to believe. I do think the show was one of the better ones in the lineup during its airtime. It was the smooth and slick fight scenes that were the best aspect of the series. I could name so many that I enjoyed, culminating with Akame vs. Esdeath. The final battle between the two adversaries was satisfying, and I wished it could have lasted longer. But that wasn't the only fight that stuck with me. Seryu and Kuro vs. Sheele and Mine was my favorite battle, highlighting the fighting style Sheele displayed with her imperial arms, as well as all of the surprises Kuro revealed (you can add in the music and Kira Vincent-Davis' acting making it better as well). Watching Akame and Zanku was also a fun battle that looked and felt spectacular. But fans can choose a lot of different fights as their favorites because they were all memorable, and that's what Toonami does best: showcasing top-tier action with incredible battles.
As far as the characters go, there were quite a few that easily became fan favorites throughout its run. I especially enjoyed Leone, not because of the fanservice but how she could instantly switch from a fun-loving member of Night Raid (to keep morale up) to a cold-blooded assassin. She had no problem getting her hands dirty, as she would pound on any adversary in her way. I also enjoyed seeing her serious side, like when they had to free women in a brothel who were being drugged and sold, as well as her survival after fighting Esdeath. Of course, Leone isn't the only character that resonated, as I enjoyed the backstory of Chelsea and how quickly she became a lovable teammate of Night Raid (plus her teasing of Mine had me laughing a lot). Oh, and as Toonami Podcast host Jim Nelson has talked about , having a character like Bulat in Akame ga Kill was very refreshing, since he wasn't portrayed the way gay characters usually are in anime. While he had some humorous moments, I took Bulat seriously as an assassin and was glad he wasn't treated like a gag character. He was the one who instilled knowledge to Tatsumi, and the messages sent were ones that I could take to heart. A big win for this series was that most fans could find at least one character to become attached to. It would feel like a disaster if that character had died early on and forced viewers to find someone else to like.
So where does Akame ga Kill rank when fans talk about Toonami shows? Combine its huge ratings on its first Saturday (and very good ratings for all of them), and this trending retrospective done by Anime Savior, I'd rank it pretty high. It had a lot of people talking, and not simply because it aired right after Dragon Ball Z Kai. People had strong opinions about it (Kotaku.com had two different views on Akame ga Kill). It's polarizing, and that makes it hard to assess where it ranks. Some fans on Twitter hoped that another season would be produced, while others were upset at how quickly some characters died (among other things). While I wouldn't call it Toonami's best, it was the show that I most looked forward to. I would also call Akame ga Kill one of the more important shows on Toonami. It helped create a bridge between them and Sentai. That is critical when you consider the implications if things didn't pan out.
The assassins of Night Raid have completed their mission with the revolution now in effect. And Akame ga Kill's prequel series may mean that it won't be long before we see Akame once again grace streaming websites, and possibly the action block. The ending makes you think that another season could be on the way. I'm curious, if that does happen, how fans of the franchise would feel (speculation is always fun). Sentai Filmworks should feel proud of how Akame ga Kill performed, and it looks like their lackluster reputation is melting away. With the success of this series, fans should expect more Sentai Filmworks shows to grace the block. Akame ga Kill could even return to be broadcast at 3 a.m. (I'm not sure if this has already been confirmed or not). If you want a number ranking of the series overall, I'd give it an eight out of ten. I call Akame ga Kill a win for Toonami and a legacy that will continue as one of the more popular shows to ever be showcased.
C.J Maffris is an editorial writer for Toonamifaithful.com. He will miss Akame ga Kill dominating the podcast thumbnails now that it is over. Feel free to follow C.J on Twitter @SeaJayMaffris