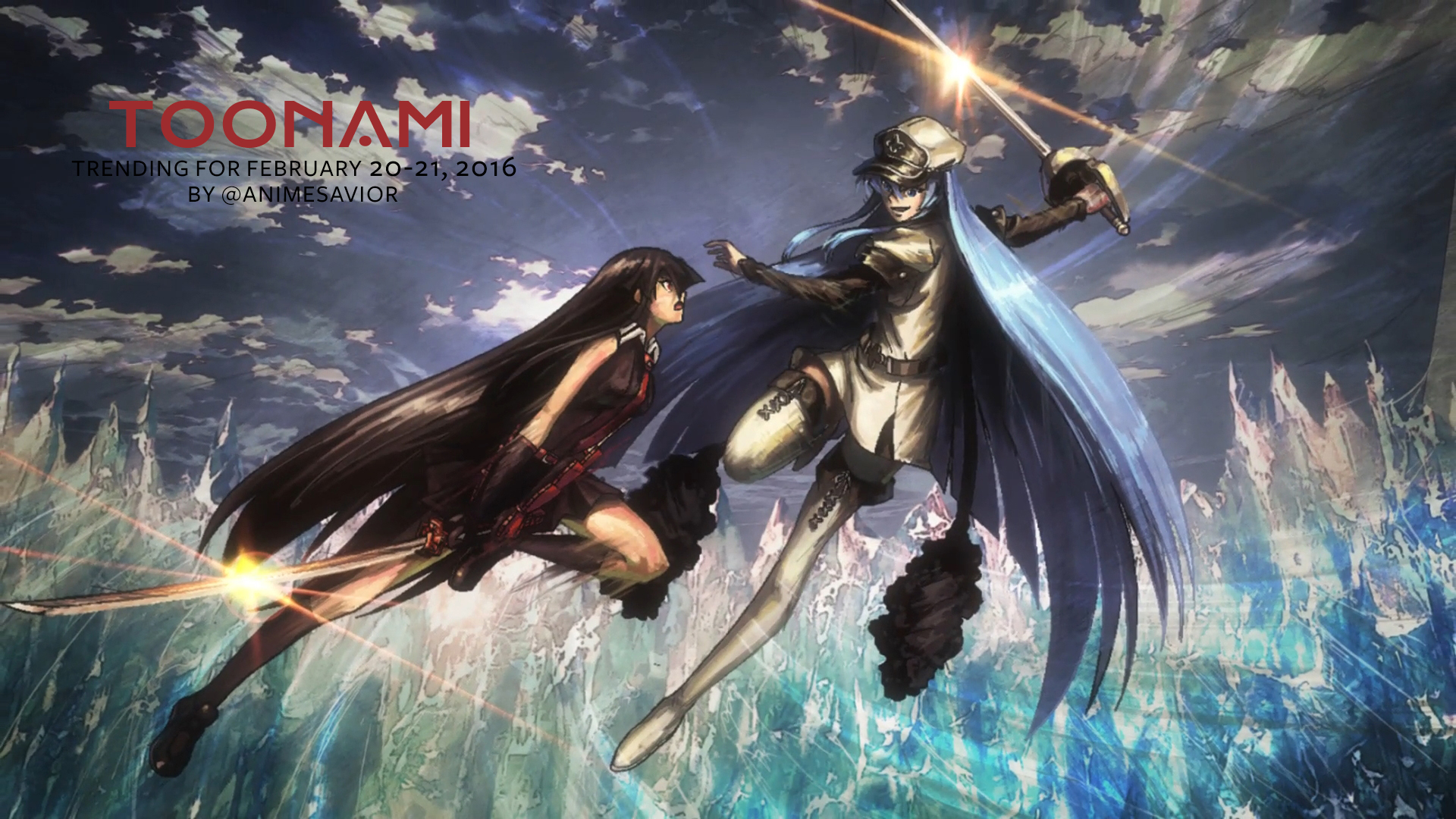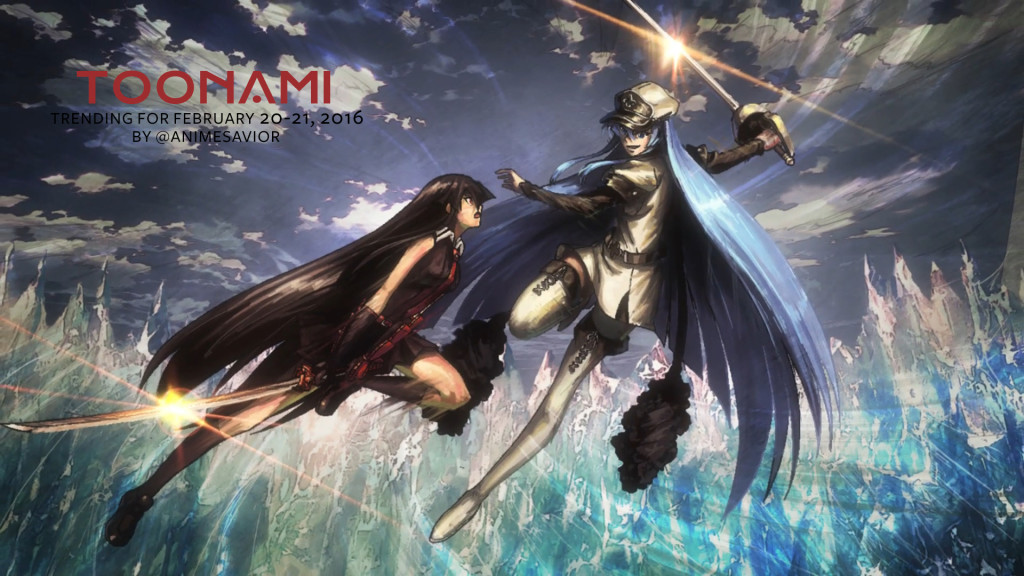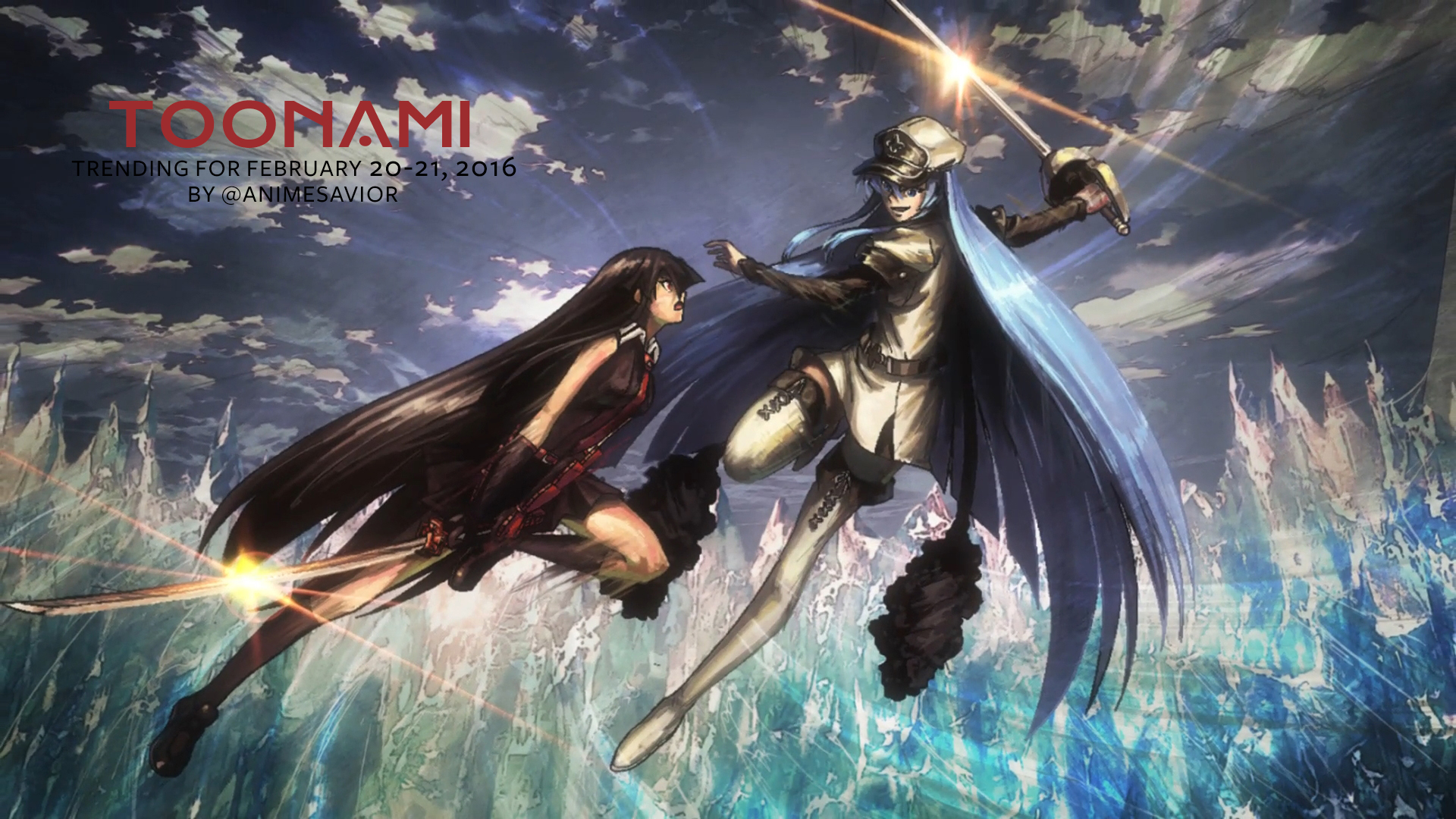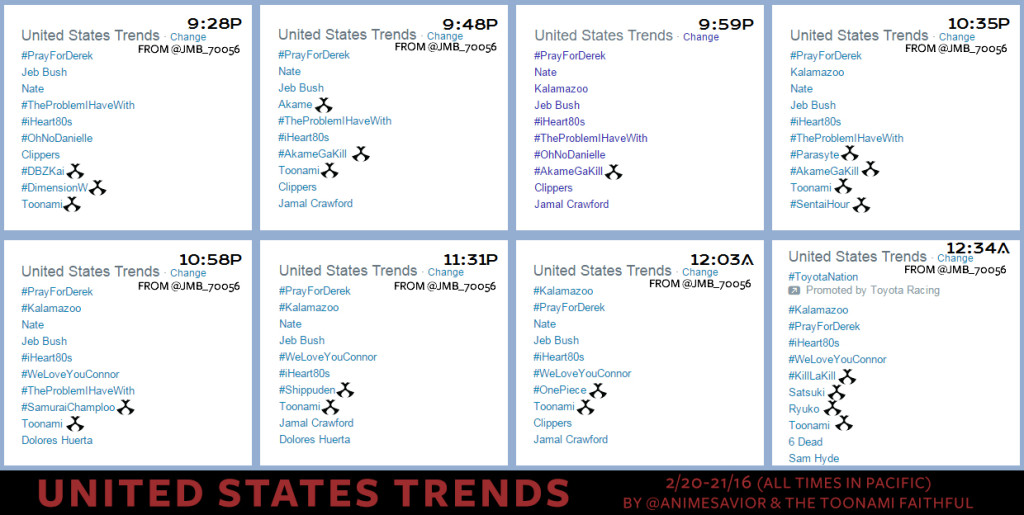 "Somehow i made it through to the end, and gathered the weight of more souls to carry for the rest of my life. Killing is all i know, but i believe…i believe i can find my way to a new future. I'm certain of it. So no matter where that future leads, I will follow this path to my destiny."
–     Akame, Akame ga Kill! (Ep. 24)
The Toonami Trending Rundown for February 20-21, 2016. We bid farewell to Akame ga Kill's run and celebrate Naruto Shippuden's 100th Episode as every show had successfully trended in the US during their respective East Coast airings.
In addition, #DimensionW also trended in the US as the promo was showcased during DBZ Kai, while the #SentaiHour would also trend for the final time (for now at least) during Parasyte, and both Akame and Kill la Kill would each bring us some character trends. Akame ga Kill! brought us Akame as she successfully defeats Esdeath and helps dethrone the empire, while Kill la Kill brought us Ryuko and Satsuki as to Ryuko's surprise, Satsuki and Honnouji Academy decide to wage war against Ragyo.
[divider]
Akame ga Kill! trending retrospective
Ever since Toonami's revival in 2012, there was a question amongst the community on whether Sentai Filmworks would ever partner up with Toonami to showcase their acquisitions on the better cartoon show. Sentai's predecessor, ADV Films never really had much of a Toonami presence back in the day, with only the short lived Giant Robot Week, Evangelion, and Super Milk Chan being its only notable entries for Toonami and Adult Swim, so skepticism on whether either side wanted to partner up wasn't uncommon at the time.
But good things come to those who wait, and eventually during Momocon 2015, Sentai would finally announce it's Toonami debut with the dub premiere of Akame ga Kill! starting on August 8th and would also follow that up with announcing the dub premiere of Parasyte at Anime Expo which started on October 3rd. Fast forward to today, and with both shows doing very well in terms of both ratings and social media buzz, it's pretty safe to say that Sentai's Toonami debut has been a success, and we do hope that this partnership will bring more great things for the block and anime as a whole for years to come.
As for the show itself, 24 weeks of Night Raid's quest to dethrone the empire and Akame ga Kill's run is now in the books. In terms of social media buzz, the hashtag #AkameGaKill managed to trend in the US every week it has aired including during its Halloween marathon, as well as Worldwide in 4 different occasions. In addition, Akame's run also brought 7 different character and in-show content trends, Akame, Chelsea, Esdeath, Kurome, Lubbock, Mine in 3 different occasions, and Tatsumi. And as a bonus, the #SentaiHour, the hashtag used to commemorate the 12:30-1 am hour as both Akame and Parasyte both come from Sentai, also managed to trend in 5 separate occasions.
Of course, as I previously mentioned, after Episode 18 the anime began to diverge from the manga's storyline and the producers opted for a "Gecko Ending", a la Soul Eater and the original Fullmetal Alchemist. The manga continues on to this very day, with 67 chapters and counting (and Tatsumi as well as several other killed off characters still alive, I might add) as well as the "Akame ga Kill Zero" prequels, so for those wanting more, feel free to check those out. Regardless, thanks for the memories and we look forward to what future endeavors this great series will bring.
[divider]
And finally…
Tune in next week as Toonami premieres the broadcast dub of Dimension W, among other great moments. Until next week, stay gold, and for those that successfully got a Comic-Con pass, congratulations, and I hope to see you in San Diego in July.
[divider]
Legend: The shows listed are ordered based on their appearance on the schedule. Show trends are listed in bold. The number next to the listed trend represents the highest it trended on the list (not counting the promoted trend), judging only by the images placed in the rundown. For the Twitter tweet counts, the listed number of tweets are also sorely based on the highest number shown based on the images on the rundown.
United States Trends:
Toonami [#8]
#DimensionW (During DBZ Kai) [#9]
#SentaiHour (During Parasyte) [#10]
#DBZKai [#8]
#AkameGaKill [#7]
Akame (From Akame ga Kill!) [#4]
#Parasyte [#7]
#SamuraiChamploo [#8]
#Shippuden [#7]
#OnePiece [#7]
#KillLaKill [#5]
Ryuko (From Kill la Kill) [#7]
Satsuki (From Kill la Kill) [#6]
Notes and Other Statistics:
Special thanks to @JMB_70056 and others I forgot to mention for spotting some of the trends on this list.
You're done! Only Toonami on [adult swim] on Cartoon Network.