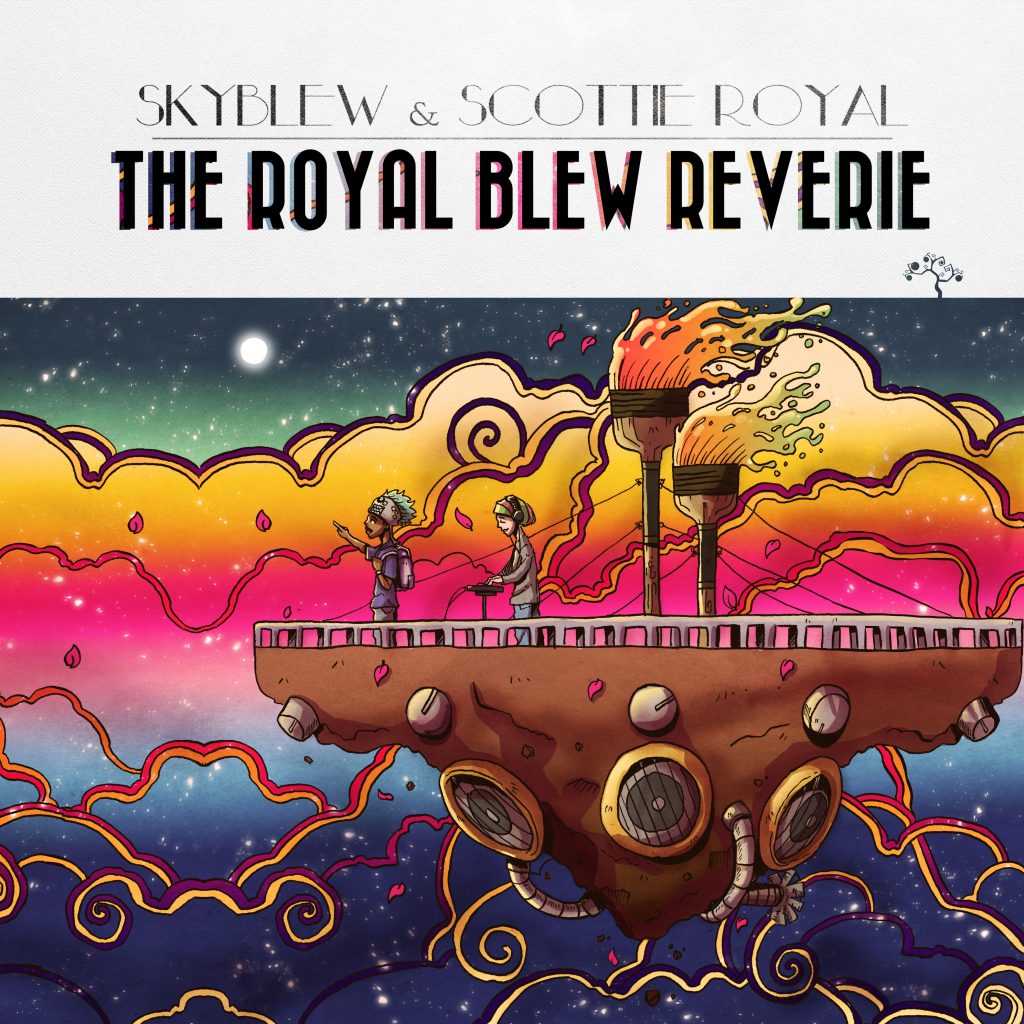 SkyBlew and producer Scottie Royal are at it again with this EP called Royal Blew Reverie. Here's the press release:
Ireland/International based record label, WeGrowWax are proud to present, The Royal Blew Reverie!
Dream Team, SkyBlew and Scottie Royal, joined forces again, to create an extraordinary body of work….
The Royal Blew Reverie leaves no doubt. Natural heat resounds from the very first note. SkyBlew adds his unique style to Scottie Royal's organic productions with incredible grace. His rich musical layers provides the perfect backdrop for SkyBlew's soft and melodic flow.
Sky and Scottie take us to the land of their inspiration. Through references to classic animations, the album is a mirror and follow up to many imaginations. In every second, SkyBlew proves to us how underrated of an artist he is (yet!). Puns, elaborate metaphors – neatly presented and served with professionalism. Sky surprises and moves us, and always keeps painting the Sky – Blew!
Scottie has put on his own unique style of production. All sounds have been chosen with precision craftsmanship. Outstanding guests help him to achieve perfection. The saxophonist TheDGTL and DJ Flovcut threw in their 3 cents, to further enrich these incredibly thoughtful songs. One cannot simply listen to them only once. It's impossible to catch all that magnificent glory in one go.
The whole album is embellished with a wonderful and powerful cover, handmade by the talented comic book creator – CKnight. The artwork is channeling the mood of the album simply flawlessly!
The Royal Blew Reverie is a real feast for the senses. Music that will last for years. So press play, sit back and enjoy, cause now, It's the time to keep dreaming!
To hear and purchase his new EP, use the player below. Tell us what you think below by leaving a comment.
[bandcamp width=350 height=470 album=4050530086 size=large bgcol=ffffff linkcol=0687f5 tracklist=false]