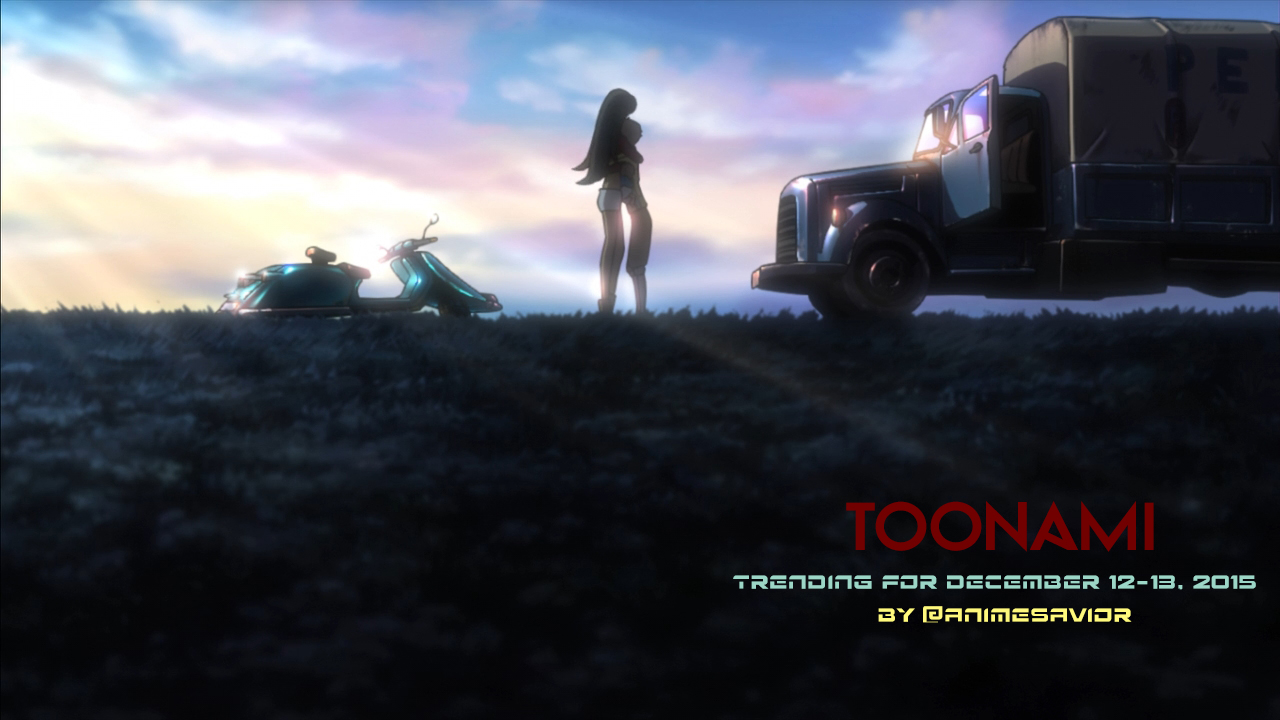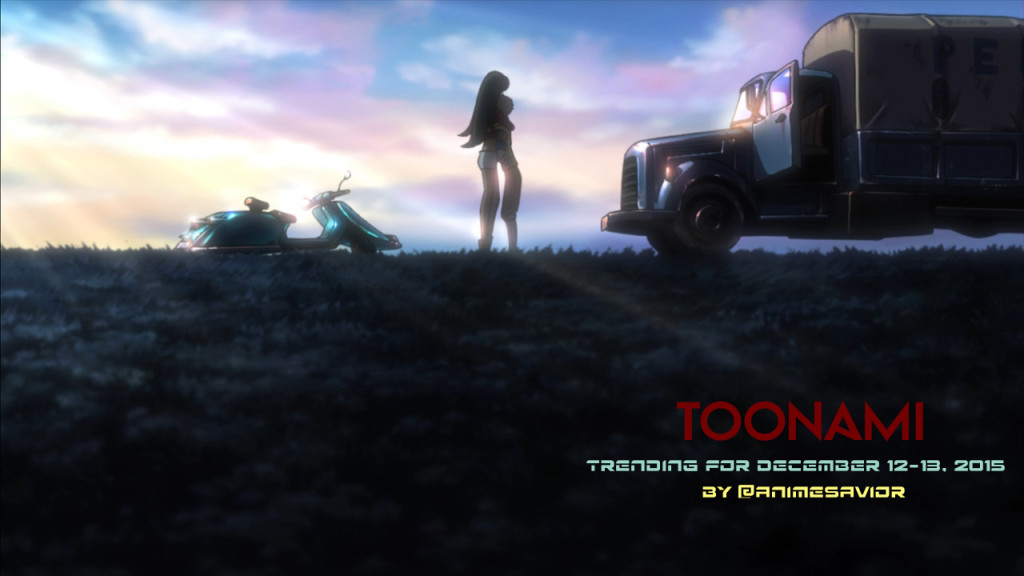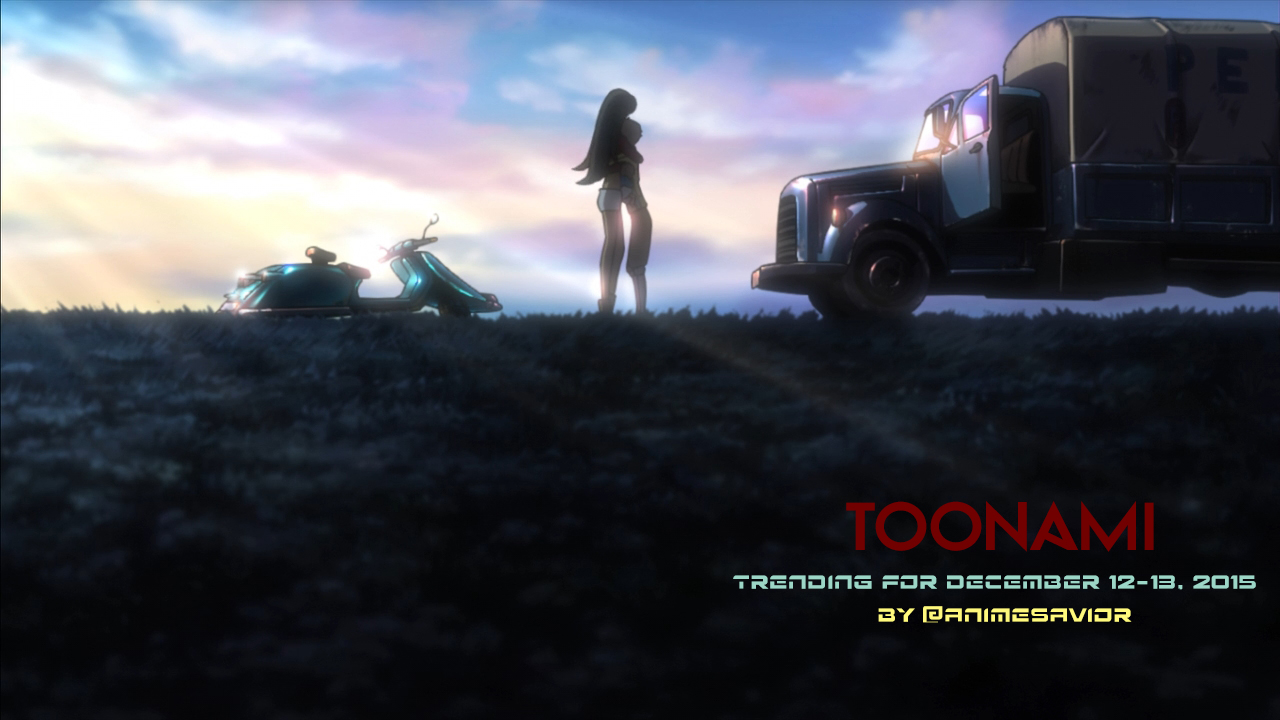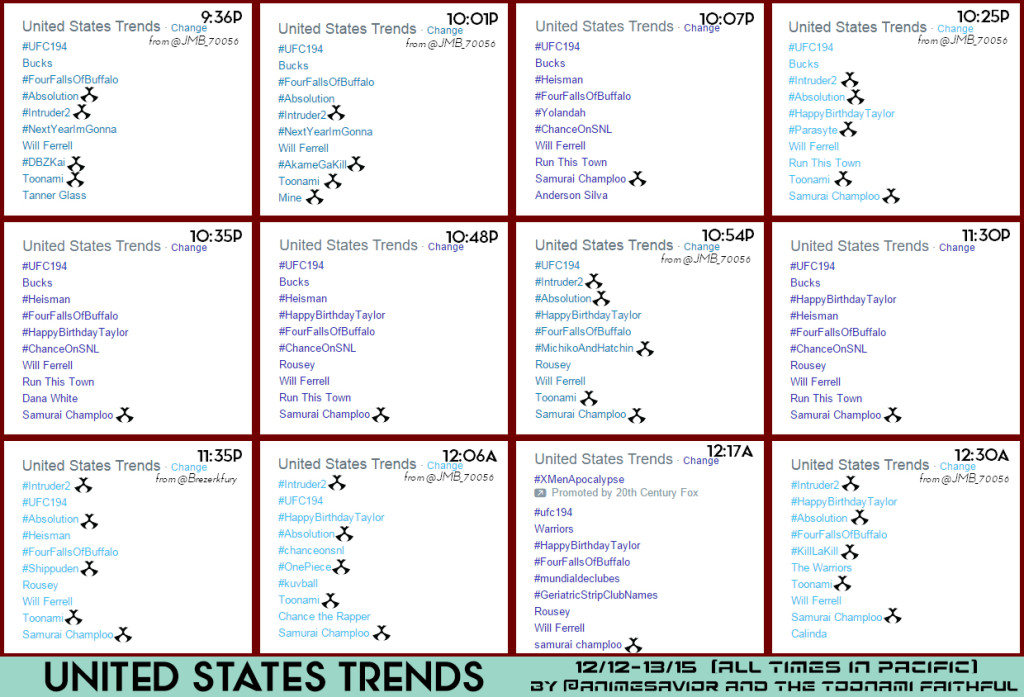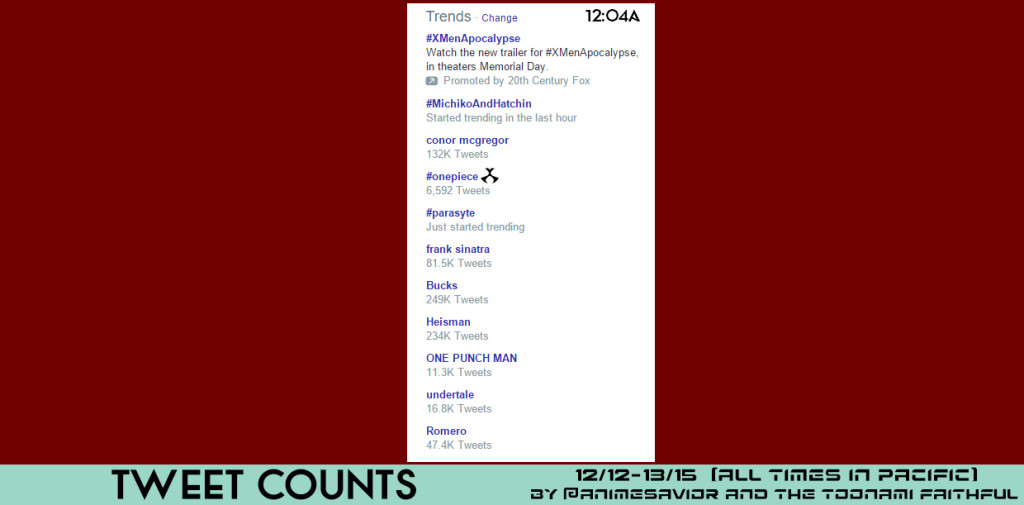 "It was from down this road. That's the way she'd be coming. So, how far should we go this time, Michiko?"
–     Hana "Hatchin" Morenos, Michiko and Hatchin (Ep. 22)
The Toonami Trending Rundown for December 12-13, 2015. We send out Michiko and Hatchin's run on Toonami with a bang as Toonami and every single show trended in the US during their respective East Coast airings as well as Toonami trending on Tumblr.
In addition, both #Intruder2 and #AkameGaKill produced some character trends with The Absolution (as TOM self-destructs it and the Intruder's ship to destroy The Intruder) as well as Mine (as she gets swallowed up by a giant frog but manages to shoot herself out of it). Finally, we were also treated to a promo to out next show on the block, the return of Samurai Champloo, and that also trended in the US as a result.
[divider]
Michiko and Hatchin trending retrospective
Being the mainstream gateway drug for anime and action cartoons in the US, Toonami has and continues to showcase premier anime series to millions of people around the country, as the successes of this year's dub premier acquisitions, Akame, Kill la Kill, Parasyte, and SAO 2 have all shown. But it has also brought awareness and popularity to many overlooked and underrated shows as well, and Michiko and Hatchin is one such example. Originally premiering in Japan in October 2008 and running to March 2009, it had to wait until 2013 for it to finally get dubbed and while there have been requests to Jason and the Toonami crew to eventually air it, it had to wait until June 2015 to finally make it to Toonami airwaves.
22 episodes of Michiko and Hatchin's search for Hiroshi have since come and gone and Michiko and Hatchin's run is now in the books. While it's popularity may not reach the levels of the above mentioned shows, the exposure that Toonami has given it an audience that may have not even considered it before and even made some big fans along the way.
To show it's impact in regards to social media buzz during it's run, #MichikoAndHatchin has successfully trended during all 22 weeks it has aired in addition to the Labor Day weekend marathon it had. This is the first time ever since we have started recording the trending rundown back in October 2012 that an entire series' designated hashtag has had a 100% trending success rate. Unfortunately, it was unable to produce a character or in-show content trend, the first time since 2013 that a premiere show has failed to do so.

[divider]
And Finally…
Of course as you all know by now, due to lackluster ratings from last year's movie month as well as an inadequate budget to showcase movies this year, the month of movies unfortunately has been canceled at least for this year, with a DBZ Kai and a One Piece marathon airing respectively for the next two weeks. But even if you're going to take the two weeks off from watching, at least watch the first 15 minutes next week anyway, as Toonami will be showcasing the finale of Intruder 2. So until then, stay golden as always.
[divider]
Legend: The shows listed are ordered based on their appearance on the schedule. Show trends are listed in bold. The number next to the listed trend represents the highest it trended on the list (not counting the promoted trend), judging only by the images placed in the rundown. For the Twitter tweet counts, the listed number of tweets are also sorely based on the highest number shown based on the images on the rundown.
United States Trends:
Toonami [#7]
Samurai Champloo [#9]
#Intruder2 [#1]
#Absolution (From Intruder 2) [#3]
#DBZKai [#8]
#AkameGaKill [#8]
Mine (From Akame ga Kill) [#10]
#Parasyte [#6]
#MichikoAndHatchin [#6]
#Shippuden [#6]
#OnePiece [#6]
#KillLaKill [#5]
Tweet Counts:
Notes and Other Statistics:
Special thanks to @Brezerkfury, @JMB_70056 and others I forgot to mention for spotting some of the trends on this list.
Edit 12/13 @ 2:00 P.M. PST: Added image of Toonami trending on Tumblr. Thanks to @myanimewaifu for the heads up.
Only Toonami on [adult swim] on Cartoon Network.