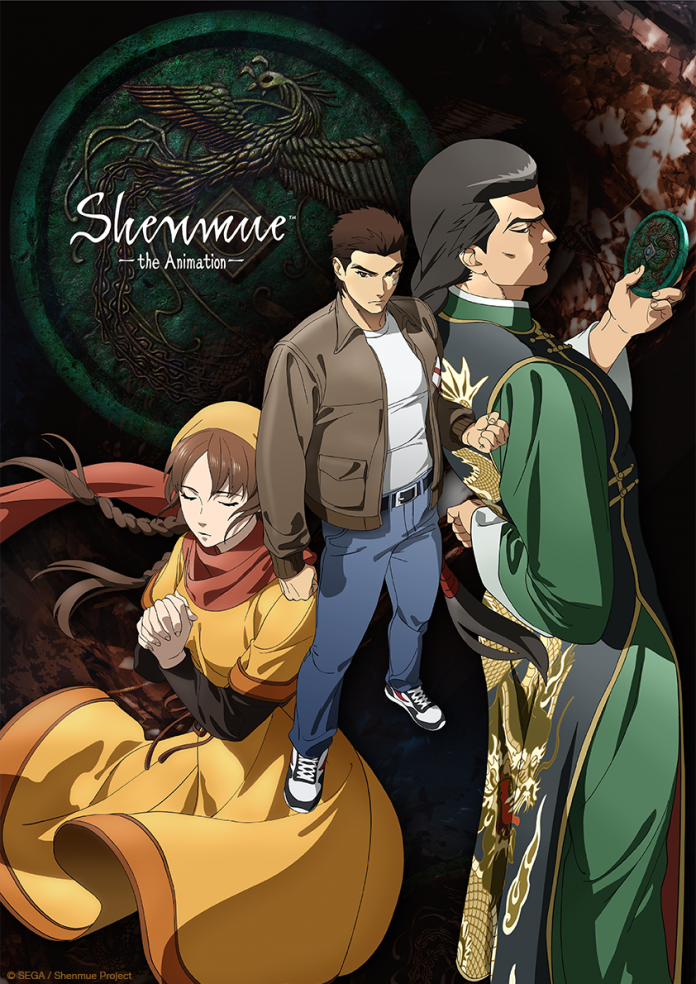 This was a collaborative article done by both Anime Savior and Laser Kid
During Virtual Crunchyroll Expo, Adult Swim and Crunchyroll have announced that they are co-producing an anime adaptation of Shenmue, the cult classic video game franchise by SEGA.
Yu Suzuki, the original creator and game designer of the Shenmue games, will act as the project's Executive Producer. Chikara Sakurai, who previously directed the second season of One-Punch Man, will serve as the director. Telecom Animation Film (a subsidiary of TMS Entertainment) will be animating the series.
The anime series will be 13 episodes in length. A premiere date hasn't been announced as of this article being published. And we are still unsure how much of the game or games will be adapted.
The press release regarding the project describes Shenmue as:
"Shenmue follows the journey of Ryo Hazuki. After he witnesses his father's murder at the family dojo, Ryo dedicates his life to finding the man responsible – a mission that takes him from the streets of Yokosuka, Japan to the sprawling metropolis of Hong Kong, and beyond. Soon he'll learn that larger, mystical forces are at play as he trains to become the ultimate martial artist in his quest for revenge."
Shenmue will be premiering on Toonami in the United States and streaming on Crunchyroll worldwide (except Japan and mainland China). This project will be the third co-production by the two anime distributors since AT&T's purchase of WarnerMedia (then TimeWarner), after Fena: Pirate Princess and Blade Runner – Black Lotus (Uzumaki is a co-production between Toonami and Adult Swim for those who are curious).
Famously, Shenmue was initially intended as a Virtua Fighter RPG for the Sega Saturn, before development moved over to the Sega Dreamcast. The press around the development and eventual release of Shenmue development from back then was unique, and for those who were there, it was almost magical. The tagline of 'In 1998 RPG has changed' will be something many fans will never forget. Many were promised a new style of game that had open exploration, and the hype was intense. It was released in Japan on Dec. 29, 1999, in Japan, Nov. 8, 2000, in North America, and Dec. 1, 2000, in Europe. It was the most expensive game developed at the time with a budget between $47 and $70 million. It was even the fourth best selling Dreamcast game of all time, selling 1.2 million copies, but it was unable to make a profit due to the massive budget.
What can not be denied is the significant impact it had on those who played it. The story of Ryo Hazuki and his quest for vengeance against Lan Di for the murder of his father was intense and personal, but it was also more than just a generic adventure. Before GTA3 gave it to us, Shenmue gave us an at the time unparalleled open world to explore and do things as we slowly unraveled the plot. Any in-game day was an adventure. While the story gradually expanded as we searched for Lan Di, we were also spun up in everyday things in Yokosuka's digitally recreated town. Examples of this include, helping a stray cat with its leg crushed, going to the convenience store, actually playing classic Sega games at the local arcade, or even taking on a part-time job.
The smaller-scale events' mundanity gave weight to the more plot-heavy aspects of the game; it felt less like watching Ryo's story and more like experiencing it firsthand. With all the twists and turns the story tells, along with the fantastic soundtrack and eye-popping visuals, Shenmue was an experience like nothing before. It was the talk of the gaming community online for better or for worse at the time due to both its positive aspects and some more awkward ones, but everyone had something to say about it.
Despite the massive moment that Shenmue was, its sequel, Shenmue II (released in 2001) didn't impact the gaming culture, despite being ported from the Dreamcast to the Xbox for its U.S. release. Due to poor sales on the second game, and low profits on the first, Shenmue faded into obscurity for a good long while following this. Recently, Shenmue has been rising back into focus. Following a Kickstarter campaign that raised $6 million in funds, Shenmue III was released in November 2019. Shenmue has notably been more in the public eye between the Kickstarter backed third game, and the HD remaster of the first two being released on modern platforms, and it's good to see it get more focus with an anime series.
Given how much the game was more than just a narrative, one can expect that this anime adaptation will cover the tale's broad strokes and hold some reference to Yokosuka's bustling town. For the release of Shenmue II on Xbox, the game's cut scenes were in the form of a 'movie' as a pack-in DVD, so there's some framework to base the series. Still, with thirteen episodes instead of a single movie, there's plenty of room to do this, and it should be easy to include the everyday side of the story and the main plot.
Additional details, including an interview with Yu Suzuki, was released during Crunchyroll's virtual industry panel streaming on Saturday at noon PDT. Crunchyroll and Toonami were originally planning to unveil the production at that time. However, the press release was leaked to the public a day earlier than expected.
This was a collaborative article done by both Anime Savior and Laser Kid
Are you looking forward to the Shenmue anime? Let us know by commenting below or directly on our social media. And be sure to follow us on @ToonamiNews and subscribe to our podcast on Soundcloud for future content and breaking news updates.