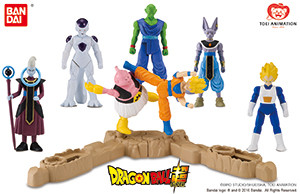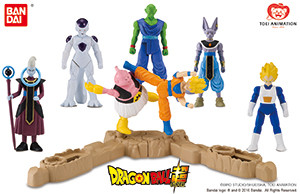 Toei and Bandai have announced plans to launch Dragon Ball Super toys in the US in the Summer of 2017. The toyline will include 3.5-inch, 6.5-inch and 7-inch action figures, collectible sets and "role play items" including a Deluxe Scouter and a Deluxe Kamehamaha Shooter.
Here's a quote from the press release found on License Global:
"Bandai's creative ambition is at full force with the release of their exciting 'Dragon Ball Super' catalogue," says Masayuki Endo, president, Toei Animation. "The toys recognized the 'Dragon Ball' franchise's long history and appeal to a wide variety of audiences and we look forward to aggressively building out the licensing component of this franchise."
With New York Comic Con in a few days, this may not be the only news about Dragon Ball Super's US launch we'll be getting this week. This development seems to point toward Toei having plans to roll out Dragon Ball Super in the US sooner than later. We'll keep you posted.
As always feel free to share your thoughts in the comment section below.
Via: Scott Green at Crunchyroll