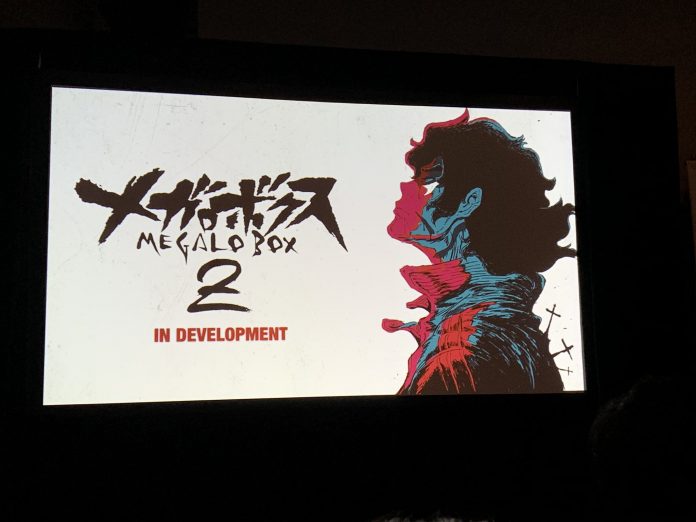 During the Megalo Box panel at Anime NYC 2019, it was announced that a second season of the hit anime series which commemorated the 50th anniversary of Ashita no Joe, titled Megalo Box 2 is in production.
Just announced at @animenyc! @MEGALOBOX_ 2 in development! pic.twitter.com/twB67yjVAD

— TMS Entertainment (@tmsanime) November 16, 2019
According to Director Yo Moriyama and Producer Minako Fujiyoshi, who were among the panelists, the sequel will take place seven years after Joe's bout against Yuri in the Megalonia final.
The story is set 7 years later!! They showed a teaser and it looks hype as hell!! pic.twitter.com/rQc61JiRd3

— LumRanmaYasha @ Anime NYC (@LumRanmaYasha) November 16, 2019
A release date for the sequel is yet to be announced, but according to Moriyama and Fujiyoshi, the production crew is aiming to have the new season premiere in Japan around late-summer 2020 – early 2021.
Megalo Box's first season aired on the Tokyo Broadcasting System (TBS) from Apr. 6 to Jun. 29, 2018 and was simulcast internationally on Crunchyroll. The English dub of Megalo Box premiered on Toonami from Dec. 8, 2018 – March 23, 2019. It is yet to be announced if Megalo Box will return for its second season on the better cartoon show as of now.
As with any potential Toonami show, if you wish to see Megalo Box return to the block for its second season, we recommend sending  your show requests to Toonami's Facebook page, or by directly messaging Jason DeMarco through his Ask.fm page or Twitter (@Clarknova1). We also recommend letting Viz Media know through their respective social media outlets.
Thanks to @LumRanmaYasha for the news tip.
Are you excited for Megalo Box II? Let us know by commenting below or directly on our social media.