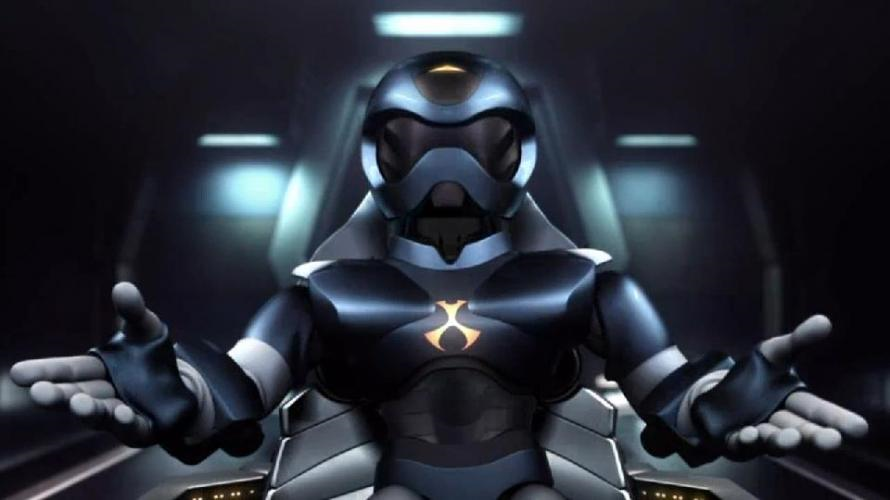 It's the end of the year, and that means LISTS!! Lists galore about everything!! I guess you could chalk this article up to peer pressure because just about everyone else on the site has done one, so I figure join the party. These are in no particular order (BLASPHEMY, I know), just some of my favorite experiences of this year.
SARA and the Clydes
SARA was probably the most requested thing about Toonami since it returned in 2012 (with the exception of the Show That Shall Not Be Named). Always coy and shadowy about their plans, budget constraints meant that it was possible that a return of SARA wasn't going to happen anytime soon.
Flash forward to May 18th, the debut of TOM 5. Who's waiting on the bridge of the new Absolution? It was our favorite snarky AI head, SARA! Voiced by the lovely and talented Dana Swanson, it was nice to see the banter between TOM and SARA again, although this time with the [adult swim] edge to it.
The bigger surprise was the Clydes. I thought there would be no real chance of them coming back until 2014 at the earliest, but there they were in-between the Xbox One bumpers! It feels like their return wasn't as heralded or as hyped up as SARA, but it was still welcome regardless.
The Return of Movies
Considering the financial implications of showing a movie and possibly not having it succeed versus running regular programming, these were bold moves on Toonami's part, especially since the first movie, Evangelion 1.11 was shown before Toonami had seen a full year back.
But EVA 1.11 begat EVA 2.22, and both were great successes for the block, so that helped give us the movie month that we were hoping for. What else needs to be said about Akira running on Toonami? It's a humongous milestone for the block, and hugely symbolic one at that. As Funimation.com director Adam Sheehan said, "everyone remembers the first time they saw Akira." That wholly rings true, and Toonami popped a lot of people's Akira cherry that night.
One of the movies, Summer Wars, was one that I was calling for pretty much since the possibility of movie showings was brought up. It proved to be a huge hit, scoring 1.36 million viewers and a 0.9 share, exceptional considering the time of night the movie ran until. Fullmetal Alchemist: Conqueror of Shambala also won big, getting a million viewers, too. I think we can look forward to more movies in the coming months.
And hyperspace. Because ambiance.
Aniplex Joins the Party
Among show requests, anything Aniplex usually ends up being high on the list, and why not? Their subsidiary studio, A-1 Pictures, has incredible talent behind it and has given us some of the most popular shows of the last few years.
The first seed was planted in February when Aniplex took a poll of what shows people would like to see on Toonami on their Facebook page. It showed that there was at least interest, possibly by both parties.
And then, on May 24th, in Hall D at Anime Boston, the announcement hit, with a little bump direct from the Toonami team: Sword Art Online would be on Toonami starting in August! The room exploded, Aniplex Marketing Director EJ Rivera was beyond stoked, and in my interview about half an hour afterwards with Bryce Papenbrook, he was smiling from ear to ear the whole way.
It got better a few weeks ago when Toonami announced that they had added Blue Exorcist and it would be running in March. As long as Sword Art and Exorcist continue to do well, I think we can expect the partnership to continue.

All Those Interviews!
Who says I'm not putting my journalism degree to work?
It was a big year for guests and interviews and stuff on the Toonami Faithful Podcast. We work our tails off to bring you only the best, and I think we did just that this year. Working hard for interviews and stuff is what we do best, and we have all pulled our weight on this front this year, whether it's at conventions or elsewhere.
I didn't keep track of how many interviews we did this year, but I know we did tons, and all of them were pretty awesome. We had Jason DeMarco three or four times this year (once impromptu because of IGPX), and all kinds of other voice actors and industry people.
Me personally? I got to participate in eight interviews myself, including one person twice (Cherami Leigh), and I finally got to interview my good friend, Mr. J. Michael Tatum, plus many others.
Side note: As fun as it was to be part of the Shinichiro Watanabe interview (I was behind the camera), I was scared stiff by all the Bandai & Studio Bones execs, not going to lie.
Becoming Part of the Podcast
I made my debut on the Toonami Faithful Podcast as the announcer at the beginning of the year. It was a tremendous honor to become part of this, and since then, it's been nothing but awesome the whole way through, especially since I got to have a bigger role on the podcast so soon.
Going to Atlanta and meeting the guys was a real treat for me, as was meeting the rest of the Toonami team. Since then I've worked my butt off for this site and it's become something I've gotten truly invested in. This is easily the best job I've ever had, and I can't wait to work on more stuff next year.