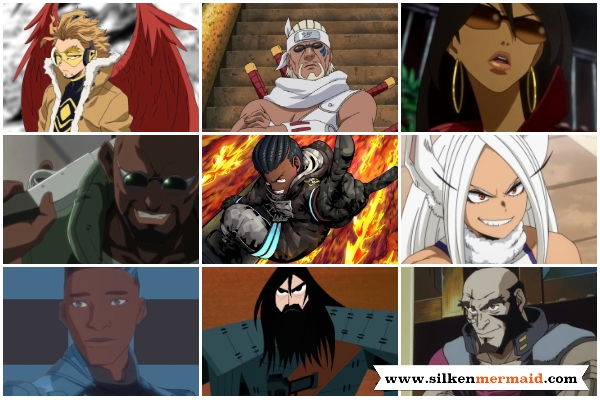 Toonami and Adult Swim have long been supporters of diversity, whether through airing programs by Black creators, such as The Boondocks by Aaron McGruder, highlighting Black musicians at the Adult Swim festival (or some of the more trippy music videos shown during the block), and presenting Black voice actors and characters on Toonami shows. In 2020, Toonami aired a moving video with TOM spreading the Black Lives Matter message. As we reach the end of Black History Month, we of the Toonami Faithful wish to call attention to some of the actors and characters throughout the years that have been impactful from the perspective of various members of our staff. While we always acknowledge the talent and hard work of all creators and actors, regardless of background, it's important to recognize the growth of the Anime Industry in areas of diversity and inclusivity. And demonstrate their influence on us viewers, not just during Black History Month, but every Saturday night throughout the year. 
Darrell Maddox/@OOKAMI_SAMURAI7: Ogun, Fire Force:
I feel Toonami has always been inclusive and diverse in several ways, and one such example of this is the character of Ogun from Fire Force. In addition to being a Black character in the series, he is voiced by Zeno Robinson, an actor known for roles in My Hero Academia, Young Justice, Black Clover, and the smash hit Demon Slayer. And seeing someone who looks like me both in an anime and providing the voice for a character, will always be something I cherish.
More about Ogun, he is rich in lore that I always found fascinating, and no I'm not talking about the character in Fire Force (yet). Also known as Orisha of War or Iron of the Yoruba people of West Africa, Ogun is not evil and will help those who pray to him, mainly blacksmiths. Ogun Montgomery, the Fire Force character is an excellent homage to the God of legends and is someone I've greatly admired in the entire series. Getting to watch a level headed Fire Soldier and someone who shows maturity that his former classmates Shinra and Arthur don't, always put a huge smile on my face, as I'm sure he did for others too. 
The representation of Ogun made me happy on a personal level because there can be a lack of black characters in anime at times. Especially ones like Ogun who proudly display those cultural references that show the pride of the most culturally diverse people in the world. I love the fact how some of Ogun's attacks have Yoruba names and his tattoos also resemble tribal markings as he deserves his spot for being an one of the greatest Black anime character.
Celia Rose/ @planetstwinkle: Arthell Isom, Artist/Entrepreneur
Anime can inspire anyone to chase their dreams, and there's no better example than Arthell Isom who is the CEO and Art Director of D'ART Shtajio, the first Black-owned animation studio in Tokyo, Japan. Born and raised in Paterson, New Jersey, Isom fell in love with drawing as a young child and later discovered anime in his teens via G4's "Anime Unleashed" TV block. In particular, Isom was drawn to art director Hiromasa Ogura's work on Mamoru Oshii's esoteric animated film Ghost in the Shell, which (in an interview with The Japan Times), he admitted to watching every day for one year to admire and study the background paintings. His admiration for Ogura's work led Isom to pursue a career in Japan, despite the barriers he would face as a foreigner who did not speak Japanese. 
After studying at the Academy of Art University in San Francisco, Isom moved to Japan in 2006 and enrolled at the Yoyogi Animation School in Osaka. He graduated from Yoyogi and applied to Ogura's studio Ogura Kobo, which is notorious in the anime industry for hiring only one graduate artist per year. Isom started working as a background artist at Ogura Kobo in 2008, to which he was able to work on projects like Naruto: Shippuden movies "The Lost Tower" and "Blood Prison," as well as episodes of Gintama', B: the Beginning, Lupin III: the Woman Called Fujiko Mine, and more, all while supervised by the veteran animator he deeply admired.
In 2016, Isom founded his own 2-D animation studio, and since its founding, D'ART Shtajio has produced music videos for The Weeknd, Future, and Bad Bunny, as well as the anime series XOGENESYS and Sturgill Simpson's Sound & Fury on Netflix. The studio is also credited for key animation work for several shows that have aired on Toonami, including Attack On Titan: Final Season, Tokyo Ghoul:re, JoJo's Bizarre Adventure: Golden Wind, and Fire Force. Arthell Isom's journey from anime fan to professional animator and business owner paid off after years of honing his craft during a time when foreign animators in Japan were few and far between. His hard work and dedication prove that anyone in the world can create anime, and that dreams can come true when you take the first step forward.
Umeko Long/@blu_temptation: Anairis Quiñones, Voice Actor
As a person of color, representation matters, and thankfully more of that in anime is happening. Look no further than Anairis Quiñones, who has taken the voice acting world by storm, landing roles such as fan-favorite Mirko in My Hero Academia, Yelena in Attack on Titan, and Nessa in Pokémon: Twilight Wings. Besides anime, Quiñones lends her voice to video games, with one of her latest roles being Strawberry Cookie in Cookie Run: Kingdom. As an African American woman, it warms my heart seeing her star shine and entering an industry where a woman of color voicing prominent roles are few and far between. I admire Quiñones' positivity when dealing with overly critical fans, which is an unfortunate issue black women deal with when achieving success in spaces we "don't belong." I can't wait for the next arc of My Hero Academia, where Mirko will play a pivotal part, and her performance will silence detractors that conveniently pop up when someone of color earns a role!
I had the pleasure of meeting Quiñones last year at the My Hero Academia convention. I was filled with excitement and awe as she entered the room for her Q & A, as she's quickly become a fan-favorite among My Hero Academia fans. She couldn't have been nicer, sending out good vibes and grateful for all of her opportunities to do what she loves. I hope her story inspires a generation of melanated girls to follow their dreams!
Bryan "Laserkid" Johnson/@laserkidprime: Canary, Hunter x Hunter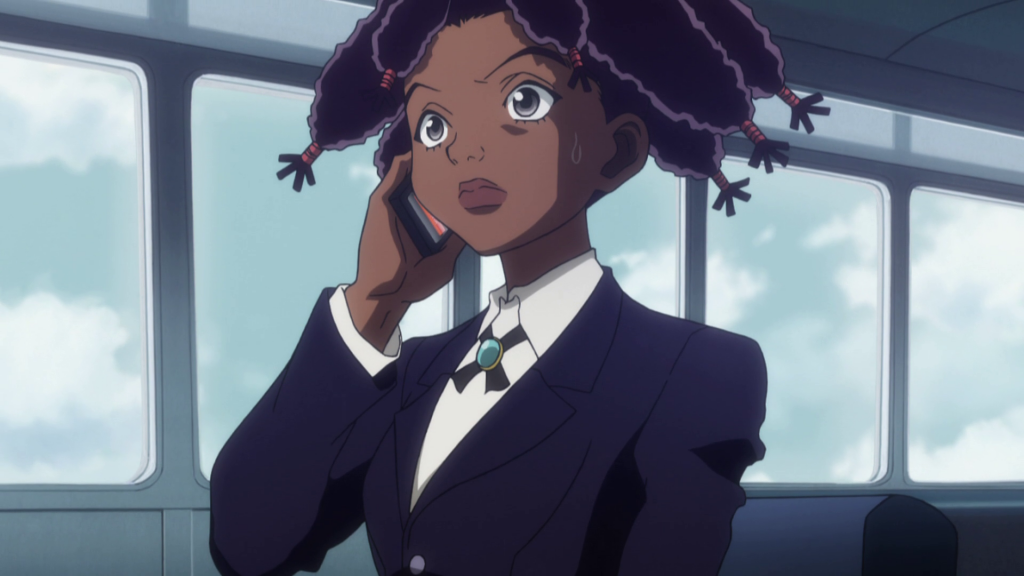 Black history month helps us never to forget the struggles and triumphs of African Americans in this country, and media representation helps with this a great deal. And what makes anime so great is that you can find series, characters, or themes that help resonate a ton about this topic. Look no further than Canary from Hunter x Hunter. She is the first black anime character my brain goes to when thinking about the importance of representation in anime. She comes to mind because her circumstances and her ability to overcome are parallel to the real world. While not as brutal as real-life events, seeing what Canary can accomplish most certainly evokes the feelings many maligned groups have faced.
Canary appears rigid and uncaring, dutiful as expected for her appointed station as a guard. Yet underneath that is a wonderful and loving person who only wants the best for Killua. While she was an employee, she was treated as property by the Zoldyk family members. Yet, she stood up to them, knowing the Zoldyck family would severely punish her for her passive resistance of not backing down from her beliefs. Her stand echoes almost identically to the civil rights movement. She made her stand and did end up in a better circumstance for it, proving how fighting for the right thing can yield positive results. Canary's story is a beautiful way to show that regardless of background, as was once famously stated, 'we shall overcome.'
Amp Ren/@AmpRenLetsRide: Beau Bilingslea.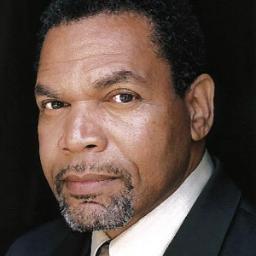 While legends such as Phil LaMarr, Cree Summer, and Kevin Michael Richardson were among the first black voice actors to gain notoriety with young millennials, I have to give serious props to Beau Billingslea. In addition to fueling my South Carolinian pride, Billingslea's a total icon for helping to, in a sense, "break the color barrier" for anime voice acting. I've always wanted to be a voice actor, and listening to his performance as Jet Black in Cowboy Bebop as a youngster left a huge impression on me. It was the first time I heard a black person in an anime and, to this day, still serves as a massive inspiration for many other black voice actors and myself. Billingslea's performance as Jet was iconic, to the point where the divisive live-action adaptation of Cowboy Bebop cast a black man, Mustafa Shakir, as Jet.
In addition to Bebop, Billingslea's voice can be heard in Digimon as Ogremon and various other characters, the Fourth Raikage in Naruto, Barret Wallace in Final Fantasy VII: Advent Children, and "Booger," the main antagonist of Toonami's The Forge Total Immersion Event. Billingslea's talents also shine in live-action works, appearing in films and television series such as Star Trek Into Darkness, Hannah Montana: The Movie, Just Jordan, and Leprechaun: Back 2 tha Hood.
@HappyKuroKitty: Phil LaMarr, Samurai Jack.
It's challenging to pick just one example out of an array of incredible Black influences. Dutch, voiced by Dean Redman, from Black Lagoon (which aired in 2014 on Toonami), is the calm and easygoing leader of the Black Lagoon Company, known for his level-headedness and commitment to the mission, balancing the more brash character of Revy. Shinichirō Watanabe's Samurai Champloo was clearly influenced by hip-hop culture and beautifully fused it with Edo-era Japan, embracing its anachronism and seamlessly integrating hip-hop music into the show. The main character of Michiko and Hatchin, Michiko Malandro, is a badass Afro-Latino woman, both gorgeous and tough, and despite her abrasive attitude, she has a heart of gold. 
However, one of the most outstanding performances that has to be spotlighted is that of Phil LaMarr in the title role of Samurai Jack. I've often written about (and spoken about on the Toonami Faithful Podcast) my love of Samurai Jack which has withstood the test of time for quality action animation and even made an incredible comeback for a final season in recent years. His voice acting as Jack is superb – he is every inch the stoic samurai and demonstrates an incredible range of emotion for the character: pain, joy, determination, suffering, anger, satisfaction, confusion, and so much more. LaMarr himself has stated: "For me, even originally, it was a show that I loved. I consider it a work of art." And it is. 
I find it especially inspiring how he breaks a barrier for voice acting through his portrayal of Jack. Though he has voiced several Black characters throughout his career, such as Futurama's Hermes Conrad, Jack is actually a Japanese man. By giving voice to Jack, he effectively demonstrates how true voice-acting talent can transcend typecasting, and while it's great to see a greater representation of diverse characters in anime voiced by a diverse group of actors, Phil LaMarr's performance as Jack will hopefully encourage new talent to go further with their own performances in the future. 
HappyKuroKitty is an editorial writer for Toonamifaithful.com. Feel free to follow Kuro on Twitter @HappyKuroKitty.
Check out the Toonami Faithful Podcast, where we discuss recent news, current shows, and all things Toonami: