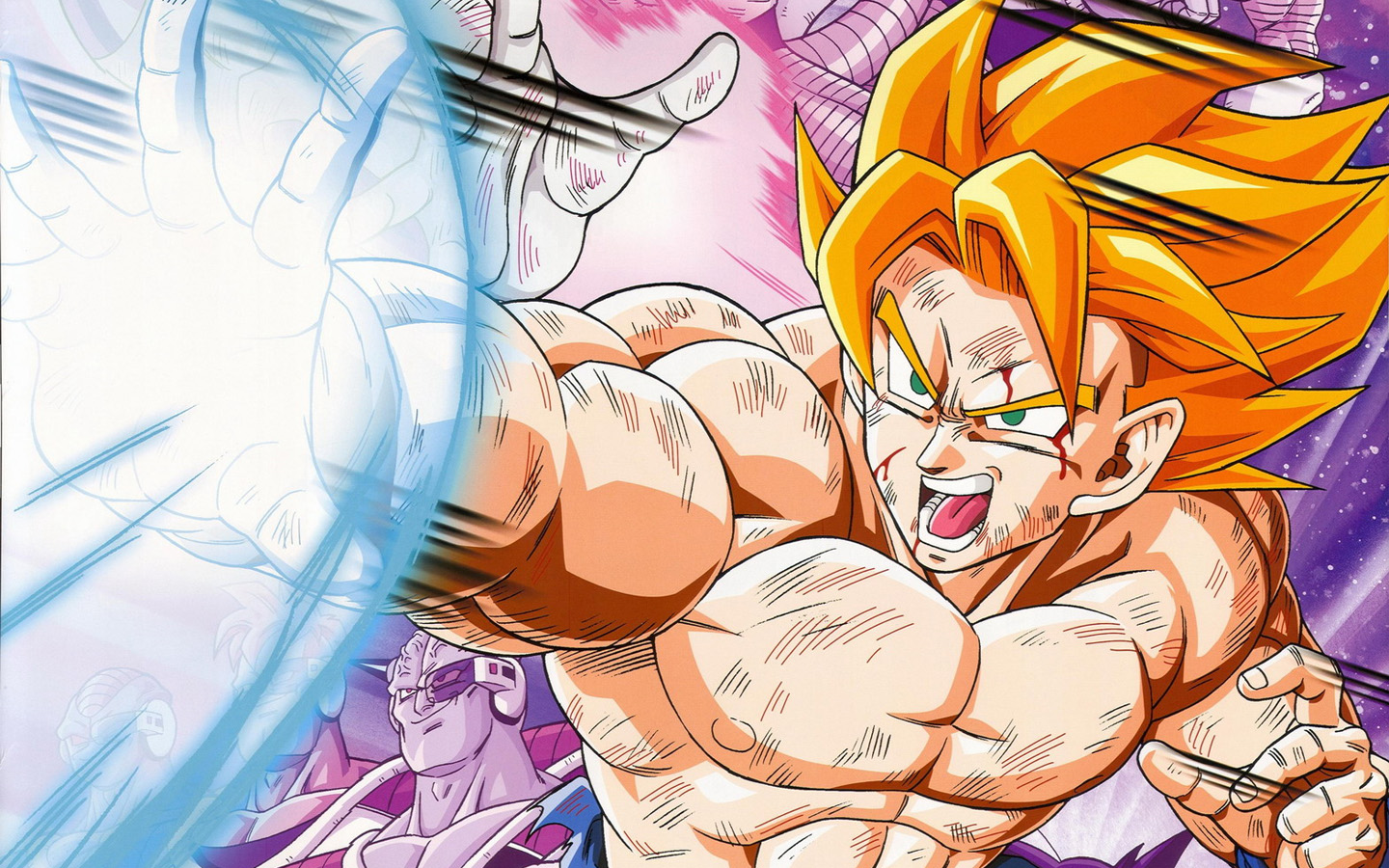 Yes, this was a harmless prank. We hope you all had some fun, we sure did looking at all the reactions! The original article is below:
______________________________
In an exclusive story you'll only find here on ToonamiFaithful.com we can confirm that the legendary series is returning to Toonami.
The 291 episode saga will be in full HD 16:9 widescreen on the revamped Toonami block in it's restored glory. FUNimation gave us this official comment:
"Dragon Ball Z has been one of our stable shows and the fans clamoring for it to return to Toonami really filled in our inbox. I guess it did for them too, because we got the phone call from an irritated Kim Manning saying 'Fine, give us DBZ.'"
We reached out for comment from Williams Street and this is what they had to say:
"We're clearly the best in the business, getting world premieres, new anime and American shows that people missed the first time around, but clearly that wasn't working because Dragon Ball Z requests would not leave our poor Tumblr inbox alone. After it crashed Gil's Macbook, we said 'f**k it.'"
Unfortunately, DBZ reintroduction into the block means some shows will be getting the axe. Since it's so long, the Toonami team decided to remove certain programs to get through it quicker. Here's what the schedule will look like this week:
11:30pm: Dragon Ball Z
12:00am: Dragon Ball Z
12:30am: Dragon Ball Z
1:00am: Dragon Ball Z
1:30am: Dragon Ball Z
2:00am: Dragon Ball Z
2:30am: Dragon Ball Z
3:00am: Dragon Ball Z
3:30am: Dragon Ball Z
4:00am: Dragon Ball Z
4:30am: Dragon Ball Z
5:00am: Dragon Ball Z For A Full Hour

Jason DeMarco sent us a comment about the schedule:
"Personally, I was really excited about our line-up of shows. I thought the World Premiere of Space Dandy, along with premieres of shows like Black Lagoon, One Piece, Naruto Shippuden, Blue Exorcist, and upcoming shows like Attack On Titan and Sword Art Online 2 would make people happy, but we were clearly wrong. Hell, the first comment we got after unveiling Space Dandy world premiere was 'Don't care. Battle Of Gods.' So we gave up. Personally, if it were up to me, we'd just play Cowboy Bebop for 7 hours instead."
More on this story as it develops!
______________________________
So, now that the day is officially over, we'd thought it be fun to look at some of the reactions we got on Twitter:

Yes, as soon as we posted this at midnight (East Coast Time) our site CRASHED. The traffic was ridiculous! But this fellow fell for it, but after all, this was around midnight.

Someone was happy!

We disagree. If we can't play a harmless prank on April Fool's, then what's the point?

Probably not. Our poor site crashed repeatedly!

Yeah, we hoped people would! After all the article I wrote was pretty ridiculous on purpose so people would immediately know that it's a joke. But as I learned quick, not everyone actually read the article!

As long as you have a sense of humor on this day, you'll get by!

This guy didn't read the article.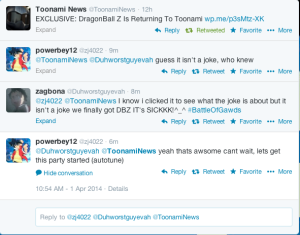 These guys were so convinced, even AFTER reading the article they began to speculate about movies being in the last hour!

This guy remembered the date!

Would you say it was…moé? No, that's too hardcore for DBZ.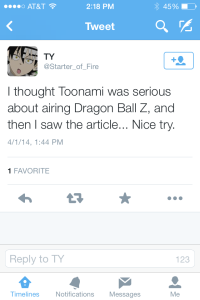 That's the point! We wished more people actual read the article!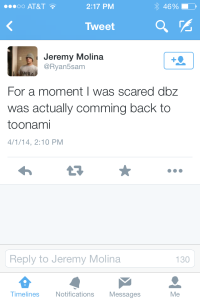 Some people would disagree with you!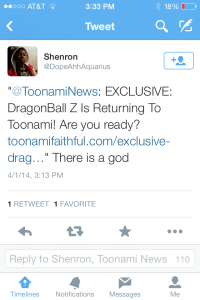 Uh…I really hope you still believe in your specific deity after this.

…I actually don't know what the deal is.

People even started asking poor Jason. Yeah…we're really sorry about that!

They're seriously not.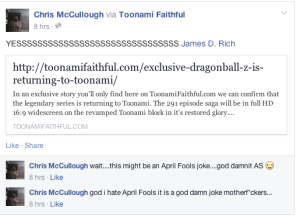 It even spread to Facebook!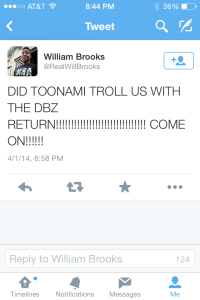 Toonami didn't troll you, we did. The never-ending confusion between us and the real Toonami continues!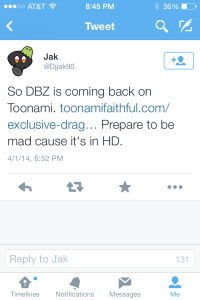 Only person to point out which version would be on TV, but I guess he didn't read the rest of our ridiculous article!

*locks door* It was just a prank guys!
___________________________
And so ends our April Fools joke. We hope that you had a laugh (which is the correct response). I came up with the idea about 2 hours before midnight, and wrote the article to be as absurd as possible so we'd all go home happy. DBZ is a big part of Toonami's history as evidenced by the huge response our fake article got, but I think we should rejoice that Toonami is experimenting and getting wonderful premiere shows like Space Dandy and Sword Art to expose new audiences. DBZ is a huge part of many of our lives and we love the show to death, but wouldn't Toonami's time be better spent on giving new shows the same shot that DBZ had? Anyways, we'll leave you all with some consolation, because a lot of you (including us) are huge DBZ fans. Here's episode 1 of DBZ:
Also, HUGE APOLOGIES to FUNimation, Williams Street and Jason DeMarco. It was meant as fun joke, but we probably didn't help with the inbox messages.