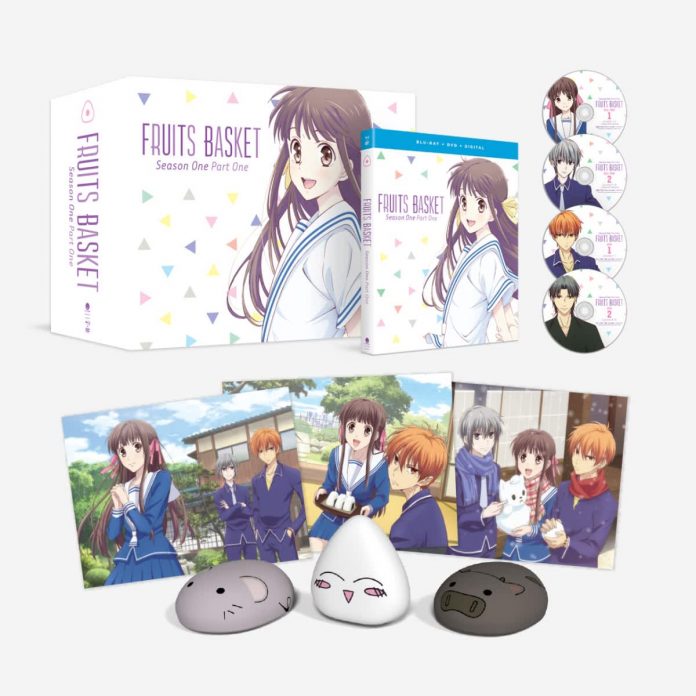 via FUNimation
Often you hear fans wish that Fruits Basket was rebooted because the original anime series steers away from the manga storyline. Despite that, the first Fruits Basket anime is remembered fondly, and one that many consider the best shōjo anime of all time. I'd go as far as to say that when I think about FUNimation, Fruits Basket is one of the first anime that comes to mind. So the fact that this series got a reboot made the anime world crazy. It placed pressure on FUNimation to recapture the magic that has touched the hearts of many. And those who enjoyed the previous anime series now gets a chance to see how the series was meant to play out, which has me excited!
In this release, fans are taken on an emotional journey in 13 episodes. We begin with Tohru Honda living in a tent after her mother dies and getting kicked out of her grandfather's house while it is being renovated. Tohru starts to wander in the woods and discovers a home in the middle of it, and finds her classmate Yuki Soma staying here. Yuki and his cousin Shigure eventually find out that Tohru is living in a tent, and decide to have the young woman stay with them until her grandfather's renovations are finished. After Tohru agrees, Yuki is attacked by another family member named Kiyo. Tohru, shocked by Kiyo's sudden appearance, falls onto him and watches as the boy turns into a cat. Yuki and Shigure are also touched by Tohru, turning them into animals. It's here where Tohru finds out the secret of the Soma curse, and how members of the family will turn into a zodiac animal when touched by the opposite sex. Tohru swears to keep it a secret, and begins to meet more members of the Soma family, seeing how upset the family is when outsiders aren't around. Tohru tries her best to not only keep the secret hidden from the world but to be the friend that both Yuki and Kiyo need at this time. And the entire Soma family finds her intriguing and wants to learn more about her as well.
The most prominent theme from the first episodes of Fruits Basket for me was acceptance. During the first part, we see how Yuiki dislikes himself due to his curse and the environment in which he was raised. He was told how ugly he was by Akito due to the curse. This upbringing made Yuki keep everyone at an arms-length despite how friendly and cheerful he looked on the outside. Inside, he was hurting a ton. Even Tohru gets "pushed" away from Yuki, and it takes time and a little prying from our heroine to have Yuki open up a little more. But it's this self-hatred and lack of acceptance that made Yuki want to live away from the Soma family and barely see any of his relatives, and even Tohru noticed how upsetting that could be.
But like Yuki, Kiyo also seems to dislike himself, which is why he challenges Yuki to fights all the time. In Kiyo's mind, beating Yuki is the hurdle he needs to clear to become a part of the Soma family. The two sides are very different, and neither can see the good qualities in themselves. Yuki notices that Kiyo can be comfortable around others and can bring a group together (making him jealous). Both Yuki and Kiyo have excellent qualities, but neither feels they are admirable, or worse, that their better traits are made up to trick people into thinking they are friendly. And as the first 13 episodes play out, we see how other Soma family members might have similar beliefs in themselves.
It paves the way for Tohru (an outsider) to come in and destroy the balance and control that Akito has held over the Soma's for quite some time. Akito has implanted all of these negative feelings, especially in Yuki and Kiyo, making them who they are today (sad, distant, lonely, etc.). Akito uses the family's insecurities about the curse to keep a mental hold on the entire family, and it's going to be up to Tohru to do what she can to support them, as well as potentially lift the curse. I say this because, during a flashback with Hatori, we see Akito lose his temper when Hatori and his lover at Kana wanted to marry. Akito was screaming since Kana wasn't able to "lift the curse" that the two shouldn't be married and it caused Hatori to severely injure his eye. Typically I don't like it when the end goal is mentioned so early, but since Tohru was around to hear or see any of this going on, I don't mind. Lifting the curse is what Tohru will have to do, not only to save the Soma family but to have Akito's grip on everyone loosen. And this confrontation is something I can't wait to see. Fans are treated to a little bit of it when Akito and Tohru meet for the first time, but that teaser does nothing except whet the appetite for what should happen later.
And this all stems from picking up on the self-hatred and acceptance themes from the series. Thankfully, Fruits Basket is much more multi-dimensional and has more layers to it than a straightforward subject. We also see how disjointed the Soma family is, representing how families aren't always on the same page. The rift between Yuki and his brother Ayame looks massive, primarily due to how much they weren't around each other. And when Yuki tried, Ayame pushed him away. It's rather touching how Ayame wants to repent and fix the rift between the two. However, I think it's safe to say that the entire family has divisions between them that are going to take a lot of effort to fix. Ayame is the representation of the rift and must prove that his actions are what's needed for him and Yuki to be closer siblings.
Besides all of the emotional moments in Fruits Basket, there were plenty of hilarious ones that I'm sure many fans will enjoy. When Ayame shows up for the first time, I couldn't help but laugh at his antics with Shigure as well as his stories about when the two were in school. The embarrassment on the faces of Yuki and Kiyo was cute and accurately depicted how older siblings tend to make their younger ones feel uncomfortable. It was also a blast having Hatsuharu enroll at the same academy as Yuki and Kiyo, mainly due to his alter-ego Black Hatsuharu. Hatsuharu explains that his hair color is his natural color in a way that would surprise many who haven't seen this previous series; they are in for a huge treat. It was moments of levity like these that help make Fruits Basket a complete package in a shōjo anime.
The animation and character designs are also something that will jump out at those who have seen the previous series. The character models were updated yet still kept some of the original artwork's feel. I had no issues with how the original series looked, but I enjoyed seeing some of my favorite characters upgraded to a more modern look. I'm sure there will be some who would prefer the older style, but overall I do appreciate this makeover.
The biggest question about the Fruits Basket reboot was how much of the original cast would return. From what I could tell, it looks like ADR Director Caitlin Glass did all she could to bring back the original cast. Mainstays like Tohru (Laura Bailey), Yuki (Eric Vale), Kyo (Jerry Jewell), and Shigure (John Burgmeier) all had the same voices, which would put any Fruits Basket fan's heart at ease. Hearing the same voices, especially Laura Bailey's for Tohru, gave me a massive dose of nostalgia. It wouldn't feel the same without them, and I'm glad that things worked out for Bailey to reprise her role. However, there were quite a few changes in the cast with Akito (Colleen Clinkenbeard), Kagura (Tia Ballard), Momiji (Mikaela Kranz), Arisa (Elizabeth Maxwell), and Saki (Jad Saxton). It was interesting to hear the changes, and I was intrigued at the choice of giving Momiji an accent (which I enjoyed and thought the performance was spectacular). I was also surprised that Meredith McCoy didn't reprise her role as Kagura, but I was impressed at the casting job Glass did to add Ballard to the mix. I'm sure there will be some who are upset; everyone couldn't stay the same, but I still found myself enjoying most performances. For some reason, Clinkenbeard's performance didn't mesh with me as much. But I think that my feelings will change the more episodes I watch.
As far as extras, FUNimation went all out, giving fans some interesting goodies for the limited edition release. Fans are given a fake wooden base and three figures; a rat, a boar, and a rice ball. It was a lot more than I was expecting and I felt that it was a smart choice by FUNimation (although I'd probably prefer a cat for Kiyo instead of an ox for Kagura). There were also art cards that were included in this release. FUNimation even added audio episode commentaries, inside the episode videos, and a Fruits Basket tell-all video. My only complaint is that the box for the series that includes all the extras isn't what collectors typically get. The box was a plastic throwaway compared to the hard box that fans are accustomed to getting. I wasn't thrilled about that, but that doesn't diminish all of the stuff FUNimation provided.
I'm thankful that Fruits Basket will get another chance to impact the lives of anime fans. When I was younger, Fruits Basket was the go-to choice to watch an anime and cry. While the genre itself has grown, it's fantastic that Fruits Basket was not only popular enough to warrant a reboot (all these years later) but is given the chance to make anime fans cry all over again. The upgrade in animation still blows me away, and I have a feeling the cast will once again be revered as one of their best. Plus, the story won't diverge from the manga. That's a huge win, and easily makes Fruits Basket a must-watch for fans of anime.
C.J Maffris is the Editor-in-Chief at Toonamifaithful.com. Feel free to follow C.J on Twitter @SeaJayMaffris