When shounen magazines and manga are mentioned, what comes to mind? You'd likely think of the juggernaut published by Shueisha, Weekly Shonen Jump (WSJ). (Though there is an actual Shounen Magazine with that name, but Kodansha publishes that.) Many of the most popular series come from the pages of WSJ so it's not surprising one would assume it's the only game in town. However, there are other magazines out there, vying for attention from readers all over the world. It wouldn't be shocking if you have a favorite from these magazines without knowing it! I've seen it happen on occasion where shounen fans either miss-attribute series not in WSJ to it or not knowing where it comes at all. I thought about covering the other shounen magazines, but one, in particular, is near and dear to my heart. I'll revisit the others on another occasion, but for now, let's dive into a brief history of Weekly Shounen Sunday (Sunday)!
The first issue was published on March 17, 1959 (A Tuesday, ironically enough.) The cover featured Shigeo Nagashima –star player of the extremely popular baseball team the Yomiuri Giants. It's important to note that while nowadays the image of a shounen magazine is a large tome where many works are serialized from different artists, back in the late 1950s to 1970s they were more smorgasbords of different things from articles, pinups and of course manga. The inaugural issue of Shounen Sunday featured an article from Isoko Hatano –a child psychologist. It wasn't till later that the format solidified, and manga magazines were all manga.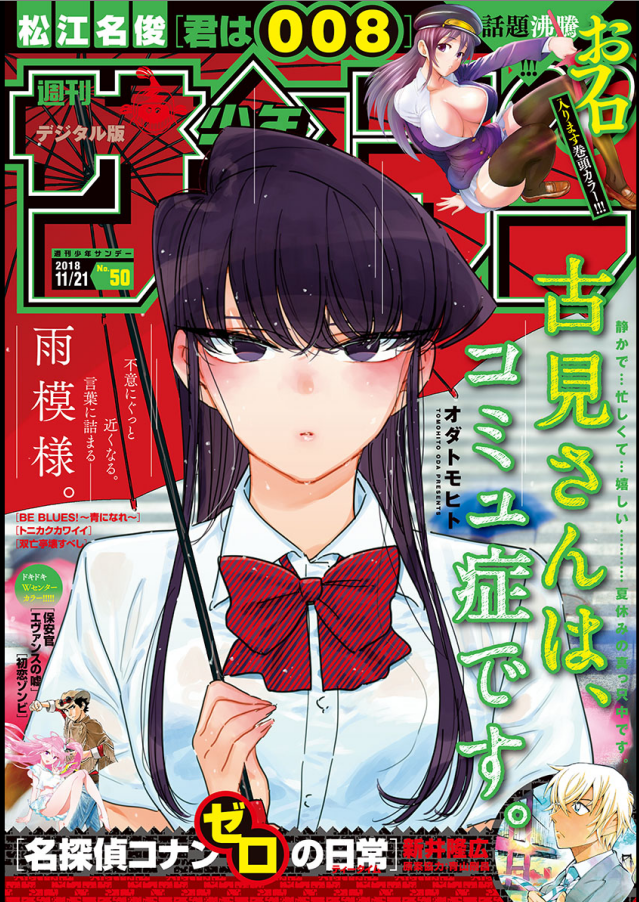 Getting back to Sunday –what kind of name is that? Especially since the magazine started publication on a Tuesday and in 2011 was moved to Wednesdays? The first editor of the magazine, Mr. Kiichi Toyoda, picked the name to evoke the feeling of reading manga on a relaxing weekend. And true enough, many of the series on Sunday are in comparison to their contemporaries are easygoing and don't quite have the same "passion" that WSJ does. You'd be more likely to see a battle of wits in series like Detective Conan or the romantic comedies from the likes of Rumiko Takahashi or current Sunday Superstar Komi Can't Communicate than the battle heavy manga WSJ favors. The current editor of Sunday, Mr. Takenori Ichihara, says the series is "adult-like" and how rare it is to have a shōnen protagonist in the magazine that fits the typical mold one might be used to reading.
Unfortunately, Sunday doesn't have the fortune of having its own publisher overseas as Kodansha does with many of its titles. And it doesn't have the popularity WSJ has where any series that comes out in Japan has an almost immediate release in other territories around the world. Meaning many of the gems in Sunday are relatively unknown.
I'm sure most had heard of Detective Conan since I've written about it before, as well as the works of Rumiko Takahashi (Inuyasha), which not only ran on Adult Swim but was one of its front-runners. Conan is still solving cases in the magazine, and in fact, has two spinoffs featuring the popular character Rei Furuya in Zero's Tea Time and the back-story of the law enforcement characters in Wild Police story while Rumiko Takahashi has had two series since Inuyasha –supernatural comedy series RIN-NE (Kyoukai no Rinne in Japanese) and MAO which started in May 2019 has a similar vibe to Inuyasha as an ayakashi action series. RIN-NE has an anime, and the manga is available from VIZ Media, while MAO is yet unlicensed (but it'll undoubtedly find a home in the U.S. as many of Takahashi's series have). I'd be remiss to leave out Kagji Kumanomata's Sleepy Princess in Demon King's castle, which is available from VIZ Media and has an anime slated to premiere in Japan this year. I can't very well leave out Komi Can't Communicate which the manga has risen to massive heights of popularity. There's also Kenjiro Hata's rom-com Hayate the Combat Butler, which is slowly coming out in English, and recently, VIZ Media licensed his newer series about newlyweds Tonikaku Cawaii –Fly Me to the Moon (which is also getting an anime adaption in Japan that will air in Oct.). And the recently finished Silver Spoon by the beloved author of Fullmetal Alchemist Hiromu Arakawa, which is available from Yen Press. But as you can see, Sunday has a lot of heavy-hitting titles that many fans have heard from others. It wouldn't surprise me if many attributed these series with other publications, which happens to be the fate of Sunday.
Shounen manga has the reputation of being very similar to each other in their narratives and execution of themes. While this makes for universal appeal it can alienate those who are tired of the same stories, or even give the impression that the demographic is a one-trick pony with nothing more to offer but fighting with the occasional sport thrown in. While there is a bit of adherence to these ideals in modern Sunday, the 28 series in the magazine cover different topics with a bit more complexity and variety than one would expect. From sports series like Major 2nd, which features baseball, Be Blues! A soccer manga, as well as basketball with Switch by Atsushi Namikiri, and a ping pong comedy series PINGKONG. There's a series about cooking for Maiko –Apprentice geisha in Maiko-san chi no Makanai-san or The cook of Maiko manor and farming in Tokaichi hitoribocchi nouen or Farming alone in Tokaichi. Daiku no Hatou or The Ninth Wave tackles the unusual subject of sea life education in the same way Silver Spoon did for agricultural life on land, and Aozakura Bouei Daigakkou Mongatari or Story of Aozakura defense academy features the growth of the characters as they attend a training school with the hopes of being a part of Japan's defense force. With a lineup like this, there's more of an impetus to read the whole magazine since one is getting more than a single genre of beat-em-up with subtle differences.
Though that's not to say there's nothing for those who crave action satisfaction. Horror action manga Souboutei Kowasubeshi or The Souboutei must be destroyed is amazing to behold, as well as the spy action series Kimi wa 008 or You are 008 is very reminiscent of the movie Kingsmen. You could argue that Sunday manga such as Maiko-san and Aozakura teach about aspects of Japan that western readers wouldn't see browsing another magazine, as the defense force, fine cuisine, and geisha are a part of Japan's culture.
Often in the western sphere, those who do know of the different publishers and magazines tend to group them into factions –rival schools that shan't dare to collaborate even though this couldn't be further from the truth. For example, Atsushi Namikiri was once an assistant to the artist of Haikyu! Haruichi Furudate. Norihiro Yagi, who draws Sokyuu no Ariadne –Ariadne of the blue sky, was also once serialized in Shueisha's Monthly Shounen Jump and Jump SQ with his battle action manga Claymore. Yuu Watase is a famous shoujo artist known for Ceres Celestial Legend, and although right now it's on hiatus, they are penning Arata: The Legend in Weekly Shounen Sunday. Artists coming from other magazines to Sunday shows how much of a profile it has in Japan. Not only that, but it provides a place for them to tell slightly different stories that they may not have been able to elsewhere. Sunday's identity is one created by the authors in it being allowed to write freely about what they want as opposed to what will become popular, making the magazine feel like a collaborative effort between writers more than a show with a front-runner and a few other attractions.
So this begs the question: Why isn't Sunday a bigger deal nowadays? Sadly even in Japan, the magazine lags behind others of the same demographic. It's hard to pinpoint why, though there are some factors to consider. Sunday anime aren't created nearly as quickly as Jump or Magazine. Before the boom of sorts we're getting now, the magazine would be lucky to get an anime per year from its new series. I'm not sure why it takes so much longer in their case, but it doesn't help the cause. Animes are advertisements for not only the series they adapt but the magazine itself: less anime equals less advertising. The series themselves also sell significantly less, which isn't the fault of Shougakukan, but it is curious. Could the lack of traditional action series be the cause? Perhaps. One more thing to consider is Shogakukan themselves. While I can understand that advertising is an expensive business that can be hit or miss, their lack of aggressive campaigns for series that show potential doesn't help them grow. And that lack of aggression often leaves artists to advertise their works themselves via Twitter or other social media outlets. Fortunately, it does seem as if they're reversing course on this and have started using commercials and social media to promote.

I could go deeper into Sunday, but this is an excellent primer of what's in the magazine and where it began. I enjoy the slower pacing of manga in this magazine as I prefer a slow build that rewards patience over constantly being thrown in action. Not only that, but I started my time as a translator with The Law of Ueki, which ran in the magazine in the mid-2000s so I'm biased. In seriousness, the vision of Sunday's first editor still endures even today. The varied approach for shounen magazines –especially Sunday works because it brings in an audience that is disinterested in the typical battle manga that espouses the DNA of shounen identity. While other magazines live and breathe this approach, Sunday offers something for everyone from realistic takes on real-life occupations, heartfelt romance stories and of course the occasional supernatural fistfight. Having options in the magazine is essential to entice audiences that one couldn't if they only focused on a single genre. Not only that, but it offers varied narratives where authors too can tell stories off the beaten path. In short, if one wants a manga to relax with, then Weekly Shounen Sunday beats the other magazines any day of the week.
Sakaki is an editorial writer for Toonamifaithful.com and an editor-in-chief at Weekly Shounen Sunday Edition. You can find more Shounen Sunday News and features on Wsstalkback on twitter.