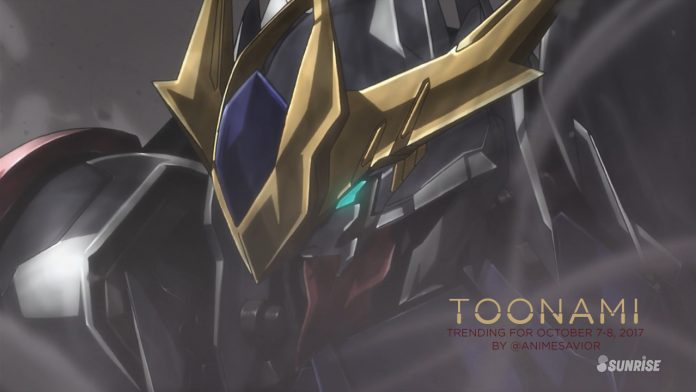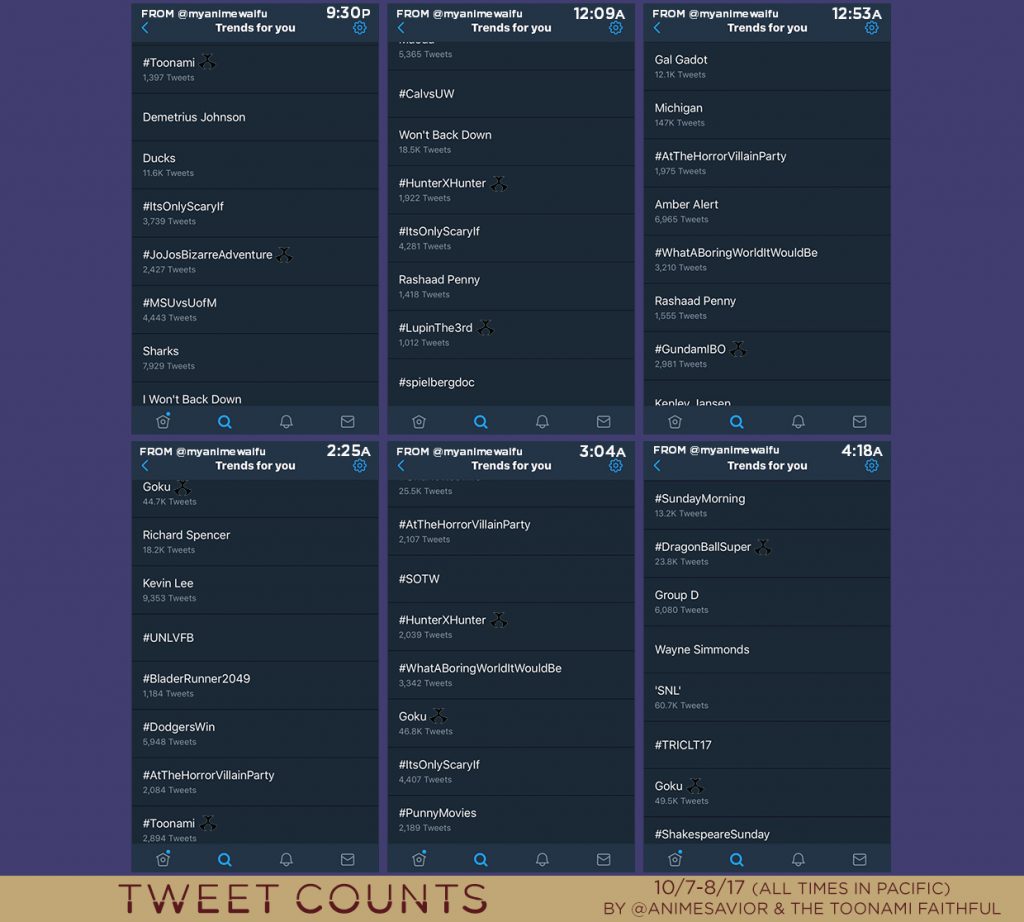 "The members of Tekkadan aren't like you [Kudelia]. We don't have any grand ideals or aspirations. We have no foundations or anything to fall back on. The only way we can protect where we belong is by moving forward."
–          Orga Itsuka, Mobile Suit Gundam: Iron Blooded Orphans (Ep. 26)
The Toonami Trending Rundown for October 7-8, 2017. The Tekkadan is back in action as season 2 of Mobile Suit Gundam: Iron Blooded Orphans makes its English Dub debut on the better cartoon show. And it would be quite a night as Buu rids himself of Babidi and continues his rampage on his own terms, so to speak, while Polnareff seeks revenge on the stand user that killed his sister, and after a several year time skip, the Tekkadan continue on their mission.
On Twitter, every show save for DBZ Kai and Attack on Titan would manage to trend in the US during their respective East Coast airings. Meanwhile on Tumblr, Toonami would trend along with Dragon Ball Super and Hunter x Hunter.
We also saw some character trends from Dragon Ball with Vegeta as he stages a comeback against Magetta, as well as Goku as he teaches Goten and Trunks their signature Fusion technique. Granted, this had some assistance from buzz regarding recent events regarding the Super sub, but as long as Toonami Faithful contributed to it trending, it counts.
Finally, after a off week, Dragon Ball Super would once again make it to Nielsen Social's top 5 most talked about shows on the day on Twitter and Facebook, making it to the #3 spot this week. This is also the 36th time a Toonami show has reached this list since we started recording this feat and the 22th time for the franchise so far.
---

We're less than a month away until the newest Total Immersion Event, Countdown, premieres on November 4, and Jason DeMarco has released some new info on his ask.fm page. He mentions that Countdown will be a four week event with with a run time of roughly 3-4 minutes per episode, with the finale looking to have a run-time of almost 6 minutes at present.
In addition, this coming Halloween weekend on October 28, the week before Countdown will debut, Toonami will once again marathon all 10 episodes of Samurai Jack season 5 from 11pm-4am Eastern.
Other notable news regarding Toonami shows this week include:
One of the likely reasons Toonami is marathoning Samurai Jack instead of having a catch-up marathon of a present show is due to the fact that the Samurai Jack season 5 Blu-Rays and DVDs are set for release next Tuesday, October 17. And for those wanting to start their collections anew, Adult Swim will also be releasing a box set of the entire series, which also includes a HD remaster of seasons 1-4.
Meanwhile, to showcase the Samurai Jack HD remaster, Adult Swim and Fathom events are having a special one night limited theaterical event of the first 3 episodes in select theaters the day before on October 16. This event will come with an Introduction and Q&A session with Gennedy Tartakovsky to give a behind-the-scenes look on the series. For those interested, click here to see showtimes and tickets near your area.
This is a week late in terms of news, but for those looking to add another addition to their Dragonball collections, part 2 of the Dragon Ball Super Blu-Rays containing Episodes 14-26, roughly spanning the Resurrection F saga, is now available for purchase.
For those hoping to add the Heaven's Arena and Yorknew City arcs in Hunter x Hunter to their DVD and Blu-ray collections, Viz Media is set to release the third set of the series containing Episodes 27-50 on October 17th.
And as we mentioned on last week's rundown, Funimation will be showcasing the new Tokyo Ghoul live action movie in select theaters beginning next week from October 16-22. For those interested, click here for to see the showtimes near your area.
Not much else to say other than we'll see you again tonight for another round of the better cartoon show, and we do want to wish a happy 25th anniversary to the Yu Yu Hakusho franchise. On behalf of the Toonami Faithful, Thanks for the memories.
---
Legend: The shows listed are ordered based on their appearance on the schedule. Show trends are listed in bold. The number next to the listed trend represents the highest it trended on the list (not counting the promoted trend), judging only by the images placed in the rundown. For the Twitter tweet counts, the listed number of tweets are also sorely based on the highest number shown based on the images on the rundown.
United States Trends:
#Toonami [#19]
#DragonBallSuper [#22]
Goku [#3]
Vegeta [#12]
#JoJosBizarreAdventure [#19]
#GundamIBO [#12]
#HunterXHunter [#14]
#LupinThe3rd [#23]
#Shippuden [#20]
#OutlawStar [#17]
#CowboyBebop [#8]
Tweet Counts:
#Toonami [2,894 tweets]
#DragonBallSuper [23.8k tweets]
Goku [49.5k tweets]
#JoJosBizarreAdventure [2,427 tweets]
#GundamIBO [2,981 tweets]
#HunterXHunter [2,039 tweets]
#LupinThe3rd [1,012 tweets]
Tumblr Trends:
#toonami
#dragon ball super
#hunter x hunter
Notes and Other Statistics:
Special thanks to @myanimewaifu and others I forgot to mention for spotting some of the trends on this list.
Only Toonami on [adult swim] on Cartoon Network.