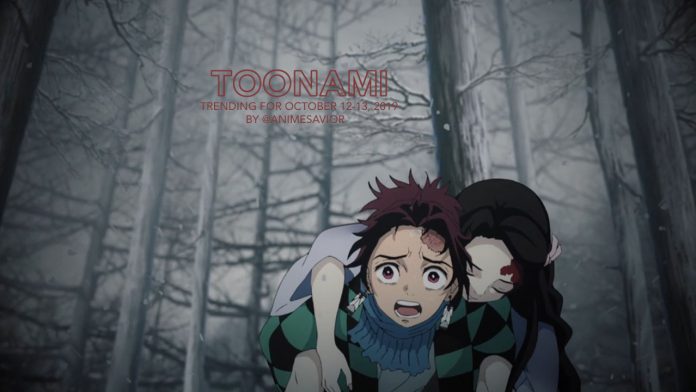 "How? How can something like this happen? Come on, Nezuko. I got you. Don't die on me.  No matter what it takes, I'll save you. I won't let you die. I promise I'll save you. Your big brother's got you."
–          Tanjiro Kamado, Demon Slayer (Ep. 01)
The Toonami Trending Rundown for Oct. 12-13, 2019. As the fall season is underway, it was a big premiere night for the Toonami Faithful. Fans welcomed back One-Punch Man for its second season after a three-year hiatus and celebrated the debut of the popular and critically acclaimed Demon Slayer (Kimetsu no Yaiba) to the lineup.
Among the many great moments from the night, fans got to see Saitama befriend the popular hero King in One-Punch Man; and we quickly learn that he isn't as strong as the general public thinks he is. In Food Wars, Soma is forced to make a comeback after his buffet dish doesn't wow the customers, especially after getting rattled from his previous Food War, but manages to pull through at the buzzer. And Demon Slayer begins as Tanjiro goes out for errands, only to return home to his family slaughtered, and Nezuko turned into a demon as he pleads Giyu to spare him so he can heal her. To their surprise, he does.
On Twitter, #Toonami trended in the United States along with every premiering show. Meanwhile, on Tumblr, #Toonami trended alongside One-Punch Man and Kimetsu no Yaiba. The full list, including statistics and tweet counts from the Twitter app and Amr Rahmy's Fan Screening analytics app, can be seen below.
---

For those who live-tweet with us every week, you may have noticed that Toonami Squad, one of our media partners who have assisted us in creating these trending rundowns among other things, unfortunately had their Twitter account suspended indefinitely for reasons unknown. We're not sure if or when they will get their account back, but for the foreseeable future, you can follow them at their backup account @ToonamiSquad_.
For those wanting an additional outlet to get your JoJo's Bizarre Adventure manga fix, Shonen Jump has added the first 37 chapters in the Shonen Jump Digital Vault, with more to be added in the future. This goes along with the physical releases as well as  the simul-published releases in the Shonen Jump app.
Some good news was released for Hayao Miyazaki and Studio Ghibli fans today, as GKids Films and WarnerMedia have announced that many of their titles will be available on the upcoming HBO Max streaming service in Spring 2020.
Tune in next week as Boruto showcases its final episode before going into its hiatus. And we're not done with season premieres yet, as we just have two weeks to go until JoJo's Bizarre Adventure Golden Wind premieres. Until next week, stay gold as always.
---
Legend: The shows listed are ordered based on their appearance on the schedule. Show trends are listed in bold. The number next to the listed trend represents the highest it trended on the list (not counting the promoted trend), judging only by the images placed in the rundown. For the Twitter tweet counts, the listed number of tweets are also sorely based on the highest number shown based on the images on the rundown.
United States Trends:
#Toonami [#3]
#OnePunchMan [#26]
#DrStone [#30]
#FireForce [Trended with #Toonami]
#FoodWars [#21]
#DemonSlayer [Trended with #Toonami]
#BlackClover [Trended with #Toonami]
#Boruto [#17]
#Shippuden [#16]
#LupinThe3rd [#17]
Tweet Counts:
#Toonami [7,357 tweets]
#OnePunchMan [4,097 tweets]
#DrStone [3,521 tweets]
#FireForce [2,163 tweets]
#FoodWars [2,561 tweets]
#DemonSlayer [7,194 tweets]
#BlackClover [1,783 tweets]
#Boruto [5,101 tweets]
Fan Screening Counts:
#DragonBallSuper [#28 with 464 tweets]
#OnePunchMan [#5 with 2,772 tweets]
#DrStone [#7 with 2,262 tweets]
#FireForce [#18 with 1,144 tweets]
#FoodWars [#11 with 1,786 tweets]
#DemonSlayer [#5 with 4,236 tweets]
#KimetsuNoYaiba [#3 with 7,172 tweets]
#BlackClover [#20 with 1,026 tweets]
#Boruto [#4 with 5,491 tweets]
#MyHeroAcademia [#11 with 2,910 tweets]
Tumblr Trends:
#Toonami
#One Punch Man
#Kimetsu no Yaiba
Notes and Other Statistics:
Special thanks to @myanimewaifu, @sdurso5 and others I forgot to mention for spotting some of the trends on this list.
Only Toonami on [adult swim] on Cartoon Network.
Toonami Tweets of the Night for October 12-13, 2019
One-Punch Man Season 2 Premiere