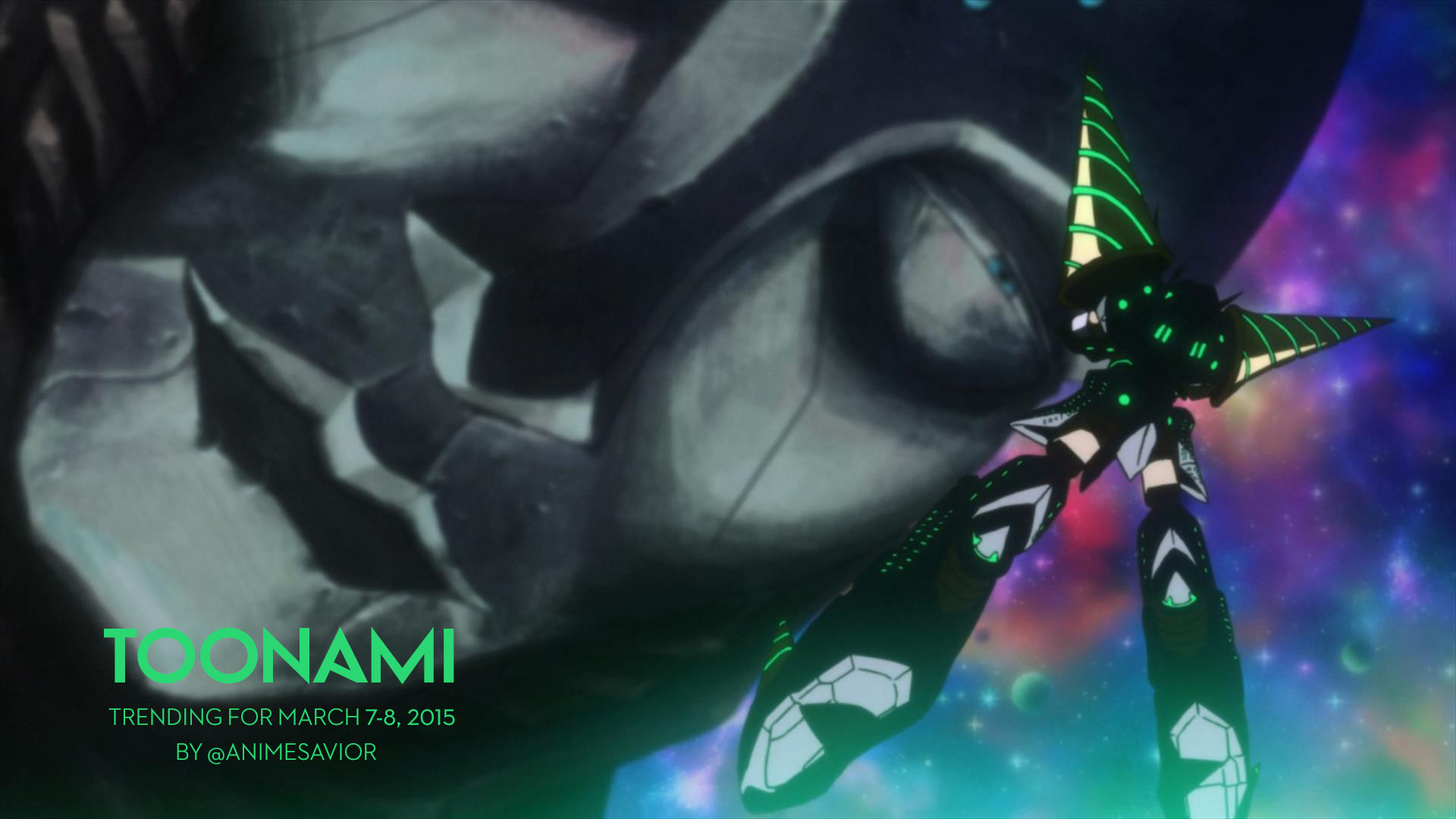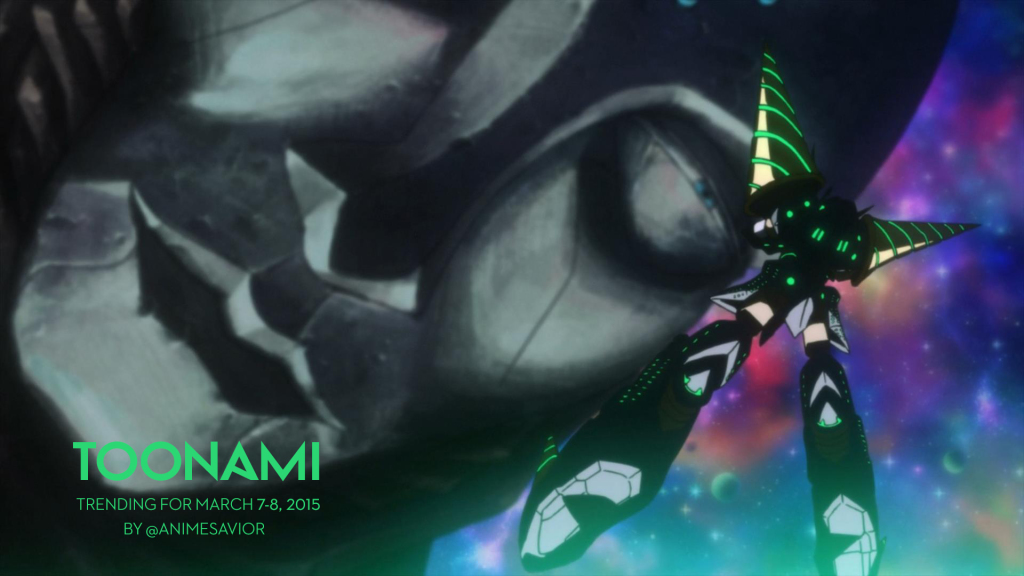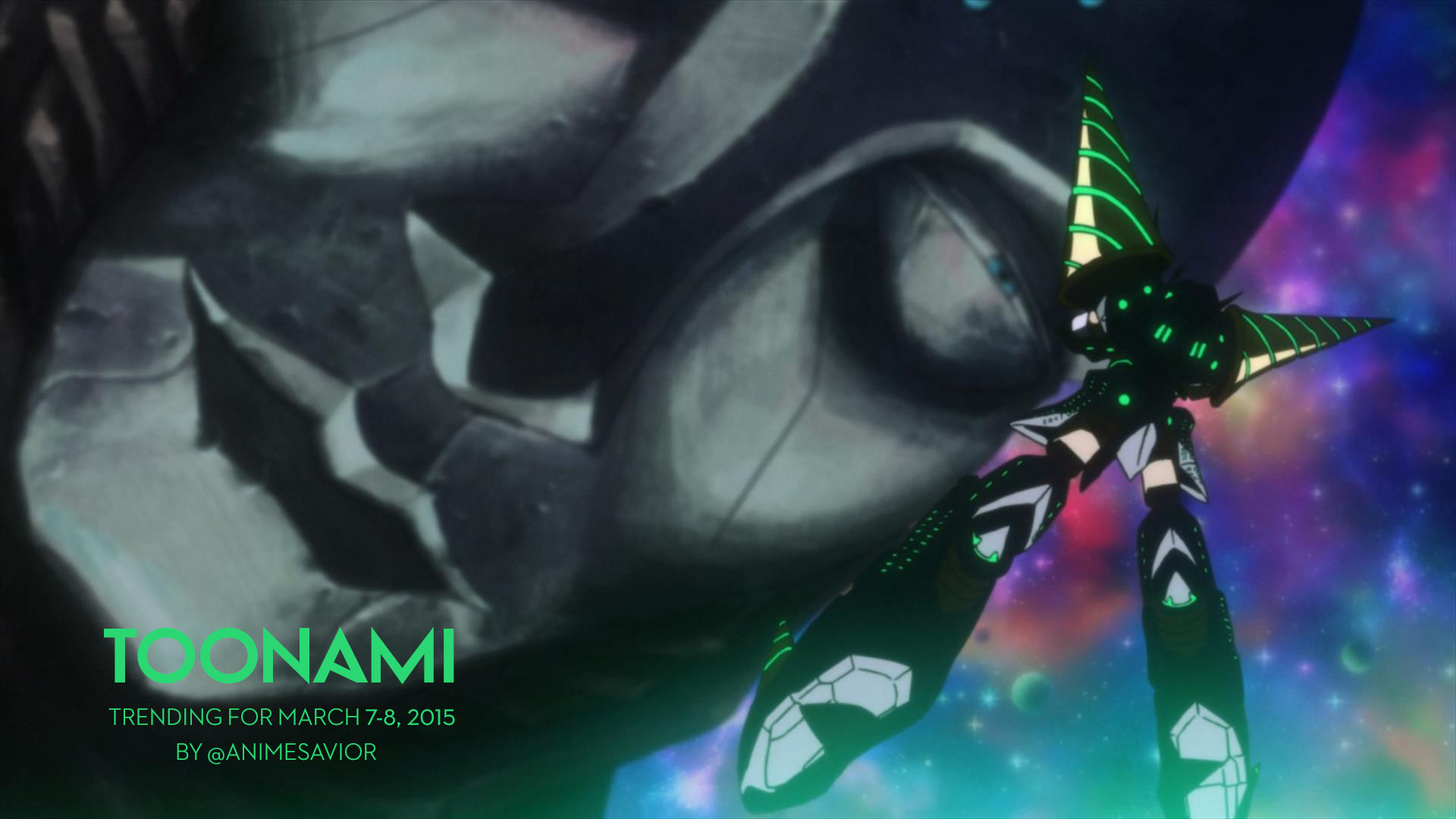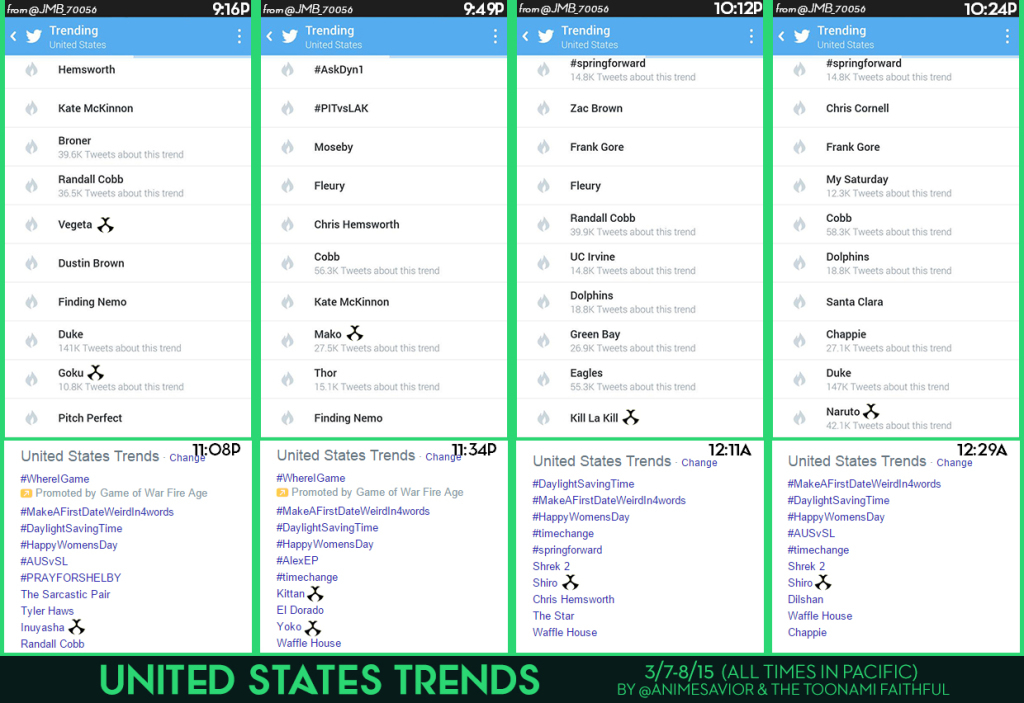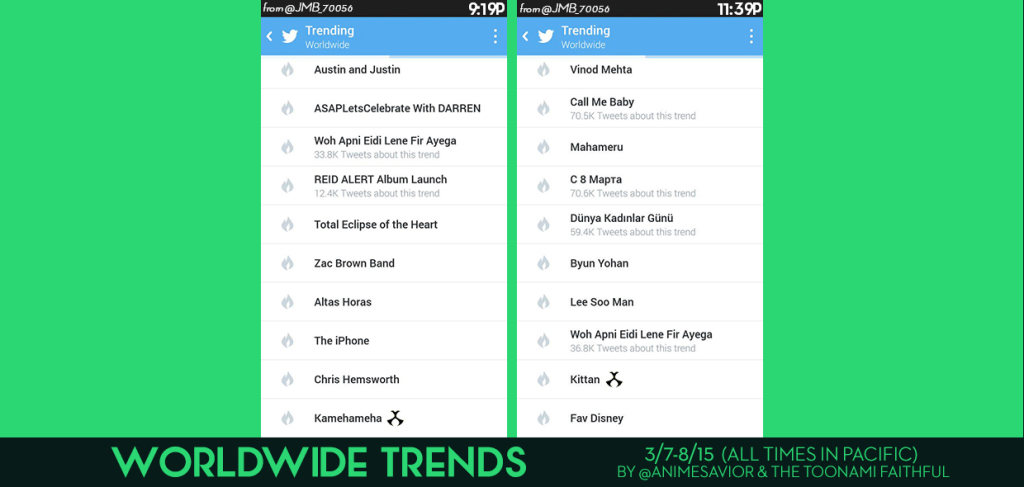 "Our friends' hopes and dreams are etched into it's body. Transforming the infinite darkness into light. Unmatched in heaven and earth. One machine equal to the Gods. Super Galaxy Gurren Lagann! We're gonna show you the power of the human race."
–     Simon, Gurren Lagann (Ep. 25)
The Toonami Trending Rundown for March 7-8, 2015. Daylight Savings time has begun, and in terms of shows this week, only Kill la Kill managed to trend in the US (unless you count Naruto and InuYasha as well), but in terms of character and in-show content trends, every show save for One Piece managed to produce at least one.
DBZ gave us Goku and Kamehameha, as Goku ramps his Kaio-ken to x 4 and fires said attack to send Vegeta to space, while Vegeta trended as he returned to Earth and made his own moon to unleash his Great Ape mode at Goku. Kill la Kill had Mako trending as she helps Ryuko save Senketsu from Tsumugu. Naruto brought us both Naruto and Sakura, as Naruto is confronted into a fight with Sora, but it turns out it was a misunderstanding. InuYasha had InuYasha trend as he and Sesshomaru learn a bit more on the purpose of their swords…to Sesshomaru's dismay. Gurren Lagann had Kittan, as he sacrificed himself to destroy the Death Spiral machine and free Gurren Lagann, as well as Yoko, as Kittan gave her what would become his goodbye kiss. And Deadman brings us Shiro, as she saves Ganta from a bomb from Rokuro, but Ganta didn't at the time knew anything about that.
One Piece fans, if you didn't notice, Adult Swim will be encoring the previous week's OP episode every Saturday at 8:30 after the DBZ encore as an experiment of sorts. Much like the DBZ encore, i do suggest you support it to show that there is potential for further growth for the show and Toonami as a whole. And for those that haven't heard, the replacement for Deadman in 3 weeks time will be an encore showing of Attack on Titan at 3am Eastern, which will be the same week SAO 2 will premiere at 1am.
Tune in next week as both Gurren Lagann and Deadman Wonderland both broadcast their penultimate episodes, among other great moments from the other shows. Until next week, stay golden as always.
[divider]
Legend: The shows listed are ordered based on their appearance on the schedule. Show trends are listed in bold. The number next to the listed trend represents the highest it trended on the list (not counting the promoted trend), judging only by the images placed in the rundown. For the mobile app trends, the listed number of tweets are also sorely based on the highest number shown based on the images on the rundown.
United States Trends:
Goku (From DBZ Kai) [#9]
Vegeta (From DBZ Kai) [#5]
Kill La Kill [#10]
Mako (From Kill La Kill) [#8]
Naruto [#10]
Inuyasha [#8]
Kittan (From Gurren Lagann) [#6]
Yoko (From Gurren Lagann) [#8]
Shiro (From Deadman Wonderland) [#7]
Worldwide Trends:
Kamehameha (From DBZ Kai) [#10]
Kittan (From Gurren Lagann) [#9]
Mobile App Tweet Counts:
Goku (From DBZ Kai) [10.8k Tweets]
Mako (From Kill La Kill) [28.1k Tweets]
Naruto [42.1k Tweets]
Sakura (From Naruto) [1.6m Tweets]
Yoko (From Gurren Lagann) [20.9k Tweets]
Shiro (From Deadman Wonderland) [25.6k Tweets]
Tumblr Trends:

Special thanks to @JMB_70056, @myanimewaifu, and others I forgot to mention for spotting some of the trends on this list.
Spring Forward. Only Toonami on [adult swim] on Cartoon Network.