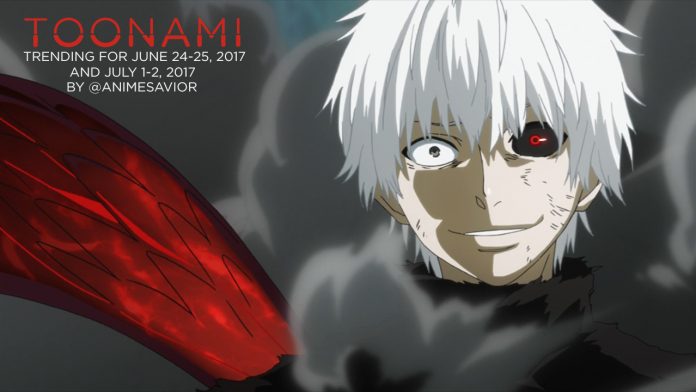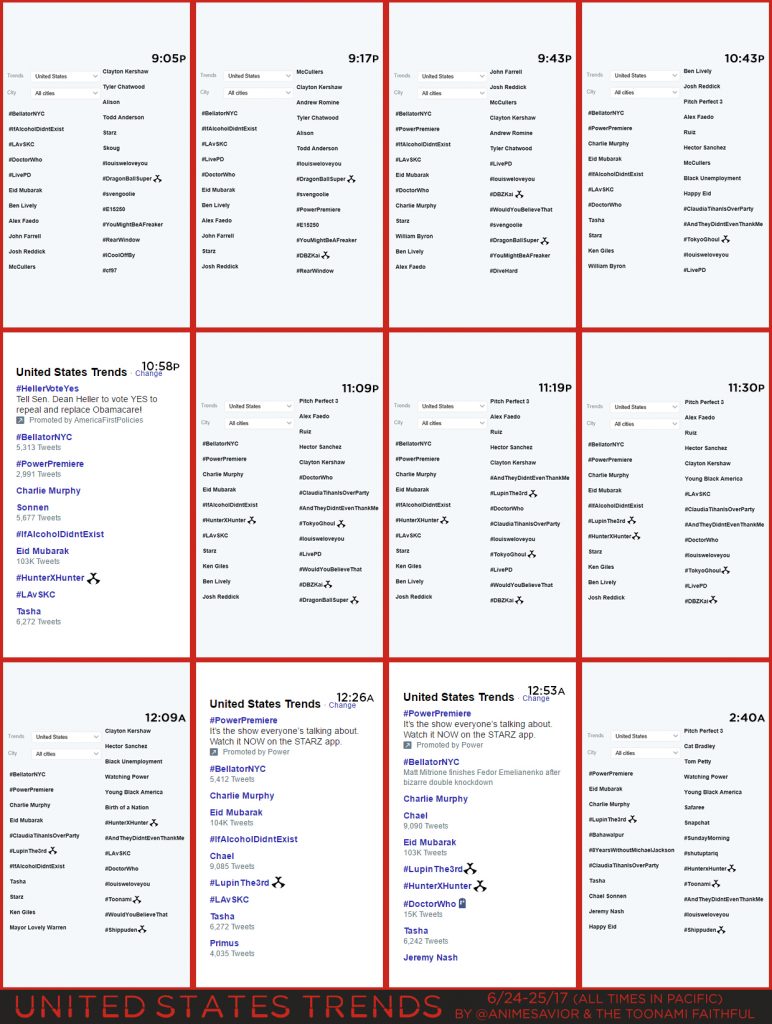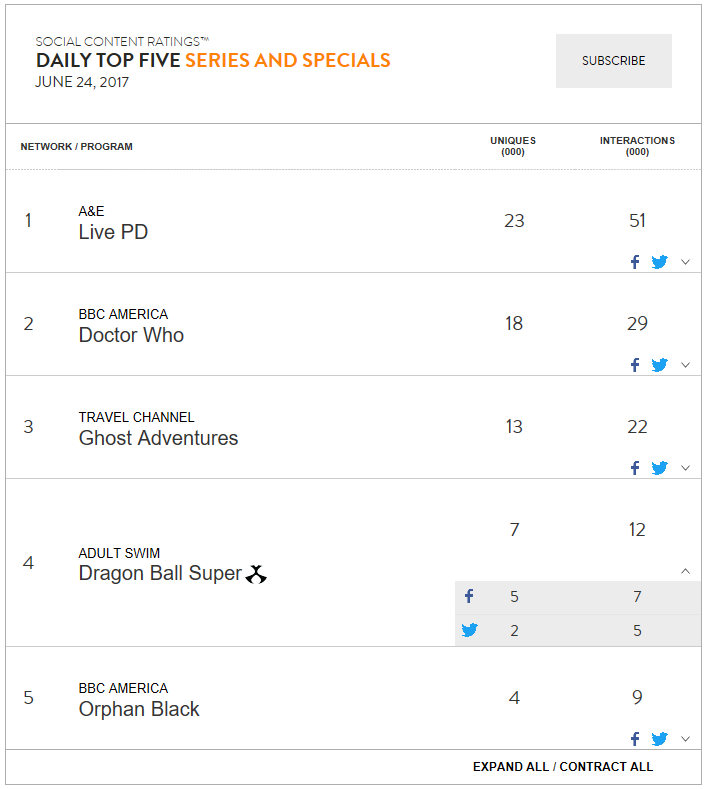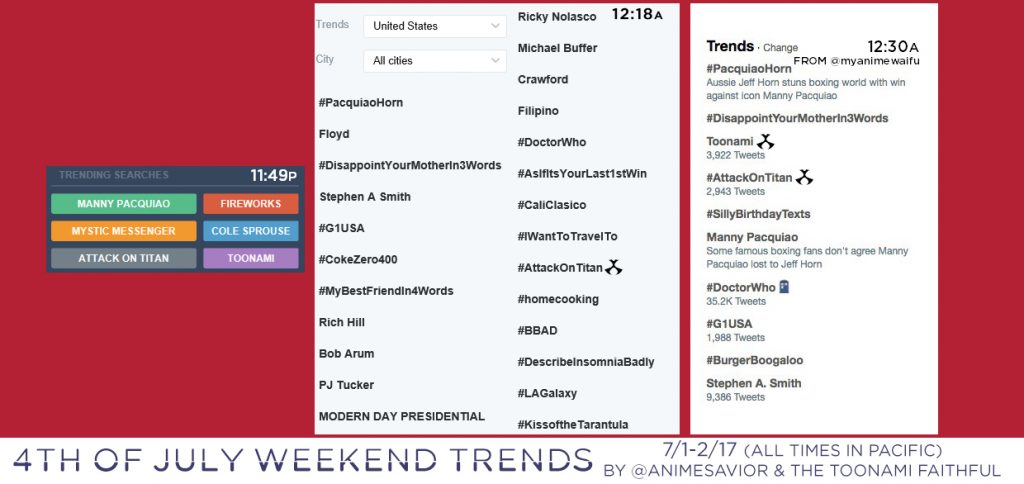 "Now you've got it, Kaneki. You've learned the lesson that your mother couldn't seem to grasp: that sometimes to protect one thing, you have to have the resolve to let go of another. Her actions didn't make her kind, they made her weak. She didn't have the resolve, the strength to turn her back and focus on what's important. But you are not weak like she was. You have the power to break this chain of grief."
–          Rize Kamishiro, Tokyo Ghoul (Ep. 12)
This week's Toonami Trending Rundown is a double-feature for the weeks of June 24-25, 2017, as well as the 4th of July weekend of July 1-2, 2017. Some big moments for the better cartoon show as we reach the dog days of summer, as Part 1 of Tokyo Ghoul reaches its conclusion with Kaneki having to fight back against Jason and the inside conflicts in his mind by Rize. Meanwhile, the scouts make their move in getting back Eren and Ymir, Naruto confronts Pain, wanting revenge for his assault on the Leaf Village, among other great moments.
For the night of June 24th, every premiere show save for Attack on Titan successfully trended on Twitter in the US during their East Coast airings, in addition to Lupin and Naruto Shippuden during their West Coast airings. On tumblr, Toonami would trend in addition to Dragon Ball Super and Tokyo Ghoul.
Finally, Dragon Ball Super's buzz would once again get the show on Nielsen Social's top 5 most talked about shows on Twitter and Facebook, making it to the #4 spot. This is the 24th time a Toonami show has made it onto this list since we started recording this feat, and the 11th time for Super.
The following week was the 4th of July weekend, so Toonami took the night off from regular festivities to have an encore marathon of episodes 26-34 of Attack on Titan. Despite that many viewers decided to take the night off watching (whether it was because they were out for the 4th of July weekend, they simply didn't want to watch the marathon, or were at Anime Expo) as well as Jeff Horn's controversial victory over Manny Pacquiao overshadowing all the buzz, #AttackOnTitan did manage to trend in the US and on tumblr alongside Toonami.
---
Some big news coming out from Anime Expo this week. On Saturday, it was announced that following their successful showings in the previous year, both Gundam IBO and JoJo's Bizarre Adventure will indeed be returning to Toonami with the English Dub premieres of IBO season 2 and Stardust Crusaders respectively. While Iron Blooded Orphans will return in October, Stardust Crusaders will be up to bat next, debuting on July 29 at 12:30am, a week after Attack on Titan wraps up Season 2 (which itself has only 3 episodes remaining in the season as of this writing).
Production IG and Toonami also released some new information regarding FLCL during the panel on Sunday, including a new trailer for the two new additions to the franchise.
The panel, which included Production IG's Maki Terashima-Furuta and Toonami's Jason DeMarco and Gill Austin, announced that FLCL seasons 2 and 3 are set to be premiered on Toonami sometime in 2018 with a short "offseason" in-between the end of FLCL 2 and the beginning of FLCL 3. The subtitled version will be simulcasted on adultswim.com, and Production IG and Adult Swim are partnering up with Toho for distribution in Japan.
Both FLCL 2 and 3 will each have a duration of 6 episodes and will each have completely different storylines from each other, rather than a continuation. Season 2's synopsis, according to Jason DeMarco: "stars a young girl named Midomi, who is a schoolgirl living a quiet life when suddenly she runs into a new substitute teacher who looks a lot like Haruko. And through a series of events, she and a boy in her class that she likes named Hide ends up getting caught up in the sort of battle between Medical Mechanica and a bunch of other things."
While the new seasons will have some of the original staff involved, considering that it's been over 17 years since FLCL 1 was made and some of the staff have since retired, Maki has mentioned that the producers decided to bring in a completely new generations of creators, including those that previously worked on other Toonami shows like One Piece, One Punch Man, Space Dandy, and Naruto, as well as other shows like My Hero Academia, Psycho Pass, and Mob Psycho 100. The show will be produced by Production IG in collaboration with Studio Bones.
The Pillows, the Japanese rock band made famous internationally for their musical contribution to the original series, will return to make new tracks for the sequels. In addition, a graphic novel will also be made to accompany the series. We've yet to hear anything about the cast, and Kari Walgren, the voice of Haruko, has yet to hear if she will be reprising her role, but we'll keep you posted.
Other related news of note from LA include:
Yo @Clarknova1, JUST SAYIN' <3 #MobPsycho100 #toonami pic.twitter.com/TasrPwwEZC

— Chris Niosi (@Kirbopher) July 2, 2017
Aniplex has also been working on a dub for the Blue Exorcist Kyoto Saga, which the first set of the DVDs and Blu-Rays set to ship on November 14, the second set meanwhile on February 13, 2018. Unfortunately, with Hulu having exclusive rights to premiere the dub, we'll have to wait awhile for this franchise to make a return to the better cartoon show much like Sailor Moon at present with its current contract with Hulu/Neon Alley, and like InuYasha: The Final Act and Blue Exorcist season 1 before (the latter two shows had dub premieres on Neon Alley on its launch in 2012, with Toonami airing them 2 years later). On a related note, Aniplex has also re-released Blu-Rays and DVDs for season 1 of both Blue Exorcist and Sword Art Online, so for those wanting to add those to their collections, they're available now.
Although we haven't heard officially from Funimation themselves on this matter, we've been hearing word from several sources that Funimation did announce during a panel that Attack on Titan season 3 will be a part of the Spring 2018 lineup (which normally starts in Japan around March-April). Season 2 started in the Spring 2017 lineup with a debut on April 1 in Japan, with the broadcast dub premiering on Toonami 3 weeks later on April 22, so barring any delays and other unforeseen circumstances, we'll likely see a similar release date for the new season next year.
A big special thanks to CJ Maffris and other members of the Toonami Faithful who were at Anime Expo for their assistance in getting us this information. And of course, San Diego Comic Con is on the horizon in 2 weeks, and with Toonami having another live episode of Pre-Flight, we might be hearing some more things to look forward to in the future, including information regarding the next Total Immersion Event. I personally will be attending SDCC once again on behalf of this site to cover some of this potential news, so we'll keep you posted.
---

A little programming note for next week: Due to lackluster ratings from the encore presentation of Samurai Jack, the show will be moving its season 5 encore runs to 8:30pm, following the primetime premiere of DBS and at 3:30am Eastern, following Ghost In The Shell. This also means Toonami will once again be starting at 11:30pm-3:30am ET for the foreseeable future. While it's likely 11pm will be given back to Toonami once FLCL returns, it's a bit too early to say anything in that regard as of yet.
And on that note, tune in Saturday as Tokyo Ghoul begins √A, while DBZ beings the Majin Buu saga, among other great moments. Until next week, have a Happy (late) Independence Day and stay gold.
---
Legend: The shows listed are ordered based on their appearance on the schedule. Show trends are listed in bold. The number next to the listed trend represents the highest it trended on the list (not counting the promoted trend), judging only by the images placed in the rundown. For the Twitter tweet counts, the listed number of tweets are also sorely based on the highest number shown based on the images on the rundown.
June 24-25, 2017 Trends
United States Trends:
Toonami/#Toonami [#22]
#DragonBallSuper [#19]
#DBZKai [#20]
#TokyoGhoul [#22]
#HunterXHunter [#6]
#LupinThe3rd (Also during the West Coast airing) [#4]
#Shippuden (Also during the West Coast airing) [#25]
Tumblr Trends:
#toonami
#dragon ball super
#tokyo ghoul
Tweet Counts:
Toonami [4,920 tweets]
#Toonami [3,803 tweets]
#DragonBallSuper [3,168 tweets]
#TokyoGhoul [2,572 tweets]
#HunterXHunter [1,837 tweets]
Notes and Other Statistics:
July 1-2, 2017 Trends
United States Trends:
Tumblr Trends:
#toonami
#attack on titan
Tweet Counts:
Toonami [3,922 tweets]
#AttackOnTitan [2,943 tweets]
Notes and Other Statistics:
Special thanks to @myanimewaifu and others I forgot to mention for spotting some of the trends on this list.
Only Toonami on [adult swim] on Cartoon Network.