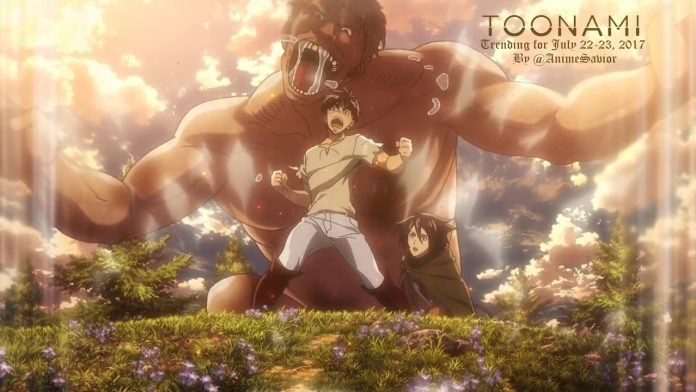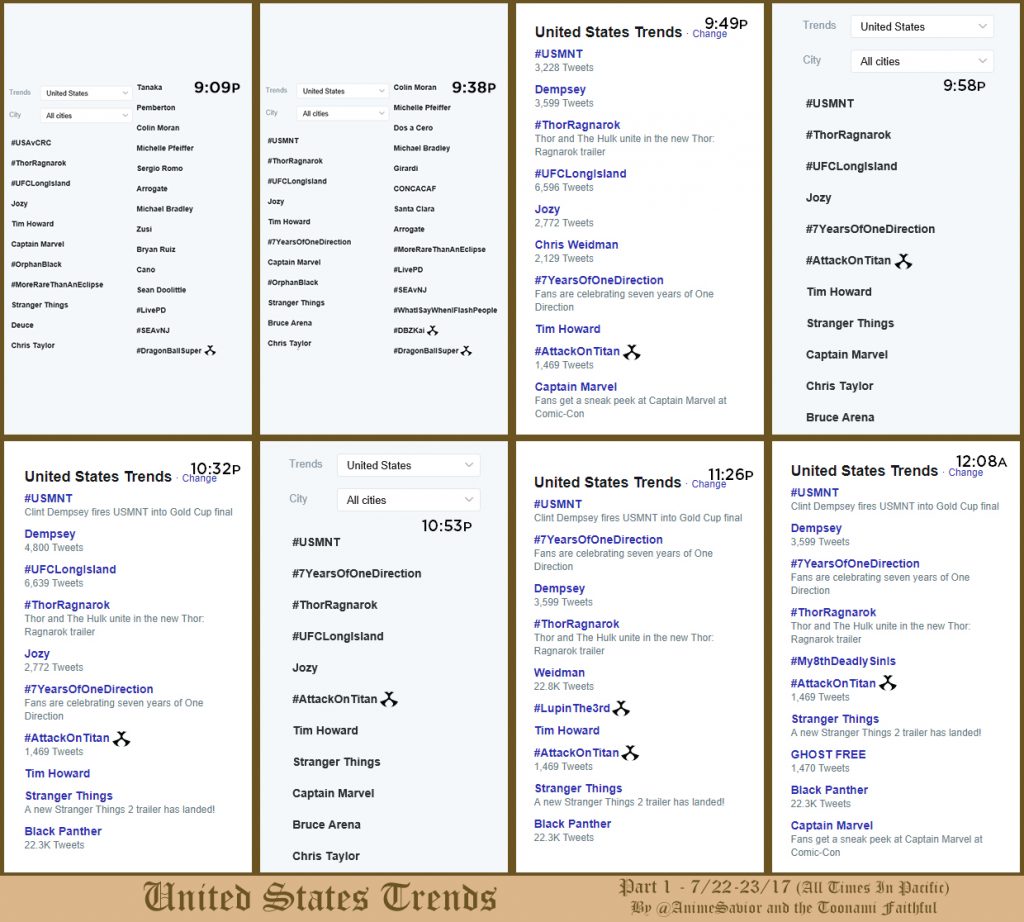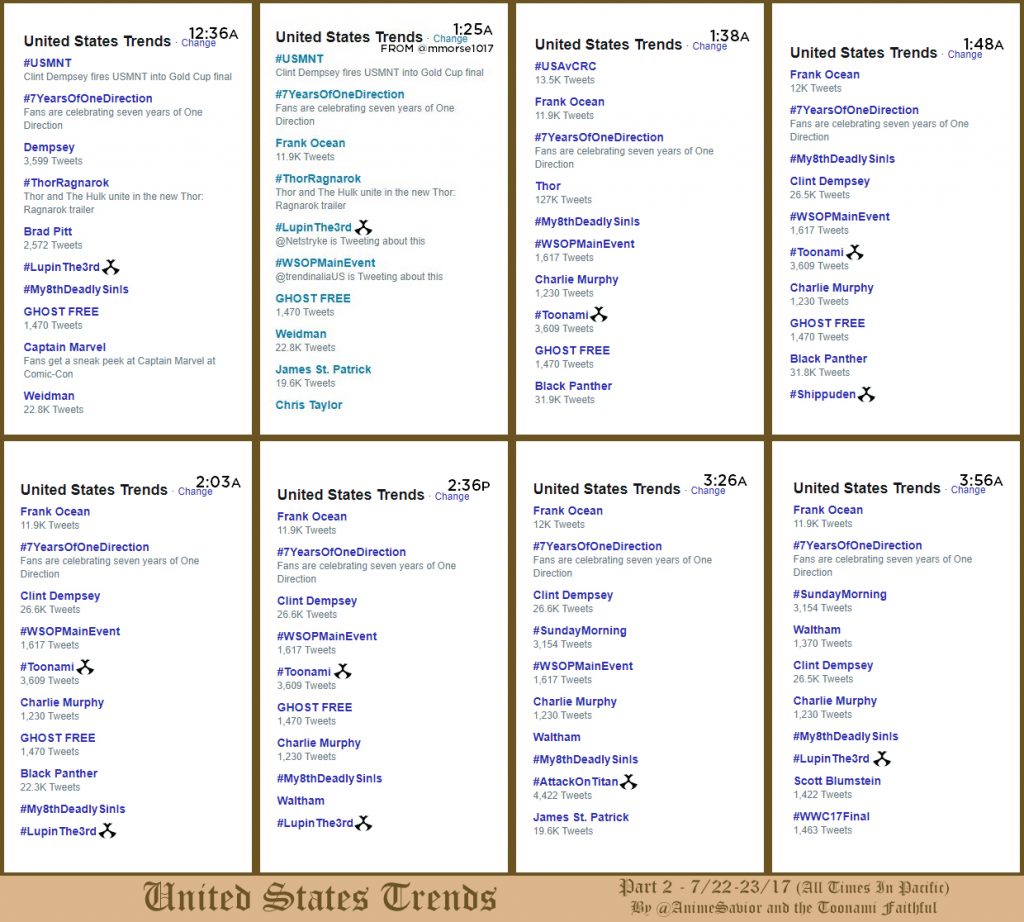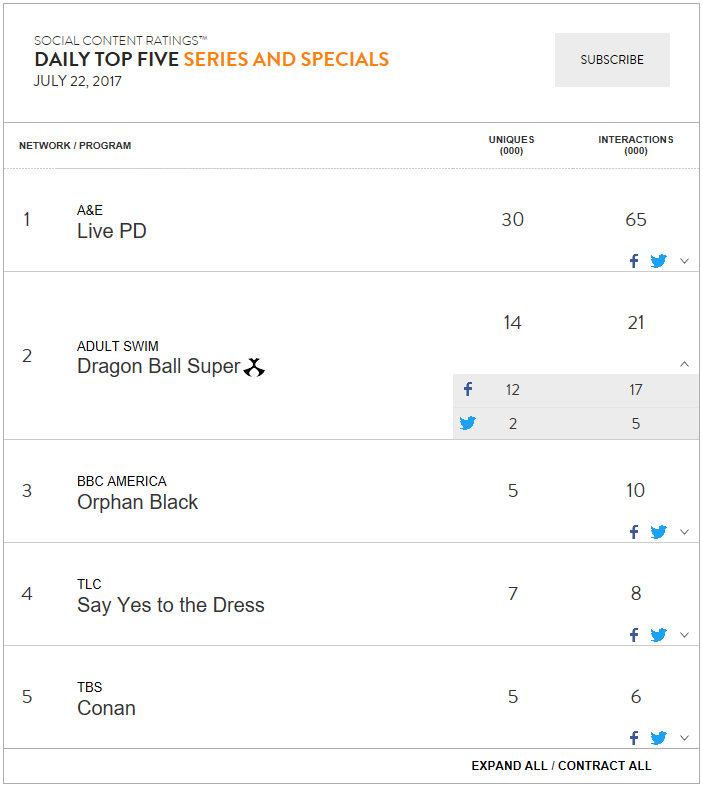 "Eren, stop, that isn't true [that you're a worthless little kid]. Hey, thank you. I've been meaning to tell you that. For fighting, for always standing by me. Thank you. For pushing through, for showing me how to live with purpose. I'm greatful. My scarf, for always wrapping it around me. Thank you."
–          Mikasa Ackerman, Attack on Titan (Ep. 37)
"Mikasa, I will always wrap your scarf, always and forever. That's a promise."
–          Eren Jaeger
The Toonami Trending Rundown for July 22-23, 2017. A milestone night for the better cartoon show as the nerd world celebrates San Diego Comic-Con week, with Attack on Titan completing season 2 as Eren looks for revenge on the Titan that killed his mother, while Hunter x Hunter begins the Greed Island story arc as Gon returns to his quest of getting in the game, and Hinata defends Naruto while he is down in his battle against Pain, among other great moments.
On Twitter, both Dragon Ball shows, Attack on Titan, Lupin the 3rd, and Naruto Shippuden would trend during their respective East Coast airings, as well as Attack On Titan and Lupin the 3rd during or after their respective West Coast airings. Dragon Ball Super would also trend on tumblr. Unfortunately, Hunter x Hunter coming up short in making the trends ends its 60 week trending streak that has gone since week 1 (excluding holidays when the show wasn't the marathon). It was fun while it lasted. On the other hand, this isn't bad, considering that we've also heard reports from viewers that there were several glitches that hindered DirectTV users from viewing that night's Toonami broadcast.
Finally, Dragon Ball Super's buzz would help get the show on Nielsen Social's list of the top 5 most talked about shows on Twitter and Facebook on the day for the 14th time in the show's present run, making it to the #2 spot. This is the 27th time a Toonami show has reached this list since we started recording this feat.
---

There's not much to say to what hasn't been said about Attack on Titan by now. One of the smash hit anime franchises to be released this decade upon the anime's original release in Japan in 2013 (and later its original Toonami run the following year), the AOT franchise has become one of biggest of the many symbols of anime's resurgence during this decade. Although there was no doubt a sequel would be made following season 1's successful run, much like any popular anime based off a long running manga, creators have to worry about catching up to where the manga is currently (most manga artists usually release a new chapter once a month, and an episode of a regular anime can easily cover several chapters) that the anime runs out of material.
Unlike most Shonen Jump shows and much like One Punch Man and Sword Art Online, Titan's producers opted to have a hiatus between seasons to prevent having to do any filler arcs and with fans clamoring for more, a Gecko Ending (a la Akame, Soul Eater, and the original FMA) was out of the question. Unfortunately the wait would take 4 years (3 for those who jumped on during Toonami's airing) for a season 2 to materialize. But good things come to those who wait, and season 2 would make its debut on April 1st in Japan. Toonami viewers didn't have to wait this time around for the dub, as during that same day, it was announced that AOT season 2 would indeed be getting a broadcast dub from Funimation, which made its debut on April 22.
While the season has received much acclaim from fans as Eren and the scouts come one step closer to finding the truth of the Titans, it hasn't been all rainbows and butterflies…then again, it never is for the scout regiment. Some Attack on Titan fans had concerns over the 12 episode count in season 2. There hasn't been an official reason behind this, but according to animator and insider Thomas Romain, shortages of animator talent combined with high demand for newer shows and scheduling issues has made it very difficult if not impossible for many studios to greenlight high quality anime seasons/series that's longer than 12 episodes in recent years. Indeed, many successful non-Shonen Jump shows nowadays have been presented in seasons or cours of 12 or so episodes at a time, with an off-season in between. Durarara x2 and My Hero Academia are such notable examples of this, and the new FLCL coming next year will also be doing something similar with its new seasons. No doubt, this is something the industry will have to correct if it wishes to continue growing, but as fans, there's not much we can do other than help out the industry and support it through legal matters (Buying DVDs and official merchandise, watching on Toonami and other legal sources, and the like).
And of course there's the big elephant in the room. While ratings, DVD/Blu-Ray sales in Japan, and general interest both inside and outside Toonami's scope are pretty satisfactory to good, they are much to be desired compared to the juggernaut ratings and buzz seen worldwide in season 1. Some of this can be explained with ratings erosion happening across all of television as viewing sources and viewing habits diversify, but many have pointed out that trying to keep interest for a show in this so-called "instant gratification" era, with hundreds of new franchises being released and continued every year, it can be very difficult for a show to keep its momentum going with a long hiatus. And with a 4 year wait since the last season, its no surprise that many have been slow to catch back on.
We've seen a bit of a correlation in that regard to our trending records. During the show's run of season 2, the hashtag #AttackOnTitan trended in the US on Twitter on every week with the exception of week 8 and week 10 but did trend as well during the 4th of July weekend marathon. In addition, #AttackOnTitanSeason2 trended during week 1 as well as during two occasions during the run-up to the premiere, and we also received a character trend in Eren during week 9. Attack on Titan would also trend on tumblr during 9 of the shows 12 weeks as well as during the April Fools announcement and during the 4th of July weekend marathon.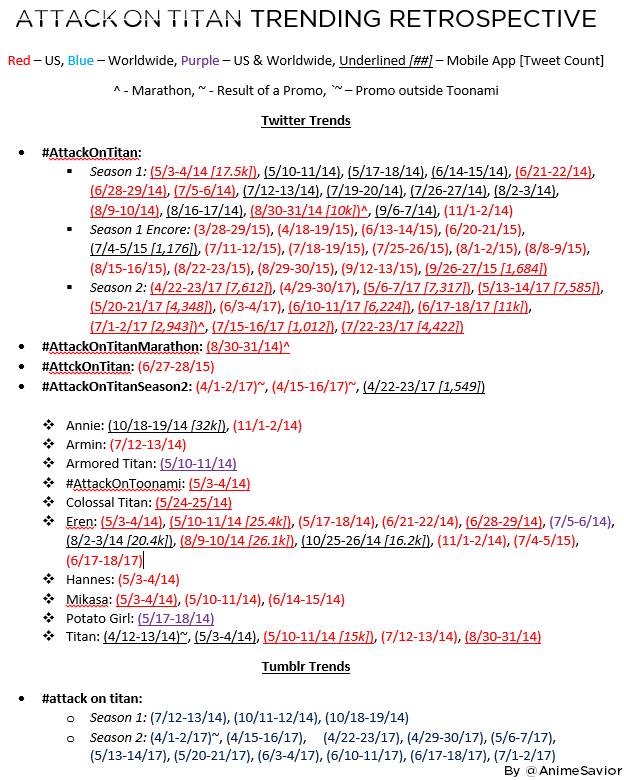 Regardless of these issues, the Attack on Titan franchise overall continues to go strong, and Wit Studios is presently hard at work producing Season 3, set for release in Spring 2018. And with series creator Hajime Isayama set to wrap up the manga pretty soon, we could very well see the show's end within the next few years, depending on how things go.
Whether Toonami will be bringing back Titan for Season 3 onwards is something to be determined as the time comes, but with the ratings and overall interest by viewers and the investment in the show from Toonami themselves, I think it would be a real stunner if Toonami doesn't run Attack on Titan to its end. Of course, if you do wish to help the cause in seeing season 3 and perhaps beyond, continue to give you support to the show and the anime industry overall, and of course, let Toonami and Funimation know you want to see more Attack on Titan on the better cartoon show. And as the wait for season 3 begins, season 2 will have an encore run at 3am for those late to the party or want to re-watch in anticipation. If you're late to the party, use it wisely as not every Toonami show is given this opportunity to win over latecomers.
Whatever happens next in Eren's quest to vanquish the Titans, I'm pretty sure it should be a good one.
---


I was in Comic-Con myself this past week to help get you guys the latest Toonami news from San Diego, and unfortunately because of that among other personal reasons, this trending rundown was released later than usual. Our apologies for the inconvenience. There was some notable news that directly involved the better cartoon show from San Diego. Announced during the Toonami Pre-Flight taping at Comic Con, Toonami revealed the next Total Immersion Event, Countdown, set to air sometime in the fall.
It also should be noted that also during the panel, Jason DeMarco and Gill Austin mentioned that there was gonna be a special announcement for the block that was pulled back at the last second for as of yet unknown reasons. However, the following week's Toonami, in addition to the return of JoJo's Bizarre Adventure with the premiere of Stardust Crusaders, saw an expansion (which was announced just a day after Comic Con ended) with every present show moving up their respective timeslots by 30 minutes (Ex. Dragon Ball Super now airs at 11pm while GITS:SAC airs at 2:30am). Not long after that, Toonami announced the return of Outlaw Star beginning on August 19th. It's unknown if that was the announcement all along or if more things are coming down the pipes, but nonetheless this fall will have plenty to look out for ahead.
We'll have a full report on the events from SDCC ahead as well as the following week's trending rundown hopefully sometime later today, but for now, we'll see you again next time for another round of the better cartoon show.
---
Legend: The shows listed are ordered based on their appearance on the schedule. Show trends are listed in bold. The number next to the listed trend represents the highest it trended on the list (not counting the promoted trend), judging only by the images placed in the rundown. For the Twitter tweet counts, the listed number of tweets are also sorely based on the highest number shown based on the images on the rundown.
United States Trends:
#Toonami [#5]
#DragonBallSuper [#25]
#DBZKai [#24]
#AttackOnTitan [#6]
#LupinThe3rd [#6]
#Shippuden [#10]
Tweet Counts:
#Toonami [3,609 tweets]
#AttackOnTitan [4,422 tweets]
Tumblr Trends:
Notes and Other Statistics:
Special thanks to @mmorse1017 and others I forgot to mention for spotting some of the trends on this list.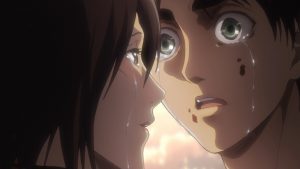 Only Toonami on [adult swim] on Cartoon Network.