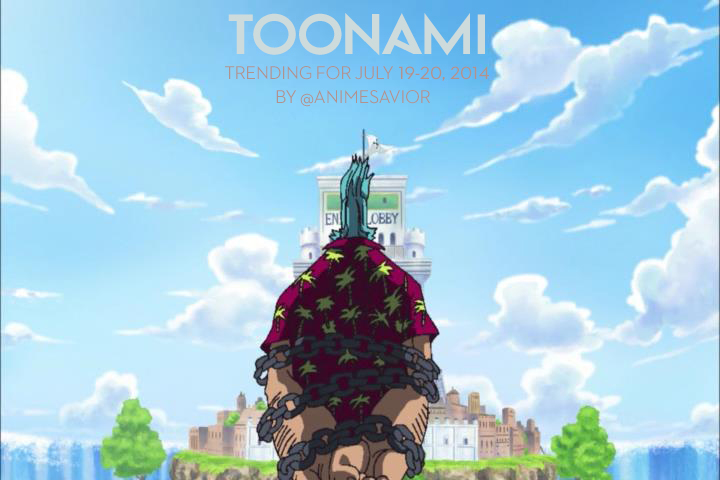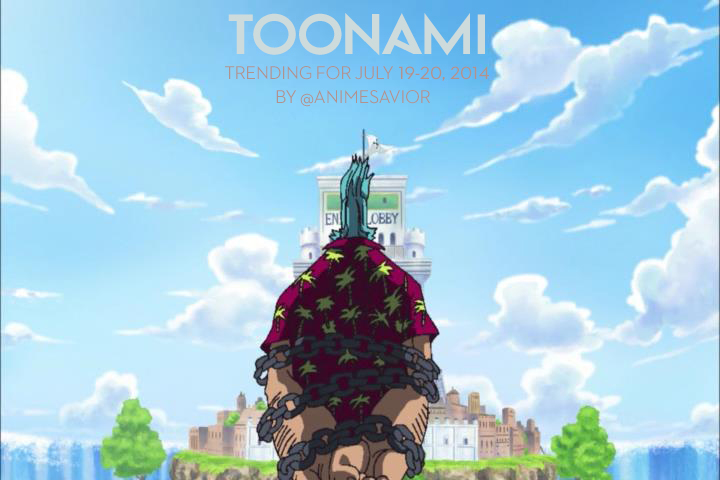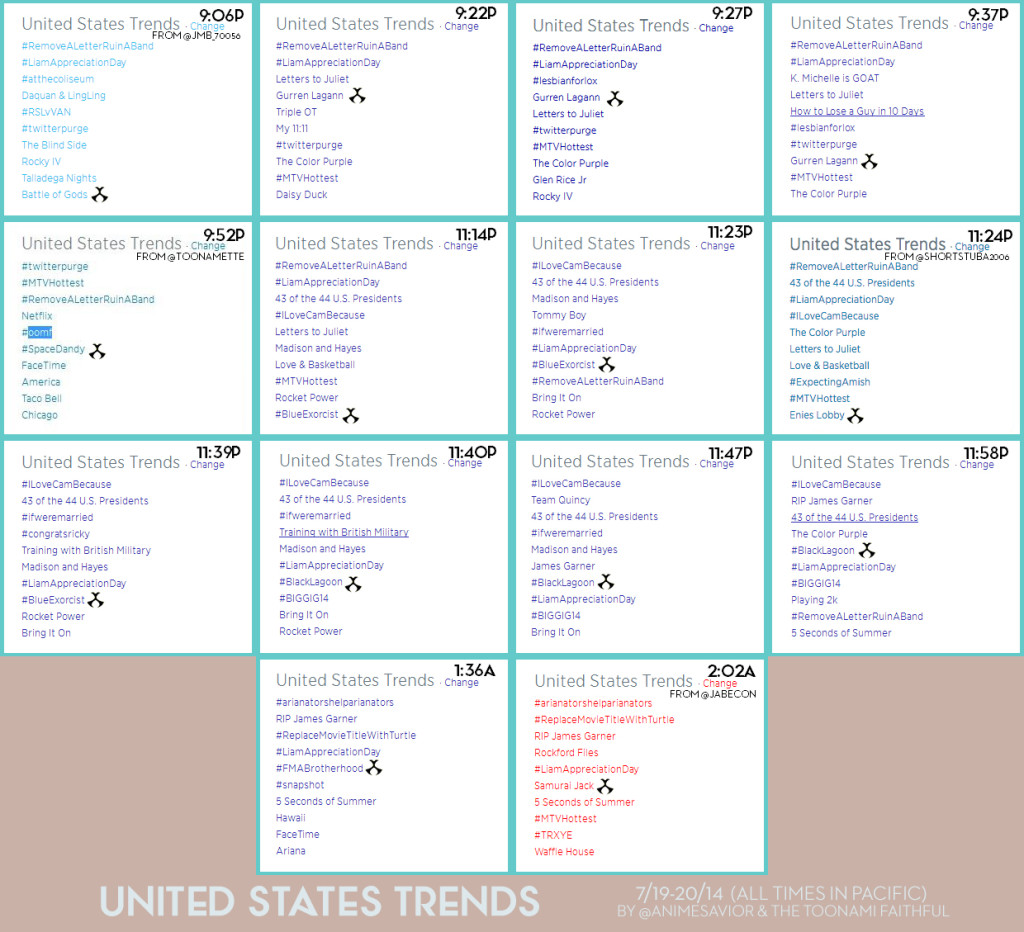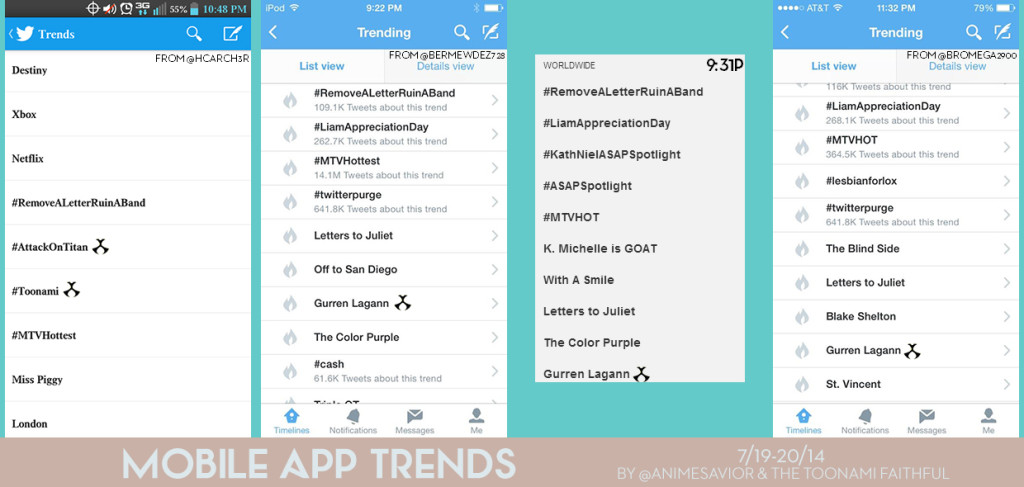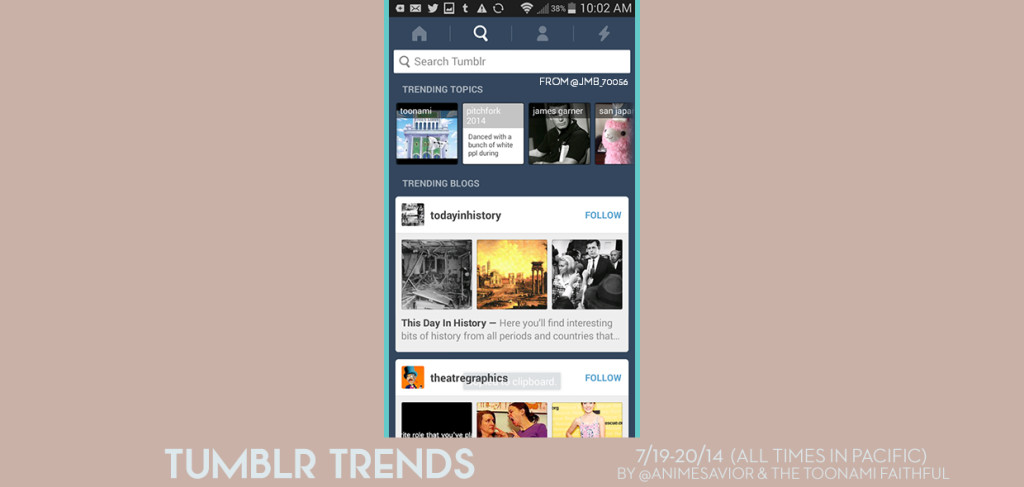 "I can't help but feel a bit nostalgic after 5 years of absence. The nightless island, Enies Lobby."
–          Rob Lucci, One Piece (Episode 263)
The Toonami Trending Rundown for July 19-20, 2014. Rough night for trending, but Toonami was able to get some social media buzz of it's own as Space Dandy, Blue Exorcist, Black Lagoon, FMA Brotherhood trended in the US, Samurai Jack trended Worldwide, Attack on Titan trended in the mobile app, and Toonami trended on Tumblr.
In addition, Enies Lobby from One Piece also trended in the US as CP9 arrives in the prison island with Robin and Franky, in addition to a promo from Toonami of the upcoming story arc. Funimation also showcased a few commercials of the new Battle of Gods movie, and that also trended in the US.
This week also had a Q&A session. Among the answers, DBZ Kai will be airing uncut, though a premiere date is yet to be announced, and Gundam Wing can't air on Toonami at this time due to licensing issues with Bandai. We can only hope at this point that the Gundam franchise doesn't go into licencing hell like Macross has. But on a brighter note, we finally know the show that is going to replace Blue Exorcist upon it's completion: Gurren Lagann will be premiering on August 16th at 2am Eastern. And on that note, Gurren Lagann also trended US and Worldwide as a result of the announcement.
In the meantime, tune in next week as One Piece begins the Enies Lobby arc, while Beware the Batman will move up to 2:30 am Eastern to showcase never before seen episodes while Cowboy Bebop returns to the block at 4:30 am Eastern. On related programming notes, Black Lagoon will be moved to 3 am and Samurai Jack will be moved to 5:30 am to make way. You don't want to miss this. Till next week, stay gold.
Legend: The number next to the listed trend represents the highest it trended on the list (not counting the promoted trend), judging only by the images placed in the rundown. For the mobile app trends, the listed number of tweets are also sorely based on the highest number shown based on the images on the rundown.
US Trends:
Battle of Gods (During Bleach) [#10]
Gurren Lagann (During Bleach) [#4]
#SpaceDandy [#6]
Enies Lobby (From One Piece) [#10]
#BlueExorcist [#7]
#BlackLagoon [#5]
#FMABrotherhood [#5]
Samurai Jack [#6]
Worldwide Trends:
Gurren Lagann (During Bleach) [#9]
Samurai Jack [#9]
Mobile App Trends:
#Toonami (During Attack on Titan) [#6]
#AttackOnTitan [#5]
Gurren Lagann (During Bleach) [#7]
Tumblr Trends:
Notes and Other Statistics:
Special thanks to @BerMEWdez728, @BRomega2900, @HCArch3r, @JABEcon, @JMB_70056, @shortstuba2006, @Toonamette, and others I forgot to mention for spotting some of the trends on this list.
Tell me where Robin is Right Now! Only Toonami on [adult swim] on Cartoon Network.