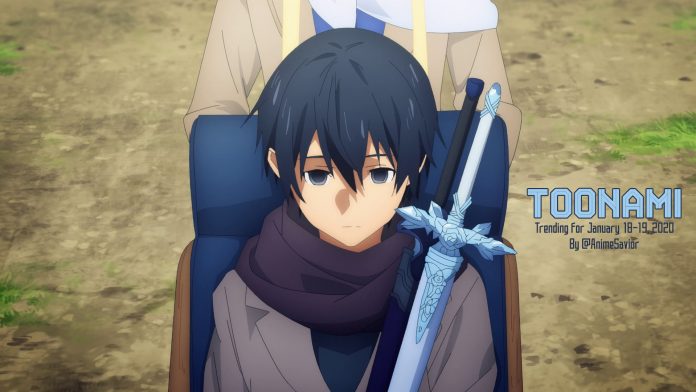 "Is this what we fought for? Suffered for? To protect people like these? Eugeo lost his life. Kirito is a shadow of his former self. If there was a point to all we've been through, it is lost to me."
–          Alice, Sword Art Online: Alicization (Ep. 25)
The Toonami Trending Rundown for Jan. 18-19, 2020. It was a night of premieres as Sword Art Online returned to the better cartoon show to begin the second half of the Project Alicization story arc in the War of Underworld, while Food Wars begins The Second Plate.
Among the moments of the night, we rejoin Sword Art Online not long after the battle against Quinella, as Kirito was rendered unconscious after a surge from the attack on the Ocean Turtle shocked his brain and fried his fluctlight. Kirito is also dealing with depression after losing both Eugeo and Alice Zuberg. Alice Synthesis, 30, who now has feelings towards Kirito, has mostly stepped away from the action to take care of him with Selka's help. The kingdom meanwhile is preparing for an impending war with the Dark Territory; but despite their army is understaffed, Alice hasn't had much motivation to rejoin their ranks. At least, that was until goblins started to attack the nearby village. Food Wars began its second season with the start of the bracket round of the Fall Selection Tournament. Soma is drawn to face Alice in the round of eight with the theme being Bento boxes. Soma countered Alice's Temari Sushi bento by creating a special seaweed bento dish. The judges voted in Soma's favor, with Alice's Grandpa citing that Soma put more heart and soul into his meal. And Fire Force saw Shinra reunite with his long-lost brother Shou, who is now entirely on the side of the Evangelists due to the power they have given him. Despite all that Shou wants is Shinra's Adola Burst, Shinra still tries to persuade Shou to come back to their side while the two battled, as he promised his mother so long ago.
On Twitter, #Toonami would trend in the United States along with Fire Force, Food Wars, Demon Slayer, JoJo's Bizarre Adventure, and Naruto Shippuden. Meanwhile, on Tumblr, #Toonami would trend along with My Hero Academia, Kimetsu no Yaiba, and JoJo's Bizarre Adventure. The full list, including statistics and tweet counts from the Twitter app and Amr Rahmy's Fan Screening analytics app, can be seen below.
---

This week's feature was a video game review of Gris, a platform-adventure game by Nomada Studios and published by Devolver Digital. It received an 8.0/10 score.
Last Friday, Toei and Bandai Namco released the newest video game in the Dragon Ball franchise, titled Dragon Ball Z: Kakarot. The game is an open-world action RPG developed by CyberConnect2 that retells Goku's story in Dragon Ball Z, in addition to original character backstories not seen in the anime. As with previous Dragon Ball games, the Funimation/Okratron 5000 cast were brought in to dub the game, joined by Johnny Yong Bosch voicing Broly and Rachael Robinson voicing Bonyu. The game can be picked up on all major platforms except for the Nintendo Switch.
It's time to relive the thrilling story, adventure and epic battles of Goku, the Saiyan known as Kakarot! DRAGON BALL Z: KAKAROT is available now on PS4, Xbox & PC.

Order #DBZKAKAROT today: https://t.co/9HQl4B9BBA pic.twitter.com/MDQKrjyl6d

— Bandai Namco US (@BandaiNamcoUS) January 17, 2020
For those who wish to donate to the Bushfire relief efforts down in Australia, Funimation and their partners have set up a GoFundMe page called the Anime Heroes for Aussie Wildlife. Funimation will pledge to match all funds raised to $75,000. All proceeds will go to Wildlife Victoria Inc. to be used in assisting and sheltering wildlife who have been affected by the devastating fires.
Discotek is presently working on a Blu-Ray release of the Lupin the Third feature film: Fujiko's Lie by Takeshi Koike. The boxset is scheduled to be released on Mar. 31 for $24.95 MSRP and is available for preorder on Rightstuf for $16.22.
Lupin the IIIrd: Fujiko's Lie is coming! The next film in the Takeshi Koike series, starring @CristinaVee as Fujiko and @SilverTalkie as Lupin, is available for pre-order here: https://t.co/jM90jWFN3C! Here's a trailer to tide you over until it comes out! pic.twitter.com/ZZezTNtjP9

— 💿Discotek Media (@discotekmedia) January 21, 2020
After many years of waiting, the seventh and final season of Star Wars: The Clone Wars will be available to view on the Disney+ streaming service beginning on Feb. 21. The first five seasons premiered on Cartoon Network, with Toonami airing the show in 2013, but later moved to Netflix for the sixth season. The show would later be put on indefinite hiatus after as a result of the Disney merger.
Witness the end of the groundbreaking series. The final season of @StarWars: #TheCloneWars starts streaming Feb. 21 on #DisneyPlus. pic.twitter.com/rigthtoZtO

— Disney+ (@disneyplus) January 22, 2020
Brice Armstrong, known for voicing the narrator of Dragon Ball, as well as being the voice of characters including Captain Ginyu in Dragon Ball Z and Masamune in Samurai 7, had passed away from natural causes on Jan. 10 at the age of 84. We send our condolences to his friends, family, and fans. On behalf of the Toonami Faithful, rest in peace, Brice. And thank you for all you have done over the years.
Finally, Toonami has announced that a week after Fire Force's season finale on Feb. 8, the block will be shortened by 30 minutes to air from 11:00 p.m. – 4:00 a.m. Demon Slayer will be moved up to 12:30 a.m. while every show after it will be moved up the lineup by 30 minutes. The full schedule can be seen below.
Tune in next week for the penultimate episode of Fire Force's first season, among other great moments. Until next week, stay gold as always.
---
Legend: The shows listed are ordered based on their appearance on the schedule. Show trends are listed in bold. The number next to the listed trend represents the highest it trended on the list (not counting the promoted trend), judging only by the images placed in the rundown. For the Twitter tweet counts, the listed number of tweets are also sorely based on the highest number shown based on the images on the rundown.
United States Trends:
#Toonami [#16]
#FireForce [Trended with #FoodWars]
#FoodWars [#25]
#DemonSlayer [#22]
#JoJosBizarreAdventure [#19]
#Shippuden [#21]
Tweet Counts:
#Toonami [7,983 tweets]
#SwordArtOnline [2,547 tweets]
#FoodWars [2,350 tweets]
#DemonSlayer [5,915 tweets]
#JoJosBizarreAdventure [2,945 tweets]
Fan Screening Counts:
#MyHeroAcademia [#5 with 3,734 tweets]
#DrStone [#11 with 1,513 tweets]
#SwordArtOnline [#13 with 1,507 tweets]
#FireForce [#14 with 1,667 tweets]
#FoodWars [#15 with 1,592 tweets]
#DemonSlayer [#10 with 2,389 tweets]
#KimetsuNoYaiba [#6 with 4,058 tweets]
#BlackClover [#23 with 1,483 tweets]
#JoJosBizarreAdventure [#26 with 1,400 tweets]
Tumblr Trends:
#Toonami
#My Hero Academia
#BNHA
#Kimetsu no Yaiba
#JoJo's Bizarre Adventure
Notes and Other Statistics:
Special thanks to @MikeMorse1017, @myanimewaifu, and others I forgot to mention for spotting some of the trends on this list.

"Tell me, Kirito. What should I do?" Only Toonami on [adult swim] on Cartoon Network.
Sword Art Online Alicization Mid-Season Premiere
Toonami Tweets of the Night for January 18-19, 2020