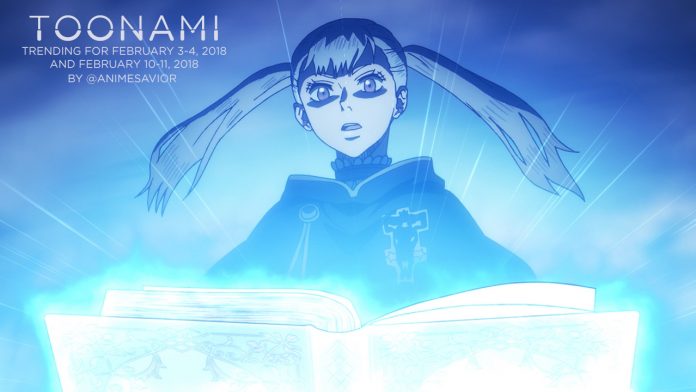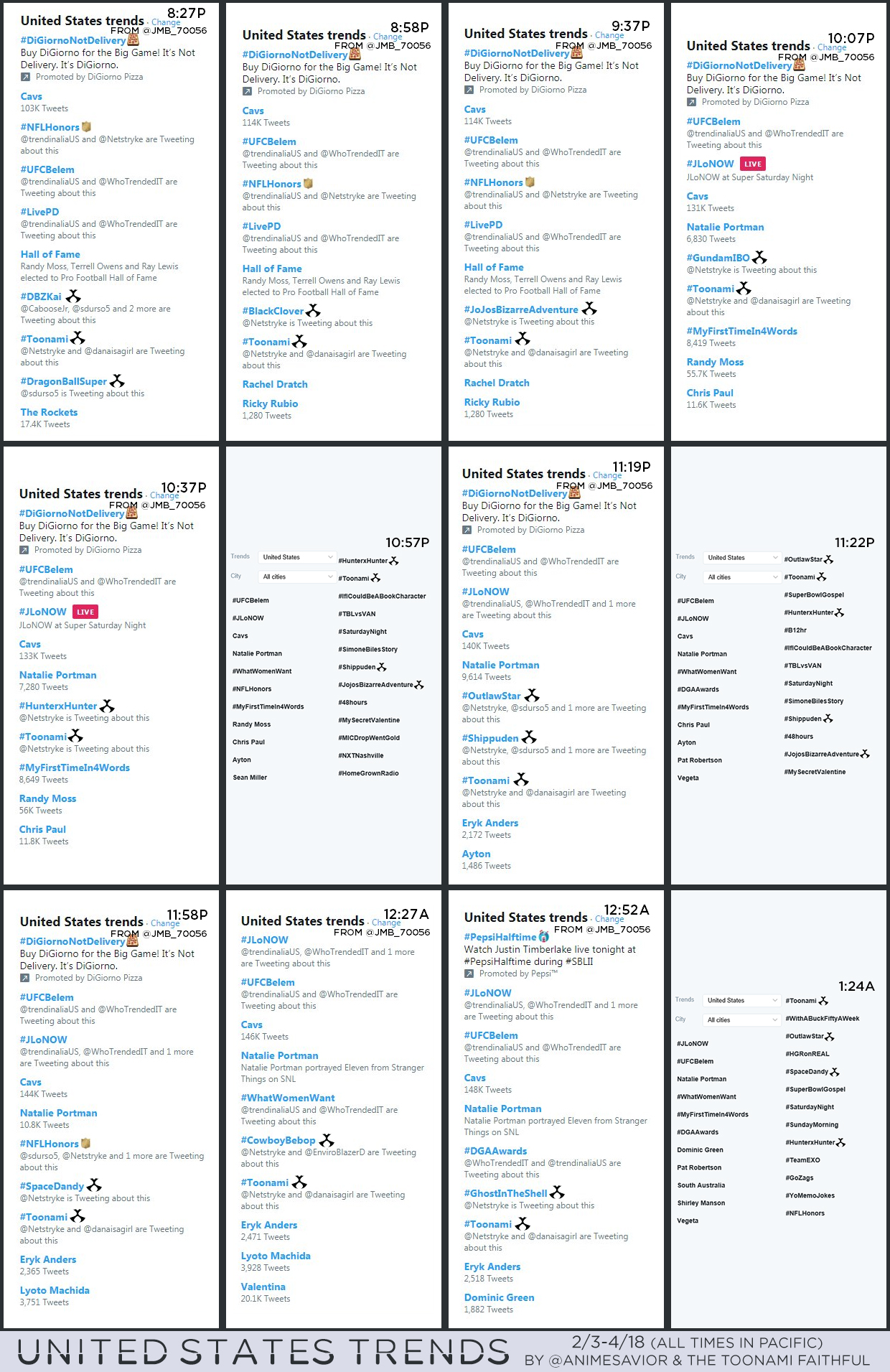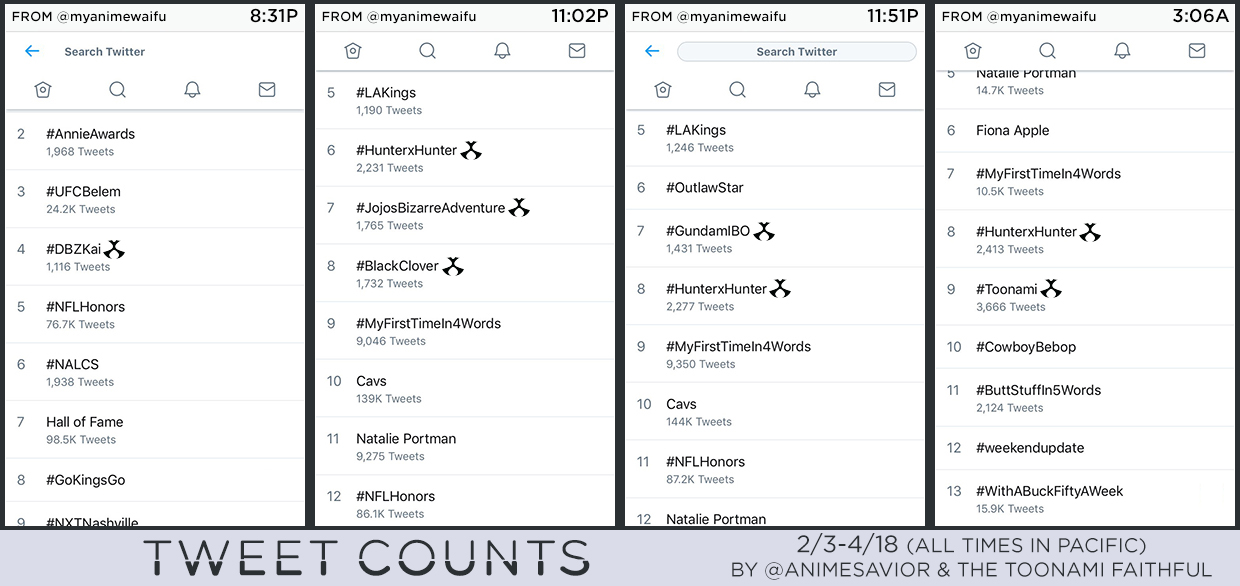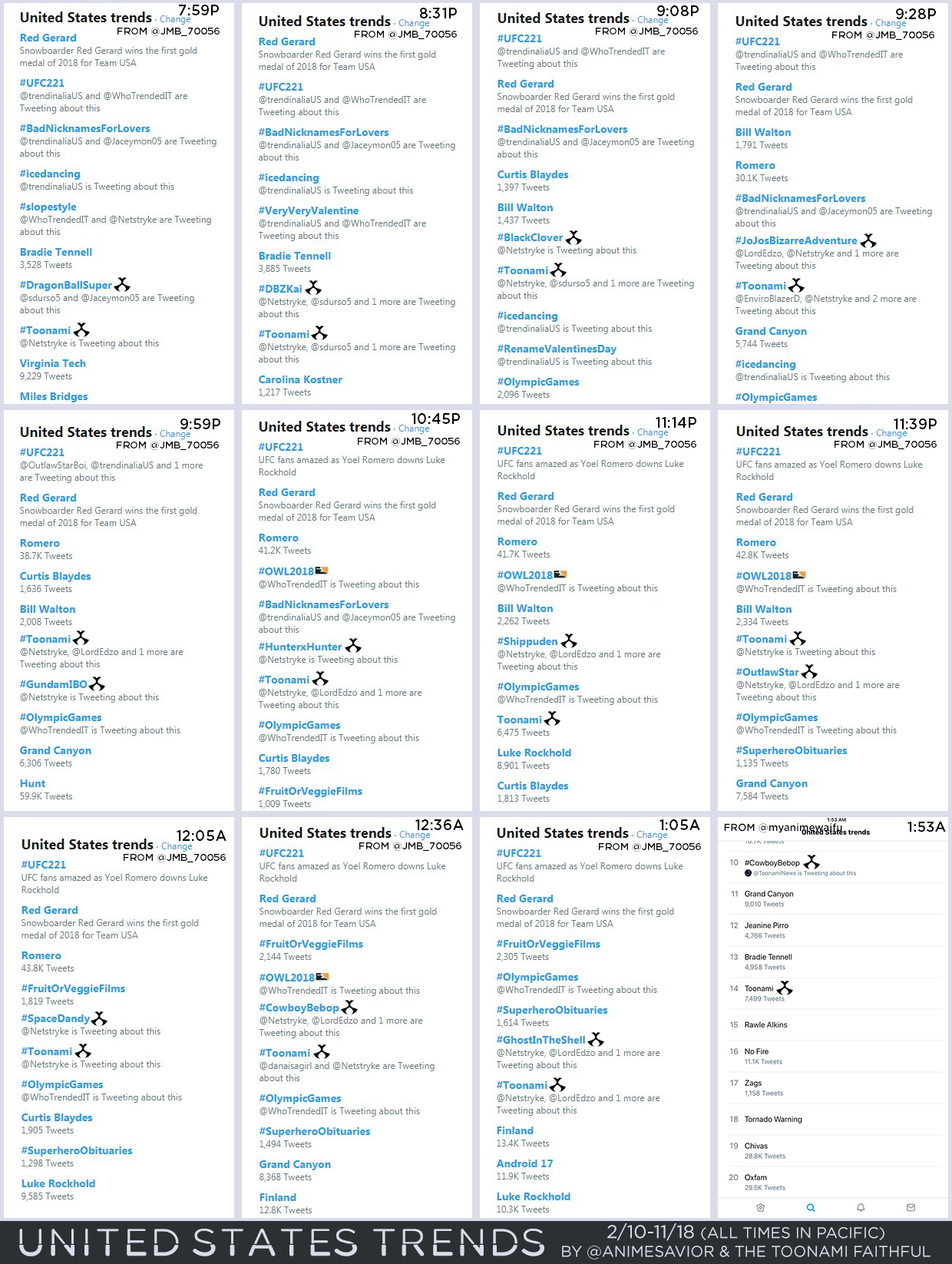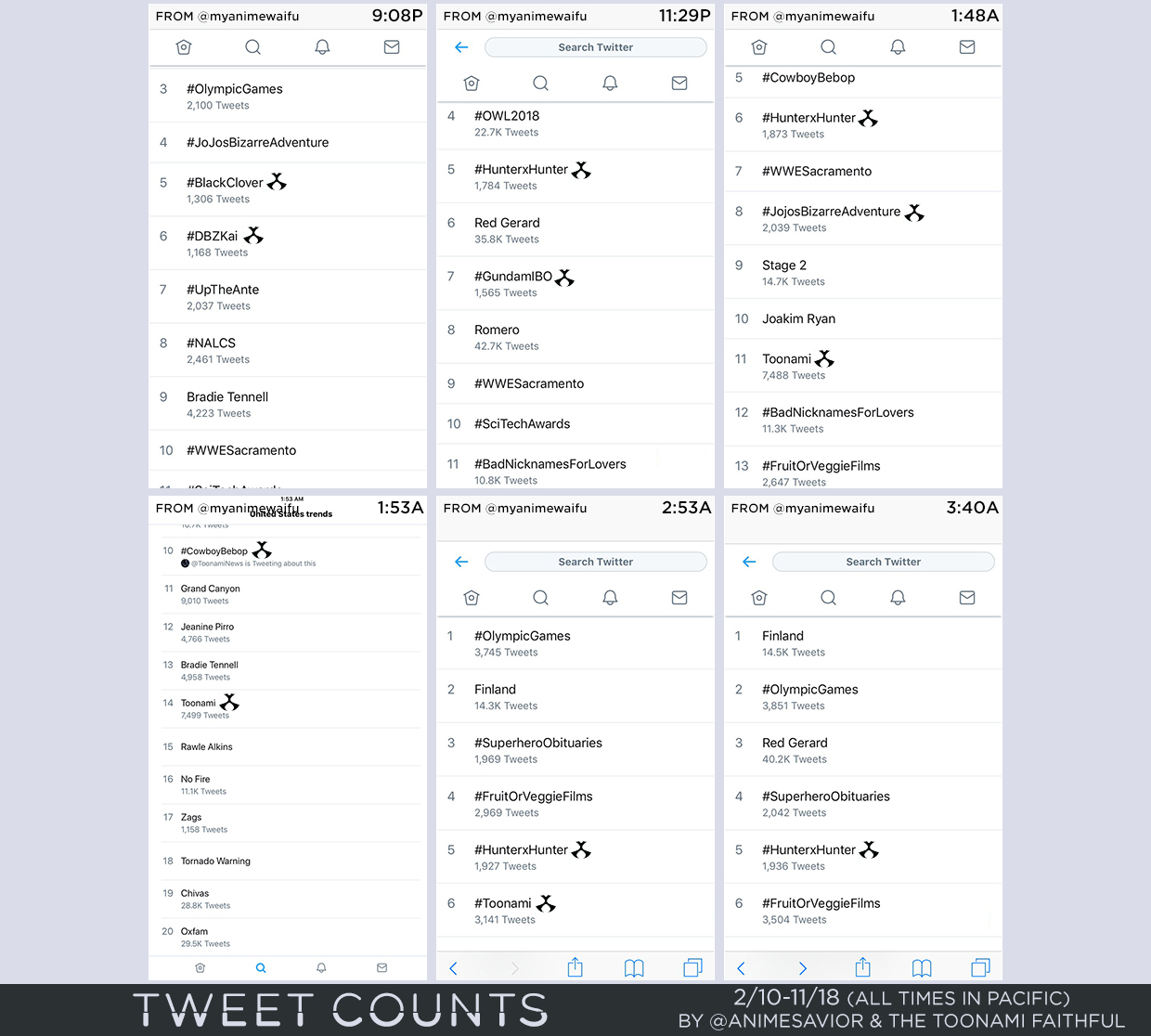 "I won't run, never. I will protect them. I am royalty. Once more, I am a member of the Black Bulls."
–          Noelle Silva, Black Clover (Ep. 09)
This week's Toonami Trending Rundown is a double-feature for the weeks of February 3-4 and 10-11, 2018, as among other big moments, Trunks goes to the past to warn the Z Fighters of the terror of Goku Black, while Asta and Noelle go on their first mission with Magna and the Joestars head on the final stretch to reaching Egypt.
These were some pretty tough weeks for trending with pre-Super Bowl festivities being all the buzz during the first week, and of course the Winter Olympics underway during the second, but on Twitter, every show would successfully trend briefly during or after their respective East Coast airings during both weeks, while on tumblr, Toonami would trend alongside Dragon Ball Super, JoJo's Bizarre Adventure, and Hunter x Hunter on February 3, while just Dragon Ball Super trended on the 10th.
---

We've reached the halfway point of Stardust Crusaders, and this week, Toonami showcased an arc promo for the upcoming "Battle in Egypt" which will take the duration of 2nd half of Part 3 of JoJo's. Can the Joestars prevail and finish off Dio once and for all? Tune in and find out.
Some of the notable news relating to Toonami during these past two weeks include:
For those looking for another way to view Toonami weekly and view other Adult Swim shows, Adult Swim has released an app on Roku devices. The app's functionality is similar to the apps on iTunes and Google Play as well as the site itself, where you can catch up on Adult Swim and Toonami shows on demand, as well as viewing the various streams Adult Swim offers such as Game Humpers, Fish Center, Toonami PreFlight, and the live simulcasts. As with the site, you still need to be subscribed to a qualifying cable, satellite, or IPTV provider to view the simulcast livestream or recent episodes, so check your local listings.
For those that have purchased a Toonami Box, it has come to light from our media partners that unfortunately there has been some issues with the distribution of these boxes, with some buyers having their box lost during shipment while others have received a duplicate. If you do have any issues, give @clarknova1 a mention on his twitter and his team can see if they can help you out. Of course, the Toonami promotion for the Adult Swim boxes are winding down with Robot Chicken next on the block, but for those still interested, there is still a limited amount still available to purchase on their site.
Everyone who ordered but didn't get a box, can you please let me know? I will follow you so you can DM me your email. We will personally run down where your boxes are. We didn't make this deal and aren't involved with the shipping, but we will do our best to make it right. Thanks https://t.co/ZKNdp1slWN

— DUKE TOGO DEMARCO (@Clarknova1) February 6, 2018
Good news for Hunter x Hunter fans this week as Yoshihiro Togashi has once again resumed production on the manga series, following a recent hiatus that went on since last August due to ailing health. How long this will last until another hiatus is needed, who knows, but for those who have caught up to where the manga is at, feel free to check it out.
Scavengers, the animated short by Joseph Bennett and Charles Huettner that aired on Toonami on Christmas Eve 2016, is having a sequel in the works. The short was announced on the January 25th edition of Adult Swim's Development Meeting stream complete with a preview, which you can see by clicking here. (skip to 53:00)
Aniplex released a new visual for the upcoming Sword Art Online sidestory: Alternative Gun Gale Online, set to premiere in Japanese TV this upcoming April. It has also been revealed that instead of A1 Pictures, Alternative GGO will be animated by Studio 3Hz, whom previously worked on Dimension W. No word yet on what Aniplex's plans will be for a simulcast or dub, how the production on Season 3 is going, or if Toonami will be renewing the series to broadcast these new installments in due time, but for those that wish to re-watch the series in anticipation, Aniplex has made both previous seasons available on major streaming sites such as Netflix, Hulu, Crackle, and Crunchyroll, to go alongside the DVDs and Blu-rays of both seasons and Ordinal Scale as well as digital downloads in major outlets such as iTunes and the Microsoft Store.
Revealing… a new key visual for Sword Art Online Alternative Gun Gale Online! Only a couple months until it premieres in April! pic.twitter.com/SbasUWqMNl

— Sword Art Online (@SwordArtUSA) January 31, 2018
Samurai Jack got some well deserved accolades from the Annie Awards last Saturday, coming home with 3 awards for Outstanding Achievement for Character Design in an Animated Television / Broadcast Production, Outstanding Achievement for Production Design in an Animated Television / Broadcast Production, and Outstanding Achievement for Editorial in an Animated Television / Broadcast Production. Congratulations to Jack and all of the winners and nominees for a great year of animation.
We love animation and are proud of @RickandMorty and #SamuraiJack for being good at it.https://t.co/ccxvinOSa2

— [adult swim] (@adultswim) February 5, 2018
Finally, the Chicago Comic and Entertainment Expo (C2E2) has announced that they will be hosting a FLCL panel during the weekend of April 6-8, which will feature some sneak previews and information regarding the upcoming seasons. Mitsuhisa Ishikawa, Jason DeMarco, Kari Wahlgren, and Maki Terashima-Futura will be among the panelists. It also has been announced that the new seasons of the franchise will be titled FLCL Progressive and FLCL Alternative for seasons 2 and 3 respectively. Although we've yet to hear a formal announcement from Toonami themselves, Progressive is expected to be premiering this summer.
Anime fans! @adultswim and #Toonami present: #FLCL with @KariWahlgren at #C2E2! Join panelists for a discussion and special sneak preview of two highly anticipated NEW seasons of FLCL premiering this summer: https://t.co/kRFephwGbK pic.twitter.com/tjUYlx7OGA

— C2E2 (@c2e2) February 8, 2018
Until next week, have a Happy Year of the Dog, congratulations to the Philadelphia Eagles on winning the Super Bowl and finally breaking their 57 year championship curse and let's go Team USA.
---
Legend: The shows listed are ordered based on their appearance on the schedule. Show trends are listed in bold. The number next to the listed trend represents the highest it trended on the list (not counting the promoted trend), judging only by the images placed in the rundown. For the Twitter tweet counts, the listed number of tweets are also sorely based on the highest number shown based on the images on the rundown.
February 3-4, 2018 Trends
United States Trends:
Toonami/#Toonami [#6]
#DragonBallSuper [#8]
#DBZKai [#6]
#BlackClover [#6]
#JoJosBizarreAdventure [#6]
#GundamIBO [#5]
#HunterXHunter [#5]
#Shippuden [#6]
#OutlawStar [#5]
#SpaceDandy [#6]
#CowboyBebop [#6]
#GhostInTheShell [#6]
Tweet Counts:
#Toonami [3,666 tweets]
#DBZKai [1,116 tweets]
#BlackClover [1,732 tweets]
#JoJosBizarreAdventure [1,732 tweets]
#GundamIBO [1,431 tweets]
#HunterXHunter [2,413 tweets]
Tumblr Trends:
#toonami
#dragon ball super
#jojo's bizarre adventure
#hunter x hunter
Notes and Other Statistics:
February 10-11, 2018 Trends
United States Trends:
Toonami/#Toonami [#6]
#DragonBallSuper [#7]
#DBZKai [#7]
#BlackClover [#6]
#JoJosBizarreAdventure [#6]
#GundamIBO [#7]
#HunterXHunter [#6]
#Shippuden [#6]
#OutlawStar [#7]
#SpaceDandy [#5]
#CowboyBebop [#5]
#GhostInTheShell [#6]
Tweet Counts:
Toonami [7,499 tweets]
#Toonami [3,141 tweets]
#DBZKai [1,168 tweets]
#BlackClover [1,306 tweets]
#JoJosBizarreAdventure [2,039 tweets]
#GundamIBO [1,565 tweets]
#HunterXHunter [1,936 tweets]
Tumblr Trends:
Notes and Other Statistics:
Special thanks to @JMB_70056, @myanimewaifu, and others I forgot to mention for spotting some of the trends on this list.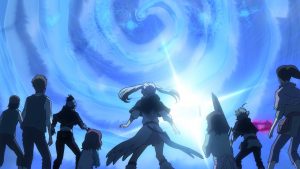 Only Toonami on [adult swim] on Cartoon Network.