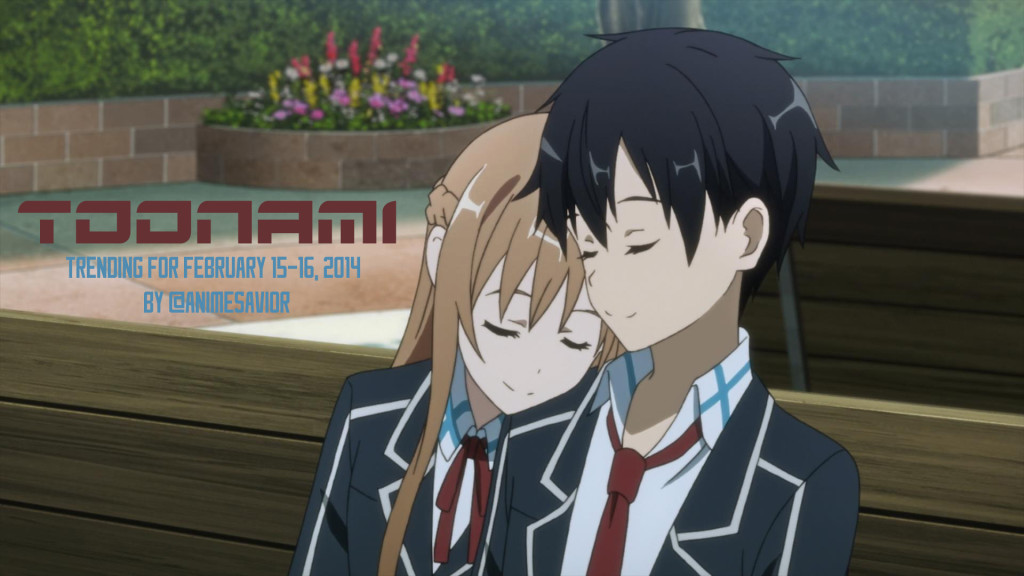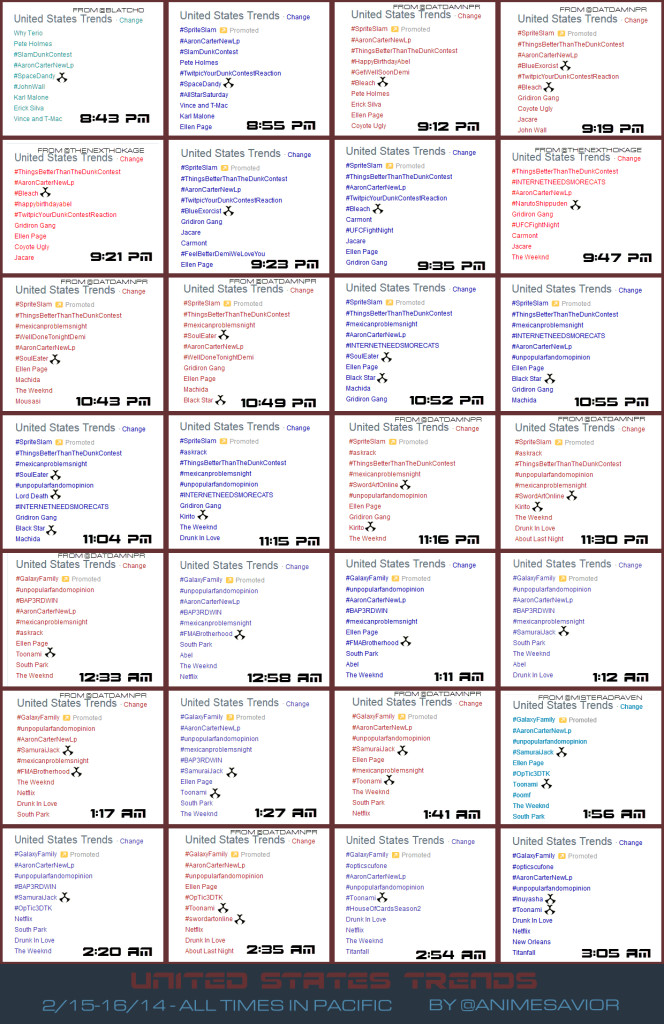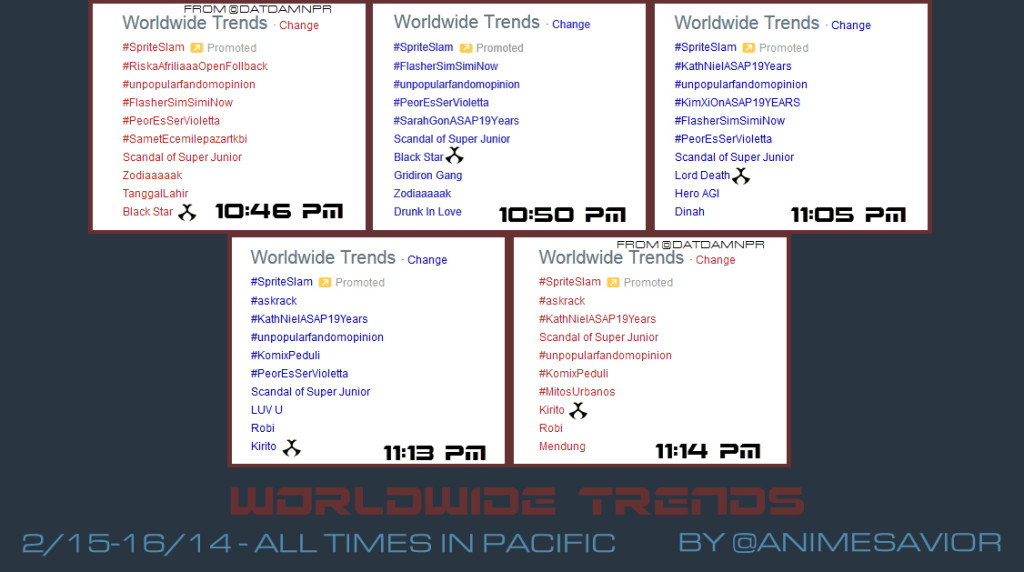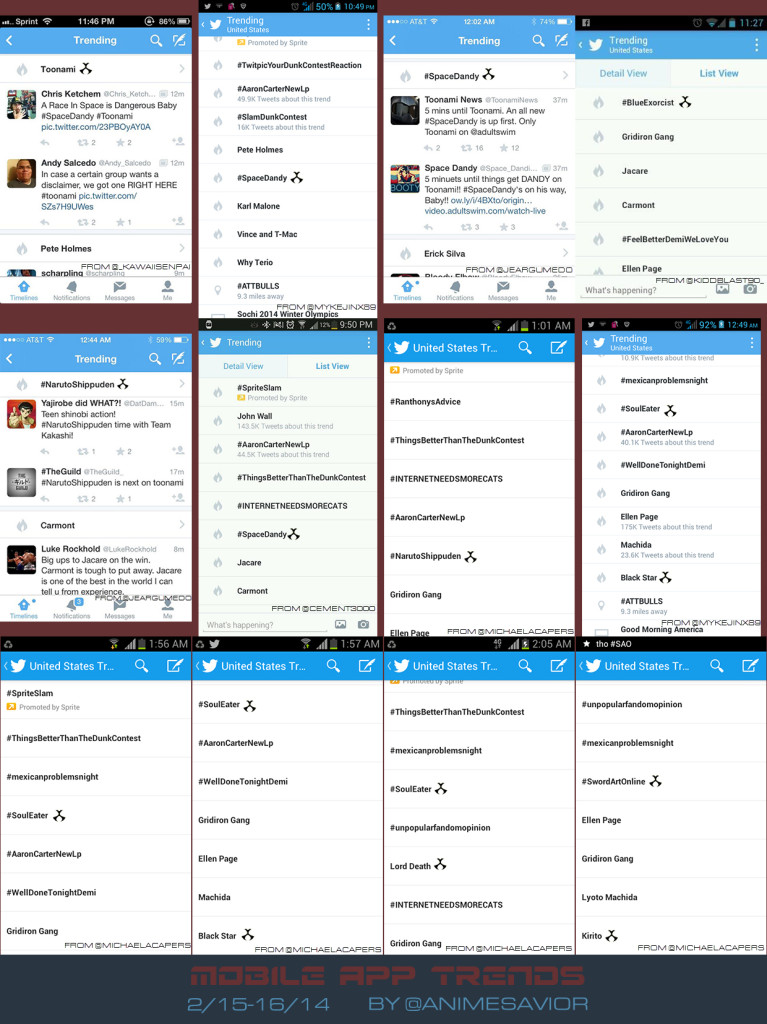 "It's okay now [Asuna]. It's over. I fought the final boss just now, and the last battle's over. It's all over."
–          Kazuto "Kirito" Kirigaya, Sword Art Online (Episode 25)
The Toonami Trending Rundown for February 15-16, 2014. Sword Art Online's first season ends it's run on Toonami with a bang as while we had a bit of a rough night with trending, every show from Bleach to Sword Art Online (with the exception of One Piece) as well as FMA Brotherhood, Samurai Jack, and InuYasha trended in the US. In addition both Soul Eater and Sword Art Online produced some character trends (both US and Worldwide) with Black Star (as he managed to finally defeat Mifune), Lord Death (as with the help of Brew, turned Death City into a mecha and defeated and apparently consumed the Kishen), and Kirito (as he fought off an assault by Sugo and successfully reunited with Asuna), making sure SAO would end it's run on Toonami on a good note. We also were treated to a promo for our next show, Blue Exorcist, and that also trended in the US as a result.
Sword Art Online trending retrospective:
Starting this week, I'll be posting up a segment of the overall results of a premiere show that has successfully completed it's run as a way to send it off with a bang. With the completion of 25 weeks of Sword Art Online, this is it's overall performance:
Red – US, Blue – Worldwide, Purple – US & Worldwide
* – Got the image "header honor", ~ – Promo Trend
#SwordArtOnline/Sword Art Online:
Aincrad Arc:

(7/20-21/13)~

,

(7/27-28/14)*

,

(8/10-11/13)

,

(8/17-18/13)*

,

(8/24-25/13)

,

(9/7-8/13)

,

(9/14-15/13)

,

(9/21-22/13)*

,

(9/28-29/13)

,

(10/5-6/13)*

,

(10/12-13/13)

,

(10/20-21/13)

,

(10/26-27/13)

,

(11/2-3/13)*

Fairy Dance Arc:

(11/9-10/13)

,

(11/16-17/13)

,

(11/23-24/13)

,

(11/30-12/1/13)

,

(1/4-5/14)

,

(1/11-12/14)

,

(1/18-19/14)*

,

(1/25-26/14)*

,

(2/1-2/14)

,

(2/8-9/14)*

,

(2/15-16/14)*
Asuna:

(10/26-27/13)

,

(11/9-10/13)

, (11/23-24/13 [4985])
Kirito:

(8/17-18/13)*

,

(9/21-22/13)*

,

(9/28-29/13)

,

(10/5-6/13)*

,

(11/2-3/13)*

,

(1/25-26/14)*

,

(2/8-9/14)*

,

(2/15-16/14)*
Despite it's mixed reviews, which I'll mention on my next segment, SAO nevertheless has help contributed to a boom for Toonami's social media buzz, and as a result has forced me to change the trending rundown format to what it is today (Previously I lumped all the trends into one image, but due to Tumblr image restrictions, I sepearted the trends into the different categories you see today).
Sword Art Online successfully trended in either the US, Worldwide, or mobile app lists on every single week it has aired save for Week 2, and that was only because of Twitter crashing. SAO's buzz also produced two Character trends, with Kirito in 8 different weeks, as well as Asuna in 3 different occasions.
For those interested in some further statistics, I have made a statistics page showcasing Toonami's trending throughout the years since I started making this rundown back in October 2012.
Now About SAO…
I want to take this time to personally say something regarding the controversy SAO has had over the past 25 or so weeks, and even before then. Back when the show started premiering on the block, I asked this question: "Will SAO be the show that tells us that great things are to come for Toonami and anime as a whole, or is it the telltale sign that Toonami has no business pandering to Otakus?" The reaction to the Fairy Dance arc in Japan as well as those that watched the sub are exactly the reason I said that.
I won't say anything about the content since you guys have already seen it, but I can tell you that the show's acclaim quite literally nosedived, and many parts of the internet changed their opinions from "This is a good series that shows that Japan can still create great content." to "Just another example that the anime industry is committing financial suicide with all this otaku pandering." Naturally, the prospects of it's potential of airing on Toonami at the time turned from "This is a sure-fire hit for Toonami" and instead people went as far as saying "Getting SAO will kill Toonami again". Naturally, the reactions in Japan were also reflected during it's airing on Toonami as well, and you could say that there's a good reason why Toonami told everyone to be cautious about requesting Attack on Titan until we see how it turns out, partly because of this. (Of course Titan's anime, or at least the first season, is now over in Japan and is currently on the stage of being dubbed, and while it's ending was more positively received in Japan (at least in comparison), its US broadcast fate still remains the air). Then again, that's not stopping people from requesting Kill-la-Kill, which is still running in Japan as of this writing, so go figure.
While SAO going as far as killing Toonami is crazy talk, I'm sure those "otaku pandering" aspects did pose a legitimate problem for its prospects of airing on Toonami back at the time. As Toonami has said many times on their Tumblr, and I have said several times on previous rundowns, Toonami's purpose is to be a gateway drug to action oriented anime and cartoons, meant to showcase such programming to broad audiences and to get general audiences interested in anime and action cartoons. There's a reason why Toonami has the Big 3 Shonen Jump shows while the likes of K-On or Haruhi Suzumiya will never have a hint of consideration for the block. There's a reason why people have said that Toonami was the reason why we're all anime fans, why it's considered to have started the previous anime boom, why its cancelation is considered to be the the end point of the previous anime boom, and why its revival is a sign that another is on the horizon. And quite frankly, the block's status as a gateway drug only angers some of the more elitist otakus (or as some would say, weeaboos) and really, no one else.
With that all said, would it ultimately kill its challenges of airing on Toonami? Obviously, considering that all 25 episodes have successfully aired on US airwaves, instead of having to check the dub premiere out on Neon Alley, no. The interest especially among the more casual crowds was still plenty, enough to still be one of Toonami's most requested shows, and when Jason and co. saw it, they liked it, they agreed it belonged on Toonami, and thought those negative aspects weren't a big deal. When I personally saw the subbed version, I did turn out to like it, I did thought it belonged on Toonami and while I agree Fairy Dance wasn't as good as Aincrad, I did agree that the negative aspects were pretty overblown. There's definitely worse stuff out there, but it's safe to say that Toonami's fortunately not gonna bother with such shows, especially with Standards and Practices and all.
I personally think that the issue regarding SAO is that it is considered to be (and perhaps tried to) be both a gateway series and a "otaku pandering" show at the same time, only to cause division with both audiences in the process. But judging by the ratings shown during it's run, the social media buzz SAO generated during it's Toonami run, and the show's overall sales, I think I can safely say that SAO was a success regardless of it's mixed acclaim, and that may have contributed to the greenlighting of the Phantom Bullet arc. Toonami has said that they are interested in airing it once the dub is ready, and I'm sure Aniplex will go to them first once the time comes, but what can happen now and then is anyone's guess. We might get lucky and SAO 2 will be simuldubbed, or negotiations don't work out and SAO 2 finds it's way onto Neon Alley. Who knows what can happen? All I can say now is if you loved the show and want to see more, keep supporting SAO and let the Toonami crew and Aniplex know. After all, they listened and granted the wish when people asked for Season 1, but as I mentioned before, be cautious when requesting a show in general cause if Toonami gets another show that has an story arc that is as infamous as Fairy Dance, you're pretty much stuck with it. That being said, while I can't speak for the whole ToonamiFaithful.com crew, you have my vote for it to happen.
And Finally…
As the wait begins for Season 2, SAO in the meantime will be passing the torch to Blue Exorcist, as it makes it's grand debut on Toonami at 1:30am Eastern, which will push Soul Eater to 2am for it's remaining 4 episodes, perhaps to set things up for the premiere of Black Lagoon, which is also just 5 weeks away. Things will definitely be heating up. Till next week, have a happy Presidents Day, enjoy the Winter Olympics and stay gold.
Legend: The number next to the listed trend represents the highest it trended on the list (not counting the promoted trend), judging only by the images placed in the rundown. For the mobile app trends, the listed number of tweets are also sorely based on the highest number shown based on the images on the rundown.
US Trends:
Toonami/#Toonami (During FMA Brotherhood, IGPX, and InuYasha) [#4]

#Blue Exorcist (During Bleach) [#3]

#SpaceDandy [#5]

#Bleach [#3]

#NarutoShippuden [#4]

#SoulEater [#3]

Black Star (From Soul Eater) [#7]

Lord Death (From Soul Eater) [#5]

#SwordArtOnline (Also trended during it's West Coast airing) [#4]

Kirito (From Sword Art Online) [#6]

#FMABrotherhood [#5]

#SamuraiJack [#3]

#InuYasha [#4]
Worldwide Trends:
Black Star (From Soul Eater) [#6]

Lord Death (From Soul Eater) [#7]

Kirito (From Sword Art Online) [#7]
Mobile App Trends:
Toonami (During Space Dandy) [Tweet Count and Highest Position Unknown]

#BlueExorcist (During Bleach) [Tweet Count and Highest Position Unknown]

#SpaceDandy [#5. Tweet Count Unknown]

#NarutoShippuden [#5. Tweet Count Unknown]

#SoulEater [#3. Tweet Count Unknown]

Black Star (From Soul Eater) [#9. Tweet Count Unknown]

Lord Death (From Soul Eater) [#5. Tweet Count Unknown]

#SwordArtOnline [#3. Tweet Count Unknown]

Kirito (From Sword Art Online) [#7. Tweet Count Unknown]
Special thanks to @_kawaiisenpai, @Blatch0, @Cement3000, @DatDamnPR, @jeargumedo, @KiddBlast90_, @MichaelaCapers, @MisterADRaveN, @MykeJinX89, and others I forgot to mention for spotting some of the trends on this list.
Kick a lot of ass before the devil knows you're dead. Only Toonami on [adult swim] on Cartoon Network.