As someone born and raised in America's Finest City, it never fails to amaze me how big San Diego Comic-Con has grown. Starting out as a modest convention in the 1970's, it's grown to be one of the world's most premiere and attended comic book conventions. With its location along the San Diego harbor, good weather compared to most of the nation in the hot July summers, and 2-3 hour driving distance from Hollywood depending on the traffic, among other things, it's perhaps no surprise that San Diego Comic-Con has become the premier comic convention.
Comic-Con isn't just any comic convention. It's THE Comic Convention that everyone first thinks of when thinking of a comic convention. And Comic-Con isn't just merely a comic convention. It's a toy extravaganza, it's a Hollywood fair, it's a mini-Anime Expo, a mini E3, and many other things all wrapped into one festival. Exclusive toys and merchandise you can get nowhere else (other than EBay), panels featuring some of the most prestige celebrities, autograph sessions, game demos, and so forth. And all the fun doesn't stay within the Convention Center grounds, as due to Comic Con's growth, many events have actually spilled out around downtown, as many Downtown San Diego buildings around the convention center grounds become converted into booths and attractions of their own, so for those that couldn't score a ticket, there are still plenty of events to check out.
Indeed, there's something for everyone, but it's not for everyone. Comic-Con may be a celebration of fandom, but it can also be a grueling test of dedication. All the horror stories you hear about "Line Con", let's just say they're pretty much true. While some of the smaller events are relatively easy to see and get in, the events that everyone wants to see can feel downright demoralizing for those that don't bring the effort.
Even getting in the door requires you to believe in Lady Luck, praying to God (or whatever deity you believe in if you do), and praying to RNGesus, as simply the right to get tickets in recent years requires all potential attendees to take part in a lottery system, where according to the SDCC Unofficial blog, an estimated million prospective attendees roll the dice for just 110,000 regular attendee spots. The rest are given to Industry Professionals, Press, Exhibitors, Volunteers, Panelists, children under 13, and Staff to make up the estimated 130,000 attendee limit.
And that's only just the start, from the long lines, to factors like line caps to the occasional lottery to have the privilege to get in line for something big, we wouldn't necessarily blame you if you decided to sit this one out on your convention bucket list. But if you don't feel intimidated by the lines, and you got the Persistence, Patience, and some luck to bear the lines for the potential to have memories that could last a lifetime, it could be well worth it. Just choose your battles wisely, have a plan B if plan A doesn't work out, and don't expect to see everything. If you do try, you'll probably risk seeing nothing.
Welcome to San Diego Comic-Con week. We'll be sending @AnimeSavior downtown to cover the event on our behalf. For those attending, have a great time and we hope to see you around. #SDCC pic.twitter.com/XSjwC276H7

— Toonami News (@ToonamiNews) July 18, 2018
I've been fortunate enough to get a ticket to Comic-Con ever since 2011 (with the exception of 2014) and with Toonami having a presence in SDCC in recent years, my yearly enjoyment of going as a fan has turned into covering the convention for the Toonami Faithful, and we have been fortunate enough to be given a Press Pass by Comic Con officials to do so.
Covering one of the biggest comic book and pop culture conventions alone can be quite difficult to say the least. There were so many panels I wanted to attend, so many people I wanted to interview, and so many things to see and buy, but one person can only do so much. Plus, I'm not as experienced at covering conventions and doing interviews as Sketch, CJ, and Paul are, and there were times I kind of wished I had their experience and assistance at this. So to prevent myself from biting off more than I can chew, I just focused on covering events that related to the better cartoon show, as not only that's our site's main goal, but not to mention that most of the Hollywood and Western Comic news get wall to wall coverage on the major news networks anyway.
In terms of help Comic-Con gives you, the organizers give accredited press each a complimentary badge, and gives out your press email to exhibitors so they can send you emails to see if you're interested in covering them, but for the most part, you're on your own when it comes to making your own coverage. For instance, unlike say Anime Expo, Press aren't given line-cutting privileges to panels unless you are ADA eligible, so if a panel is full, you're out of luck. And getting interviews may not always be an easy thing when who you wish to interview may also want to be talked to by potentially hundreds of other press outlets and fans, if not more. I did have one advantage though, the fact that ToonamiFaithful.com has grown to be one of the most accredited Toonami news sites did help me in securing a few interviews.
However, being just several weeks after Anime Expo, I might not necessarily have a choice but to do this alone. Both Sketch and CJ, who were with me at AX, wished that they could have went to San Diego as well, but they had their own commitments and trying to get additional days off, tickets, and hotel rooms to SDCC just two weeks after covering Anime Expo is no doubt a tough task for our small news outlet (much like the Toonami crew themselves, we don't get paid for this by the way, and all expenses in covering conventions is pretty much out of our own pockets). While I personally wish that I could get some help with covering this big event as we had in Anime Expo, being able to attend Comic-Con still remains a big honor for me regardless and you asked me if I would continuing covering SDCC for our readers, I'd do it in a heartbeat. That being said, if any Toonami fan or anyone from Toonami Faithful, Toonami News, Toonami Squad, or any website that covers Toonami shows wants to try and help me out, see if you can get a pass and let's meet up sometime.
There's not as much Toonami-related news as there is in Anime Expo, but as SDCC is a major stop in Cartoon Network's convention schedule, and the fact that one of Toonami's major panels tend to take place here, no doubt that's why we're here. We saw plenty of things showcased for Dragon Ball Super, FLCL, My Hero Academia, and of course, Toonami itself, and their highlights we will feature below:
Dragon Ball Super
Several days after Anime Expo came to an end, Toei had announced that the 20th Dragon Ball film would be titled "Dragon Ball Super: Broly", indicating that the infamous Saiyan in the Broly trilogy of DBZ films voiced by Vic Mignogna would be making his return to the Dragon Ball saga and that more information would be released during San Diego Comic-Con. And Dragon Ball news, we received.
#DragonBallSuper well represented here in #SDCC pic.twitter.com/l8sXXUCdJc

— Toonami News (@ToonamiNews) July 19, 2018
During Preview Night of Comic-Con, I were invited to attend a press preview of the San Diego stop of the Dragon Ball North America Tour 2018. The first of at least 6 comic convention stops promoting the upcoming film, the tour was an outdoor booth located at the back of the Marriott Marquis hotel next to the Convention Center, and right by the Waterfront. The booth was created in the shape of the 'Tenkaichi Budokai', the fighting arena seen during the World Martial Arts Tournament in the series.
At the back of the Marriott is the first stop of the #db_tour2018. Check it out. #SDCC pic.twitter.com/x8ovEENkK5

— Toonami News (@ToonamiNews) July 18, 2018
The booth showcased some very cool action figurines for DBZ fans to collect, and even showed some created dioramas of some of the big fights during each saga. They weren't selling any toys and collectables at the tour booth when I was there as they were still setting up that part of the booth during Preview Night.
Part 2 pic.twitter.com/g3MF8AmyT3

— Toonami News (@ToonamiNews) July 18, 2018
Even More Action Figures. #db_tour2018 #SDCC pic.twitter.com/BkrrJTiW6W

— Toonami News (@ToonamiNews) July 18, 2018
Various other games from the Dragon Ball franchise were also available for fans to play, including demos of Dragon Ball FighterZ, as well as the trading card game, and a digital arcade trading card game called Super Dragon Ball Heroes. The booth employees told me that it was among Japan's most popular arcade games right now, however with the death of arcade gaming outside the likes of Dave and Busters, there are no plans to bring this stateside anytime soon.
They also had some fun Photo opportunities as well.
Hanging out at the #db_tour2018 at #SDCC pic.twitter.com/Yumv9U2sqT

— Daniel Limjoco (@AnimeSavior) July 19, 2018
Funimation also took a poll of who would prevail in the next battle between Goku, Broly, and Vegeta, with fans given a pin button of who they selected.
I got my money on Goku. #SDCC #db_tour2018 pic.twitter.com/vR1WfMFdhY

— Daniel Limjoco (@AnimeSavior) July 18, 2018
Of course, FUNimation hosted a panel for Dragon Ball Super, and in what could be a first for the anime industry, the DBS panel on Thursday afternoon was assigned to take place at the famous Hall H, the biggest panel room Comic-Con has to offer and where some of the biggest TV and movie panels tend to take place. Not surprisingly, the room was filled with Dragon Ball fans, eager to see what the movie will be about.
#DragonBallSuper panel is up next in Hall H. Looking to be a packed house in here. #SDCC pic.twitter.com/1ePeG6LTiL

— Toonami News (@ToonamiNews) July 19, 2018
The panel consisted of FUNimation founder Gen Fukunaga, Sean Schemmel (the voice of Goku), Christopher Sabat (the voice of Vegeta), and producers Akio Iyoku and Norihiro Hayashida.
Chris and Sean were very surprised and honored to have this panel at the famous Hall H, and Chris and Sean asked the hall to form a "spirit bomb" to give their support to the creators and developers of the film.
Creating a Spirit Bomb for all the creators of Dragon Ball. #SDCC pic.twitter.com/E9Reny7lUo

— Toonami News (@ToonamiNews) July 19, 2018
As many Toonami Faithful can attest, the Dragon Ball franchise has inspired millions of people as not just a pop culture phenomenon, but as a gateway drug to anime. So much so, that even celebrities are huge fans. Funimation would invite WWE stars Kofi Kingston and Zack Ryder into the panel to show why.
🔥🔥Anime x wrestling 🔥🔥@WWE Superstars @TrueKofi & @ZackRyder talking about how #DBSuper inspired them 🙌🙌 with @SeanSchemmel & @VoiceOfVegeta #sdcc2018 #funsdcc2018 pic.twitter.com/9Yy03oxeDW

— Funimation (@FUNimation) July 19, 2018
As a Dragon Ball fan, being on this panel was truly amazing. Such an honor. So amazing to meet @SeanSchemmel and @ChrisSabat! Thank you @FUNimation! 🙌🏾#Comicon2018 #SanDiegoComicCon pic.twitter.com/gcTF2aSACn

— Rob gronKOFski (@TrueKofi) July 19, 2018
Although the film will be released in December in Japan, fans won't have to wait long until the film will be dubbed and released stateside, as the film will be released in theaters sometime in January 2019. Gen Fukunaga has said that Funimation will be trying to bring this to NA shores as soon as they can and will be aiming for a mid-January release.
Wait, who dis? #SDCC pic.twitter.com/hu9Lvuinkg

— Toonami News (@ToonamiNews) July 19, 2018
The panelists mentioned that Akira Toriyama has been very involved in the production of this film, even more than in any other Dragon Ball feature film, and that he brought Broly back as the main antagonist due to his immense popularity. He did give Broly a bit of a character retool as he became "canonized" in the Super storyline.
The big reveal from the panel was a new theatrical trailer for DBS Broly. In the hall, FUNimation and Toei showcased both the Japanese and the English language versions of the film. Both Chris Sabat and Sean Schemmel both mentioned that they had goosebumps seeing it for the first time and later recording the English version, and if you haven't already, you can see below to see why. On Twitter, Broly would trend in the US and Worldwide as a result.
Funimation and Toei also showed some of the character designs for Goku, Vegeta, and Broly, including their various Super Saiyan transformations, and the coats they'll be wearing for the battle. Some fans did point out that Super Saiyan God (Red) Vegeta was also in the artwork, which has yet to appear in the anime, but did so in the manga.
Character designs for Goku, Vegeta, ans Broly. #SDCC pic.twitter.com/iUqj1fcwqx

— Toonami News (@ToonamiNews) July 19, 2018
Both Sean and Chris mentioned that they have watched the franchise transcend generations through the years as fans become inspired and have their lives changed for the better, and are hoping Broly will be a box office record breaker in January. FUNimation gave a plug to the Dragon Ball North American tour, as well as their booth where they gave out posters of the film, before the panelists thanked the fans for their support as the panel came to a close.
And speaking of the FUNimation booth, FUNimation and Funco were selling an SDCC exclusive Metallic Whis Pop. Unfortunately earlier in the day, the high demand of people trying to get in FUNimation's booth to purchase the Whis pops would lead to crowds clogging up the halls around it, forcing Comic-Con officials and the Fire Marshall to shut the booth down, and FUNimation resorted to requiring all prospective buyers to partake in a lottery system and later online for the opportunity to purchase the remaining Whis Pops. (This is partly why Funko themselves requires all attendees to partake in a lottery system to get the chance to enter their booth.) Just one of many examples of how coveted SDCC exclusives are.
This Funimation booth is crazy! pic.twitter.com/kTQCVaFpos

— Byser (@Byser0435) July 19, 2018
Not long after the panel, Christopher Ayres, the voice of Frieza, had announced that he would reprise his role for the film. Ayres had previously been in a hiatus from voice acting since March 2017 battling end-stage COPD. On behalf of the entire DBZ community and the Toonami Faithful, we wish him all the best.
To clarify, as a director I think one of the greatest things you can care about is consistency. As long as I am physically able i will always reprise any role from Funimation I am offered and want to extend my gratitude to @FUNimation for making recording in my condition possible

— Christopher Ayres (@Chrisayresva) July 19, 2018
With Toonami beginning the Tournament of Power on September as well as this upcoming film next year, it's personally great to see this franchise continue to inspire fans both young and old, and I'm looking forward to the big things this franchise has in store in the near future.
Comic-Con International celebrated the news of the new movie #DragonBallSuper: #Broly with tons of events, panels, parties, and more. See what all happened in this clip! pic.twitter.com/fV8izd6e6H

— Funimation (@FUNimation) July 26, 2018
Star Wars: The Clone Wars
One of Toonami's few Western Action Cartoons in the modern era, Cartoon Network aired the first 5 seasons of this series earlier in the decade. However, the acquisition of Lucasfilm by Disney at the time when Toonami was airing the series casted doubt on the future of Clone Wars, and was eventually canceled after 6 seasons in favor of a new series, Star Wars Rebels. But as Disney and Lucasfilm had been wrapping up Rebels, they apparently have decided to continue this series, as Lucasfilm announced Star Wars: The Clone Wars would be revived with 12 new episodes to be released on Disney's upcoming streaming service, set to launch at 2019.
FLCL
As FLCL 2's run came to an end during Anime Expo, FLCL 3's run was still to come with a premiere date set for September 8, and as part of Cartoon Network's block of panels they have on Friday for regular CN and Adult Swim shows at the Hilton Bayfront, they included an FLCL panel for those anticipating the premiere of the third season.
Getting seated for the #FLCL Panel. We're expecting a big crowd, hope you're in line or in here. #SDCC pic.twitter.com/Wy4OZmLPg6

— Toonami News (@ToonamiNews) July 20, 2018
The panel began as Toonami showcased a full length trailer for season 3, which is scheduled to premiere on September 8 at 11:30 pm ET. You can see the trailer below:
Michael Sinterniklaas moderated the panel as he was joined by Mitsuhisa Ishikawa, Maki Terashima-Furuta, Jason DeMarco, Marieve Herington, Megan Taylor Harvey, Kari Wahlgren, and Stephanie Sheh.
#FLCL Alternative premieres September 8 at 11:30. @MSinter moderates the panel. #SDCC pic.twitter.com/uqjkYft1Cf

— Daniel Limjoco (@AnimeSavior) July 20, 2018
. @MakiTerashima on stage with Mitsuhisa Ishikawa, @Clarknova1 @KariWahlgren @MeganTHarvey @RedHerington and @stephaniesheh. #SDCC pic.twitter.com/nOZBfT8DJO

— Toonami News (@ToonamiNews) July 20, 2018
Jason DeMarco said that Adult Swim had loved FLCL since the beginning, and always wanted to make more. Ishikawa mentioned that Jason came up to them 4 times before they decided to say yes. And when the opportunity came up, it's no surprise they went on it.
Ishikawa had 3 conditions on his end to give the greenlight for FLCL 2 and 3: Haruko returns, the Pillows returns, and that Cartoon Network was involved in production. Ishikawa considered directing the series himself, but due to other commitments, he wasn't able to do so, instead wanting newer talent to direct the sequels to see what they can contribute.
As the English dubbing crew had played a significant part into FLCL's production and that it would air on Toonami first before Japan, the VAs mentioned that had to voice pencil sketches at times during production, which is quite common during cartoon production, but not when it comes to anime dubs.
While there have been some complaints regarding the "moe" and overly-cute look of Kana and her pals, their actors and the creators would argue otherwise, saying that there is more to it than meets the eye, something that they would say when I interviewed them. Marieve Herington says that "Pets seems like one thing, but she's another underneath". She's a million different things at once. Megan Taylor Harvey would also say "these girls are all cute and sweet, but there's so much underneath the surface."
Kari Wahlgren and Stephanie Sheh meanwhile are veterans to the franchise, with FLCL being among their very first roles when they both got their big break in the voice acting industry, and were even surprised back then when the show gained the cult following it sustains today. Kari would say that Haruko is among her all-time favorite roles and that it was really cool looking back as she reprised her role, "older and wiser, but still a badass". She even compares reprising her role as Haruko to "wearing your favorite old sweater again".
Hey guys! I'm posting more videos and photos over on my Instagram page from @comic_con. #SDCC2018
Follow me at @ kari_wahlgren! pic.twitter.com/vcA7VWbIS7

— Kari Wahlgren (@KariWahlgren) July 21, 2018
The panel was ended with a world premiere presentation of the first episode of the FLCL Alternative dub, which is scheduled to air for the masses on September 8. Fans that watched Toonami during April Fools night may remember that Toonami showcased this particular episode as part of Adult Swim's yearly April Fools festivities, but in subtitled form.
As the French say, le team. #flcl @adultswim @MakiTerashima @ProductionIGinc @ToonamiNews @KariWahlgren @MeganTHarvey @MSinter @stephaniesheh #JasonDemarco pic.twitter.com/J5A58PyTqO

— Marieve Herington (@RedHerington) July 20, 2018
Following the FLCL Panel, I attended an FLCL Press room panel where I was able to ask Jason DeMarco, Kari Wahlgren, Maki Tereshima-Furuta, and Mitsuhisa Ishikawa a few questions regarding the FLCL sequels. Not long after, I also got an interview with Megan Taylor Harvey, the voice of Kana, on her involvement in the show. Those interviews can be seen on separate articles, which links are below.
Toonami Faithful Exclusive: Interviews with Jason DeMarco, Kari Wahlgren, Maki Tereshima-Furuta, and Mitsuhisa Ishikawa
Toonami Faithful Exclusive: Interview with Megan Taylor Harvey
My Hero Academia
VIZ and FUNimation invited My Hero Academia creator Kohei Horikoshi as a special guest for panels and to meet with fans, and was joined by Christopher Sabat, the voice of All Might, and Justin Briner, the voice of Deku.
I attempted to get some MHA coverage here by attending the MHA panel, but Room 6A is one of the more difficult rooms to get to, as they put some big events into a relatively small room, and you can probably guess that that room filled up real quick, even several hours prior to the actual panel. I was pretty close to the front of the line when I got there, and I still couldn't get in, as fans that could get in had to had line up early as the convention doors opened and sat through the earlier panels. A similar thing also happened in the Shonen Jump panel on Sunday, and that was an even smaller room.
We are so honored to watch Horikoshi Sensei draw Deku for us! #MyHeroAcademia #SDCC2018 pic.twitter.com/Se8kcuXyZG

— VIZ (@VIZMedia) July 21, 2018
We're expecting a full house for the #MyHeroAcademia panel. If you want any hopes of getting in, you might want to line up right now. #SDCC pic.twitter.com/mnFOYniqJl

— Toonami News (@ToonamiNews) July 21, 2018
So we're near the front of the line for the #MyHeroAcademia panel, and we're being told that the room is filled to the max. That's the power of this franchise for ya. #SDCC pic.twitter.com/9SNyfSLHm2

— Toonami News (@ToonamiNews) July 21, 2018
Viz also had autograph sessions with Horikoshi-san, and no surprise that tickets went out like hotcakes. Viz originally did a first-come-first-serve distribution for autograph tickets at their booth, but after crowds of fans overwhelmed the ticket distributors and nearly caused issues with convention officials, they switched to a lottery system for successive days. Unfortunately for us my attempts for interview opportunities with him or the other cast came up with no luck. We hope those who managed to meet them had fun, though.
Thank you @horikoshiko for your kind words in this week's Shonen Jump! 😭😭😭

See more from Shonen Jump: https://t.co/vuW0iUt1R0 pic.twitter.com/TgI42iqWmT

— VIZ (@VIZMedia) August 21, 2018
Some interesting news for the franchise did come out during SDCC, as Viz Media would announce that they have licensed a light novel series based on the manga, titled "School Briefs" for North American distribution, and will begin selling the first volume by next spring.
Announcement: My Hero Academia School Briefs, a novel series based on the Quirky best-selling manga starts spring 2019. pic.twitter.com/8WDc0bL8rR

— VIZ (@VIZMedia) July 21, 2018
FUNimation also announced that the new My Hero Academia film: The Two Heroes will be available in select theaters in late September, with the English dub on September 25, 27 and 29 and in Japanese (with English subtitles) on September 26 and October 2. If you're interested, check out funimationfilms.com/myheroacademia for showings near your area and give your support to the anime industry on the big screen.
We have a release date for My Hero Academia: Two Hereos!! 😱#SDCC2018 pic.twitter.com/yzlg0r7pO7

— IGN (@IGN) July 20, 2018
Toonami Pre-Flight
For the fourth year in a row, Toonami would have a presence in San Diego to promote the upcoming third season of FLCL as well as showcasing Adult Swim's continued commitment to the block in general, and Jason DeMarco and Gill Austin would host another live episode of Toonami Pre-Flight at their offsite attraction near the waterfront, the Adult Swim on the Green, though this year was renamed as the Adult Swim State Park.
Excitingggg #sdcc #toonami pic.twitter.com/DEh2xm7JOM

— KING ATOMSK DEMARCO (@Clarknova1) July 19, 2018
Admittance was free, and even non-badge holders were welcome to attend, though nobody under the age of 18 was allowed to enter. However, this year's admission came with a catch: Due to the limited space on the grounds and the higher than anticipated expected crowds due to the appearance of the Pillows, Adult Swim requested all prospective attendees to register and take part in a lottery system that took place on Friday Night, and playing the games at the State Park on Thursday and Friday increased your chances.
One of our readers and friends, @Nerd_Drummer92, managed to get in through the regular method, however there were many others who weren't as fortunate. Fortunately for us, as our site was accredited press that was focused on reporting Toonami, I requested and was granted complementary tickets by Adult Swim's PR team to attend the show.
Here is where tonight's festivities will take place. #SDCC #ToonamiPreFlight pic.twitter.com/YddkKwZ2ms

— Toonami News (@ToonamiNews) July 22, 2018
The panel took place at 7:30pm, though fans got in line as early as they could to secure a spot as close to the stage as they could. I got a seat at the front, and I so happened to run into Jon Allen, the voice of Mori, when I was there. Other members of the FLCL crew were in attendance, but they were scattered around the park.
Hanging with @KingJonAllen, the voice of Mori at #ToonamiPreFlight. #SDCC pic.twitter.com/KhKuM3MXUu

— Daniel Limjoco (@AnimeSavior) July 22, 2018
Fans who were lucky enough to be granted admission were given a new Toonami themed T-Shirt of the size of their choice (while supplies lasted).
Fans that attend #ToonamiPreFlight tonight will receive one of these new T-shirts. #SDCC pic.twitter.com/TLA9XW2kVW

— Toonami News (@ToonamiNews) July 22, 2018
The panel consisted of Toonami producers and the hosts of Toonami Pre-Flight, Jason DeMarco and Gill Austin. They were joined along with Steve Blum, the voice of TOM, and Dana Swanson, the voice of Sara. For the third year in a row, Steve and Dana cosplayed as their characters respectively, however, Jason and Gill opted not to this year. Jason and Gill mentioned that they wanted to cosplay as Popuko and Pipimi from Pop Team Epic, but various difficulties prevented that from becoming so.
— Steve Blum (@blumspew) July 22, 2018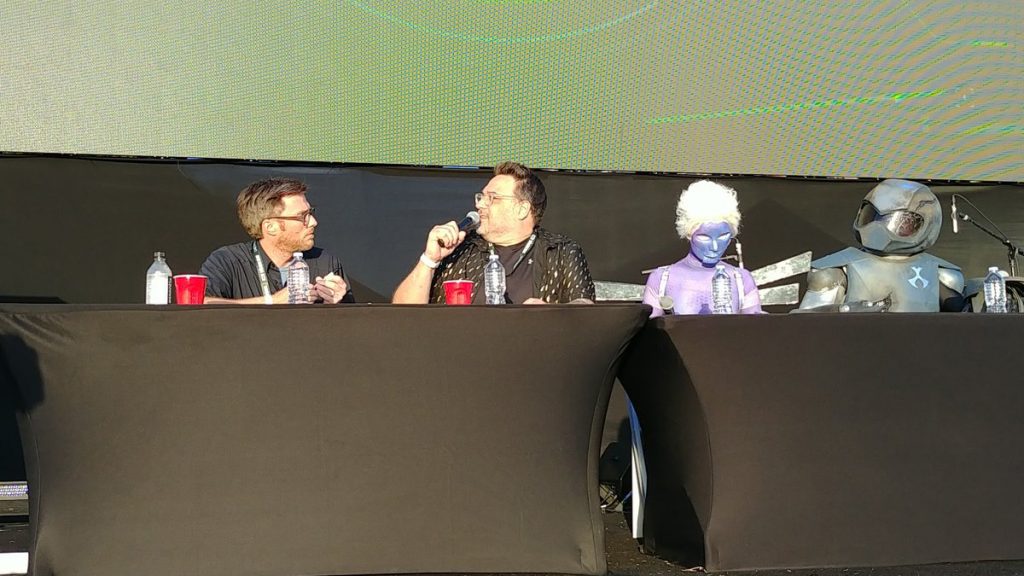 While JoJo's Bizarre Adventure part 4 was announced at Anime Expo, and Attack on Titan season 3 announced the week before, Toonami wasn't done with show announcements for the season, as they have announced that a third show was coming down the pipe. The third installment of the illustrious Naruto franchise in Boruto: Naruto Next Generations would join the better cartoon show beginning on September 29, the week after Pop Team Epic is scheduled to complete its run.
Naruto's son Boruto is coming to Toonami on September 29 https://t.co/D9kVWkAzpE pic.twitter.com/jGSfaH7Dy5

— Toonami News (@ToonamiNews) July 22, 2018
While there was some enthusiasm especially among the Naruto fandom, there was also general concern that fans who haven't followed the manga or the subtitled simulcasts were going to have trouble catching up to where Boruto starts in the Naruto timeline. This was combined with some sour grapes from those who wanted more Seinen, non-action shows, and/or One Piece back on Toonami, among other things. While Jason has promised at the panel that more seinen and non-action shows are coming down the pipe, he mentioned in an ask.fm post that action cartoons still remain the bread and butter of Toonami and that fans should support the shows they do like rather than complain about the ones they don't. Nonetheless, thanks to its dedicated fans and good relationships between Toonami and Viz, Naruto has proven that it is here to stay and much like they did with Dragon Ball Super and The Final Chapters last year, Shippuden will continue its run as usual while Boruto runs concurrently on the block this September 29 at 10:30pm Eastern.
ICMYI: Boruto's Dad and Naruto's Son, together on Toonami this September. @VIZMedia @shonenjump @maileflanagan @Amanda_Celine #Boruto #Naruto #Shippuden #SDCC #ToonamiPreFlight

— Toonami News (@ToonamiNews) July 22, 2018
Or maybe Naruto and Boruto?!! LOL!

— maileflanagan (@maileflanagan) July 22, 2018
The crew then played a game, the Partial Immersion Event game, which is basically a joke Total Immersion Event. Fans in the audience would help TOM and SARA guide their way through the plot, including:
Gather ye Stamina or Mana? Fans went with mana.
Space Down or Intruder 9, Der? Fans picked Intruder 9, Der?
Is it an intruder or Not an Intruder? Fans picked the Intruder.
Gather ya Mana gets a…8.5 out of 10.
The crew then had a Q&A session with the audience. Some of the answers of interest include:
To add a bit of serious to his TOM lines, Steve Blum ends all of his lines with "You Fuck".
One of the main inspirations for TOM was that back in the day, Jason and Gill wanted to make a robot friend.
Why was BoBoBo a Toonami show? Lunacy.
Pop Team Epic will be the first of hopefully many (non-action) shows for the block.
The biggest hurdle for FLCL: Figuring out how to do it in a way that would respect the original work. Also getting Steve Blum casted (He plays Yoga).
Favorite Toonami show of all time? Steve and Dana go with Cowboy Bebop, Jason goes with FLCL, and Gill goes with Outlaw Star.
There will be no TIE this year, as they are focusing on creating a bigger one next summer.
Toonami spent quite a bit of money on digital bikinis back in the day for Tenchi Muyo.
The end of the first hour of Toonami Pre-Flight came in another premiere showing of the first episode of the FLCL Alternative dub for those who missed the FLCL panel the previous day, or for those who just want to watch it again. Those that watched the panel through Adult Swim's livestream saw the FLCL 2 finale instead, though during repeat viewings, some have reported that they saw the FLCL 3 premiere.
The fans here enjoying #FLCL Alternative for the first, second, or third time. #SDCC #ToonamiPreFlight pic.twitter.com/qVq8qo4UfW

— Toonami News (@ToonamiNews) July 22, 2018
The second hour came the other main event of the evening: A performance of The Pillows, in their surprise finale stop in their Mono Me You Sun Tour, with concerts in major US cities including Boston, New York, Seattle, Portland, San Francisco, and LA. With all of their concerts sold out, and despite that the San Diego stop came in short notice, it's kind of no surprise that demand was high and Adult Swim had to go to a lottery system for entry.
Maki Terashima posted the full list of songs performed at SDCC, which you can see below:
I think I can
Freebee Honey
Carnival
Blues Drive Monster
Third Eye
Ride on shooting star
Spiky seeds
Star Overhead
ONE LIFE
LITTLE BUSTERS
Hybrid Rainbow
Advice
(Encore):
Thank you, my twilight
Last Dinosaur
Ladies and Gentlemen, The Pillows. #SDCC #ToonamiPreFlight pic.twitter.com/UxIEoMgxpX

— Toonami News (@ToonamiNews) July 22, 2018
This was actually one of the very first concerts I've ever attended, and while I may not be as, for lack of a better term, educated, as some of the more hardcore FLCL fans when it comes to the Pillows, seeing them perform what would normally be played in the show was a great experience and definitely made me much more of a fan. And no doubt it was cool seeing the crowd around me rocking and singing along to their songs, even if I assume many aren't fluent in Japanese.
The Pillows mentioned that this was their first time performing to a rousing San Diego crowd, and they hope it's not the last. It was however their last stop in their present US tour, as they headed back to Japan the next day.
After The Pillows were finished with their last song and to a rousing crowd, the panel ended, as everyone was asked to leave to make way for the Rick and Morty panel, which also required a separate lottery for entry (unless you were lucky enough to win that lottery or given special access as well). I didn't request for access to the Rick and Morty panel, and I wanted to watch some Toonami before bed, which was airing in the East Coast at the same time at this panel, so I just went on home.
Just a day after the panel, I met up with Steve Blum at his autograph booth, and was more than happy to have an interview with me regarding some of his Toonami work. You can check it out in the link below.
Toonami Faithful Exclusive: Interview with Steve Blum
Due to Comic-Con's success and perhaps due to SDCC reaching the hard limits of its growth, many other conventions have been following suit in an attempt to get some of San Diego's thunder. Disney most notably has been shifting its focus to the biennial D-23 Expo to cater more to their audience. (Though Marvel and to a lesser extent Star Wars still has a decent presence at SDCC.) New York Comic Con is quickly becoming the East Coast equivalent of this festival, as with Salt Lake Comic Con in the mountains. And of course, the anime industry has Anime Expo, which is becoming as large as Comic-Con in its own right. Comic-Con and the city of San Diego have reached an agreement to keep the convention going till at least 2021, but what happens after that is really anyone's guess. There have been proposals of expanding the convention center among other things to increase the attendance cap, however, those proposals have been mired in political red tape as of now. Comic-Con also is presently developing a museum in Balboa Park, which replaced the San Diego Hall of Champions which moved to Petco Park, which will showcase the past, present, and future of the convention in San Diego among other things.
But even as pundits have proclaimed that Comic-Con's appeal is fading, it hasn't fazed the hundreds of thousands who come every year and the millions who wish they could, and as long as those crowds are still interested in going to San Diego, I don't see this festival going away anytime soon.
Do I recommend going to San Diego Comic Con? Much like with the likes of the Super Bowl and Wrestlemania, the Olympics and the World Cup, going to Comic-Con is a bucket list item for those that are fans of comics and the mediums it has influenced. However, as I mentioned before, it's not for everyone. If you're not a big fan of big crowds and don't have the commitment of waiting in line to see the bigger exhibits, you might want to stay as far away from Downtown San Diego as possible during the event, or at least you're better off going to a smaller con (Some of Comic Con's organizers for instance have went on to create Wondercon in Anaheim as well as the San Diego Comic Fest, both of which are held in the Spring and both serve this purpose of a smaller comic convention in Southern California). And if you're only just interested in anime and manga, it's more fruitful going to the likes of Anime Expo or Otakon instead, as more members of the anime industry exhibit in those cons.
But for those that don't mind the crowds, or are even cool with people watching, having their chance at buying some rare items and getting some cool swag, are interested in seeing the big events, and seeing some celebrities and creators (even if how small the chances are of shaking their hands and getting their autograph the bigger they are), I've never known a more better place to be to experience the popularity of comics and the mediums that it has influenced more than in San Diego in July.
Comic-Con is no doubt an experience anyone who is interested in Comic conventions has to go at least once in their life, and it's no surprise that hundreds of thousands of people head to San Diego every year for this 4 day extravaganza, and millions more wish to go one day. To experience the very best and the very worst of what Comic-Con and comic conventions in general have to offer, I can say no more than to try and get a ticket and go see the experience for yourself.
If you missed it, also feel free to check out my Highlights and Musings article from Anime Expo 2018. Also soon to come will be a report on the Sword Art Online Alicization special premiere on September 15, which I plan on writing and publishing sometime before SAO 3 premieres in Japan on October 6.