For the second year in a row, Toonami had a presence in the San Diego Comic Con and we were there to cover the news that relates to the better cartoon show. Toonami previously did a live taping of Toonami Pre-Flight the year before, and this year we didn't hear if they would do one again until shortly after Anime Expo ended 3 weeks before. Unlike most panels during Comic Con, the event took place outside at the back of the convention center at the "Adult Swim Green" as it's called and took place from 8-10 pm at night when the exhibit hall was closed, though you still needed to have a Comic-Con pass to attend.
Heading over to @adultswim on the green for Toonami Pre-Flight. Line starts at 7. #SDCC pic.twitter.com/fUBpjjK8BT

— Daniel Limjoco (@AnimeSavior) July 22, 2016
Last year, the Toonami panel was located inside a Meatwad themed tent which seated around 50 people and took place mid-day on Saturday. This year, the panel was located out in the open grass on Thursday night within the boundaries of the Adult Swim Green, with a big screen up on stage. An Adult Swim official told me that the capacity for the event would be at 700 people. I'm can't say whether the panel reached capacity or not, but it was a pretty packed house despite the panel being at night when most Comic-Con goers headed home or to their hotel to get rested for the next day and everyone under 18 being forbidden to enter even with parental guidance.
Comic-Con veterans know that free swag can be pretty plentiful, and it was no exception if you attended this panel. Attendees to the panel (the first few hundred at least) each received a TOM 5 themed shirt with what apparently looks like flames coming out of him. Other swag was given out to people in the audience, including a Toonami themed key chain as well as a patch of TOM 5's face.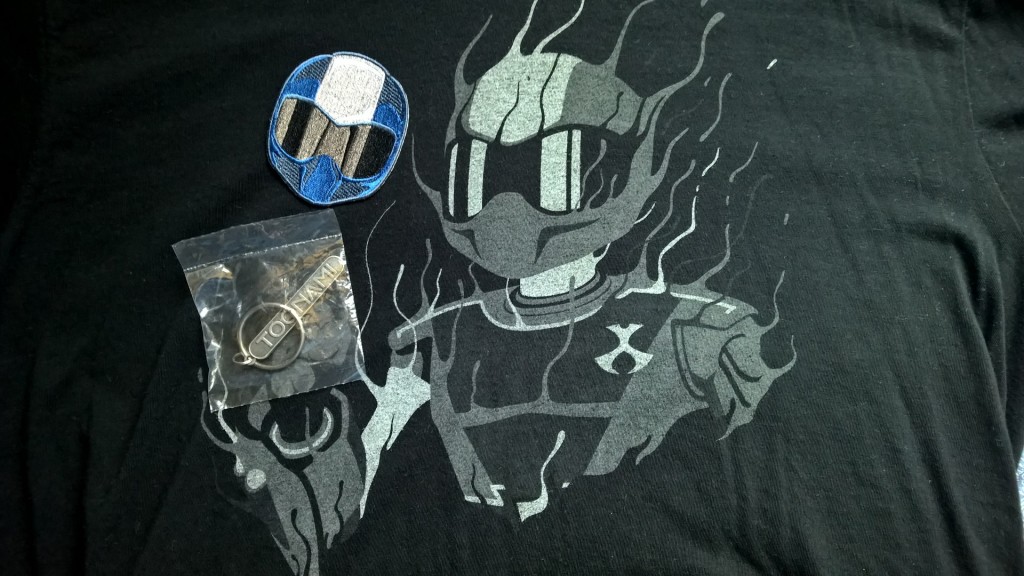 The festivities began at around 8:40pm, with Jason and Gill both coming onstage. Much like last year, Jason and Gill had once again opted to cosplay during the panel. Last year, Jason and Gill cosplayed as the Lich King and Garra respectively. This year, Jason cosplayed as the Great Saiyan Ape from DBZ, while Gill cosplayed as Captain Norris from 08th MS Team. Gill did pretty much all of the talking (though he needed to take off his helmet as it was hard to talk with), as Jason was in-character, doing ape roars when called upon.
When you dress as a Great Saiyan Ape for your panel, from beginning to end pic.twitter.com/KpLwIaXcPP

— DUKE TOGO DEMARCO (@Clarknova1) July 22, 2016
Despite that One Punch Man was announced at Anime Expo just 3 weeks earlier, Jason and Gill kicked off the panel with another show announcement that will likely serve as its replacement: the announcement that Jojo's Bizarre Adventure would indeed come to Toonami this October.
Jojo's was a highly requested show for the block and is a show that Toonami wanted to broadcast for a while, however broadcast rights were too expensive back when the dub was first released, despite the fact that then license holder Warner Bros being in the same parent company as Turner and Cartoon Network, and it's not an uncommon theory that poor relations between WB and CN contributed to that as well. But as they say, good things come to those who wait and since then, the rights would be passed to Viz, whom has better relations with Toonami, and the rest is history.
Breaking News: #JojosBizzareAdventure coming this October. #ToonamiPreFlight pic.twitter.com/zH6GoUQHoN

— Toonami News (@ToonamiNews) July 22, 2016
Steve and Dana would then come on stage, and surprisingly to many of us, cosplayed as their characters, TOM 5 and SARA 3.5 (with a full body) respectively. Steve and Dana's costumes looked pretty well designed, although both Steve and Dana seemed to have issues looking through and talking to the crowd with their masks on and Dana having to take off her Sara mask to host later segments. Nonetheless it's an improvement over the cardboard box helmet Steve wore last year.
Good morning #Toonami faithful. Sara and I made a quick Earth stop @adultswim @Comic_Con You're welcome. pic.twitter.com/9Ljtk3DY1J

— Steve Blum (@blumspew) July 23, 2016
Another announcement that relates to the Toonami-verse is the introduction of the next generation of Clydes. According to Gill, "It's been about 2 years later than we originally indicated that we would be bringing the Clydes back, but it's been a love filled process hand crafting, and we'll be introducing more and more animations as we go along." There's not much backstory at the moment regarding the new Clydes, though Jason mentioned in a later post that "Sara pulled em together from scrap parts to help out with maintenance around the base."
It should be interesting to see what role the new Clydes will play when Intruder III comes about this November. Speaking of which, no further details on Intruder III have been released as of yet.
Dana would next play some games with members of the audience. The first was "Blum or Doom" in which a member of the audience tries to match Steve Blum's voice in one of his roles as best as possible. The other audience menbers judged the performance, if they thought he or she matched Steve's performance, they yelled "Blum", if they didn't, they yelled "Doom". Winners each received a Toonami themed blanket. The other game was "Doommakers", a game inspired by the game show Let's Make a Deal, in which the contestant would give away something deemed useless (a USB cable for instance) for a bag containing relatively decent to useless items.
Finally to end things off, Toonami showcased an advanced screening of a few previews of the Suicide Squad film as well as Episode 2 of One Punch Man were shown, both which would be showcased on that week's Toonami two days later. There wasn't a Q&A session most likely due to time constraints since they started late, so the panel was finished soon after the One Punch Man premiere was over, and folks headed home or to their hotels for the next day.
Overall, despite that the event was rather short, we had a pretty good time attending. Seeing hundreds of Toonami fans pack the house is a very good sign for the block's popularity and health. I met some cool folks including @NerdSam92, one of our readers which you might know for cosplaying Dandy during last year's Comic Con. And of course while hearing some great Toonami announcements is always great, it's definitely special being amongst the crowd when panels and announcements are given live and being among the first to hear and give out the live reactions.
We didn't get the chance to meet the crew face to face, but it was getting late by then and they're pretty busy so I can't blame them. I actually did get to meet Steve in an autograph session earlier in the day and while I knew he was going to be there, I had no idea he was going to cosplay as well. Steve did mention to me that he was a big fan of the trending rundowns I make every week as well and is also happy about the social media efforts the Toonami Faithful showcase every week. It's definitely an honor hearing that from him, and I think I can speak for everyone here that we'll keep on it for as long as we can.
Thanks for the autograph, @blumspew. See you tonight. #SDCC pic.twitter.com/K0VnI0VRKI

— Daniel Limjoco (@AnimeSavior) July 21, 2016
These are some very interesting times for the better cartoon show ahead, and Jojo's addition should help Toonami's growth as it continues to serve as a gateway drug to anime and action cartoons for many fans. While Jojo's has been a highly requested and anticipated show for the better cartoon show, there have been concerns about the block getting stale to many viewers, in addition to possible issues with potential shows being left out of the block since long runners have a shorter turnaround period compared to shorter shows, especially considering 5 of the 7 shows in October are among the "long runner" variety.
While AmbientVirus has argued that this is a problem (though has been refuted by Jason himself) and Chris Maffris has said it isn't, my personal concerns with Toonami has been its overall growth and getting shows like Jojo's can help out the argument for an expansion of Toonami hours, so the block can serve more anime and action cartoons, both long and short, and see the block continue its growth to prominence and give the anime industry more general exposure. We've seen the block expand and contract as needed, and if Toonami can get the shows needed and there's a demand for it, we will see it happen. All I can really tell you is that if you want to see Toonami continue to grow and if you really want to see any shows air here (action oriented of course), keep letting Toonami know what you want and keep supporting the block by watching every week.
I personally haven't seen Jojo's myself, but it looks like a pretty fun show, and many that have seen the show have said that it is. We'll see what Jojo's and the block in general for that matter, really has for us in the months and years ahead.