Toonami fans were sent on an emotional rollercoaster watching the finale of Made in Abyss, becoming one of the more emotionally charged series to ever air on the block. But when something ends, that typically means a new series will join. Toonami announced that more Lupin the Third will be coming this month. And in the anime world, more answers are cropping up about the hack that has hindered Toei Animation. So let's dive into a brand new installment of This Week From Toonami!
Now that Made in Abyss' first season ended on Toonami, many were curious about what series would join the block. On Facebook, Toonami announced that the newest season of Lupin the Third (Part Six) will premiere on April 16 at 1:30 a.m. The series just wrapped up its simulcast run, and seeing it being able to join Toonami so quickly is a huge and welcomed surprise. One Piece will also continue to air for an hour after Adult Swim shrunk it to one to make room for Made in Abyss' one-hour finale. We've been covering Lupin the Third Part Six throughout our This Week From Toonami articles, so faithful readers should know what to expect with this newest story, which involves the legendary character Sherlock Holmes.
A new promo debuted on the block (although it was weird to see a smoking pipe blurred on in the video) to get fans more excited about the return of Lupin the Third to Toonami. The video hits the dark tone that the later Lupin series' have been having, and it should be a fun ride to see what the greatest gentleman thief has up his sleeve for another fun season.
Do we need any more examples of how popular anime and manga have become in the U.S.? The New York Times gave the nod to four popular properties as bestsellers in the manga and graphic novel category for April. My Hero Academia had the highest honor with its 30th volume ranking at third, the first volume of Demon Slayer reaching seventh, and the first volume of Chainsaw Man was able to solidify the top ten (ranking tenth). The fourth manga mentioned was the Demon Slayer – Stories of Water and Flame, right behind Chainsaw Man at eleventh. A category that has been tracked since 2019 also saw a boon of manga properties mentioned last month, including popular franchises like Jujutsu Kaisen, Chainsaw Man, and Demon Slayer. Once again, giving an example of how anime and manga have come since being viewed as niche and unfavorable.
More details have been revealed for the 10-year celebration of the JoJo's Bizarre Adventures anime! Author Hirohiko Araki drew a new visual to commemorate the occasion (which looks stunning). A collaboration event at the Tokyo Skytree tower will be held from May 10 to Aug. 9. For those interested, the building will be decorated with new visuals of characters. There will be a cafe with special menus, and videos will debut at the theater at the Skytree tower. More events such as an exhibition looking at the 10-year history of the anime and a pop-up theme park (in Ikebukuro) titled JOJO WORLD2 during the summer where all kinds of featured attractions, games, and prizes inspired by the hit property will take center stage. Also, the anime music magazine Lisani! will release a special volume covering the entire history of the anime this summer. It will include interviews with artists, staff members, and voice actors who have sung the theme songs for the series. And to wrap it up, a new visual for the upcoming JoJo's Bizarre Adventure game (All-Star Battle R) was released, culminating in an excellent schedule for fans to be excited! While it's saddening to have Toonami stop after Part Five finished, it's still a fantastic accomplishment for the anime to have a 10th anniversary.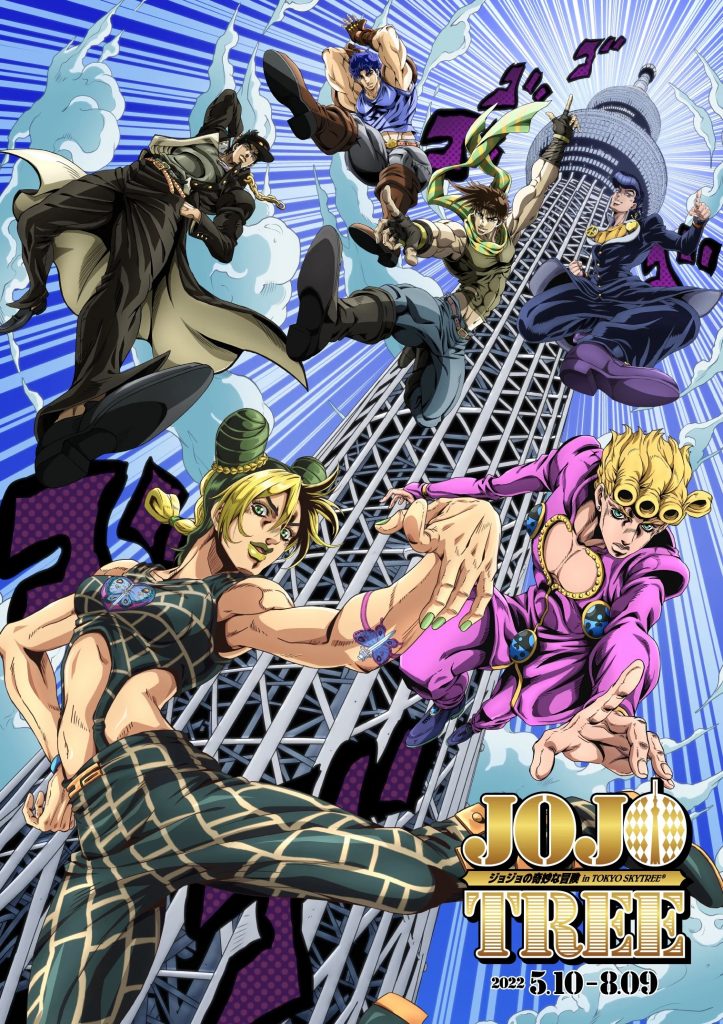 We now have answers as to what happened when Toei Animation was hacked. According to Anime News Network's article, NHK reported this week that according to their sources at the studio, the hack was a ransomware attack and that "the impact on production is still continuing," and they are hoping to get back to normal soon. Currently, the hack affects production for the new Dragon Ball Super film, and some are unsure if they can fully restore what was lost from this attack. But on a lighter note, after six weeks, new episodes of One Piece will return to Japan after the hack attack. So while there is still an issue over at Toei Animation, at least some things are returning to normal, and glad that One Piece fans will be able to see new episodes after a long hiatus.
In the latest Weekly Shonen Jump magazine, the hit video game Demon Slayer: Kimetsu no Yaiba – The Hinokami Chronicles will have a new paid DLC pack which will release seven new characters starting in the summer! And if you're wondering which characters will be included, wait no further as the company announced Uzi Tengen, Kamado Tanjirō, Kamado Nezuko, Agatsuma Zenizu, Hashibira Inosuke, Daki, and Gyūtarō. The video game has been a massive hit for Demon Slayer. Being available on many platforms (with a Nintendo Switch release recently) makes this latest development a huge one for those who have been enjoying the game.
Warner Bros. Japan published a new behind-the-scenes video for the two upcoming Fullmetal Alchemist films, Fullmetal Alchemist: Final Chapter – The Avenger Scar and Fullmetal Alchemist: Final Chapter – The Last Transmutation. The character Scar is highlighted in this video, adding more excitement for this latest film project for the beloved title. If you're interested in checking these movies out, the first one will premiere in May, with the second following in June. No word yet if they will be available in the U.S. to watch, but if they are, we will make sure you are aware!
We have a massive episode on the Toonami Faithful Podcast this week after a one-week break. Host Andrew "Sketch" Hingson is joined by Varun "VLordGTZ" Gupta, Bryan "Laser Kid" Johnson, Colt "Ambient Virus" Buhr, and Junior to catch you up on everything that happened the last couple of weeks. Topics included the Total Immersion Event, The Return, Adult Swim's April Fool's Day prank, and a recap of episodes 8 and 9 of Shenmue the Animation. And since there was a ton of news, Sketch was able to grab long-time contributor Duelist to discuss the latest schedule announcements Toonami has made. It's a lengthy episode, but one full of interesting commentary and hot takes that you'll want to hear when you get the chance!
In episode nine of Shenmue the Animation, staff writer Laser Kid has had enough of the same formula used during the Wude story arc. For the past few episodes, the series has followed the same recipe strictly, causing him to be annoyed and bored at the story progression (or lack thereof). It has felt too deliberate and has given Shenmue the Animation peaks and valleys that were rare during the adaptation of the first game. Still, the ending where Ryo and Xiuying split added some much-needed drama and created a philosophical conversation about revenge. If you want to know more, check out his review here!
A brand new episode of the Demon Slayer Podcast was published this week! Both VLord and Laser Kid discuss episodes 4-7 of the beloved Entertainment District Arc. Both cannot contain how impressed they've been over Gyūtarō's English dub performance. This series has continued to gain more notoriety as more episodes become available in English, and our experts have enjoyed every episode they've watched. Check out the entire episode to learn everything you'll need to know from this batch of episodes.

You can follow us on Twitter, Instagram, and Facebook. You can listen to the Toonami Faithful Podcast on Soundcloud, iTunes, Spotify, etc. for interviews, discussions, and breaking news updates. Listen at the link below or on your podcast platform of choice:
C.J Maffris is the Editor-in-Chief at Toonamifaithful.com. He also produced and directed the Toonami documentary, What Toonami Means To Me. Feel free to follow CJ on Twitter @SeaJayMaffris