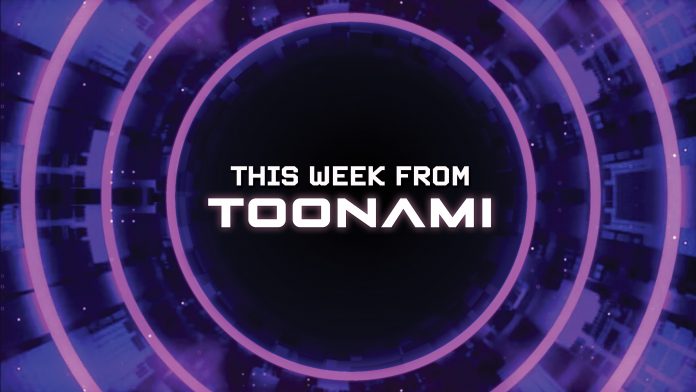 Welcome once again to another installment of This Week From Toonami. While there isn't much news about the block, it was interesting to find more information about video games of series you've seen on Adult Swim. Plus, a new chapter in the One-Punch Man webcomic, which hasn't happened in nearly two years! We have a lot of things to say and hope you'll check them out in our latest weekly article!

In a small bit of news, Toonami promoted what its lineup will look like in a couple of weeks this June on their Facebook page. The only thing to note is that on June 10, Unicorn: Warriors Eternal will have a more prolonged episode pushing things back to different start times, with Dr. Stone following at 12:45 a.m. The entire schedule goes as follows:
Midnight: Unicorn: Warriors Eternal
12:45 a.m.: Dr. Stone
1:15 a.m.: Food Wars!
1:45 a.m.: One Piece
2:15 a.m.: Naruto Shippuden
2:45 a.m.: My Hero Academia
During Toonami's latest broadcast, the block debuted a new promo to excite fans for a Memorial Day Weekend marathon. Unicorn: Warriors Eternal will be the series that will have Toonami all for itself. Fans will be able to catch every episode that has premiered so far for a nice relaxing night of fun featuring our favorite magical order. And while it may be on the shorter side, the promo itself has all the Toonami flavor that fans know and love, so hopefully, you'll check it out when you can.
During the MAPPA Stage 2023 event, a new visual for Attack on Titan was released to prepare fans for the epic conclusion. It was for the second half of Attack on Titan The Final Season Part 3, which is slated to premiere this fall (unless more seasons will be made, who knows). However, since it should follow similarly to what the first part was (a TV special), it's unclear if Toonami can broadcast it, especially since the first part still needs to make its way to Adult Swim. It's something to keep our eyes on, but if you've been enjoying Attack on Titan, this visual is just another piece of the puzzle that is nearly completed.
In nearly two years, a new chapter of the One-Punch Man webcomic was released this week. Typically, there have been long hiatuses for the webcomic, but fans were treated to something new to read courtesy of ONE in chapter 142. Hopefully, fans will be happy with what they were able to read, and maybe more will be on the horizon later this year.
Fans have a date for the DLC Reunion of Memories for the hit One Piece video game, One Piece Odyssey. On May 25, players can continue past the main story with the Straw Hats back at Memoria again. Many familiar faces appear in this trailer, including Crocodile, Enel, Mihawk, Perona, and Whitebeard, adding exciting elements for everyone to check out when the DLC is available. The game continues to look fantastic, and we hope those who have played are excited for what will come in this latest story.
Bandai Namco Entertainment announced an open beta test for the upcoming My Hero Ultra Rumble battle royale-style action game. From May 25 to June 2, players can test out this latest project and go plus ultra. It will have a total of 15 characters, which include Iida, Denki, Kendo, and a few more, for what should be a fun experience for any who try it out, especially since it will be dubbed in English. The free-to-play game will be available on PlayStation 4, Xbox One, Nintendo Switch, and PC via Steam, according to Anime News Network, and the format of this battle royale game might catch the eyes of some who are looking for something a bit different, yet still love genre.
Shocking many Sword Art Online fans, an older game that debuted in Japan in 2017 now has a listing page on Steam. Sword Art Online: Integral Factor might be finding an audience in the U.S., although a date has yet to be announced. According to Anime News Network, the game occurs during the Aincrad arc. Players play as their own avatars along with their partner Koharu and work to clear the 100 levels of Aincrad. It will be interesting to learn if this is a mistake or if an old gem will be playable in a new market.
And in some fun news, TMS Entertainment and Micheal B. Jordan revealed that an anime special by the director and writers of Megalobox would premiere after the film on May 26. It's a neat little special for theater-goers in Japan, and we will be interested in knowing how it looks.

In the latest Demon Slayer Podcast, Host Varun "VLordGTZ" Gupta is joined again by Bryan "LaserKid" Johnson to discuss the fifth episode of Demon Slayer's second season. Both have enjoyed Nezuko's involvement in this part of the story and the animation cuts within the battles, and they have been loving everything that has been adapted so far. We recommend you check this out when you can, as our expert group continues to bring the best analysis in all things Demon Slayer.

Did you enjoy this week's Toonami? Let us know by commenting below or directly on our social media. You can follow us on Twitter, Instagram, and Facebook. You can listen to the Toonami Faithful Podcast on Soundcloud, iTunes, Spotify, etc. for interviews, discussions, and breaking news updates. Listen at the link below or on your podcast platform of choice:
C.J Maffris is the Editor-in-Chief at Toonamifaithful.com. He also produced and directed the Toonami documentary, What Toonami Means To Me. Feel free to follow CJ on Twitter @SeaJayMaffris