We are just a few weeks away before Toonami is ready to celebrate its twenty-fifth anniversary! It's crazy to think how long and impactful the block has continued to be, especially since Adult Swim revived it in 2012 on Adult Swim. And to begin the celebration, Toonami will be debut Cosmo Samurai 2, which was announced during the broadcast! Curious about any other news that involves Toonami-related series? Don't worry; we will have that covered on the latest installment of This Week From Toonami!
During its recent broadcast, Toonami announced a new special that will join the block next Saturday (Feb. 19) to celebrate 25 years of being the best action-cartoon block on the planet. Starting at 1 a.m., Cosmo Samurai 2 will debut and be a four-week-long special for fans to enjoy. Many applauded the first Cosmo Samurai and are pumped that more of the story will be told for Toonami fans! Jason DeMarco mentioned how Toonami has things planned to commemorate this fantastic accomplishment, giving fans something to look forward to for the next few weeks!
Crunchyroll's Anime Award winners were announced, and Attack on Titan dominated the anime sphere, winning some huge awards. The first half of the final season took home four awards while snatching up Anime of the Year for 2022. Not to be outdone, Demon Slayer took home three general awards and four more voice acting awards to go home with a vaunted seven total awards from the event. Both being Toonami series, we couldn't be more proud of both, and love the recognition they are getting can only help the block become more apparent in the minds of anime fans. If you're curious about all the series that won and all the categories, make sure you check out the article linked here to find out!
We have an official date for when Fire Force will finally conclude. The chapter will debut on Feb. 22 to what has to be considered a fantastic run for the manga. That leaves only two chapters left and should have fans excited for the monumental conclusion of Toonami's favorite firefighters. Hopefully, more of the story will be adapted to an anime for fans to see on the block since it was a massive favorite among Faithfuls. But we'd like to congratulate Atsushi Ohkubo for ending an excellent series that many fans enjoyed.
During the most recent Nintendo Direct this week, the company revealed a Switch version of the popular game Demon Slayer: Kimetsu no Yaiba – The Hinokami Chronicles. Fans will be able to get the game on June 10. Previously, fans in Japan knew this was coming for them, but nothing was mentioned about a global release for the game. But many people suspected that this was only a matter of time and proved to be correct as soon Nintendo Switch fans will be able to duke it out with their favorite Demon Slayer characters.
Do you enjoy mobile gacha games and My Hero Academia? Well, you're in luck as Bandai Namco Entertainment released My Hero Ultra Impact for both iOS and Android phones this week. To get fans excited, the company also released a launch trailer of the game. It is free to play with in-game purchases. Anime News Network reports that the game is a battle RPG with a story mode based on the manga, 3-on-3 battles, and a home base players can customize for themselves. You can also gain special illustrations in the game, so it might be something fans of My Hero Academia might want to test to see if they enjoy it while collecting some cool perks within the game!
If there's one thing Toonami fans know, it's that Vash the Stampede had style. Most notably, his glasses, which fans can purchase now! Duo Ring, the mail order division of Tokyo eyewear store Shitsuji Megane eye mirror, has collaborated with Trigun to reproduce the distinctive sunglasses worn by the character, according to Anime News Network. In the link, you can see how exact these sunglasses are to the anime character and can even be prescribed lenses if asked. The price is $114 and comes with a case and cleaning cloth so they can stay perfect forever, which you can order here!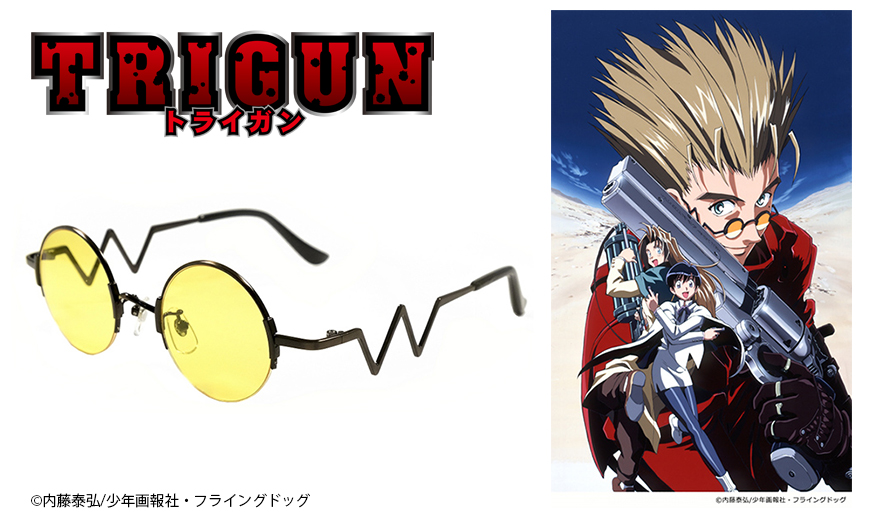 Have you ever watched a series that started so promising but fell flat in the following season? Many Anime and Toonami fans will quickly point out to The Promised Neverland. The maligned second season has received a bevy of dissatisfaction due to its direction in the adaptation. So Anime News Network produced a new YouTube video discussing why anime reboots should happen and be given a chance. Most notably, Fullmetal Alchemist was given a reboot in Fullmetal Alchemist: Brotherhood. And while many don't view the first Fullmetal series as terrible, seeing how a reboot enhanced the fandom and viewing experience is something other properties should probably look into in the future. Other series that received reboots that fans loved include Hellsing: Ultimate, Fate/Stay Night, and Fruits Basket. Maybe all the hype and positive feelings toward a series like The Promised Neverland is gone, but it's an interesting topic to talk about and one that Toonami fans might enjoy watching!
The newest episode of The Toonami Faithful Podcast was published; host Andrew "Sketch" Hingson is joined by Paul Pescrillo, Happy Kuro Kitty, and Bryan "Laser Kid" Johnson as they review the first episode of Shenmue the Animation. Laser Kid has experience playing the games, so he is a wealth of information to help clue the rest of the gang as they begin watching the new Toonami original. The conversation also moves to the announcement of Attack on Titan rejoining the block. It has many fans talking and feeling more excited as the struggles that Toonami faced seem to be in the rearview mirror. Make sure you take some time to check out what our panelists had to say!
Blade Runner: Black Lotus has ended on Toonami, but that doesn't mean we don't have a lot to say about it. Staff writer Umeko Long takes one final look into the series as she breaks down an emotionally charged finale. Taking aback at the prospect of talking to one's creator, Long dives into the religious undertones from Wallace Jr. as well as the crisis facing Elle in front of her. She loved how the final battle played out and was devastated at the sacrifice made by Joseph. The series had a feeling of finality in its final moments, but Long does hope to see more of Elle's story told in the future. Curious about how the final episode aired? Make sure you check out the last review of Blade Runner: Black Lotus!
Staff member Junior (formerly CabooseJr.) has graciously decided to stream the games on his Twitch channel to get fans more acquainted with Shenmue! It's been a treat to see what the anime is based on and why it has been a cult favorite with gamers. Make sure you check out his channel, and Junior should have videos of his playthrough if you weren't able to catch it!

You can follow us on Twitter, Instagram, and Facebook. You can listen to the Toonami Faithful Podcast on Soundcloud, iTunes, Spotify, etc. for interviews, discussions, and breaking news updates. Listen at the link below or on your podcast platform of choice:
C.J Maffris is the Editor-in-Chief at Toonamifaithful.com. He also produced and directed the Toonami documentary, What Toonami Means To Me. Feel free to follow CJ on Twitter @SeaJayMaffris