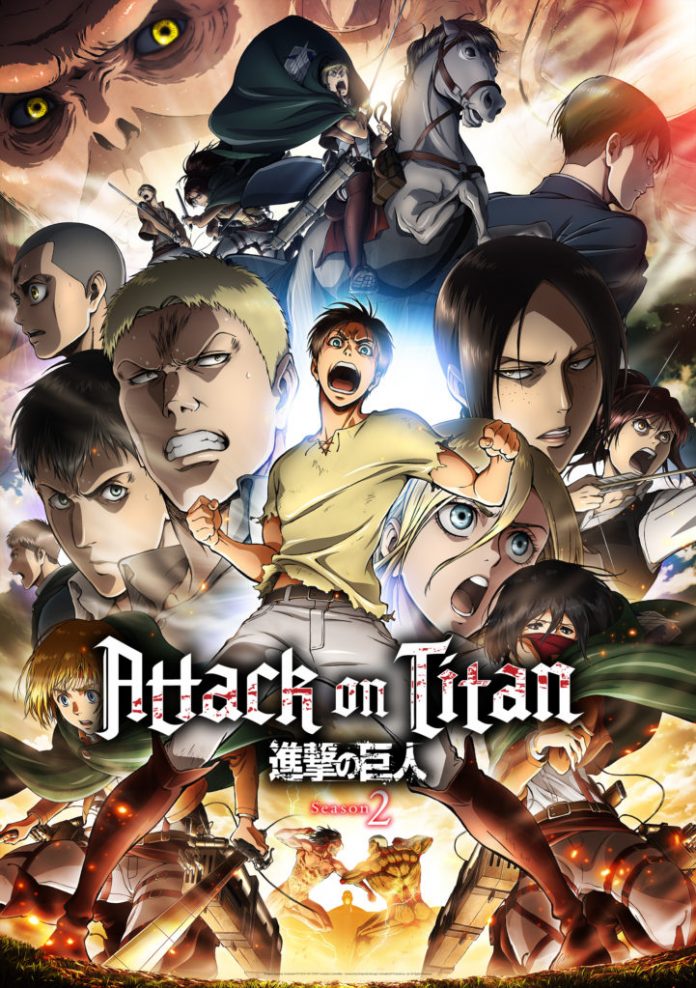 If there's one thing Adult Swim and Toonami does, it's keep fans on their toes. There's nothing wrong with that per sé, but I certainly wouldn't mind more direct ways of promoting something, like they did with Samurai Jack. However, if they didn't trick fans, the shock factor of their latest announcement might not have been as high as it was. It was during the surprise marathon of the first episode of Rick and Morty Season Three that Toonami dropped a little bump about a show coming to the block soon, and it's a colossal one. One that fans have waited over three years for. Attack on Titan Season Two is coming to Toonami.
Next week, #AttackonTitan returns to Toonami with Season 2 at 12:30 AM. Get ready. Only Toonami. pic.twitter.com/uPkMULCb9Y

— Toonami News (@ToonamiNews) April 16, 2017
This is not a drill. This is not a prank. This is happening. A series that many were waiting for will finally see the light of day.
It feels great to say that the Titans are returning to a block that has missed them for a while. It's exciting that this series will end up on the block even earlier than it was announced to be. Instead of premiering April 29, Attack on Titan is premiering a week earlier, on April 22 (thanks to a week off for Tokyo Ghoul and the doubling up on the last two episodes of JoJo's Bizarre Adventure). This move is probably due to FUNimation wanting to get the dub out on the same schedule that they normally have with their "SimulDubs." This, in turn, forced Toonami to speed up the process of airing this long-awaited title. Of course, when dealing with Attack on Titan, you can't have fans waiting too long, and that's what Toonami is preventing as we prepare for a massive English dub premiere.
What's even more impressive is how quickly Toonami worked to get this show on the block. Second to Space Dandy's world premiere, Attack on Titan Season Two will be the earliest a show has ever made it to Adult Swim's Toonami, and that's no small feat (episode four for the second season will stream on Crunchyroll before episode one in English airs on Toonami). I can only imagine the work that Toonami and FUNimation did to help get this series on as quickly as they did. As Gil Austin told us in a recent interview, series acquisition can take time, and usually the quickest they can get things to work out is around 2-3 months. And just think, Toonami is getting this a month after it airs in Japan!
I think what makes this a huge deal is that Toonami is striking while the iron is hot. Unlike Tokyo Ghoul, whose fandom has died down, Toonami picked up Attack on Titan while interest is up. Although the series lost momentum with its extended hiatus, I think this English dub premiere can help return the spark that was lost with casual fans of anime. Hardcore anime fans haven't forgotten or left the franchise, as it was a clear leader in ANN's streaming review polls. While the wait was probably too long for it to become an icon (close to Dragon Ball or Sailor Moon in the U.S.), it still is one of the more popular franchises to come out of Japan in recent years. Attack on Titan has a special place in the hearts of many anime fans here in the U.S. While anime isn't close to being mainstream, Attack on Titan is one of the few titles that broke through the cracks and became a hit to a larger audience than just anime fans. With the new English dub set to air on Toonami first (FUNimationNow will stream it Sunday nights at 10 p.m.), that should bring a plethora of eyes to block, which can only make fans of Toonami happier.
For those who either can't see it subbed on Crunchyroll or are just waiting for the dub, let me tell you that this season has been great. Similar to how fans felt about Samurai Jack coming back, it feels as if Attack on Titan is the same as when it left. The artwork, the animation, the music, the action, all feels just like it did when it premiered in 2013. That's huge, too, considering the director isn't Tetsuro Araki (it's Masashi Koizuka). You honestly couldn't tell the difference, unless you were told of the change. It doesn't feel as if this season has fallen off from the first season, and I think that is the primary reason to get fans even more excited about this premiere. I won't get into much detail to avoid spoiling it, but I can anticipate how enthusiastically fans will receive the first episode.
If there is one complaint I have, it's that I'm not a fan of where Toonami decided to place Attack on Titan in their lineup. I certainly felt that Attack on Titan could lead the block after Samurai Jack ended. But that would cause fans to have to wait longer to see the dub, which would mean potentially losing out on a ton of viewers (even if it's a month or so later). Anime fans would just watch it subbed online, and casual fans would simply wait until it was on Netflix or released on home media. I doubt Toonami would want to move Dragon Ball Super from its time slot, considering the deal it took to get the rights. I think it'd been nice to have it on before Dragon Ball Z Kai (just to break things up a bit), but I see their line of thinking by keeping the synergy of the two Dragon Ball shows together. Personally, having a 12:30 a.m. airing means I'll get to see it after I leave work (so I'm happy). However, I still think having it at that time is a downgrade from it's earlier premiere slot in 2014.
However, having it air at 12:30 a.m. makes me believe that the retention at the top of Toonami will be massive. Toonami will have Samurai Jack lead things off (which has been great), followed by an hour of the most well-known anime property in the U.S., and then follow that with one of the more anticipated series I can remember. The total viewers will be high, but I think the retention of the 18-49 rating will be so high it's scary. It'll also be nice to see how Tokyo Ghoul fares with the baton being passed to it by Attack on Titan. I do think Tokyo Ghoul has more appeal with casual fans than some might think, and this could become a real test to see if that happens. So while airing Attack on Titan Season Two earlier seems like a better idea, I'm still curious to see how this lineup works, because it has the makings to be one of the best lineups the top of the block has ever seen (if only One-Punch Man could have premiered at this time).
See who returns and who is coming to the English cast list of Attack on Titan Season 2! https://t.co/sXYoDxnKIh pic.twitter.com/h09izUehlz

— Funimation (@FUNimation) April 20, 2017
It's time to buckle up, because the Titans have returned. I'm excited to see how fans react to the story as it continues (it left off at a huge cliffhanger). I've kept up with the manga, and I cannot wait to see some of the scenes animated, as well as finally being able to talk about a few plot points with family and friends. This acquisition is a huge deal, and hopefully means that more "SimulDubs" (if attractive enough) will can their way to Toonami more often. The "hype train" is in full effect, and we are all here to enjoy the ride.
C.J Maffris is an editorial writer for Toonamifaithful.com. He's been craving more episodes of Attack on Titan for so long that he might have turned into a titan himself. Feel free to follow C.J to talk all things anime and Toonami on Twitter @SeaJayMaffris