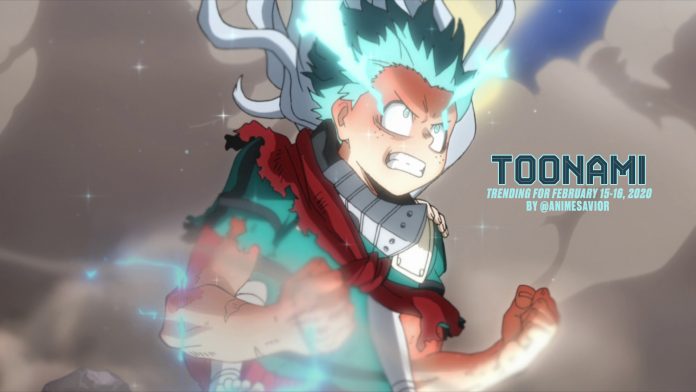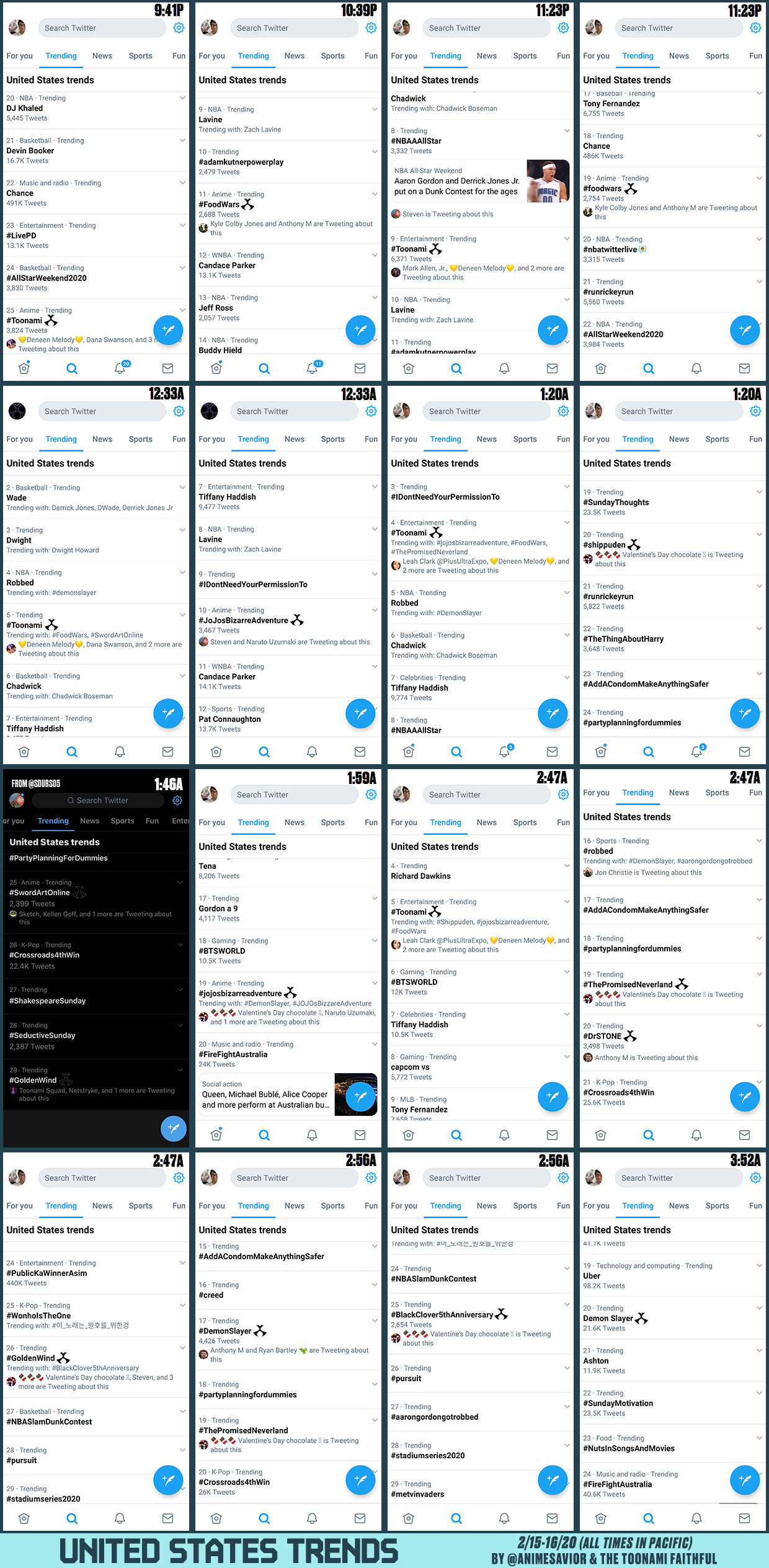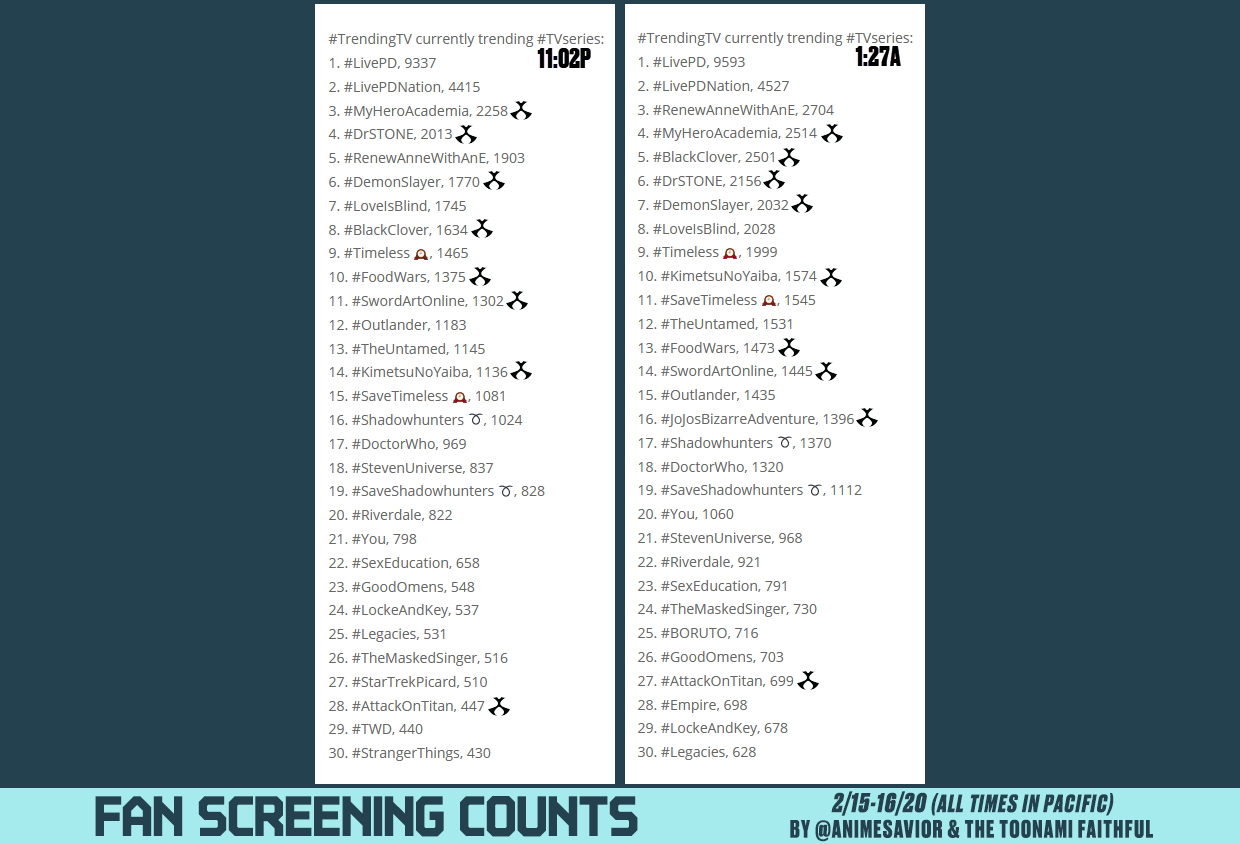 "If I can't save Eri, one small child who's relying on me to help her, then how can i call myself a hero who saves everybody? That's who I'm going to be! Even if it's already been decided, even if it's set in stone, I'll smash that future!"
– Izuku "Deku" Midoriya, My Hero Academia (Ep 76)
The Toonami Trending Rundown for Feb. 15-16, 2020.
The theme for this week's Toonami was "fighting fate" as My Hero Academia showcased Deku's big fight against Overhaul. Deku takes over in protecting Eri, as Mirio and Sir Nighteye are wounded as they try to wrestle Eri away from the Shie Hassaikai. But Overhaul was not going to give up without a fight as he fused himself with Shin and later Rikiya, creating a monstrous beast. Nighteye's foresight quirk envisioned the worst for Deku, as it predicts Overhaul killing him as he gets away with Eri. Ochaco assures him that Deku will do everything he can to fight that fate, and fight fate Deku did. Ramping up One for All to the max and with a powerful barrage of punches, he manages to take down Overhaul. Meanwhile, in Sword Art Online, Alice rejoins the Integrity Knights as they try to make do with the limited available soldiers that they have, going into battle with 3,000 knights as opposed to the over 50,000 Goblins the Dark Territory is expected to bring. Alice also recruited Ronye and Tiese to take care of Kirito as she leads the knights into battle, but not before the two were horrified to hear the news of Eugeo's passing (and Kirito in a comatose state). Both Ronye and Tiese felt responsible for their whistleblowing on Humbert and Rios' awful deeds lead to Kirito and Eugeo getting arrested. Alice, however, would assure them that they had no fault in what they did. And Black Clover commemorated its fifth anniversary of the release of the original manga on the night, as Vanessa, Magma, and Asta try to snap Luck out of being possessed by the elf Rufel. Although Rufel's sheer power proved to be difficult, the Black Bulls' Teamwork combined with Luck's will to protect and assist his friends would lead to Rufel's defeat and Luck being freed from the spell.
On Twitter, #Toonami would trend in the United States except for My Hero Academia, Black Clover, and Attack on Titan. Black Clover fans did trend #BlackClover5thAnniversary in commemoration of the franchise's milestone, and JoJo's Bizarre Adventure fans also trended #GoldenWind and the mis-spelling #JoJosBizzareAdventure. On Tumblr, #Toonami would trend alongside #BNHA and Kimetsu no Yaiba. The full list, including statistics and tweet counts from the Twitter app and Amr Rahmy's Fan Screening analytics app, can be seen below.
---

This week's feature was a game review of the newest Star Wars game from Electronic Arts and Respawn Entertainment, titled Star Wars Jedi: Fallen Order. It received a score of 8.5 out of 10.
Toonami also showcased a new music video, "Fall in Love" by Moaning. You can check that out below.
Viz Media this week released the seventh and final volume of the Hunter x Hunter boxsets. Containing episodes 124-148 of the series, which includes the finale of the Chimera Ant arc as well as the Hunter Elections arc, you can purchase a copy at major anime-selling retailers for $49.99 MSRP.
"Big Brother, give me a hug!" 💖 pic.twitter.com/wG99KU22rZ

— VIZ (@VIZMedia) February 18, 2020
Last Saturday, before Toonami's airing, Crunchyroll hosted the annual Anime Awards show. TOM and SARA made a cameo at the beginning of the show, which you can see below. On that note, Several Toonami-aired shows were big favorites among the voters this year. Demon Slayer took top honors, winning Anime of the Year, Tanjiro winning the "Best Boy" award, and the upcoming fight in Episode 19 winning the "Best Fight Scene." The Promised Neverland won the Best Fantasy award, and Isabella took the honors of Best Antagonist. Dr. Stone's Senku won the Best Protagonist award, and Attack on Titan directors Tetsuro Araki & Masashi Koizuka won Best Director honors. The full list can be viewed here.
Looks like TOM and SARA made an appearance last night on the @Crunchyroll Awards. #Toonami pic.twitter.com/CJ2T9EunZg

— Toonami News (@ToonamiNews) February 16, 2020
On Wednesday, Funimation hosted a red-carpet premiere event in Hollywood for the upcoming My Hero Academia film: Heroes Rising. I was at the premiere representing ToonamiFaithful.com, and we'll have a report on the events as well as interviews from the cast (including one-on-one interviews with Kristen McGuire and Zeno Robinson) real soon. For those wishing to check it out, the film will be premiering in select theaters beginning on Feb. 26.
Finally, in Sword Art Online news, Aniplex USA released an English translated version of the new teaser trailer for the upcoming fourth and final cour of Alicization. As previously mentioned, the trailer contains significant spoilers for those following the show through the Toonami broadcasts, so for those who watched the series via the simulcasts, you can check out the trailer by clicking here. The fourth cour is scheduled to premiere in Japan and on streaming sites (subtitled) beginning in April 2020. Aniplex and Toonami have yet to announce plans for the premiere of the English dub as of this time.
---

Tune in tomorrow night for the season finale of Dr. Stone among other great moments. As a reminder, Toonami will be condensing its lineup to start at 11:30 p.m. My Hero Academia will be taking this week off. It will return on Feb. 29, taking the timeslot Dr. Stone will be vacating as it heads to its off-season.
Not much else to say other than stay gold as always.
---
Legend: The shows listed are ordered based on their appearance on the schedule. Show trends are listed in bold. The number next to the listed trend represents the highest it trended on the list (not counting the promoted trend), judging only by the images placed in the rundown. For the Twitter tweet counts, the listed number of tweets are also sorely based on the highest number shown based on the images on the rundown.
United States Trends:
#Toonami [#4]
#DrStone [#20]
#SwordArtOnline [#25]
#DemonSlayer/ Demon Slayer [#17]
#FoodWars [#19]
#BlackClover5thAnniversary [#25]
#JoJosBizarreAdventure [#10]
#JoJosBizzareAdventure [Trended with #JoJosBizarreAdventure]
#GoldenWind [#26]
#Shippuden [#20]
#ThePromisedNeverland [#19]
Fan Screening Counts:
#MyHeroAcademia [#3 with 2,514 tweets]
#DrStone [#4 with 2,156 tweets]
#SwordArtOnline [#11 with 1,445 tweets]
#DemonSlayer [#6 with 2,032 tweets]
#KimetsuNoYaiba [#10 with 1,574 tweets]
#FoodWars [#10 with 1,375 tweets]
#BlackClover [#5 with 2,501 tweets]
#JoJosBizarreAdventure [#16 with 1,396 tweets]
#AttackOnTitan [#27 with 699 tweets]
Tumblr Trends:
#Toonami
#BNHA
#Kimetsu no Yaiba
Notes and Other Statistics:
Special thanks to @sdurso5 and others I forgot to mention for spotting some of the trends on this list.
The Force is Strong with This One. Only Toonami on [adult swim] on Cartoon Network.