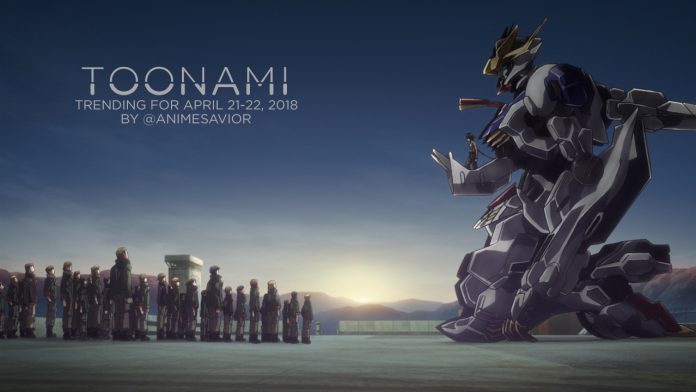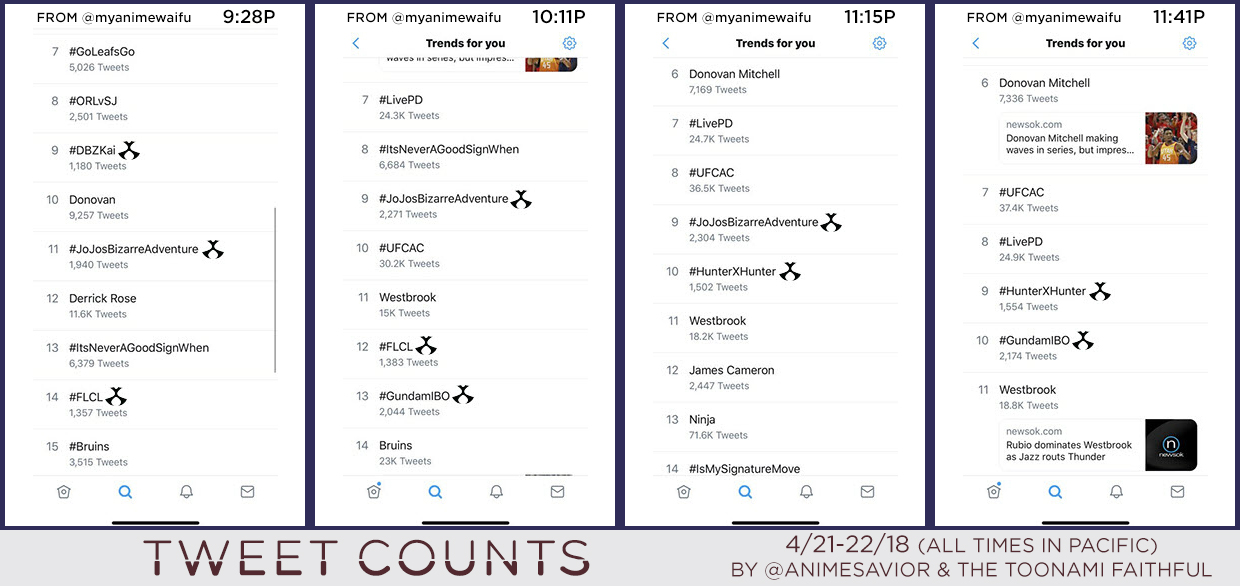 "Orga said something to me once, that he wanted to laugh it up with us once we all got to wherever it is that we were going. Sadly, Orga isn't with us anymore, although his words are still very much alive inside of me. Orga's final orders still hold true, and so I'll follow them with everything I've got. So if anyone gets in my way, in the way of Orga's orders, I will us all of my power crush them. It doesn't matter who they are.  Got it? Okay. So live until we die and carry out his orders"
–          Mikazuki Augus, Mobile Suit Gundam: Iron Blooded Orphans (Ep. 49)
The Toonami Trending Rundown for April 21-22, 2018. We're coming down to the final stretch of Gundam Iron Blooded Orphans as the Tekkadan initiate their last stand against the Gjallarhorn assault. Meanwhile, among other great moments, Trunks and co. see if Beerus stopping Zamazu has any effect on his future, while Polnareff has to stop Alessi and his de-aging stand before he manages to abort his and others' lives, and Colt tries to stop a major shift from the Chimera chain of command emerging from the queen's passing.
Not much trends to report resulting from the week's broadcast as the only trends spotted this week were Toonami and JoJo's Bizarre Adventure on Tumblr.
---

This week's feature was a game review of The Aquatic Adventure of the Last Human. It received an 8 out of 10 score.
In anticipation for the upcoming sequels set to premiere on June 2, Adult Swim also created an FLCL indent bumper which was shown during this week's FLCL. You can check it out below.
— [adult swim] (@adultswim) April 22, 2018
In Hunter x Hunter news, Viz Media is presently working on the 4th edition of the series' Blue-ray collection, which will contain episodes 51-75, which covers the entire Greed Island story arc that aired on Toonami last year. For those wishing to add this to their collections, its available to pre-order from Rightstuf with a $49.99 MSRP.
Hunter X Hunter Set 4 Blu-Ray is available for Pre-Order!
And it comes with an exclusive life-size gold Hunter License replica while supplies last, no Hunter Exam required!https://t.co/IDi9lDGaXr pic.twitter.com/e1wnhsUBtE

— Right Stuf Anime (@animetoday) April 16, 2018
And for those that missed the big news last Thursday…
---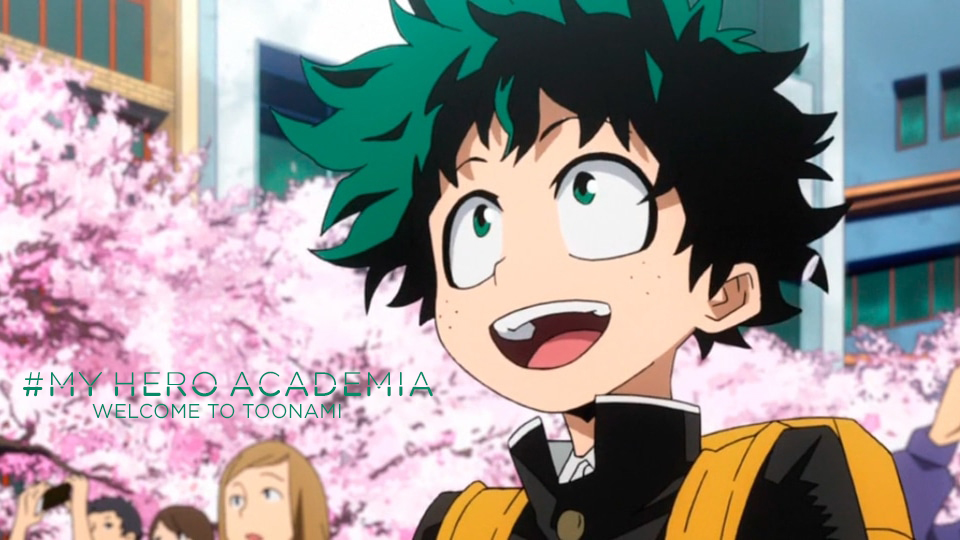 In an event that many fans have been waiting for for the past two years, Toonami has announced that the smash hit anime series My Hero Academia will finally be joining the lineup, beginning on May 5 at 11:30 pm Eastern as the replacement for Gundam IBO on the lineup. MHA's arrival will bring some additional changes to the schedule, with FLCL being moved to 12:00 am at least in the interm, while Hunter x Hunter and Black Clover will switch timeslots on 1 am and 1:30 am respectively. Toonami has mentioned that they plan to air all 3 present seasons, and with the way things are going for this franchise, I wouldn't be surprised if more are inbound in the future.
Similar to the successes of the likes of Sword Art Online, Attack on Titan, One Punch Man, JoJo's Bizarre Adventure, and Dragon Ball Super before it, My Hero Academia has grown to be one of this decades' most popular and well acclaimed anime franchises, with large streaming views on Crunchyroll, Funimation Now, and Hulu, and high DVD/Blu-ray and manga sales, it comes as no surprise that MHA has become one of Toonami's most requested shows.
Unfortunately as late as December 2017, Jason DeMarco has mentioned that acquiring MHA was not possible at the time due to competitors grabbing exclusivity to the premiere rights among other things we're not privy to. Because of this, it wasn't until now that Toonami was able to grab this show. But as the old saying goes, good things indeed come to those who wait, and from what we've seen, MHA's arrival has been largely positive from the anime community and long awaited by many among the Toonami Faithful. And for those who have been wanting to see what the buzz of this show is all about, we'll all I can say now is your chance.
In terms of trending, My Hero Academia would trend on tumblr as a result.
---

Tune in next week as Gundam Iron Blooded Orphans showcases its final episode, while Black Clover begins the Royal Capital arc, among other great moments. Until next week, stay gold as always.
---
Legend: The shows listed are ordered based on their appearance on the schedule. Show trends are listed in bold. The number next to the listed trend represents the highest it trended on the list (not counting the promoted trend), judging only by the images placed in the rundown. For the Twitter tweet counts, the listed number of tweets are also sorely based on the highest number shown based on the images on the rundown.
Tumblr Trends:
#Toonami
#JoJo's Bizarre Adventure
Tweet Counts:
#DBZKai [1,180 tweets]
#FLCL [1,383 tweets]
#JoJosBizarreAdventure [2,304 tweets]
#GundamIBO [2,174 tweets]
#HunterXHunter [1,554 tweets]
Notes and Other Statistics:
Special thanks to @JMB_70056, @myanimewaifu and others I forgot to mention for spotting some of the trends on this list.
At least the Whales are still here…Only Toonami on [adult swim] on Cartoon Network.
Toonami Tweets of the Night for April 21-22, 2018