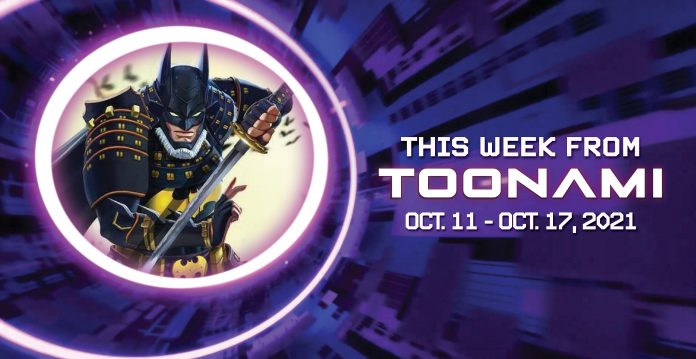 Big changes are on the horizon as Fena: Pirate Princess nears its conclusion, Toonami airs more Batman movies, and Blade Runner: Black Lotus prepares to premiere in November. Read on to find out more in this installment of This Week From Toonami!

The big news to come out of Toonami this week was their recent schedule announcements. Fans now have a clear picture of what will be airing on Adult Swim for the rest of this month. On Oct. 23, two more Batman films titled Long Halloween Part One and Two will air on television for what we believe to be the first time! And Fena: Pirate Princess fans, don't you worry, the series finale will air at its regular time at midnight. But the fun won't stop there, as Toonami will have a marathon of Fena: Pirate Princess airing on Oct. 30 from 10:30 p.m. to 5 a.m., meaning the ENTIRE series will be playing on Adult Swim!
A new promo for Blade Runner: Black Lotus aired on Toonami during the Batman films featuring footage not seen in previous trailers, as well as confirming the show's Nov. 13 midnight premiere. Black Lotus takes place in the year 2032, several years after Shinichiro Watanabe's Blade Runner Blackout 2022 short film. It's directed by Shinji Aramaki (Appleseed, Metal Skin Panic MADOX-01) and Kenji Kamiyama (Ghost in the Shell: Stand Alone Complex, Eden of the East) and animated by Sola Digital Arts.
A premiere date for part two of Attack on Titan's final season was announced this week. Episode 76 will premiere on Jan. 9. A short trailer featuring iconic scenes from the manga also accompanied the announcement. It will be interesting to see how fans react to the final moments of the series, and hopefully, Toonami fans won't have to wait long for the return of the titans!
The Demon Slayer video game, The Hinokami Chronicles, is finally out! Those waiting patiently can now get their copy of the fighting game to replay some of the more memorable moments from the first season of the anime and the Mugen Train film. Instead of reusing English dialogue from the TV series, this game features newly recorded English dialogue. Check out videos posted online featuring gameplay and different character options, and then pick up your copy to try it for yourself!
Crunchyroll recently sat down with the director (Ayataka Tanemura) and the Japanese voice actor for Asta (Gakuto Kajiwara) to look back at the iconic series Black Clover! Tanemura and Kajiwara discuss how they broke into their respective industries, Tanemura's duties after becoming Black Clover's director, and how their past experiences have helped them improve in their fields and impacted their careers. It's a must-see for Black Clover fans who want to learn more about what goes on behind the scenes of their favorite anime..
Fans of Fire Force, the manga is nearing its end. This week, Weekly Shōnen Magazine announced that the final fight in the popular series is quickly approaching, with a remarkable piece of artwork in the tweet below, getting fans excited for what is to come. Fire Force is written and illustrated by Atsushi Okubo (Soul Eater) and has been published since 2015. Currently, the series is 31 volumes in Japan, and 24 of them have been released in English.
Anime News Network is the first stop for fans to get all kinds of fantastic content. They produce articles, videos, and podcasts to help add another layer of fandom for many out there. This week, the website published a new video on their YouTube page looking back at the classic anime Yu Yu Hakusho. In the 16 minute video, Ember Reviews talks about why this series is a staple for shōnen fans, why Yusuke is a beloved main protagonist, and how the supporting cast shines throughout the show. This series is near and dear to our hearts at Toonami Faithful, and we cannot urge readers enough to check out this video and listen to the wonderful analysis and commentary on an all-time great!
Cowboy Bebop is in the news once again this week, as the Japanese cast of the iconic series will get to reprise their roles in the live-action adaptation on Netflix. Taiten Kusunoki will replace Unshō Ishizuka as the voice of Jet Black (who passed away in 2018 due to esophageal cancer). Masako Isobe and Romi Park are also cast as Mao and Shin, respectively. But that wasn't the only thing about Cowboy Bebop this week. The classic anime directed by Shinichiro Watanabe will be available to stream worldwide on Netflix starting Oct. 21, providing new and old fans with the opportunity to watch it before the live-action show drops the following month. Lastly, there is a collaborative effort with Mana Project Studio, Don't Panic Games, and Sunrise to make a tabletop game of the beloved property. With a Kickstarter campaign planned for 2022, fans will get the chance to live out their space bounty hunter dream in a game that is sure to be a hit with many!
The official Twitter account for Ghost in the Shell: SAC_2045 revealed a character trailer highlighting Section 9's Major Motoko Kusanagi to promote the upcoming compilation film, which features new animated sequences not seen previously in the first season. SAC_2045 is directed by Shinji Aramaki and Kenji Kamiyama, and Sola Digital Arts and Production I.G. produce it. The first season is currently available to stream exclusively on Netflix, with a second season confirmed to be released sometime in 2022.
A new Rick & Morty short, "The Great Yokai Battle of Akihabara," premiered after Batman: Under the Red Hood on Oct. 16. The short is directed by Masaru Matsumoto (Starship Trooper: Traitor of Mars) and animated by Sola Entertainment, Sola Digital Arts, and Yamato Works, Inc. If you missed it live on television, don't fret! The short is available to watch on the official Adult Swim YouTube channel.
Rick's toaster is broken. To repair it, he and Morty must go to Akihabara to find the perfect screw, and battle an old rival along the way.
Hip-hop sensation Megan Thee Stallion recently made a guest appearance on the First We Feast YouTube series Hot Ones, where she talked about being an anime fan, as well as how much she love Black Clover and its loud-mouthed protagonist Asta. Check it out in the clip below! (Warning: NSFW language)
Did you know there's an exhibit for Inuyasha and Yashahime: Princess Half-Demon currently open in Tokyo? YouTuber & internet personality Reina Scully shares her experience at the event in her latest vlog, including photos and (extremely cute) limited-edition merchandise available only at the exhibit! Fans of both shows will not want to miss this. Check it out: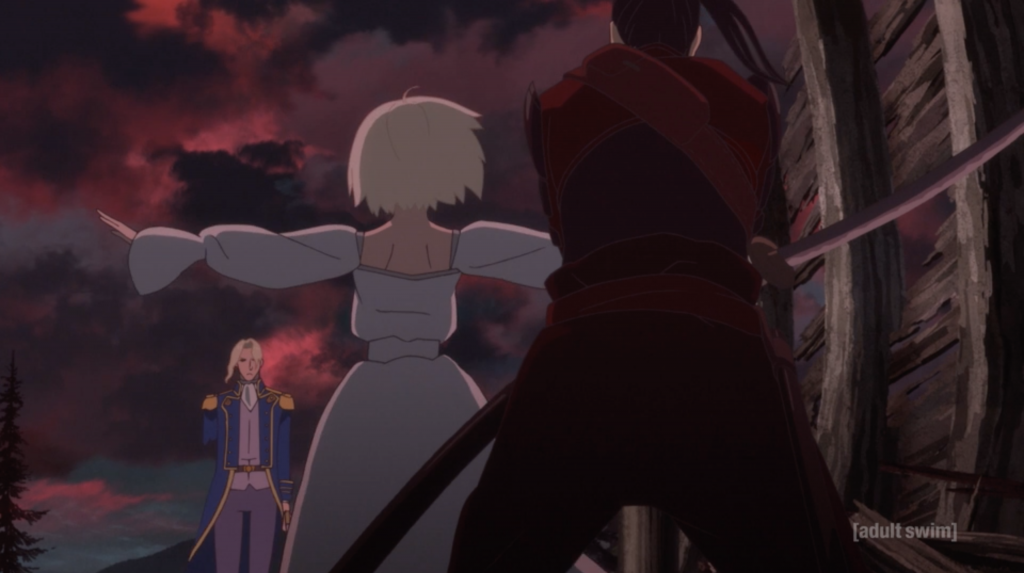 Yukimaru and Fena ascend the large stone staircase and find themselves face to face with the ruins of a giant ark. Meanwhile, Abel and his soldiers encounter the Goblin Knights in the treasure room. The captain of the Blue Giant is overjoyed by the sight of the treasure and runs to it right away. However, his joy is short-lived when Abel shoots him and declares that anyone who tries to touch the gems will be shot. His eyes change from blue to red, and a terrifying aura radiates from his being. The Goblin Knights attack prevents Abel and the soldiers from pursuing Fena, but Abel escapes, albeit gravely wounded.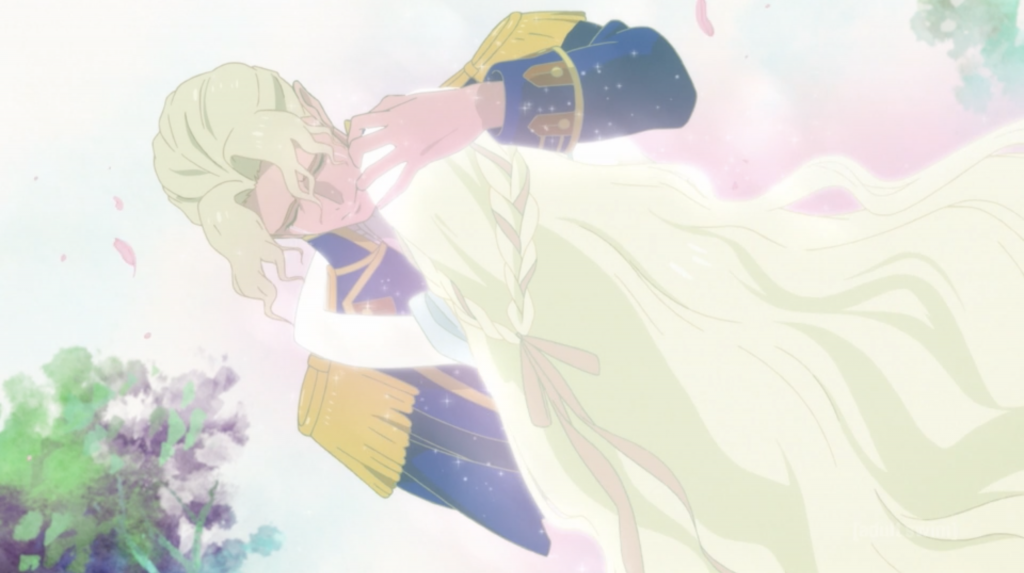 As he approaches Eden, the sky turns red and stormy. When he finally reaches Eden, he declares that Fena is no longer applicable to him and tries to kill her. Yukimaru intervenes, but Abel impales him with his sword. Fena stands up to Abel, pledging to protect Yukimaru from further harm. Suddenly, energy manifests behind Abel, taking the form of Fena's mother, Helena. Abel, broken from his trance, stumbles toward her, and they embrace. His body and spirit disappear, floating away like petals, as Helena leaves her daughter with final words of encouragement before disappearing herself. Suddenly, Franz Houtman and Cody appear before Fena and Yukimaru. Franz reveals that he isn't Fena's father after all, and Cody calls himself the Observer responsible for Fena's journey from the start.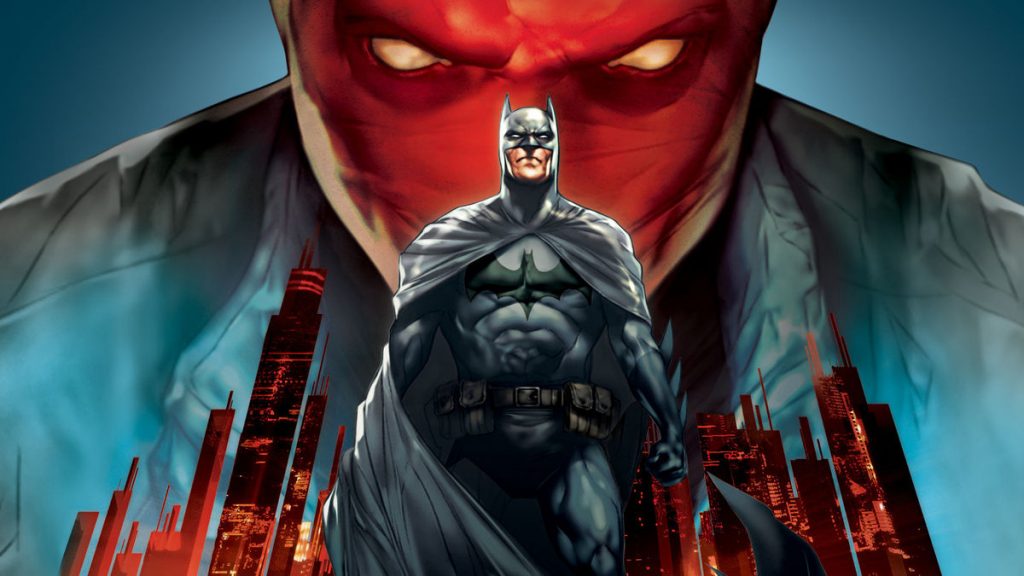 Toonami aired Batman Ninja and Batman: Under the Red Hood as part of the DC FanDome celebration. Both films are currently available for streaming via HBOMax if you missed watching them live on Toonami. Regular Toonami programming will likely resume after the Fena: Pirate Princess marathon on Oct. 30.

There was a lot to talk about when it came to Toonami, and thankfully the staff at Toonami Faithful have you covered. Host Andrew "Sketch" Hingson is joined by Happy Kuro Kitty (Kuro), Varun "VLordGTZ" Gupta, and Bryan "LaserKid" Johnson as they discuss the recent trailers for both Blade Runner: Black Lotus and Shenmue. Other questions crop up throughout this episode such as when or if Demon Slayer's second season will join Toonami and what other series could Toonami be looking at with their schedule set to have many changes in the near future. Other fun side topics come up such as their least favorite One Piece arc, Lupin the Third news, and due to the late marathon news, CJ and Kuro joined Sketch for an emergency addition to discuss the latest schedules for Toonami in Oct. It's a long episode, but one full of great content for you to hear!
A new FenaCast episode debuted this week, and Sketch was joined by Kuro once again and CJ for his first guest appearance on the podcast! The three talk about episodes nine and ten, with CJ feeling a ton of information was thrown at viewers, feeling it might have been better if episode nine was split into two. Kuro thought that the historical elements are thrown around in Fena: Pirate Princess could've been used better to make the series even better than it is. The group also talk about the beautiful animation and music and cannot wait for the last two episodes! Curious about everything they had to say? Make sure you listen to this podcast episode to find out!
Toonami Faithful is making their rounds as they continue to be joined by cast members of Fena: Pirate Princess. This week, CJ is joined by Director of Social Media Celia Rose to interview the English voice of Shitan, Nicholas Corda. Our hosts ask Nicholas what's it been like to be on a project on Toonami that has garnered a TON of attention online, his thoughts on watching the character growth of Shitan, and what it is like voicing an anime heartthrob! They would even dive into the littered history aspect in Fena: Pirate Princess, leading to such a fun and excellent discussion you won't want to miss! Make sure to check that out when the interview is published!
In the latest review for Fena: Pirate Princess, CJ talks about how the series has been setting up something big for quite some time. Typically, the long wait could be viewed as a stall tactic or a device that might make some fans feel bored. However, he writes that the setup that Fena: Pirate Princess is laying for fans looks to be an explosive conclusion that has left him (and others) wanting more. Things are getting more exciting now that Fena and the Goblin Pirates have reached Eden and acquire a treasure as vast as the sea itself. However, Abel and Cody are hot on their trails and are almost at the destination Fena is. But, many still cannot stop talking about that beautiful scene of Fena dancing due to the animation and music. It was breathtaking and became our writer's favorite moment of the entire series. Make sure to see what CJ had to say in his latest review here!
Our friends and staff members working on the Demon Slayer Podcast published another episode this week! Host VLordGTZ is joined by editorial writer LaserKid, former staff writer Alien Renegade, and frequent guest Meowth900. Now that season two premiered, the group is all giddy to talk Demon Slayer and give their thoughts on the Mugen Train arc! They also talk about the anime-original content that has been made for the first season, and possibly another way for ufotable to get fans even more pumped for the following season! Fans of Demon Slayer will not want to miss what this illustrious group had to say, so make sure you spare some time to listen!

Did you enjoy this week's Toonami? Let us know by commenting below or directly on our social media. You can follow us on Twitter, Instagram, and Facebook. You can listen to the Toonami Faithful Podcast on Soundcloud, iTunes, Spotify, etc. for interviews, discussions, and breaking news updates. Listen at the link below or on your podcast platform of choice:
C.J Maffris is the Editor-in-Chief at Toonamifaithful.com. He also produced and directed the Toonami documentary, What Toonami Means To Me. Feel free to follow CJ on Twitter @SeaJayMaffris
Celia Rose is the Director of Social Media for ToonamiFaithful.com. Feel free to follow Celia Rose on Twitter @planetstwinkle.