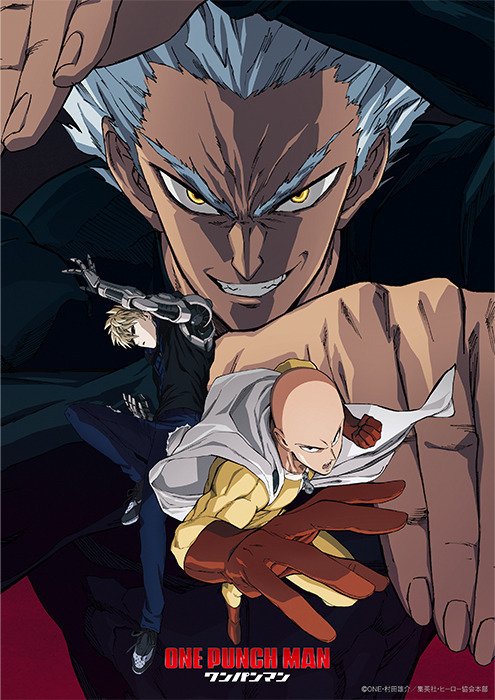 This week, rumors have been swirling around the internet on what Shueisha and JC Staff's plans are for the next season of One Punch Man will be. On Sunday Morning, Viz Media put those rumors to rest as they released the official trailer for the second season of the hit anime series on their Twitter.
Announcement: The most powerful hero returns! One-Punch Man Season 2 comes April 2019. pic.twitter.com/ZwrCljO7vU

— VIZ (@VIZMedia) August 12, 2018
Viz also announced that the new season is scheduled to premiere in Japan and subtitled on streaming sites on April 2019. Previously there were rumors that the new season may be delayed to 2020, but those rumors have been proven false. However, several hours prior to the announcement, the release date was leaked via this tweet below.
👊4️⃣👊2️⃣0️⃣1️⃣9️⃣👊 pic.twitter.com/8XBhonEBiA

— ☆オードリーAudrey☆ (@aitaikimochii) August 12, 2018
One Punch Man previously premiered its first season in Japan and was simulcasted on Hulu among other sites from October 4 to December 20, 2015 and was later dubbed and premiered stateside on Toonami from July 16 to October 8, 2016. Toonami is presently airing an encore run of the first season which presently airs weekly at 2:30 am ET. It is still unknown when a dub will be commissioned or if and when Toonami will air the new season at this time.
As we mention regarding all potential Toonami shows, if you do wish to see One Punch Man return to the block for season 2, we do recommend that you continue giving your support to the show and Toonami overall, and to send your show recommendations to their Facebook and Tumblr message boxes as well as letting Viz know in their respective social media outlets.