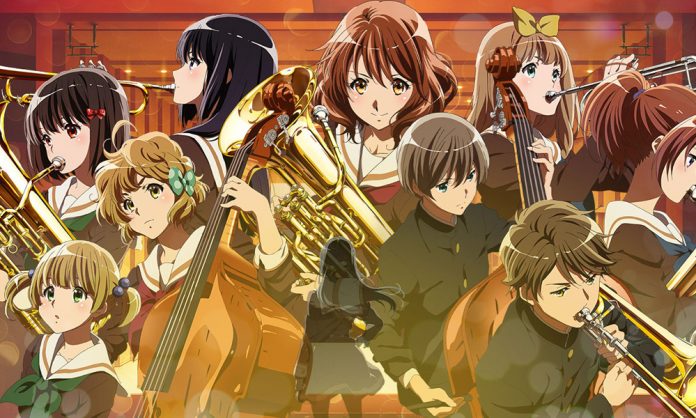 This review contains spoilers for both seasons of Sound! Euphonium and its spinoff film, Liz and the Blue Bird. 
I've been a massive fan of Sound! Euphonium since it first aired in 2015. Out of every Kyoto Animation produced series, this was the one that subverted my expectations and surprised me the most. I went in expecting a fun and joyous romp similar to their other musical series, K-On! Instead, I got a serious drama about the stresses of being in a competitive concert band, an experience I profoundly relate. Being in a concert band throughout all of middle and high school, Sound! Euphonium resonated deeply with me and hit every nostalgic note possible. Fast forward to 2019 and my love for the series hasn't wavered a bit. When I heard the screening of the sequel film, Our Promise: A Brand New Day, would be playing close to where I live, my hype was through the roof. I'm thrilled to say that the long-awaited movie gave me everything I wanted and then some. 
THE LOWDOWN
Sound! Euphonium follows the fictional Kitauji High School's concert band as they deal with their new advisor (Noboru Taki), along with each other, in order to bring prestige to their school via regional and national competitions. The main character of the series, Kumiko Oumae, is a first-year euphonium player with a laissez-faire attitude about life. Her best friend and foil, first-year trumpet player Reina Kousaka, is the opposite: serious and headstrong. She, along with Taki and the other members in her section, allow Kumiko to grow as a player and a person and become an eventual driving force in the Kitauji band.
In the movie, Our Promise: A Brand New Day, Kumiko is now a second year, the low brass section leader, and one of the freshman advisors of the band. After Kitauji only places third in the previous national competition, the pressure is on as the band works hard to earn another shot at the gold. While simultaneously dealing with the new blood and all the baggage that comes with trying to get a group to accomplish a collective goal. Can Kumiko keep her section together? Will the band make the cut again?
Look who stopped by our office! Thank you @ItsXanthor @LauraPostVoice @WritingMadness for the performance 👏

Keep an eye out for something super fun and LOUD coming soon!! 🎷🎺✨ #euphodub pic.twitter.com/WKbL6ZaiOc

— ELEVEN ARTS (@ELEVEN_ARTS) July 9, 2019
THE CHARACTERS
One of the best things about Sound! Euphonium is the eclectic, colorful, and complex cast of characters. Every character-building moment from the prior works, from Reina's solo audition to Nozomi and Mizore sharing a tearful embrace in Liz and the Blue Bird, stuck with me throughout the years. Due to the attachment to the original cast members, I was pretty cautious towards the new additions to the cast. Thankfully, the new freshmen fit right at home, personality-wise, although the spread of development and relevancy was massively uneven.
The most interesting of the freshmen, euphonium player Kanade Hisaishi and tuba player Mirei Suzuki, received the most attention and development in the film. Mirei is your typical "kuudere" that checks off all the basic "cool girl" trope codifiers: tall, quiet, shy, and wears a naturally unapproachable expression. Beneath the icy cold exterior lies a struggling loner that works just as hard as everybody else and proves it through her playing. Mirei isn't the most profound character in the series, but she's still a decently crafted one, nonetheless. Kanade, on the other hand, is by far one of the most complex characters in the entirety of Euphonium. A girl of many faces, Kanade is hard to group into one single personality type. She's sweet but sour, emotional yet uncaring, friendly yet rude. Her enigmatic behavior kept me and the rest of the bass section guessing to the end of the film. Kanade was at her most intriguing when juxtaposed with Kumiko. She serves as both a stark contrast to the new section leader and also a reminiscence to Kumiko's unmotivated past. I thoroughly enjoyed her arc in the movie and, if Euphonium decides to continue, I hope we get a lot more of her.
The other two newbies, Contrabass player Motomu Tsukinaga and fellow tuba player Satsuki Suzuki (no relation to Mirei) spent a lot more time in the background and sadly left little impact in the overall grand scheme of the film. Motomu and Satsuki did serve as a bit of a supplement to Mirei's character arc. Motomu also had trouble fitting in, while Satsuki spent most of her screen time alongside Mirei. Unfortunately, that's as far as they go. 
*Euphonium intensifies* pic.twitter.com/jhUOey4wYL

— Erica Mendez @ 🖤🦅 (@tsunderica) June 27, 2019
Despite the movie serving as an introduction to a brand new group of freshmen, the familiar characters still got their chance to shine. Kumiko, being the series' main protagonist, was front and center throughout all the film's drama. In the first two seasons, she tends to take a more passive role in some of the character arcs. Thanks to her new leadership position in addition to all her encounters with the Kitauji band family, she slowly exits her comfort zone and gets some more much-appreciated depth. Perhaps the most prominent displays of growth, in my opinion, came from the current president and vice-president of the Kitauji Music Club, Yuuko Yoshikawa and Natsuki Nakagawa. Unlike Kumiko and Kanade, Yuuko received most of her development before the movie. Seeing her gradually transform from a complete brat to somebody uncharacteristically insightful to the natural-born leader she is in Our Promise made me feel so proud of her. Natsuki, on the other hand, was the more central of the two within the film's story. Previously lazy and unmotivated, Natsuki takes on her new vice-presidential role and her upcoming audition with gusto and does her part in making Kanade feel at home with the other players very well.
I didn't dream it; this really happened! So proud of everyone involved in the Sound! Euphonium movie dub. It was such a delight to watch and I loved hearing real life friends playing together as on-screen friends. What a magical experience this was. Forever grateful for Hazuki. pic.twitter.com/Tye2nKdyM0

— Jennifer Losi (@JenLosi) July 16, 2019
THE STORY
Although I'm glad we got brand new content to begin with, I wish the ideas presented in the movie was told in a new season. All of the new freshmen, except for Kanade, felt more like accessories to the film than complete characters. Mirei came the closest to being fully realized unlike Motomu and Satsuki, but her arc felt slightly rushed compared to the amount of attention Kanade got. Also, the basic skeleton of the freshmen's stories felt like they took a little too much inspiration from previous events. Mirei's arc gave similar vibes to Natsuki at the beginning of the series, but thankfully she evolves into more of her own character. Kanade's arc, while mostly original, took a lot of cues from the trumpet solo audition controversy in season one, but presented it from a different perspective. Reina, a freshman at the time, getting the part over third-year Kaori Nakaseko made several ripples within the more clique oriented parts of the band Reina proved herself by outperforming the senior. Kanade finds herself in a similar situation with third-year Natsuki, and, having already experienced being ostracized thanks to disrupting the natural age hierarchy in middle school, attempts to do the opposite of Reina. As simplistic and redundant as it sounds on paper, the arc managed to surprise me with how involved Natsuki was and the breakdown of Kanade's multifaceted personality.
Sound! Euphonium reminded me of all I went through growing as a musician during high school. Particularly the crushing realization that I was lagging behind but also the good times shared with my choir mates and the thrill of giving our all in a performance. #PrayForKyoAni pic.twitter.com/NALMz5s2C9

— Sketch (#PrayForKyoAni) (@Sketch1984) July 19, 2019
The overall weakest part of the film was, without a doubt, the small romance subplot. Euphonium didn't have to rely on any romantic tension to build characters up, and it felt seriously weird to include it as a bit of an afterthought within the scheme of the movie. Trombonist Shuuichi Tsukamoto had a pretty minor role in the series, being one of Kumiko's old friends that occasionally interacts comically with her and nothing more. His slight crush on Kumiko was briefly shown through his body language but held no real weight in determining Kumiko's character. Despite that, Our Promise spends a fair amount of time focusing on the suddenly-budding romance between the two and it feels unnatural (especially since Kyoto Animation spent two seasons overplaying the friendship between heterosexual life partners Kumiko and Reina). The romance was probably a lot more pronounced in the source material, but the handling in this adaptation seems to show shades of poor planning ahead.
Despite those slight hiccups, the story is overall sound and brought me to tears in its most emotional moments. The characters work well within their environment and play off of each other perfectly. Their individual developments culminate into the spectacular finale, leaving me completely satisfied much like Liz and the Blue Bird. Speaking of, I highly recommend viewing Liz and the Blue Bird before watching Our Promise, as it makes the final performance that much more meaningful. The performance of the song of the same name is one of the absolute best performances in the entire franchise. Knowing the importance of it to flute player Nozomi and oboe player Mizore, made me cry waterfalls. Despite the overabundance of moving parts, the film functions greatly as the sequel a lot of us have been waiting to see. 
THE VISUALS
It's Kyoto Animation. That's all you need to know. Has there ever been a show by Kyoto Animation that wasn't well-animated? At this point, it's par for the course, so to say that Sound! Euphonium succeeds here wouldn't  be anything of note. The shining achievement with this franchise has always been its musical performances. Kyoto Animation always tends to excel at creating realistic performances with minimal CGI usage, but Euphonium takes it to a whole new level. It's evident that the animators studied live performances.  Every movement, from instrument fingering, to the volume of the percussion instruments, to even the tiny nuanced movements of the performers getting into the music, is borderline lifelike and brought endless smiles to my face. Outside of the performances, the art style is bright, vibrant, colorful, and is backed up by the fantastic cinematography that KyoAni is known for providing. It's splendor to the eyes and is breathtaking.
THE AUDIO
What's a good music series without good music? Sound! Euphonium never fails to deliver on the aural front, with sublime, emotional compositions and performances that elicit a wide array of emotions. The performance of Liz and the Blue Bird, especially, is one of the highest points in the entire franchise. The piece itself is already mesmerizing and beautiful, but the flute and oboe solo is a marvel in sound design and composition. The original soundtrack perfectly fits the mood of every scene, from the lighthearted to the serious and adds some perfect immersion.
To help you get excited for tonight's screening, here's a sneak peek at Sound! Euphonium The Dub! 🎶

Get tickets for TONIGHT (sub) 7/11 & MONDAY (dub) 7/15 ✨ https://t.co/rgdHV037pG
#euphodub #anime_eupho pic.twitter.com/Nh7RaVVVlw

— ELEVEN ARTS (@ELEVEN_ARTS) July 11, 2019
Additionally, the voice cast continues to excel at bringing the characters to life. Tomoyo Kurosawa continues to be perfect for Kumiko with her emotional range and funny incidental noises. Perhaps one of the biggest highlights came from Sora Amamiya as Kanade. Amamiya perfectly captured the different shades of Kanade's personality and stole the show during her most emotional moments. Unfortunately, I was unable to attend the showing of the brand new English dub thanks to scheduling issues, but going off the clips posted by Eleven Arts, it sounds solid. Erica Mendez and Jennifer Losi really sounded natural in their roles of Kumiko and Hazuki Kato respectively, and Katelyn Gault sounds like a perfect fit for new freshman Mirei Suzuki. Admittedly, I am a bit disappointed that the cast of Liz and the Blue Bird couldn't reprise their roles (with the exception of Sarah Anne Williams as Natsuki and Xanthe Huynh as freshman Ririka Kenzaki), but I'm looking forward to hearing the full dub when the movie releases on Blu-ray. 
THE VERDICT
I've waited three years for a continuation of Sound! Euphonium, and I'm so glad to say that I wasn't let down in the slightest. Ninety minutes may not have been enough for everything in this movie, but that didn't put a single damper in my enjoyment. I still love the characters, music, aesthetics, and I love that it tapped into something that I experienced myself and heavily relate to in my life. The emotional and nostalgic magic of this series hasn't worn off on me, and, if there's more to come, I hope that it stays that way until the very end. I want to be a part of this symphony until the composer takes their final bow, and I'll be ready to give another standing ovation after the next encore.
LIFT YOUR HEADS. I want to see you!

Thank you to each and every single person who supported Sound! Euphonium The Movie in theaters 🌟 This experience will make us better. Will make us stronger! I swear it as your captain. #anime_eupho #euphodub pic.twitter.com/suD5z5hlRP

— ELEVEN ARTS (@ELEVEN_ARTS) July 16, 2019
Score: 8/10
Pros:
Gorgeous, vibrant art style complimented by detailed animation
Beautiful music and fantastic sound design
Accurately recaptures the trials and tribulations of a competitive concert band
Wonderful development of both new and old cast members alike
Cons:
Sometimes feels a bit too similar to the first two seasons
Time constraints prevent some subplots from being fully realized and developed
How you can watch:
This film was watched in theaters during a limited showing. Blu-ray and DVD release information for the movie is TBA at the time of writing.
However, both seasons of Sound! Euphonium are streaming on Crunchyroll/VRV and available on Blu-ray and DVD via Pony Canyon USA (subbed only).
Additionally, the spinoff film, Liz and the Blue Bird, is available to purchase digitally on your favorite online video stores and also on Blu-ray and DVD via Shout Factory and Eleven Arts (subbed and dubbed).
If you want to help out the studio behind this fantastic series after their recent tragedy, consider donating to Sentai Filmworks' GoFundMe campaign, donating directly to Kyoto Animation, or buying official digital prints from the company on their website.