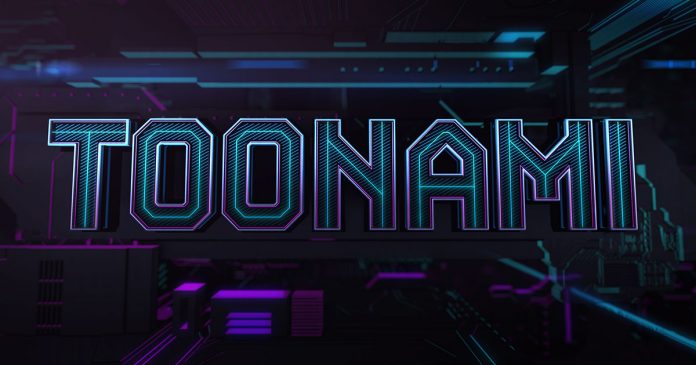 As I'm writing this article, two things caught my eyes aside from the computer monitor, of course.
There's a copy of the complete original ThunderCats series on DVD and a Funko Pop version of the TOM 1 model. You know the little guy. The Wall Street Journal once referred to him as "the bubble-gutted host" of the better cartoon show we call Toonami. I see elements from the glory years scattered all over the box itself, including the blue hexagon background, the "Kids Love It!" banner, and the original Toonami logo.
If you asked me 10 years ago that Toonami would have actual physical merchandising I could buy or get as a very, very generous gift, I would have laughed at your face. Maybe not YOUR face, dear Toonami faithfuls since you all would have still been mourning the loss of the original Cartoon Network block two years earlier. And yet, here we are in the future, 2020 AD, and Toonami is still a valuable brand that's now part of a division of the biggest telecommunications company on the planet in AT&T.
There has been a lot of fear and uncertainty about the recent lineup changes shortening the block from a five and a half-hour block to a three-hour weekly block. It happened once before, but it's hardly the worst incarnation of Toonami. The final days of the original block were mostly first-run episodes of Naruto for one hour, Blue Dragon (which later shifted to Saturday mornings), with Ben 10 Alien Force and Samurai Jack reruns. A weekly two-hour block full of repeats, which is the complete opposite of what we're getting now. Toonami in this iteration broadcast seven shows that have never aired on any linear broadcast platform in the United States, most of which are several weeks and months removed from their Japanese premieres.
That's progress, kids.
The death drums are banging because there are fewer hours on the block. But this length shouldn't come as a surprise to fans. When Toonami returned in 2012, there was only a weekly three-hour block of shows: Bleach, Deadman Wonderland, Casshern Sins, Fullmetal Alchemist: Brotherhood, Ghost in the Shell: Stand Alone Complex, and Cowboy Bebop, and it repeated from 3 a.m. to 6 a.m E/P. That's it: one currently running show, two new shows, and three repeating shows. By comparison, there are seven shows still on their first run for three-and-a-half hours.
A lot of fat has been trimmed from the block, and it's not like action is missing in that 3 a.m. E/P hour (currently, encore airings of Primal and the recent final cycle of Samurai Jack will air there). The long and short of it all is that the cost of programming is high. Adult Swim only has a limited budget to acquire series, and new shows don't come cheaply or quickly in this market.
Welcome to the television industry.
You may be at various stages of grief. Shock and denial have subsided quickly. Anger was nearly everywhere and aimed towards everybody for some reason, even towards people reporting the news. I've seen some instances of bargaining with people asking why can't Adult Swim sell rights to the Fox shows to pay for more shows on Toonami (a topic worth discussing another time). Depression is where a lot of folks are now. You bang the death drums loudly because the block's not picking up anything soon. Granted, a lot of people have been beating these drums since 1997, and no one's louder than the network itself. The changing market did doom it in 2008, and audiences sadly didn't want to accept homegrown fare of any form on Toonami.
Remember You Are Here? Remember DC Nation? Remember when the ThunderCats revival and Sym-Bionic Titan premiered in prime-time? These occurred in a world without Toonami because many of the hardcore fans viewers pushed back on domestic series on the block. Some viewers still aren't comfortable with domestic shows on Toonami, relegating it to being a weekly anime ghetto. Anime acquisitions were as costly then as they are now, and  Cartoon Network made numerous showcases for homegrown stuff which they either owned outright, owned by a sibling company, or acquired in a package deal (The Clone Wars was originally shared with TNT long before they became the cable home for the Star Wars franchise). The ThunderCats revival of 2011 was popular among fans when it re-aired on the Adult Swim version of Toonami, even though there was a louder crowd who would rather have Dragon Ball Z, Naruto, and One Piece on the revived block.
Another reason for the cutback is the lack of new shows. Sure, in time, Adult Swim could pick up some new high-profile anime series, but what's out there? Funimation has been playing hardball now that they have Sony Pictures becoming more of a dominant power in Japanese animation, much like WarnerMedia themselves. What a sticky wicket Toonami finds themselves in between. I'm sure that one eye-catching top-tier series will eventually find its way to Toonami soon, whenever it's discovered.
While on the subject of digital streamers, there is an elephant in the room that I need to address, and that's HBO Max. It's WarnerMedia's big behemoth-in-waiting at the time of this writing. I don't think it's going to have an immediate impact on Toonami. I think Toonami will have some place there, but I don't know precisely to what extent. WarnerMedia has publicly acknowledged Toonami is a valuable brand with the WarnerMedia paradigm, and it pairs nicely with their Crunchyroll division.
With HBO Max around the corner, some believe that the much-anticipated Blade Runner animated series (Black Lotus), will debut on HBO Max before it airs on Toonami. Earlier, it was just supposed to be only on Adult Swim and Crunchyroll, but that was in a pre-HBO Max world. The "Blaster Master" himself, Jason DeMarco, sees this and Uzumaki as the big-ticket Toonami shows in the near future, so here's hoping both remain exclusive to the block. He's one of the most creative figures WarnerMedia has on hand this side of Greg Berlanti, Ellen DeGeneres, Chuck Lorre, and J.J. Abrams. Looking at these two projects (an anime adaptation of a Hollywood cult classic and an animated seinen horror tale) are atypical Toonami productions and could signal what kind of block Toonami could evolve into in the years ahead. Shōnen action remains the block's bread-and-butter with very few exceptions (Kill la Kill, Parasyte, Tokyo Ghoul, and Pop Team Epic come to mind), but it is nice seeing a change of pace now and then. If the audiences are receptive, perhaps we'll see even more fully-mature fare on the block, and not just shōnen shows deemed mature by Western standards like Death Note or Food Wars.
The state of Toonami is solid. It's not dead, it's not an ex-block, nor has it ceased to be. If anything, it's slimmer and healthier than it's been in ages with a fresh lineup. What will happen later in the year? Who knows? Then again, did you expect 2019 to see the block in good shape when Dragon Ball Super finally(and supposedly) ended? As long as Jason, Gill, and all the other folks behind the block are in their current positions, Toonami will remain part of Adult Swim for the foreseeable future. There will be changes that some viewers won't like, and there will be changes viewers will love. That's the way this industry goes. Keep watching the better cartoon show. Toonami's feeling like it's living up to that nickname.
In the meantime, I'm going to continue looking at my TOM Pop figure, still in awe over how far we've come in over 20 years.
Jeff Harris is a guest contributor to ToonamiFaithful.com. Feel free to follow Jeff on Twitter @nemalki