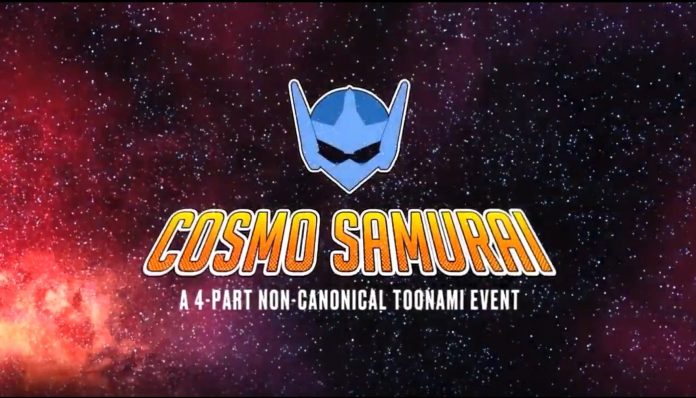 Toonami fans have recently seen the finale (for now) of Cosmo Samurai, the first non-canonical Total Immersion Event (or TIE for short), a tradition dating back to 2000 with The Intruder. This TIE is different from the many we've seen in several ways. For one, it is hand-drawn as opposed to using the CGI models for Toonami that we're accustomed to seeing. Additionally, it's non-canon to every other TIE out there, which created a sense of excitement that felt different from previous TIE broadcasts. While it may be called a TIE, it didn't act like the rest, lacking any effect on the interstitials since it was more viewed as a little extra entertainment for the Toonami Faithfuls. The term usually refers to how the block itself changes to suit the story (such as the corruption/alarms seen in Intruder II or the change of locations seen in Intruder III and The Forge). Cosmo Samurai was more of a story to itself, more akin to how the original Genndy Tartakovsky Clone Wars cartoon ran between episodes than a typical TIE.
These differences give us a few things to consider. Beyond the already announced continuation of Cosmo Samurai, Could we see a series based on Toonami characters? I'm all for it and think it could lead to a well of ideas for Toonami to continue to stay relevant and not rely solely on acquiring anime to air. Or could we see more short-form content like this, again like Clone Wars once was? Even if it's not full length and not a new story for the Toonami crew, having a new-short form content premiere on Toonami could add some much-needed draw to the block. Regardless, seeing a new TIE that doesn't affect the block packaging means we might be able to see these stories more frequently, as there is less work for the in-house team to do, perhaps making this a way to see unique content more often. And so it's important to understand how important this venture is for the future. More content like Cosmo Samurai could be another piece to a puzzle for Toonami to have something a streaming service wouldn't.
Seeing things being different is intriguing, but it did not make Cosmo Samurai any less fun or interesting than the prior canonical adventures of TOM, SARA, and the Clydes. It was surprising that Toonami kept emphasizing the non-canonical aspect of this newest TIE, including myself. It's the first of its kind in that way, but its canonicity mattered very little in retrospect. What has made TIEs truly shine, at least in the Adult Swim era, is the character development shown for TOM and SARA, such as deepening and clarifying their relationship and caring for one another. We've seen this repeatedly, both TOM and SARA, and it's why Toonami fans are so passionate for the two hosts. The bond between these two has been incredible to watch, from being colleagues back in the old days to close friends. So if Cosmo Samurai would continue to show this type of growth or compelling storytelling, the nature of whether it's canon or not doesn't matter.
But what made watching Cosmo Samurai fun? Right in the opening moments, TOM and SARA are ambushed, and the Absolution is destroyed (another fine Toonami tradition, it seems). The two are separated, and TOM is recovered by the titular vigilante hero organization Cosmo Samurai. After hearing TOM's story, the genius team leader, a sentient cat named Hakase, offers to rebuild TOM while explaining that the ones who attacked him are the Cosmo Samurai's nemesis, the space pirates known as The Akutou. Following this, Tom is introduced to the team members, and an attack is devised to destroy the Akutou. While it was fun to watch TOM and his newfound friends use their powers, the highlight of this TIE was TOM's desire to save SARA at any cost (staying consistent with his canonical self).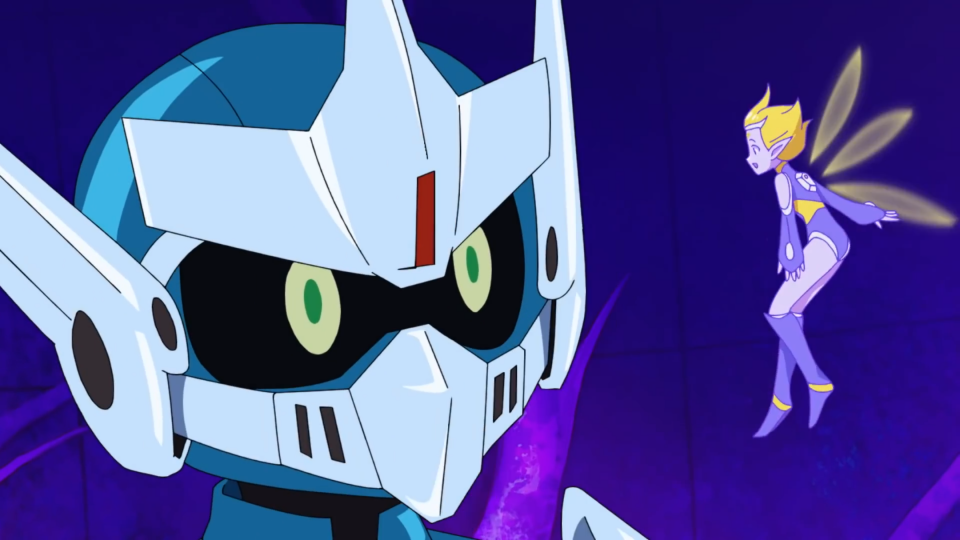 This emotional response for fans leads to why it's still worth watching Cosmo Samurai beyond the popcorn fest that it undoubtedly is. Even though it doesn't account for the events of other TIEs, and nothing save the teased Cosmo Samurai sequel will build from it, we can still glean insights into TOM and SARA's personalities. Though I wouldn't say we have any new startling insights from Cosmo Samurai, we do get reinforcement of how much TOM and SARA will fight to protect and save the other, building on the inherent theme of most modern TIEs. Even without the build-up from canonical events deepening their relationship, TOM was already devoted to protecting SARA. Meaning his care has been there from the start, not built up from a series of events creating a bond. To me, this shows Tom was already someone who would spare no effort to save a friend, which, while unsurprising, is a fun look at him.
That's the power of TIEs and why having them is so vital for Toonami. Without TOM, SARA, and the Clydes, Toonami is just a bunch of action cartoons aired on TV, which is something that any channel could do at the moment. TIEs help us learn and care about the virtual hosts of Toonami, growing an attachment and appreciation for the block in a way I've never experienced before or since. I am more emotionally invested in TOM and SARA since they are characters who came around during my adolescence. Fans know about who they are; it's not a silly dinosaur costume, a face, or whatever else has been thrown into the fray as a host of a block. And it's not as if TOM's is only a cool robot. He's a character in his own right, and that all came from TIEs.
No other television block that I'm aware of does this, and that's part of why Toonami is so special. It engages with its audience beyond just showing us content. It reviews games we may be interested in, gives us helpful life advice, and it even tells us a unique story – making the hosts characters and not just showpieces. These are the sorts of things that make it worth it to tune in to Toonami even now when streaming is a tempting alternative. The love, care, and attention to what their audience wants to set Toonami apart from all other forms of media, and we're all better off for it. And it starts with TIEs, first and foremost.
Laserkid is an editorial writer for Toonamifaithful.com. Feel free to follow Laserkid on Twitter @laserkidprime, and listen to him on the Demon Slayer Podcast and The Dumb Weebs Podcast.
Don't forget to listen to the Toonami Faithful Podcast!