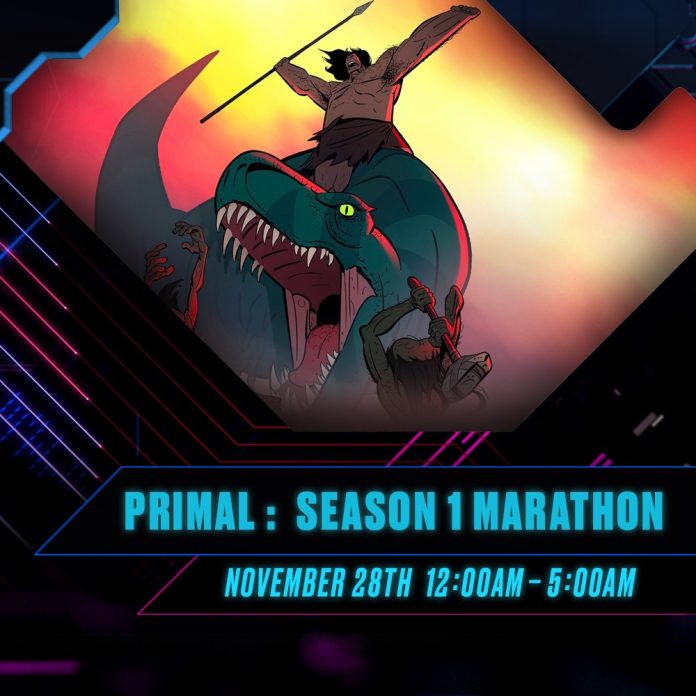 Toonami's Facebook page revealed that they will be running a special Thanksgiving marathon for the first season of Primal on Nov. 28. Since Primal's first season is 10 episodes, the block will be extended until 5 a.m. for that night. The marathon is meant to promote Primal's release on HBO Max, and Toonami will run a QR code on-air to give viewers a free trial for the streaming service.
To celebrate the first season of Primal coming to HBO Max, we're running a special Thanksgiving marathon! On November…

Posted by Toonami on Monday, November 16, 2020
Primal is the latest work by Samurai Jack creator Genndy Tartakovsky. Set in prehistoric times, the series follows the journey of a caveman and a tyrannosaurus, as they try to survive in their harsh world. While the series premiered on Adult Swim last October, this marathon will mark Primal's debut on Toonami. Fans of Samurai Jack and Symbionic Titan will be blown away by Primal's beautiful animation, heart wrenching violence, and captivating storytelling.
While marathons have become commonplace for Toonami during the holidays, this is a pleasant surprise that will provide Toonami fans a brand new experience.
BREAKING NEWS: The first season of #Primal will be getting a marathon run on #Toonami this Thanksgiving day weekend. https://t.co/hFu3F9wxyM pic.twitter.com/WFsQNoQlSG

— Toonami News (@ToonamiNews) November 16, 2020
Are you excited about the Primal marathon? Tell us in the comments below or on our social media pages!
Don't forget to listen to the Toonami Faithful Podcast!